22 Trending Ways To Combine Dark Brown Hair with Caramel Highlights
Caramel on Dark Copper Short Layered Hair
@saintalgueseynod
Such an astonishing shade of caramel on dark copper short layered hair! Style your locks with waves to emphasize the caramel hue and you'll create a nice dimension. Always wash your short hair with cold water to prevent the color from fading.
Dark Brown Hair with Auburn and Caramel Highlights
@jessicascotthair
with auburn and caramel highlights screams dimension and aesthetic. Style your lengthy locks with beach waves and the sun-kissed hue will pop more.
Dark Hair with Honey Caramel-Brown Highlights
@hairandmakeupbyb
Volume and dimension do work like magic! When you need a new look that's full of life, don't forget about the dark brown hair with honey caramel highlights. Big waves are truly beneficial when flaunting this balayage.
Dark Brown Black Hair and Caramel Hues
@caracoughlin_beauty
The fusion of dark brown black hair and caramel hues creates a dimension that you need. Let the highlights come out even more with waves and a layered cut. A shoulder-grazing length is perfect for emphasizing movement.
Mid-Length Dark Brown and Caramel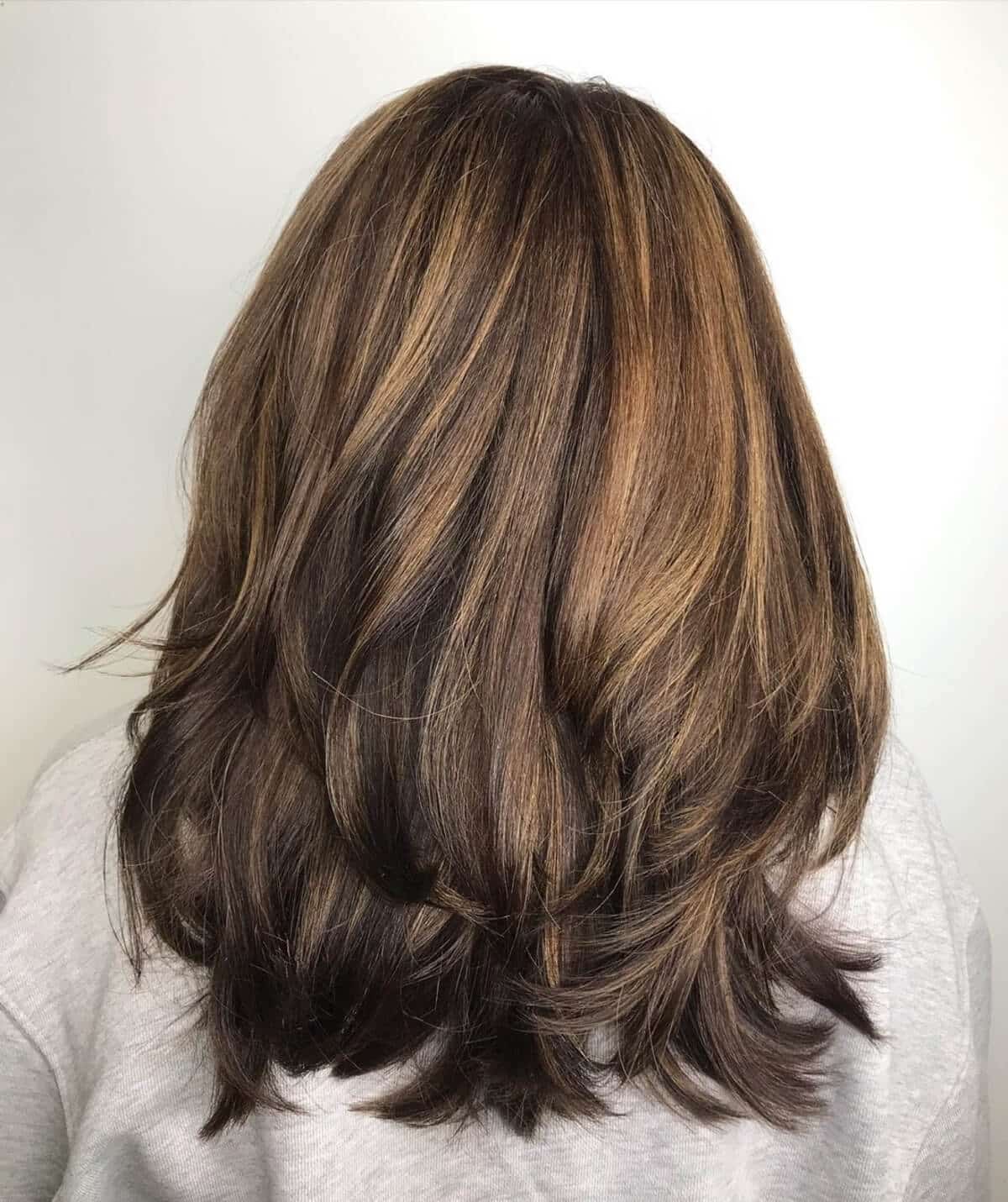 @mckensieandrewshair
Longing for a new trend that will enhance your dense locks? Get a few layers and try this mid-length dark brown and caramel hair color. Highlights and lowlights will add shine to your look.
Dark Brown and Caramel on Curls
@beautyby.elizabethb
Curly dark brown and caramel hues have a dimension and texture that work well together. Maintain a shoulder-length cut to keep its shape throughout.
Very Dark Brown Hair with Caramel Blonde Highlights
@gretawagner_
Spice up your very dark brown hair with caramel highlights, and get ready to fall in love with its result! The dimension in this caramel blonde balayage looks creamy, especially on long hair with beach waves.
Dark Brown Hair with Caramel Ombre Highlights
@thisstrawberrymoon
Flaunt some caramel ombre highlights on your dark brown hair. Balayage makes it appear effortless as if you just exposed your dark brown hair color to the sun for hours.
Dark Brown with Light Caramel Streaks on Medium-Length Hair
@ayanahairdesign
Another promising color to match your medium-length, thick mane is this one. Dark brown with light caramel streaks creates a lively vibe with soft waves.
Caramel Balayage Ideal for Straight Hair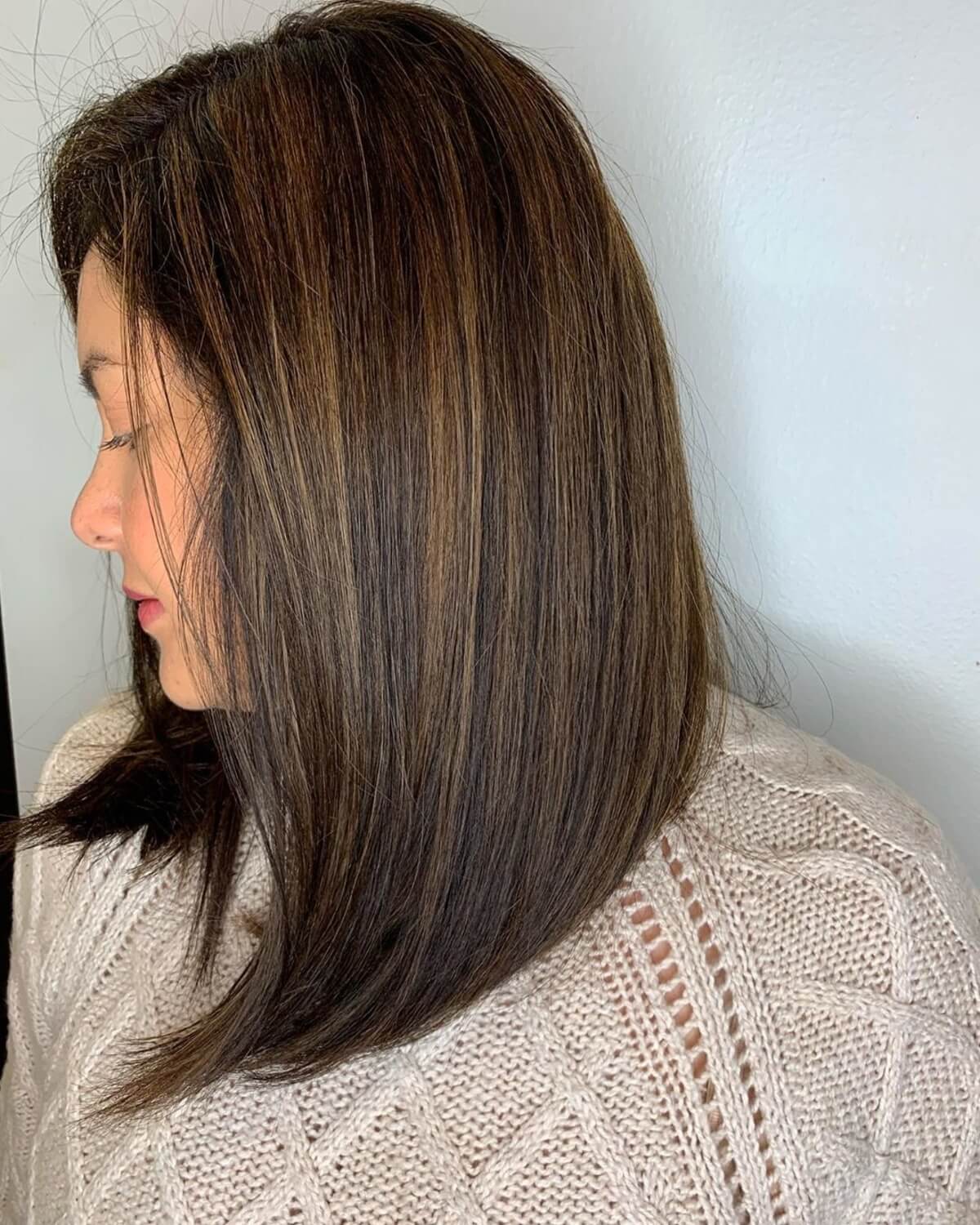 @locksbythalia
Ideal for straight hair, caramel balayage highlights are guaranteed to look natural on your mid-length haircut.
Subtle Caramel on Dark Brown Hair
@jessicavividsalon
Streaks of subtle caramel undertones on dark brown hair look best on an olive skin tone.
Dark Reddish-Brown and Caramel
@_____dani.elle
The lusciousness of the dark reddish-brown and caramel combo proves that a little balayage will result in a gorgeous dimension. With this color, all you need to do is add layers to your mid-length locks, then curl them for a graceful payoff.
Dark Chocolate Brown Hair and Caramel Tones
@beautybyvictoriaxo
The fusion of dark chocolate brown hair and caramel tones is staggering! It creates a dimension that appears great with soft curls on your lengthy chocolate hair.
Dark Caramel Balayage Hairstyle
@hairbyamyleanne
Say yes to the dark caramel balayage hairstyle! This is how you incorporate pops of a caramel shade to your dark brown hair in a natural-looking way.
Dark Ash Brown with Caramel Shades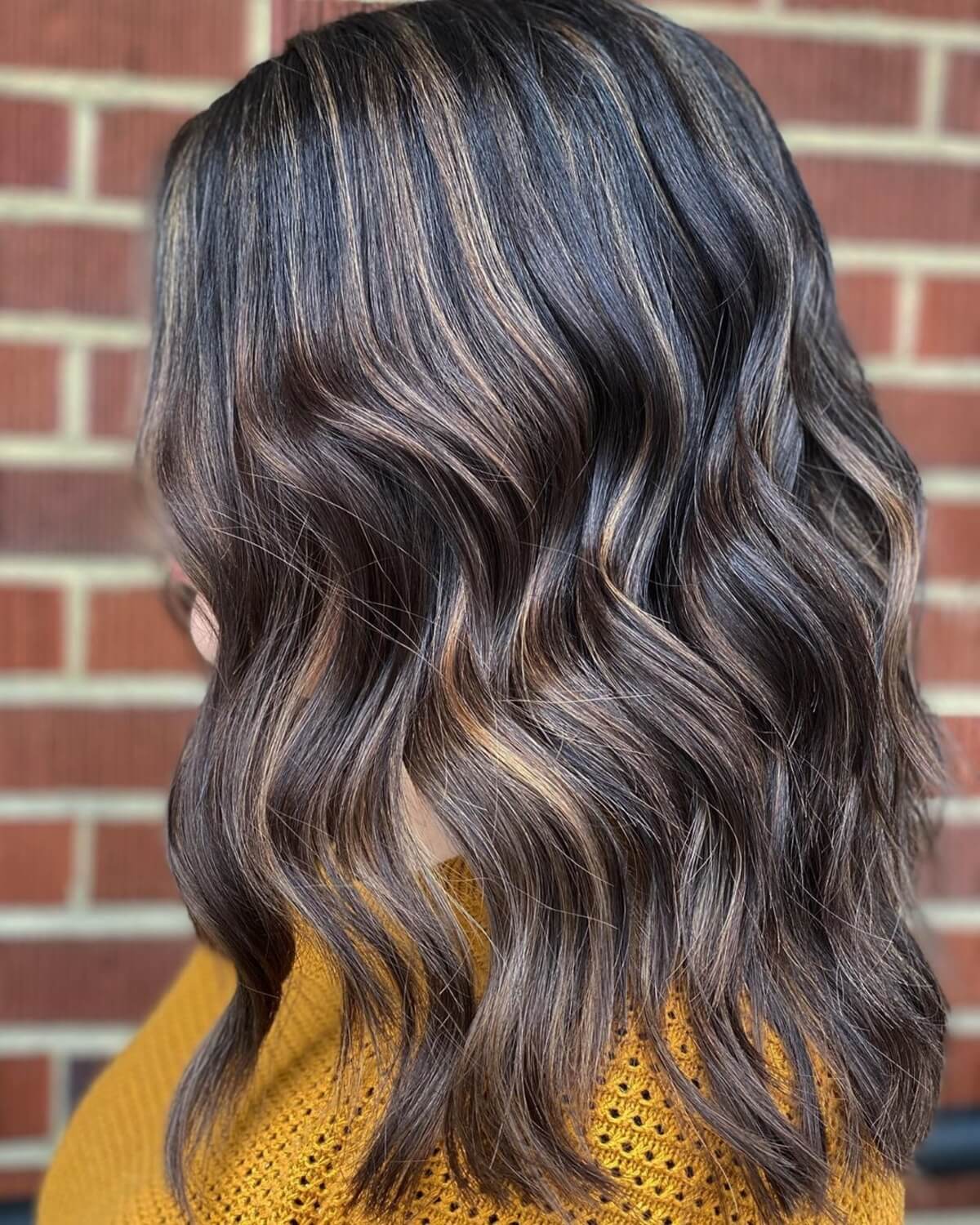 @emilypstylist
Go for a dark ash brown with caramel shades to achieve a stunning dimension. You'll love the payoff once you see it on your shoulder-grazing, wavy lob.
"This is a dark brown hair with some babylights is low-maintenance," says hairstylist Emily Priest of Ohio.
Priest's advice for this caramel hair dye job is to invest in a good color-safe shampoo and conditioner, as well as a leave-in conditioner/oil for the highlights.
Dark Brown + Caramel + Blonde Hair Color
@taylorparkeshair
Stunning on long waves, this is dark brown hair with blonde and caramel highlights. was created by hairstylist Taylor Parkes of Canada.
To achieve this color, Parkes explains, "She didn't want to be too blonde, so I picked the more caramel side of toning. I didn't let her lift too long, so I didn't have to work too hard with the toning process. I've learned that for doing a soft brown highlight like this, you don't generally want to go past a level 8."
Parkes says to make sure you visit the salon 4-6 weeks to get it touched up, so it wouldn't look too grown-out. While it's a balayage technique, letting your hair grow out makes it look less put together.
Caramel on Long Dark Burgundy Hair
@lindsey_hairlove
A subtle shade of caramel on long dark burgundy hair will enhance your natural beauty. Hints of red, violet, and caramel shades create a soft finish that still looks striking.
"This color can work for almost all women," says hairstylist Lindsey Novasic of Wisconsin. "If you like more subtle looks for your hair, the tones of the caramel and red-violet can be more subdued. On the flip side, if you like bolder looks, you can make them very bright and contrasting to each other."
Caramel Highlights and Red Lowlights
@hair_by_rachel_k
Pair some caramel highlights and red lowlights to see a gorgeous result. Opt for these shades when you need a more dynamic feel to jazz up your long and wavy, dark tresses.
"I love this hair color because the red lowlights that I foiled in at the mid-shaft to the ends give it a nice hint of color. It also goes with the warmer-toned highlights," says hairstylist Rachel Kuhnash of Ohio.
Kuhnash added a slight shadow root, so it's good for just a root touch-up every other appointment rather than touching up the highlights and lowlights every appointment.
Dark Brown and Caramel Chunks
@confidence.fashion.hair
A perfect pop of depth and shine! Show off a classic dimension with dark brown and caramel chunks on your straight locks.
"I absolutely love the versatility of this color," says hairstylist Brianna Evans of Kansas. "You don't have to curl it to get the dimension. It can be straight, wavy, natural, thrown up into a messy bun, or even a sleek pony. With the proper placement, the thick, color-melted pieces beg for a second look at every angle with any style!"
It has rich, dark tones that give the smooth caramel accents the chance to pop. Long, texturized layers and face-framing pieces add interest to women who have a hard time achieving volume or movement in the hair.
This color is great for ladies who are wanting a little less upkeep. Evans explains, "For those who have naturally dark hair, you're able to grow out your roots without harsh lines. For those who are wanting to continue to cover pesky grey hairs, it gives you the option of an in-between appointment where you just get a root touch up and gloss."
Blended Caramel and Dark Chestnut Hair
@hairbydanielledeamelio
This blended caramel and dark chestnut hair was made by balayage for easy maintenance and a more lived-in result. It was created by master stylist Danielle Deamelio of Massachusetts.
"This hair color is for a woman who likes a low-maintenance look," says Deamelio. "The balayage highlights give the look dimension and brightness without the upkeep of traditional highlights."
Deamelio says balayage only needs to be done around 2-3 times a year. She suggests getting frequent trims and toners in between every 6-8 weeks. She adds, "It keeps it looking healthy, dead ends off, and the tone fresh."
Wavy Dark Mocha Brown Hair with Caramel Highlights
@hair_hangout
This long, wavy dark mocha brown hair with caramel highlights was created by stylist Arianna Varastehpour of California.
A caramel toffee highlight not only complements the long layered haircut but also the woman wearing it! It's a low-maintenance choice for the busy brunette woman who wants to enjoy feeling lighter and brighter without having to be in the salon every few weeks.
When considering this look, Varastehpour says you can expect your initial appointment for the balayage/ombré to be a little time-consuming. She adds, "However, it's worth it, as the following touch-up service is a quick 15-minute toner to brighten up the caramel and reintroduce shine!"
Dark Golden Brown Hair with Caramel Highlights
@hairartistrybyrachel
A dark golden brown hair with caramel highlights hairstyle shows off a perfect balayage. Layers in this mid-length chop bring out more of the dimension. Meanwhile, face-framing pieces are a great finishing touch.
"The long layers in this haircut are accentuated by honey caramel or golden blonde highlights," says hairstylist Rachel Megarry of Massachusetts. "The dimension these highlights create really complements the cut by showing off the layers."
To get this color, Megarry says to make sure your stylist keeps enough of your natural dark color or incorporates a lowlight in between the highlights, or it can lose the dimension.
She adds, "Naturally wavy or curly hair can get this finished style with just a smoothing cream and a round brush blowout, while straighter hair types can use a big barreled curling iron."