36 Hottest Graduated Bob Haircuts Right Now
Graduated Bob Haircuts for Fine Hair
@balayageregina
The graduated bob haircuts for fine hair gives an added layer of volume. This cut is a great choice for those who want to achieve an effortlessly sophisticated look.
Graduated Bob Haircuts with Side Bangs
@hairbyclaireparish
Try a graduated bob with side bangs for extra fullness to fine tresses. The graduated shape builds up weight to give a heavier feel to the hair through the back of the head, while the length follows through to a longer length under the jaw. Adding side bangs creates a lighter shape by balancing the strong shape, keeping the hair looking thicker.
The Graduated Bob Haircuts
@satorisalonspahi
The graduated lob is the perfect style for fine straight hair, needing an extra oomph of fullness. The graduated length visually creates a fuller baseline and allows the cut to sit just the way it was intended to. The lob version of this shape keeps more length to avoid exposing too much of the hairline and neck.
Rounded with Stacked Layers
@jenniimuaa
Opt for a rounded with stacked layers for a sleek and elegant feel to your graduated bob. A graduated bob is more rounded in the back with stacked layers, whereas an A-line bob is longer in the front and shorter in the back. When combined, you get a super sleek overall appearance.
The Brunette with Graduation
@hair.abbeyelizabeth
The brunette with graduation is the perfect cut if you are seeking more shine. This cut gives you a sleek silhouette. The stacked effect in the back blends perfectly well into a blunt length, letting your glossy brunette tones sharpen your look.
Blonde Graduated Bob
@jonnyeagland
Go for a blonde graduated bob if you love a soft textured feel to your hair. The lightness of the blonde softens the feel of a graduated bob. Let the hair air-dry with a little spray of Aveda's Texture Tonic to embrace a more textured effortless feel to the hair.
The Blunt Cut
@rohan_jagtap_
The blunt cut will always be a classic staple as it's suitable for most hair types. Its sleek nature sits sharply against the jawline while the soft graduated shape through the back lifts the hair for a subtle angled shape. The shape can be adapted for fuller and finer hair with a change in angle for your specific hair requirements.
Graduated and Feathered
@v.v.s.hair
A graduated and feathered cut is a smart choice for women on the go. It brings practicality in the styling and maintenance of the hair without giving up charm and sophistication.
Trendy Graduation for Ladies Over 60
@lzeqiri76
Trendy graduation for ladies over 60 is a practical choice if you want a cut that is easy to maintain and style. To provide varying textures, use Pomade and BaByliss.
Flattering Bob for Women Over 50
@hair_makeup_artistry_by_star
Flattering bob for women over 50 compliments the face perfectly well. It is suitable for women who want to feel empowered by just a chop of their hair.
Perfect for Straight
@hairbyevangelene
This graduated bob is perfect for straight hair. It is a classic cut that is also easy to maintain and style. Just dry hair with a hairdryer and use a round brush to create a smooth finish with some movement.
The Shaggy Bob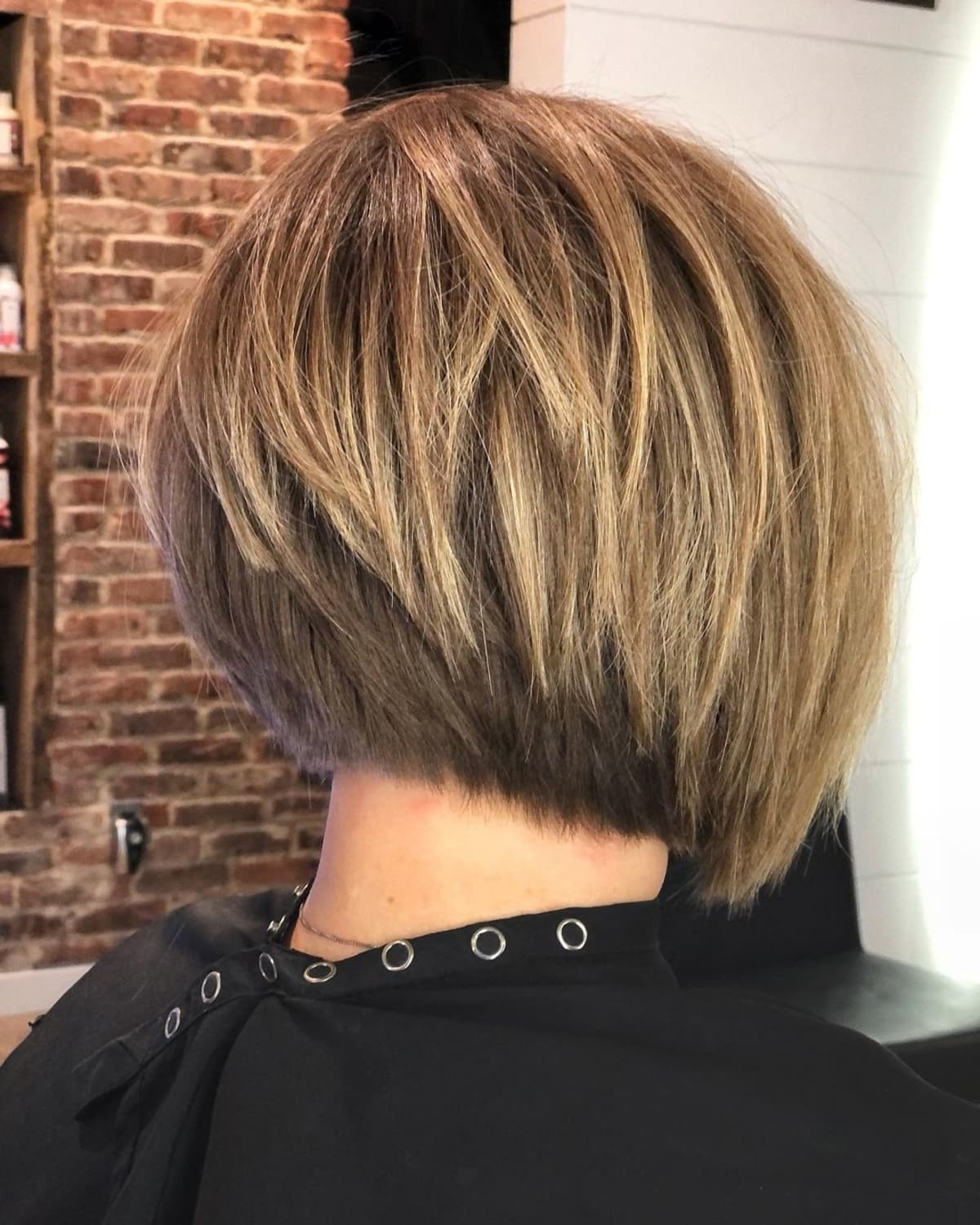 @sumofallshears
The shaggy bob is a practical cut if you want an easy-to-style cut. It compliments almost all types of hair from straight, wavy, curly, or even textured hair.
The Textured Bob Haircuts
@rhandy_art
The textured bob is the perfect cut for those who are thinking of cutting their hair short without giving up elegance.
Graduated Mid-Length Bob Haircuts
@voozshhairbeauty
A graduated mid-length bob is a great option for women who aims to have a medium-length cut to achieve an overall elegant, light, and youthful-looking appearance.
Graduated Cut with Stunning Balayage
@evahairstylistmt
A graduated cut with stunning balayage is a modern and bold hairstyle that shows off a little bit of skin on the nape area. With the balayage hair hue, this cut is the perfect choice in flawlessly highlighting the structure and dimension of the face.
Graduated and Razor Cut
@rhandy_art
A graduated and razor cut hairdo combined with various lengths gives off a posh appearance. The short cut is vintage and feminine while the longer cut offers more lightness and sophistication.
Lovely Bob Haircuts for Women Over 70
@gs_hairandnailstylist
A lovely bob for women over 70 can be very modern and offers a charming frame to the face. It is quite democratic and suits all types of women.
The Graduated Pixie Bob Haircuts
@louiseturtonhairstylist
The graduated pixie bob is an easy-maintenance cut, ideal for fine hair to look thicker and fuller. Stylist Louise Turton of Australia used a 45-degree angle cut with vertical graduation to achieve the shape.
When preppin' the hair, use a thermal protector to help against heat styling. "This cut can be worn with a natural wavy hair texture or be straightened for a sleek, chic look," Turton notes.
Graduated Long Bob
@hairadamjames
A graduated long bob is well-suited for women blessed with round-shaped faces. This cut has a longer front part as compared to its back part, giving off an elongated facial appearance.
Messy and Asymmetrical
@jesdicesarehair
A messy and asymmetrical cut offers a hair shape with longer and shorter cuts thereby creating a modern and cool vibe to the hair.
Back View of a Graduated Bob
@evahairstylistmt
The back view of a graduate bob delivers lightness and youthfulness. This cut shows the neck part, giving off a polished and sophisticated appearance.
The Very Short Bob
@xx_hairbyleah_xx
The very short bob is perfect for those that love a fuller feel with lots of texture. The very short textured graduated bob gives a softer feel to its sleeker counterpart and does not require too much styling. This is a great option for those that love height to their hair.
Shoulder-Length Bob
@pathosforhair
A shoulder-length bob is an option for those who want sophistication and elegance bundled into one hairstyle. The cut leaves the nape of the neck exposed and goes down to the base of the face creating dimensions that frame the face quite well.
Graduated Layered Cut for Dark Hair
@rhandy_art
The graduated layered cut for dark hair gives a more conservative and feminine look when split in half, valuing the cut even more. Try styling it with a round brush and blow dryer on the ends for an extra layer of volume and bounce.
Graduated Cut for Thick Hair
@shirleyleonghair
The graduated cut for thick hair is a smart choice for a modern and timeless cut. It is easy to dry because of its length. It offers perfect symmetry to elongate the neck.
Naturally Curly Bob
@nogodar
A naturally curly bob needs extra care which is essential to maintaining the curls. Hydrate the hair weekly while adding in more nutrition, hydration, and reconstructive masks.
Ear-Length with Fringe
@lyndalsalmon
An ear-length with fringe is your go-to edgy cut. An asymmetrical hairstyle always adds an undeniable cool factor to the overall cut.
Cut for Thin Hair
@rhandy_art
Cut for thin hair needs asymmetry at the base of the hair and the ends of the hair strands. This cut gives an extra layer of volume, bounce, and definition.
Gradual Medium-Length Bob
@debthehairoine
A gradual medium-length bob is versatile and easy to jazz up. Style creator Deborah Camacho used the dry cutting technique to achieve such a shape.
The Arizona-based stylist says it works for most face shapes and hair types. She adds, "for rounder face shapes, seek a cleaner look and more length towards the front. For longer face shapes, seek visual fullness graduate, not only at the back of the haircut but also at the front and sides." She also suggests adding a fringe.
A Slightly Graduated Cut
@andybateshair
A slightly graduated bob is a trendy haircut, versatile for both thin and thick tresses. The layers can offer volume and can also take out weight and extra bulk.
California-based stylist Andy Bates created this chop for short hair. "I kept a little bit of density at the bottom edge, so it has enough substance. But a bit of weight is taken out, and texture is added for movement," he states.
Graduated Bob with Bangs
@evahairstylistmt
A graduated bob with bangs is the epitome of fun and edgy. Treatment masks should be used with a frequency of 15 days to maintain the health of the hair.
Graduated Bob with an Undercut
@hairpin_me_down85
A graduated bob with undercut can be very sophisticated. With the nape of the neck shaved or incorporated with geometric designs. To keep the design intact, it is recommended to touch it up every 15 days.
Jaw-Length Bob
@sinohair
A jaw-length bob is a go-to cut for when you crave natural bounce in your hair. Just use some hairdryer and mousse to achieve an extra layer of bounce and dimension.
The Choppy Graduation
@studioc_hair_
The choppy graduation gives off an extra layer of volume and definition. Aftercare and some styling products are used to give a messy appearance. Adding highlights enhances the movement and the graduation of the cut.
Graduated for Wavy Hair
@hair_by_n4t
Graduated for wavy hair is the perfect volume-boosting shape to flatter the facial features perfectly well. The graduated shape doesn't need to be super short, however, building some weight through the baseline of the haircut gives a fuller feel and pushes the hair into more volume.
Graduated Chin-length Cut
@hairbyakram_
Try a graduated chin-length cut to instantly make your hair appear thicker. A graduated cut builds weight in the hair that gives far more fullness than a bob. The shortest point starting at the back of the head that gets longer as it falls through to the chin still gives a bob look but takes the volume to the next level.