Razor Cut Bob Haircuts Are Still Trending and Here are 18 Ideas to Consider
Razored Inverted Bob Cut
@knotsalon
Bring out that short-hair-don't-care attitude as you flaunt this razored, inverted bob cut. Both waves and texture create a movement that makes the A-line really in shape. If you have a natural brunette shade of hair, no one can beat you with this cut and style.
Edgy Asymmetrical Razor Cut Bob
@hayleyswanbeauty
A short and textured chop perfect for a foxy lady like you! Rock this edgy asymmetrical razor cut bob for such a carefree vibe. It's parted on one side to give an illusion of longer bangs. Hints of a brown shade on your black hair are useful to create a subtle shine that never fades.
Spiky Short Razor Cut Bob for an African American Woman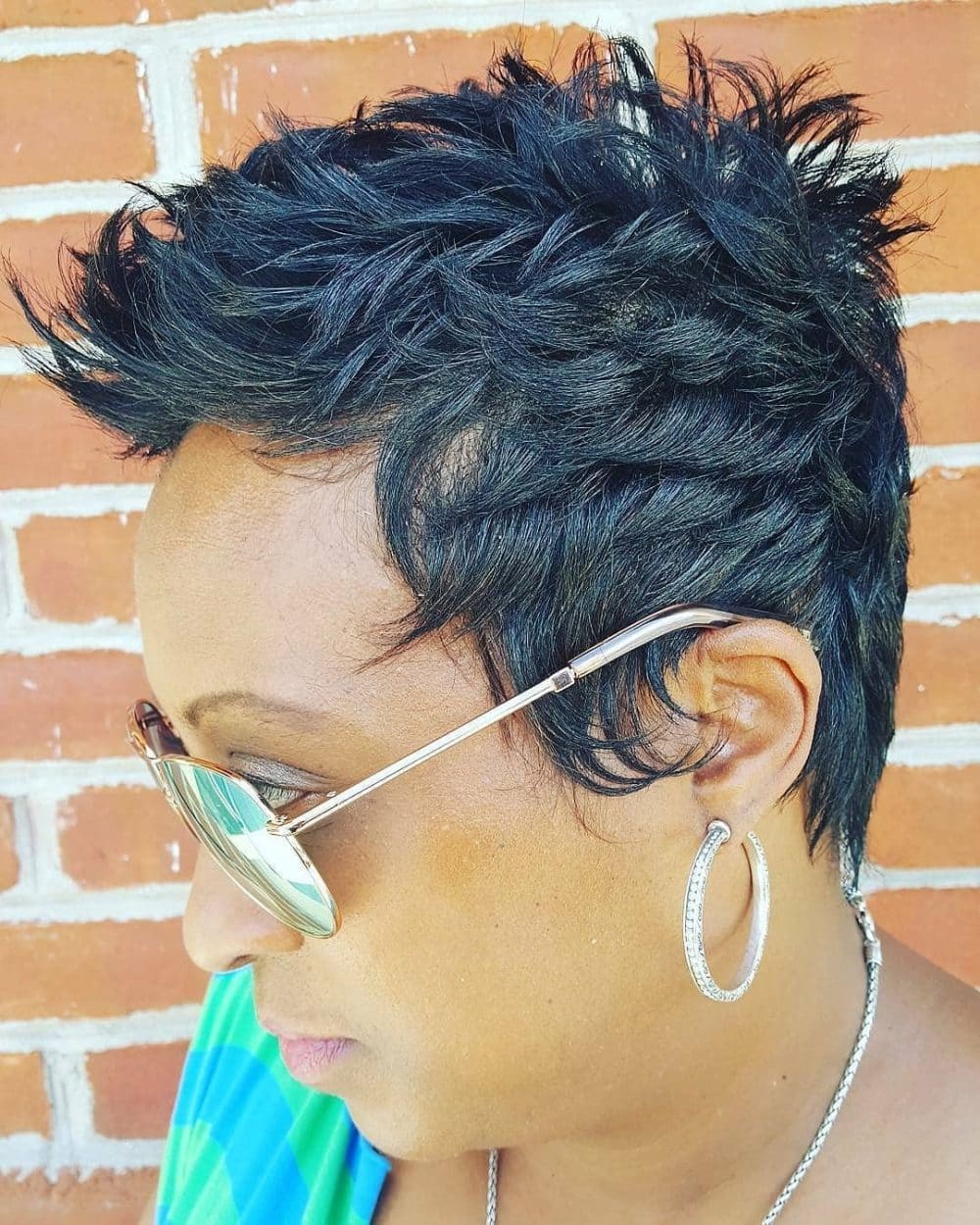 @dmvcutcreator
This spiky short razor cut bob for an African-American woman is an edgy, but modern look! Amp up your black locks with texture to bring out the movement in your hair. For a staggering undone effect, finish it off by spritzing a dry texture spray.
Razor Stacked Sew In Bob
@blessedatvanity
A black razor stacked sew-in bob like this short haircut is a neck-length chop. It features layers to bring out the bulkiness and shape to your look.
Sleek Razor Red Bob Wig for Black Women
@shaithestylist
There's no haircut and style that's hotter than this sleek razor red bob wig for a black woman. The color is bright, which adds more fun to the entire look. With sharper and extra textured ends, this asymmetrical bob cut has never been so fab.
Tousled Shoulder Length Razor Bob Cut for Thick Hair
@hairbylaurenmosleytn
This tousled shoulder-length razor bob cut for thick hair is ideal for women wanting a low maintenance cut! A cool shade of blonde will give your wavy locks their natural shine.
Razored Style Dark Bob with Quick Weave
@mrdontezlove
Who thought that a neck-length razor cut could be this flawless? Complete your sassiness by wearing this razored style, dark bob with a quick weave. The asymmetrical point detail is something that demands attention.
Razor Cut Shaggy Bob for Fine Hair
@hairbymirna
This is the ultimate razor cut shaggy bob for fine hair. The extra texture and soft waves can make your brown locks look thicker than they are.
Razored Blonde Chin Length Bob Haircut
@chelseamariehair_
Give this razored blonde chin-length bob haircut a try if you're looking to remove heavy, bulky hair. Adding texture lets you show more of the gradual layers in this razor cut.
Short Razor Bob with Fringe
@pinkhairedstylist
Waves on a short razor bob with fringe will never let you down. The razor technique yields detailed strands and ends, which are emphasized by texture. Display a cool aura as you flaunt your ash blonde with full babylights and shadow roots.
Trendy Razored Long Bob
@amber_netherland_stylist
A razor cut plus soft waves create one breathtaking hairstyle! This is a trendy razored long bob to complement your darling vibes. Thanks to the texture and volume, the dimension in this brunette balayage pops out even more.
Curly Razor Bob for Black Ladies
@the_hair_artistry
Such a short and foxy haircut! Here's a curly razor bob for the black ladies out there. Opt for a dark quick weave if you're inspired to get finger waves with a lot of movement in there.
This razor cut curly bob was created by hairstylist Tabitha White of Miramar, FL.
"You can wake up and go without styling it because it's already in a style by having flowing curls," says White. "It's easy maintenance. Just add some shine, run your fingers through it for some fluffing, and you're good to go."
Razor Choppy Bob with Bangs
@briscissorhands
Slay a razor choppy bob with bangs to represent the hipster side you've got in you. Dimensional blonde color and the Padawan braids? Those are the ultimate eye-catcher.
Hairstylist Briana Merritt of Florence, MS created this edgier take on the classic inverted bob.
"The hair was sectioned for the braids first to ensure the desired thickness was there," explains Merritt. "Then the braids were isolated while the bob was cut with a razor. Only use a razor for this cut if you want to leave a lot of movement in the hair and edge it out a bit more with the jagged ends."
White encourages you to play with different textures! "You can easily smooth out this bob and pin-up your braids for a more polished, professional look, or go crazy with some texture products and really rock it out."
Messy Razor Cut Bob Hairstyle
@reservedsalon
Who's obsessed with this messy razor cut bob hairstyle, too? The razored layers and curtain bangs work well in bringing out the movement to your hair.
"To achieve this cut, ask your stylist to turn your razor-bob into something a little softer. Consider adding curtain bangs to complement your cheekbones," says stylist Emily Ribas of Houston, TX.
Ribas states that the razoring helps to create soft lines around the perimeter and removes weight from the interior. "This way, you can just use your bare hands to rough style while using a blowdryer or better yet air-dry! There's something enthralling about breaking hair cutting rules and deconstructing perfect haircuts," she explains.
"Honestly, this shape can work for any woman's head shape and hair texture," says Ribas. "The main thing you want to remember is to find a stylist who is experienced and understands a true straight blade razor-cut, meaning a blade with no guard. When it comes to a razor, many stylists can get, well, scissor-happy. If you've ever had a bad razor cut, you know what I am talking about."
Layered Bob with Razored Ends
@sarahjosilvestera
Volume and texture are a match made in heaven for this gorgeous layered bob with razored ends. Play with a blonde shade by adding it to your hair ends for a much more stunning finish.
A straight razor is an amazing tool! "It cuts hair like butter without shredding and changing the integrity of the hair," describes hairdresser Sarah Jo Silvestera of San Clemente, CA.
"A razor was used throughout the whole haircut," she adds. "Slight graduation was created and the weight was carved out with every section. This created seamless layers that fall perfectly with the natural texture of the hair."
All hair types can really have this type of razored haircut. Silvestera explains that density and texture change by using a razor compared to scissors. "Density would determine how much weight should be carved out. Your hair can be curly, fine, or straight. It would just be altered depending on your hair type."
Blunt Razor Cut Beachy Bob
@theartofhairby_tay
A blunt razor cut beachy bob will let out some "beach babe" vibes. Babylights, applied with balayage, will level up your dark-rooted blonde locks.
The razor bob is the Pinterest-perfect bob for any woman. This one in particular was created by stylist Taylor Coughran of Houston, TX. "The best thing about the razor bob is how much weight you can remove without the cut looking choppy," claims Coughran.
"This razor cut bob is perfect for the low-maintenance woman," she adds. "It takes less than 5 minutes to curl. All you need is a curling iron, hairspray, and dry texture spray."
Layered Mid Length Razored Bob
@soheilahadihair
Are you down to revamp your auburn and pumpkin spice hair? Barboursville-based stylist Soheila Hajjar can help you achieve this layered mid-length razored bob. Incorporate some waves for a movement that will complete its stylishness.
"The layered razor bob can be fun and flirty and brings life back to dull hair," she adds.
"Be open to listening to your stylist's recommendations," says Hajjar. "This cut is super versatile that can be styled in multiple ways. The best way to style a razored bob is with some beachy waves and a touch of texture spray! Razored bobs look their best with loads of texture!"
Razor Angled Bob Haircut
@hairbymikaelarose
With its glamour from root to ends, it's impossible not to be in love with this razor angled bob haircut. Its light brown color matches the beach waves, which also jazz up this textured chop.
Stylist Mikaela Rose of Winter Garden Village, FL created this soft razored angled bob haircut. "Style it with a one-inch flat iron and add simple beach waves," says Rose.
"This razor bob hairstyle is very versatile," she adds. "It can be styled sleek and straight, soft glam waves, pin curls, or modern beach waves. This razor cut is flattering for almost any face shape."