16 Gorgeous Examples of Blonde Curly Hair
White Curly Blonde Hair
@redstellasalon
A fresh white-blonde shade to brighten up the area around the face! This vibrant color can upgrade any woman's hair. And if matched with naturally curly hair texture, the payoff is so polished! This makes a stunning hair inspiration for long, curly tresses.
Q&A with style creator, Alisha Valen Jurkevicz
Hair Stylist @ Red Stella Salon in Austin, TX
How would you describe this?
This white blonde curly hair was achieved through foil highlights. Placement is natural but still focused on coverage to achieve super blonde results. Toner is a neutral blonde with a hint of iciness. Layers are long and blended to help with fluid movement and curl within the blonde highlights curly hair.
What's your best advice?
Upkeep for this blonde bombshell is every 6-8 weeks. After that and your roots will be looking sad as the line of demarcation appears. The blonde highlights on curly hair will be more noticeable than the balayage technique. Use Oribe products like Curl Control Silkening Creme when styling these perfect curls!
Gorgeous Long Blonde Curls
@natalieannehair
Be the star of the night with your natural curls! This lengthy, tight curls styled in a deep side part is a stunning blonde curly long hair.
Long Strawberry Blonde Curled Hair
@chezjalal
Volume is everything for a blonde curly style! This Disney princess-look has stunning movement and texture! Tuck it into a subtle half updo for an elegant long blonde curly hair finish.
Bronde Kinky Curly Hair
@natyhairlove
This no-styling naturally blonde curly hair will make everyone jealous of the attention you're getting with these perfectly tousled and shadow-rooted locks.
Amazing Blonde Balayage Loose Curls
@evvemi
Curly hair and blonde highlights that are fresh from the salty seas! Perfect for any beach bum, these effortless curly strands offer eternal beach waves desired by many influencers.
Naturally Curly Dark Blonde Hair
@saleemahhh
A curly short bob does not mean you can't showcase your gorgeous naturally blond curly hair. These tousled huge natural-looking curls look amazing on dark blonde hair.
Platinum Blonde on 2C Curly Hair
@oliviammay
Keep your shoulder-length platinum blonde curly hair magical and eccentric with beautiful tight curls parted in the middle. Come on now my curly haired girls, the beach is calling!
Light Blonde Curly Shag
@misfithairco
A great light blonde curly shag lies in the natural texture and body of the hair. The more bouncy and voluminous the locks are, the better. Adding some cute curly bangs can enhance the style, too. The combo of naturally blonde hair and lovely natural curls makes a very striking 'do. It can be frizzy, so moisturizing products would be helpful.
Naturally Loose Curls on Warm Blonde
@ninididmyhair
Q&A with style creator, Anisa Afiri
Hairstylist / Colorist / Curl Specialist @ Hair by Anisa at Ivy Hair Loft in Arlington, MA
---
How would you describe this?
The greatest part of this long curly hair is how defined and shiny the blonde curls are! They have so much bounce. Lucky for her she's a natural blonde, but curly girls looking to lighten their hair should always keep in mind that hydration is key.
What's your best advice?
The biggest thing you want to consider when lightening your curly blonde hair is hydrating and heat. Stick to regular deep conditioning treatments and styling methods like the curly girl method. Always remember to diffuse on low heat, and products for curly blond hair are everything! Try Miss Jessie's baby buttermilk for some serious moisture, and the jelly soft curls for some soft hold and shine.
Ash Blonde Ringlets
@rosicurls
Ash-blonde ringlets make an appealing option when wanting to embrace natural texture. The loveliest thing about these curly locks is the longevity it provides. As the roots grow out, the color will evolve between appointments. It'll give the blonde curly hair multiple looks with no pesky line of demarcation. Flaunt this ash blonde curly hair and never regret having some kinks!
Q&A with style creator, Rosiry Mercedes
Curly Hair Specialist @ Hair by Rosiry in Orlando, FL
---
How would you describe this?
These ash blonde ringlets were a customized color and cut.
What's your best advice?
For women considering this curly hair, choose the right colorist. Interview them and ask questions. Make sure they understand how curly hair works when being highlighted. Blonde curls are fabulous but require a lot of maintenance and work.
Curly Shoulder Length Beige Blonde
@manesbymell
This blonde hue features ravishing ringlets with bashful bangs for the optimum fashion week frizzy hair look.
Honey Blonde 3A Hair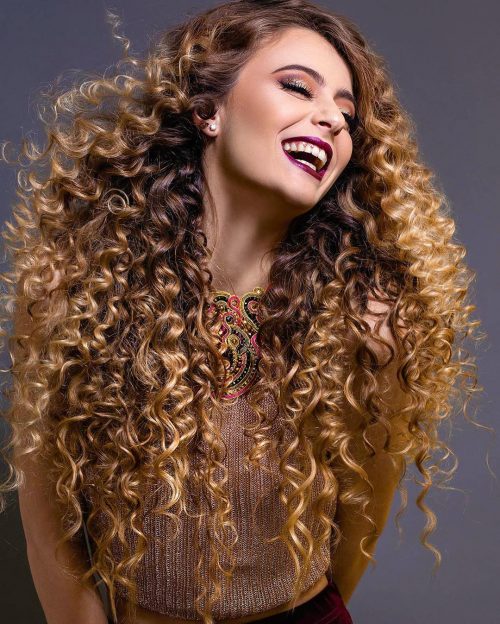 @rachelnbettis
Q&A with style creator, Rachel Bettis
Master Hairstylist @ Ulta Beauty in Houston, TX
---
How would you describe this?
This is a girl crowned in her honey blonde 3A curls!
What's your best advice?
This is for the big-hair-don't-care kind of girl! Wearing your blonde curly hair long creates so much expression all on its own! There's so much styling versatility with blonde curly hair.
One thing to remember about honey blonde curly hair is it lacks moisture, so hydrating and moisturizing products are her best friend. On damp hair, gives these curls some love with Touchable Curl Definer by DevaCurl.
Golden Blonde 3B Curly Bob
@ctcurlyhairsalon
It doesn't get any better than shiny bronze curls on a curly bob. Having short blonde curly hair is great for softening sharp facial features.
Curly Blonde Highlights
@itsashleyreuben
These curly blonde highlights form a dimensional illusion, which boosts the hair texture. With dark roots, the blonde hue glows even brighter. To make those 2C curls even curlier, use a styling cream or gel to define the curls before brushing them out.
Buttery Blonde Short Curly Hair
@1curlyfashionista
Wear this buttery blonde short curly hair and own that super fun and exciting hairstyle. This rooted blonde color looks natural on women with a fair skin tone. The hue allows short curly hair to appear so full of life.
Short Dirty Blonde Locks
@kit_mcelroy
Rock these short dirty blonde locks if you have kinks that you like to show off. The dirty shade of blonde and the curly hairstyle with bangs work wondrous together. Cute, bouncy and dimensional—who's in love with this short hair, too?
Q&A with style creator, Katy McElroy
Stylist @ Raven Row Salon in Austin, TX
---
How would you describe this?
These short dirty blonde locks feature a sandy balayage to bring dimension to the curls. The curly haircut is a heavily layered bob with bangs. The layers give the curls lots of movement & volume.
What's your best advice?
This dirty blonde curly hair is ideal for women looking to give their curls some nice volume. The hair was diffused using a combo of Innersence Quiet Calm Curl Control Cream and volume gel. Always diffuse curls if you're trying to achieve more volume. Curl gels are important to lock volume into the curls.