21 Hottest Short, Graduated Bob Haircuts for On-Trend Women
Graduated Bob for Short Hair
@piatupop
This is a beautiful graduated bob for short hair. It softens the jawline and brings more symmetry to a square face. Chop a few strands in the front to create bangs that can frame the face well.
Short Curly Graduated Bob
@kaitsbeautyspace
A short curly graduated bob can appear super cute on older ladies. The movement gives an impression of a very feminine vibe. Add a fringe to graduated bob hairstyles like this for a more youthful touch.
Graduated Bob with an Undercut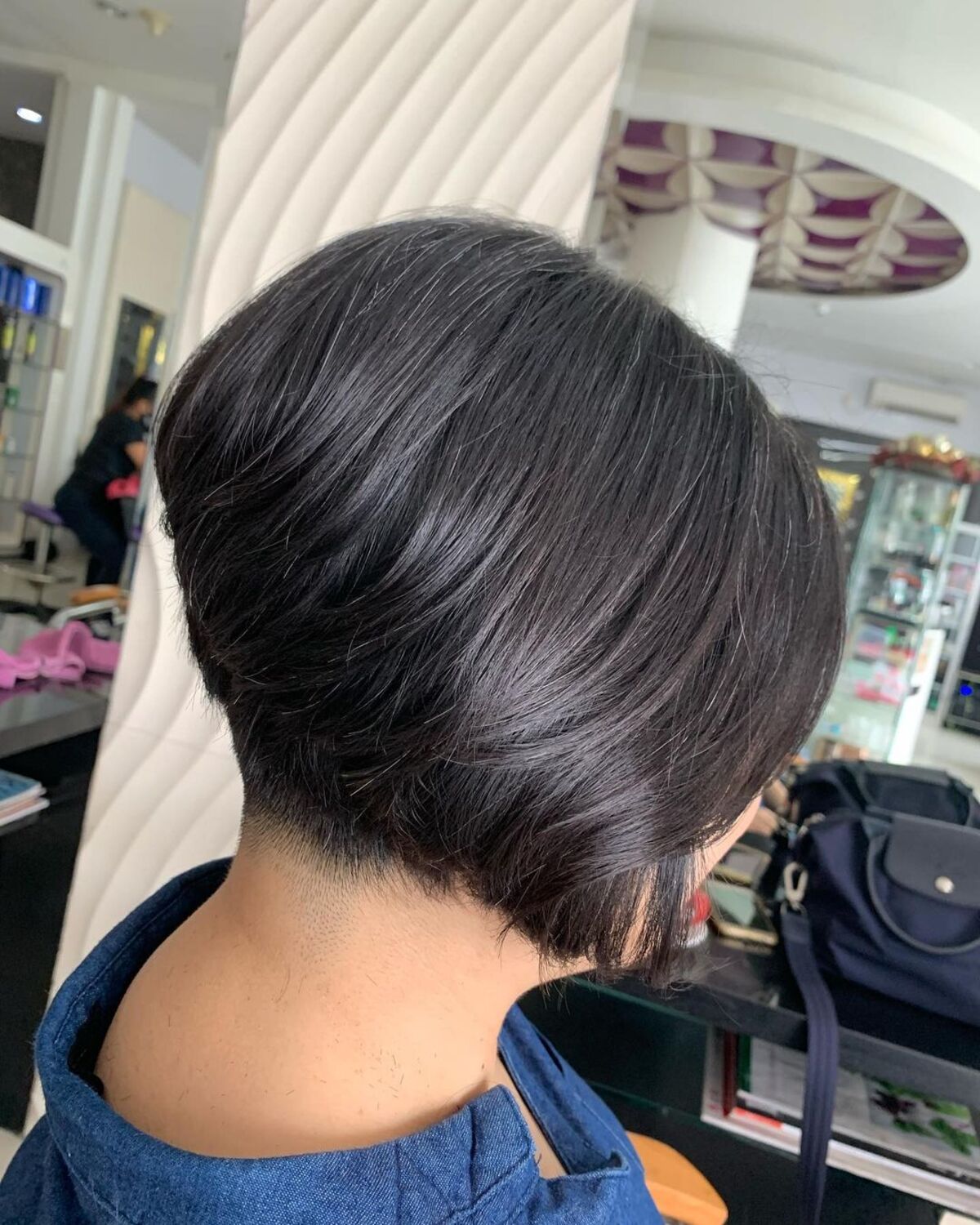 @rhandy_art
Opt for a trendy graduated bob with an undercut, especially if you have short, thick hair. This chop grants an illusion of a thinner density. The undercut removes extra bulk while the layers still give the hair a flattering shape.
Short Graduated Wavy Bob
@lilianahairstylist
With a short graduated wavy bob, your hair will look full of life. The jaw-grazing length is ideal for boosting the wavy movement of the locks. When styling short haircuts like this, use texturizing spray or sea salt spray to define the messy texture and wavy hair.
Short Graduated Bob with Layers for Straight Hair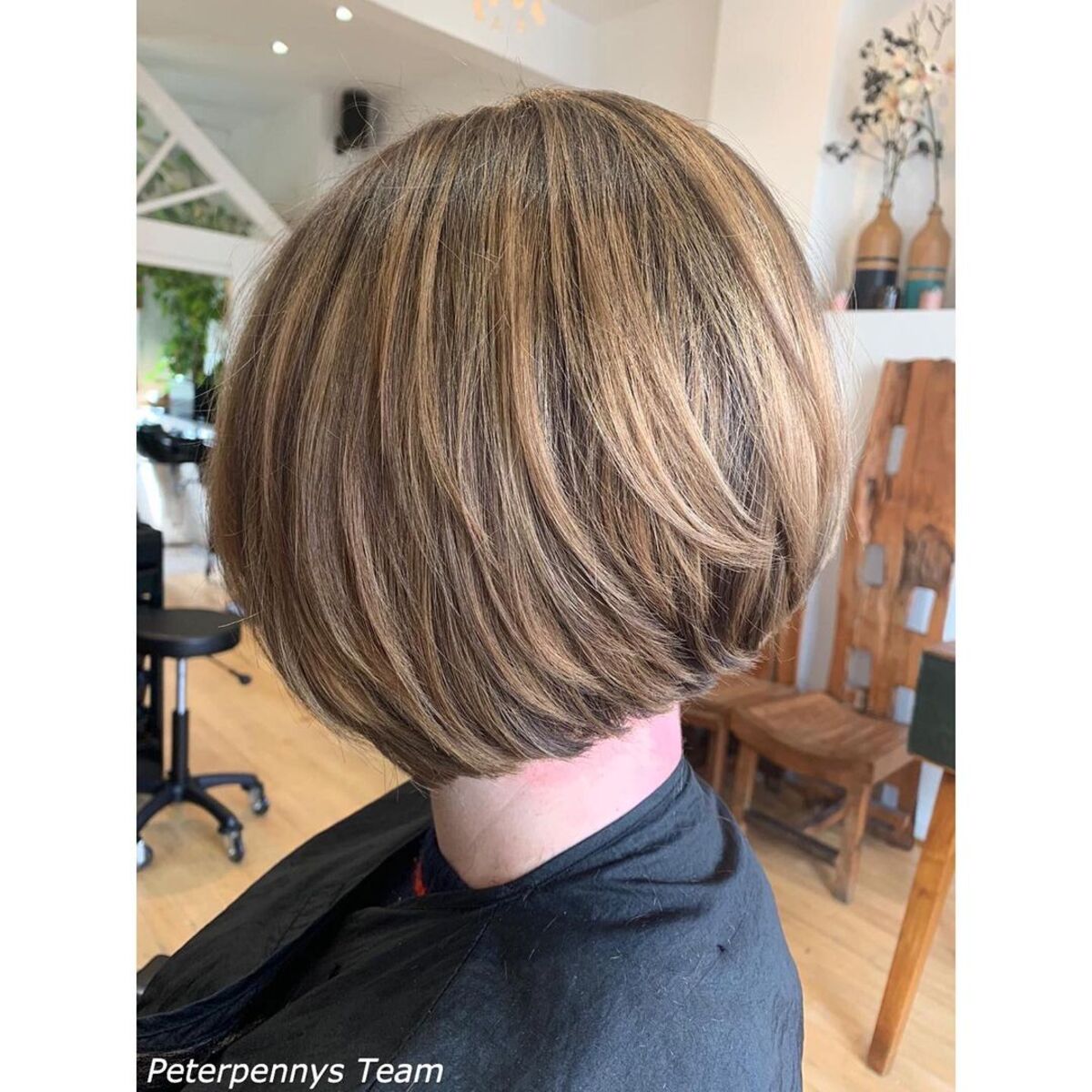 @hairartbyalbena
Go for a short graduated bob with layers and splashes of balayage. The subtle layers are what give the hair color more dimension and texture. This hair idea works best on ladies with naturally straight hair.
Really Short Graduated Bob
@rhandy_art
A really short graduated bob hairstyle makes a nice rounded shape on the head. It creates a full-bodied finish, boosting the hair's volume. Graduated bob haircuts like this are sure to balance out an oval face shape.
Cropped Graduated Bob Haircut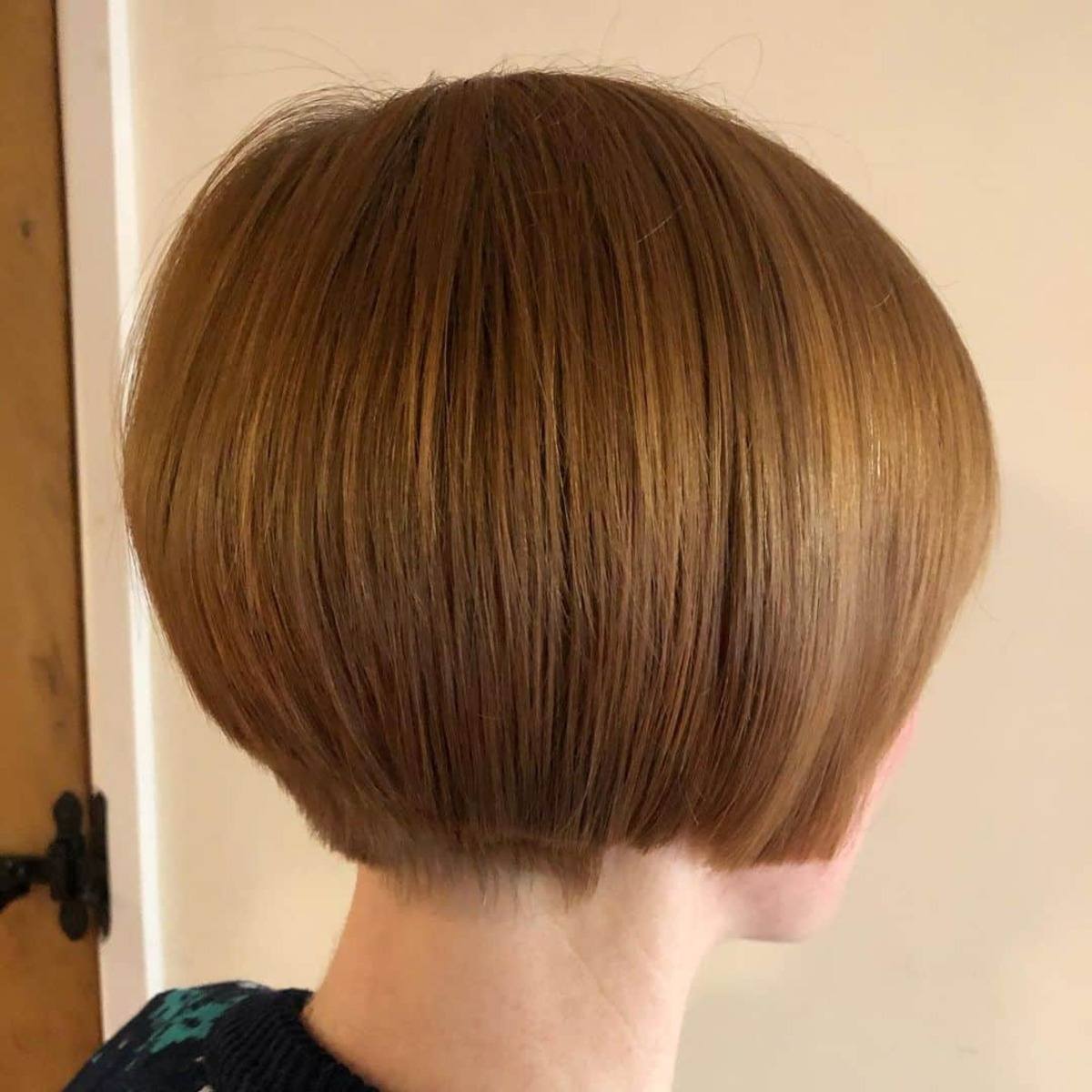 @sc.stylist_
A cropped graduated bob haircut works better on straight locks. Such a fine texture is what makes this haircut look flawless. It's also an ideal chop to add volume to thin hair.
Brown Shorter Graduated Bob with Fringe with Dark Pink Highlights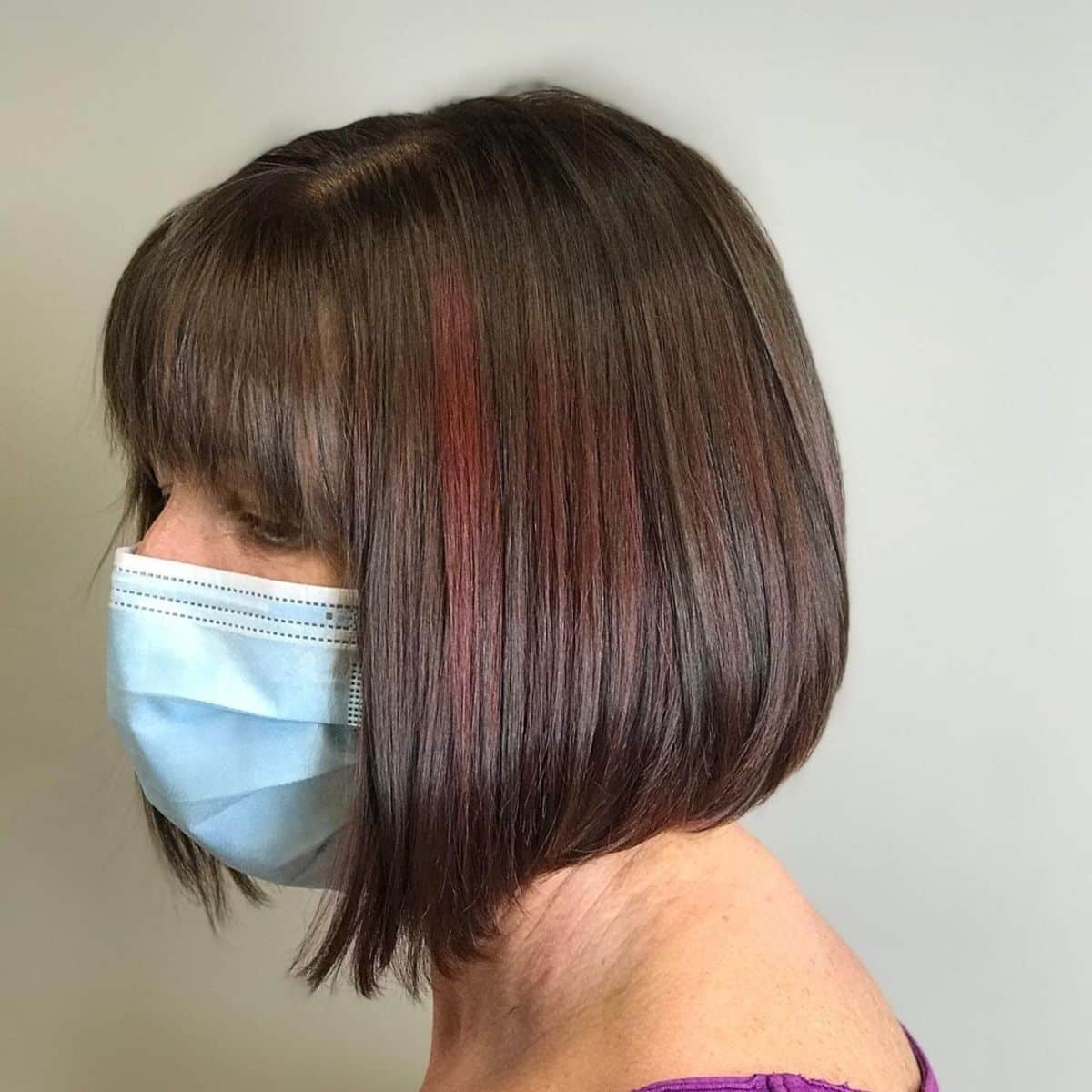 @jeida11
A shorter graduated bob with fringe is a timeless hairstyle for women of all ages. This gorgeous bob was cut by hair artist Jeida from Abu Dhabi.
Short graduated bob cuts like this are low-maintenance and easy to style.
"It would be suitable for most face shapes and most suitable for fine hair," says Jeida. To mimic the edgy but subtle hair color, combine slices of dark pink hues and a global chocolate brown base.
Slightly Graduated Bob for Short Hair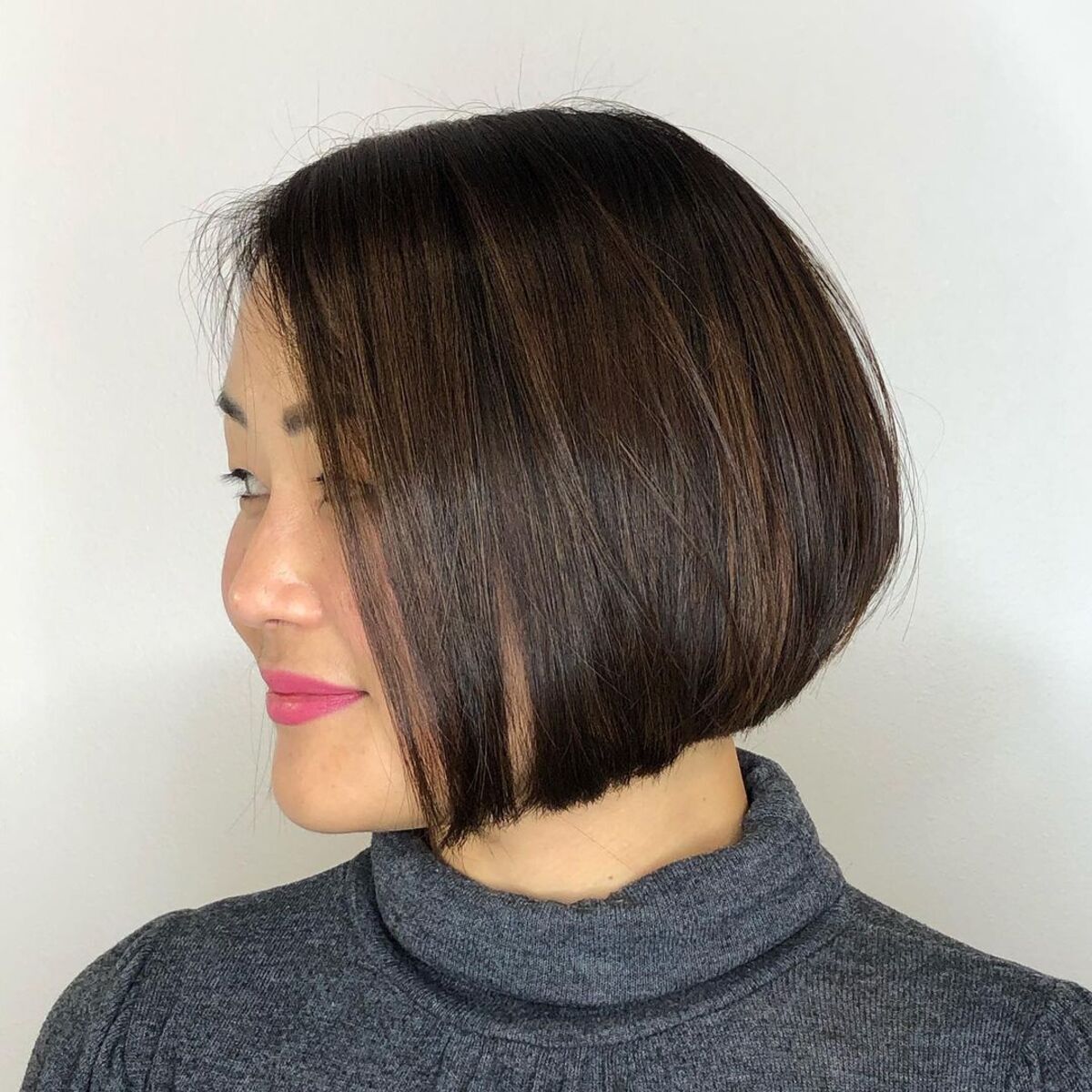 @erikvthrane
A benefit of a slightly graduated bob for short hair is that it creates an illusion of thickness. It allows the tresses to appear fuller. This chop can create a sleek or textured style to match whatever vibe you go for.
Short Graduated Layered Bob
@hairytales.byflintegaard
A short graduated layered bob haircut is a great way to give hair volume and make it seem thicker. To keep the edges crisp, make an effort to go to the salon every four weeks for trims.
Short Back Graduated Bob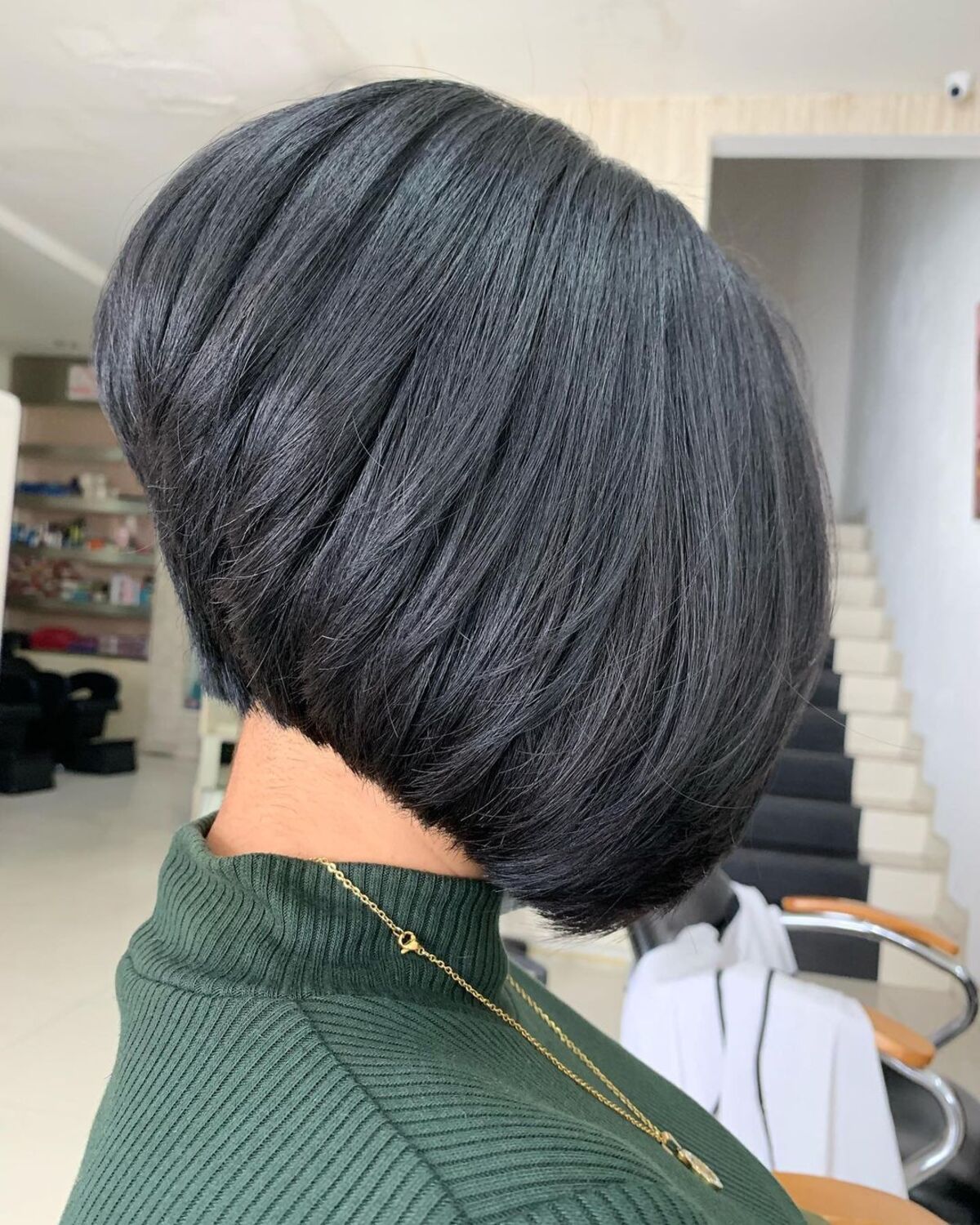 @rhandy_art
A short-back graduated bob benefits thick tresses the most. If you have a straight, black mane, this is a nice option as an everyday look. Easy to style and maintain—ladies shouldn't miss this trend!
Chin-Length Graduated Bob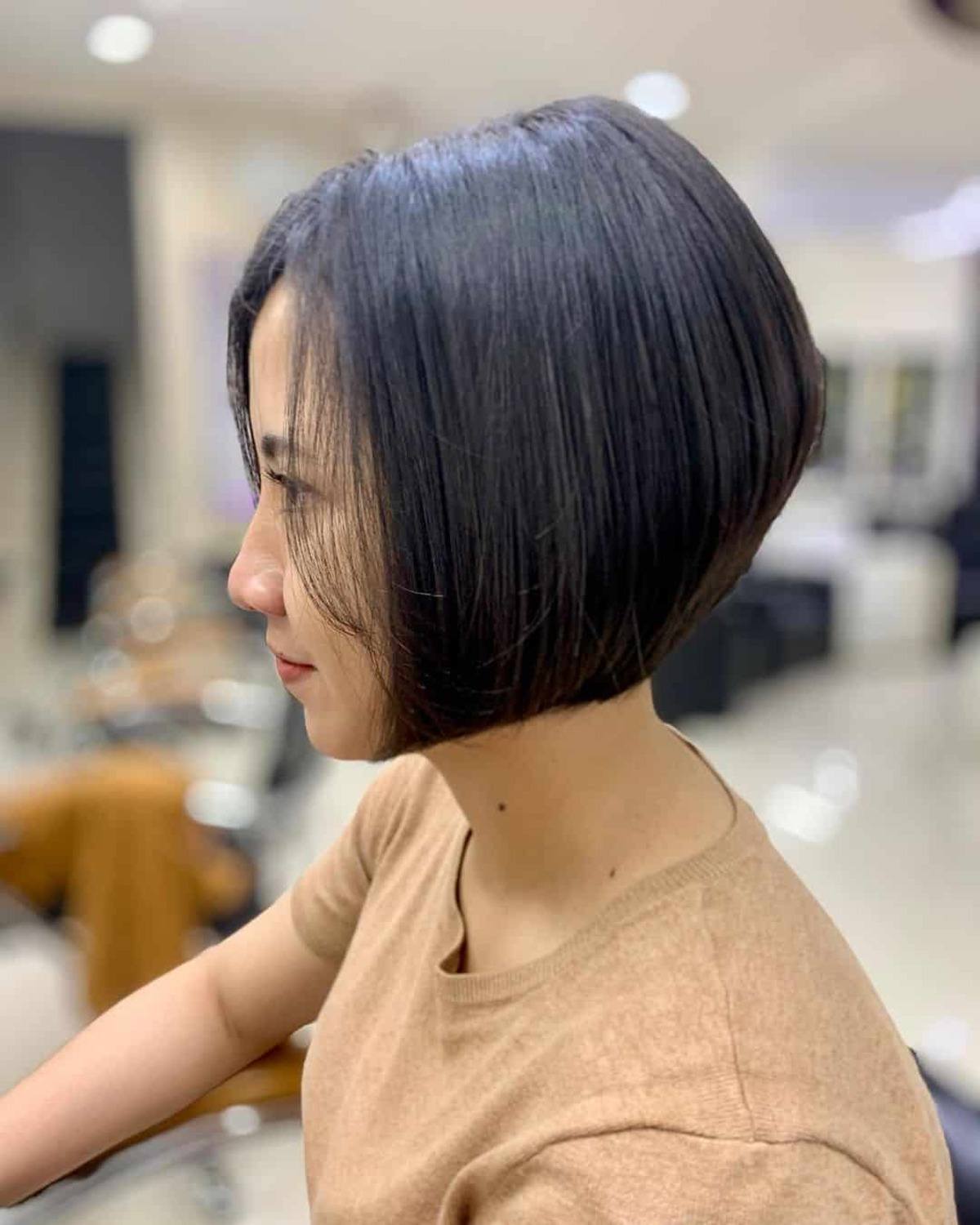 @rhandy_art
A super polished chin-length graduated bob may look simple at first, but it also radiates a sophisticated feel. Women with round face shapes will love wearing chin-length bob haircuts.
Short Graduated Pixie Bob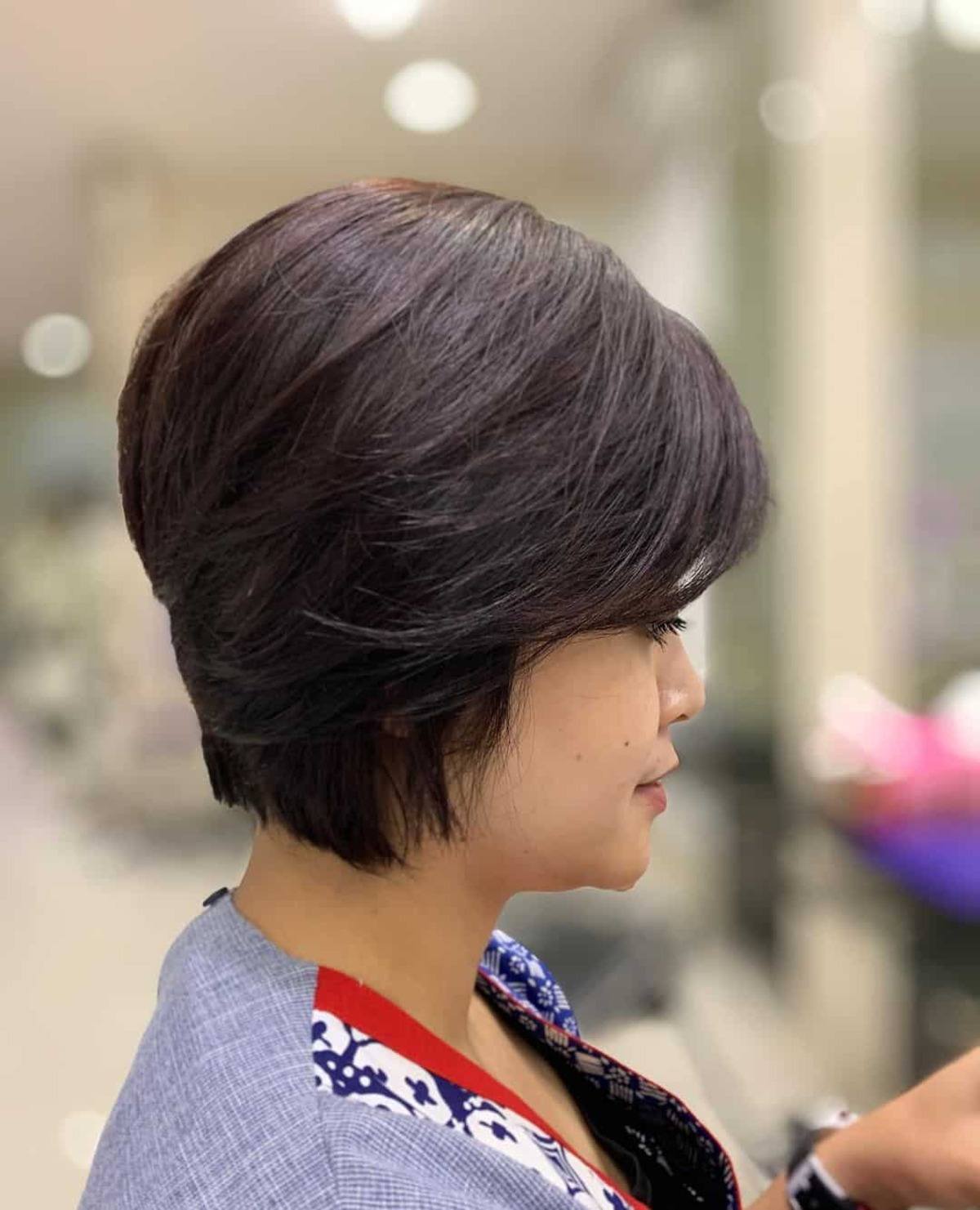 @rhandy_art
What makes a short graduated pixie bob astounding is its effortless, natural-looking edge and ability to work with any type of face shape.
Short Graduated Bob Hair
@laurel_fris
A short graduated bob hair style looks weightless and bouncy as a result! This graduated chop creates a round, bulky shape placed at the back area of the head. If your locks have a fine thickness, adopt this haircut. You'll be obsessed with its volume and movement.
Short Graduated Angled Bob for Thick Hair
@jaderose_hairstylist_nuskin
Try a graduated shorter bob for thick hair by adding stacked layers at the back to take out more volume. It's a chic way to lessen the bulkiness of a dense mane. A short, angled bob like this looks more dazzling with a shiny finish.
Short Graduated Choppy Bob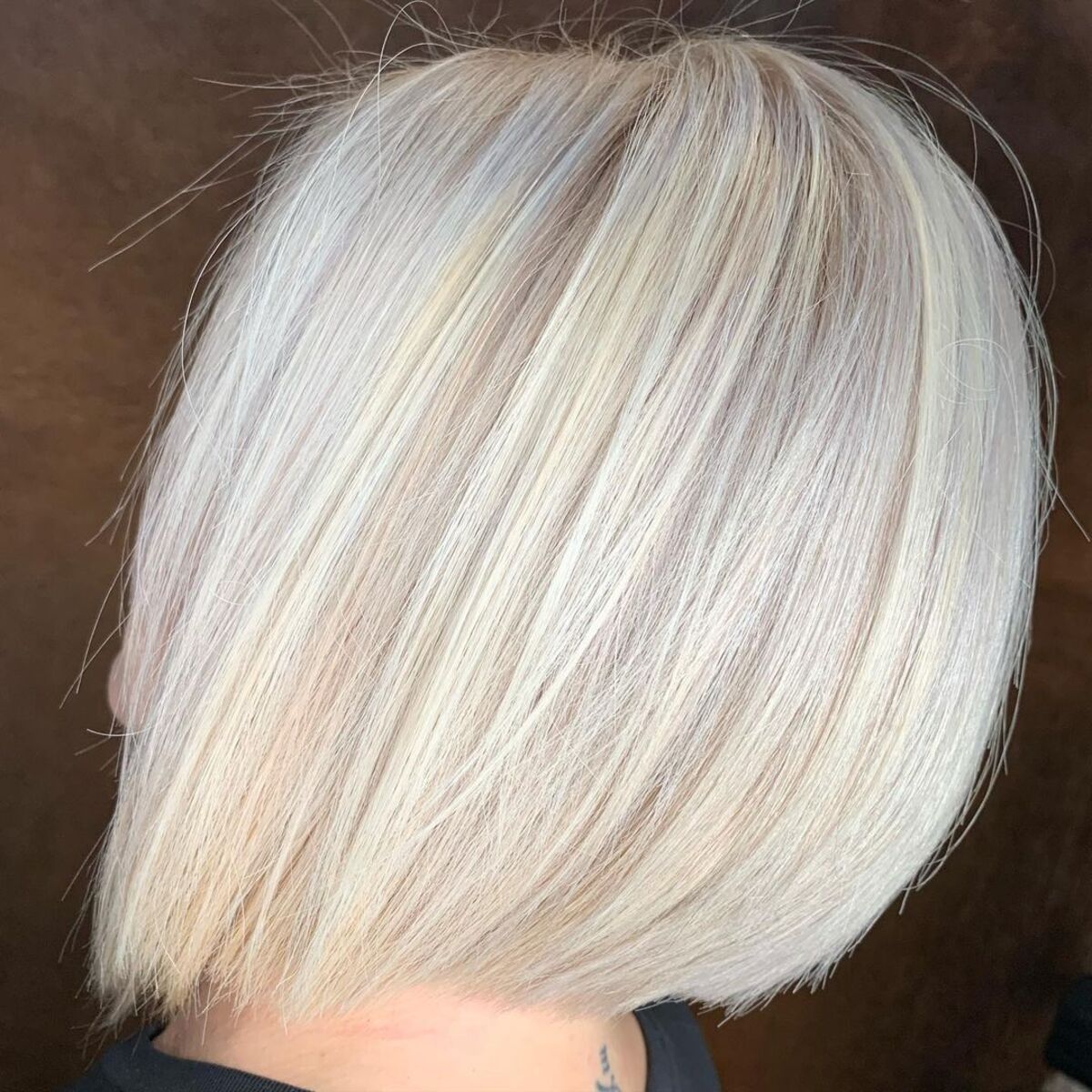 @donna_kaoshair
A choppy short graduated bob cut has an edgier style. This graduated and choppy technique helps to thin out the ends to avoid a flat-looking bob.
Hairstylist Donna Westfall of Keighley, UK says, "any hair type can suit a bob because they're easy to maintain and style."
Ear-Length Graduated Bob
@michelle.k.harrison
Try a classic Sassoon ear-length graduated bob. This one was created by hairstylist Michelle Harrison of Victoria, BC.
"This short graduated hairstyle is a precision cut that is perfect for thick, straight hair," says Harrison. "The volume sits at the occipital bone and the perimeter follows the jawline. Plus, the length at the front has a bevel at the bottom around the nape."
It's a very low-maintenance cut. Harrison recommends you finish it with Kerastase Ciment Thermique to protect the hair from the heat of the blowdryer. "Then use a Denman brush to give natural volume at the roots, and smoothness and shine to the ends," she adds.
Very Short Graduated Bob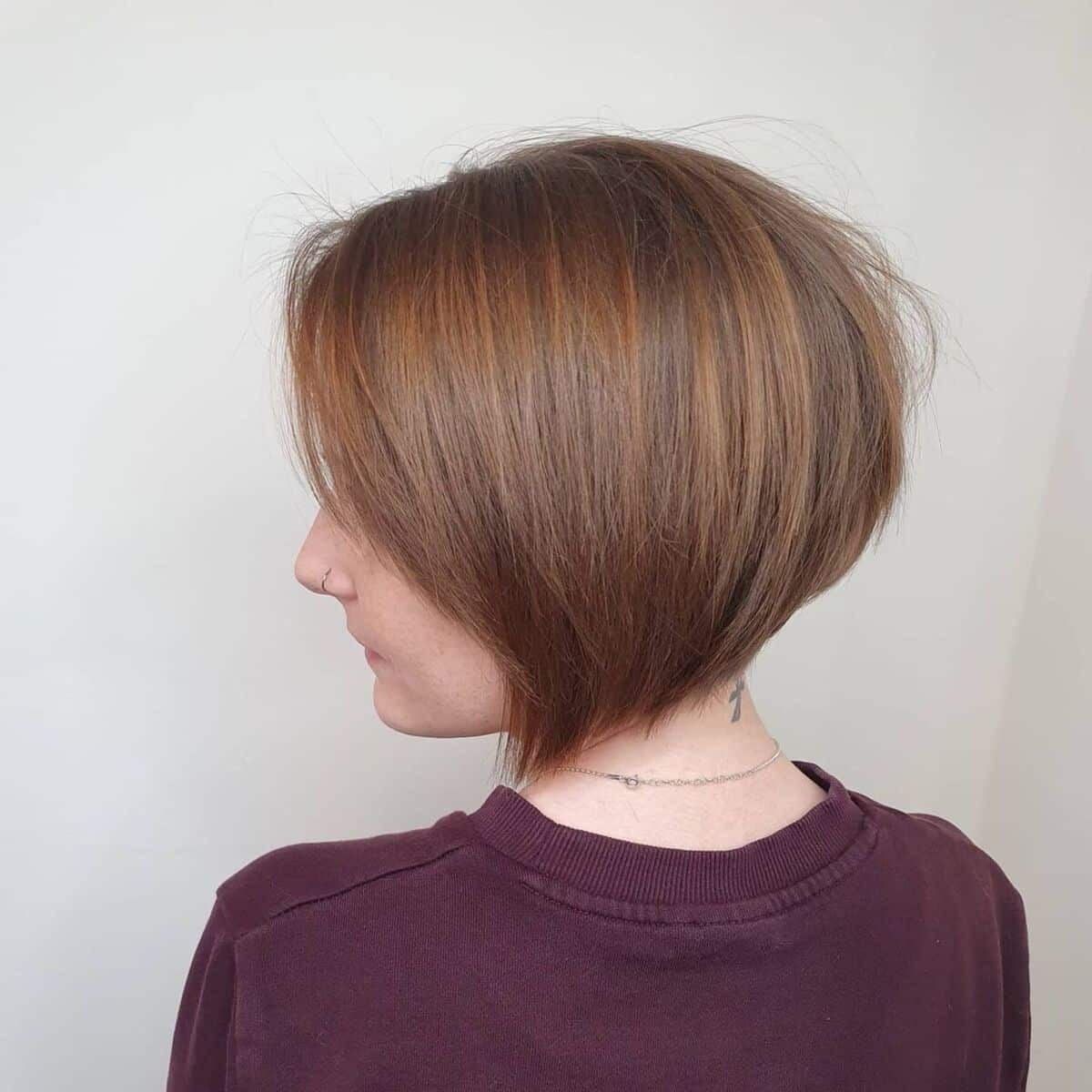 @hdhair13
A very short bob that's graduated never goes out of style. This one was cut by stylist Heather Dunstan of Bristol, UK.
"Graduated bobs are an amazing way to add texture and body into any hair type. Short graduated bobs can also get rid of any unwanted weight from the hair. Plus, they give you a gorgeous flattering shape that can be altered to fit any hair type/face shape," notes Dunstan.
She also recommends you get it cut every 6-8 weeks to manage the shape. Products and styling are your best friend in short graduated haircuts like this.
Dunstan says, "try using a volume mousse or spray and applying these before blowdrying. Use a round brush to get that maximum height and a smoothed shape. Once your bobs completely dry and cool, use any texture powders or sprays. Apply a little to the root area to help keep the volume during the day."
Short Graduated Bob for Fine Hair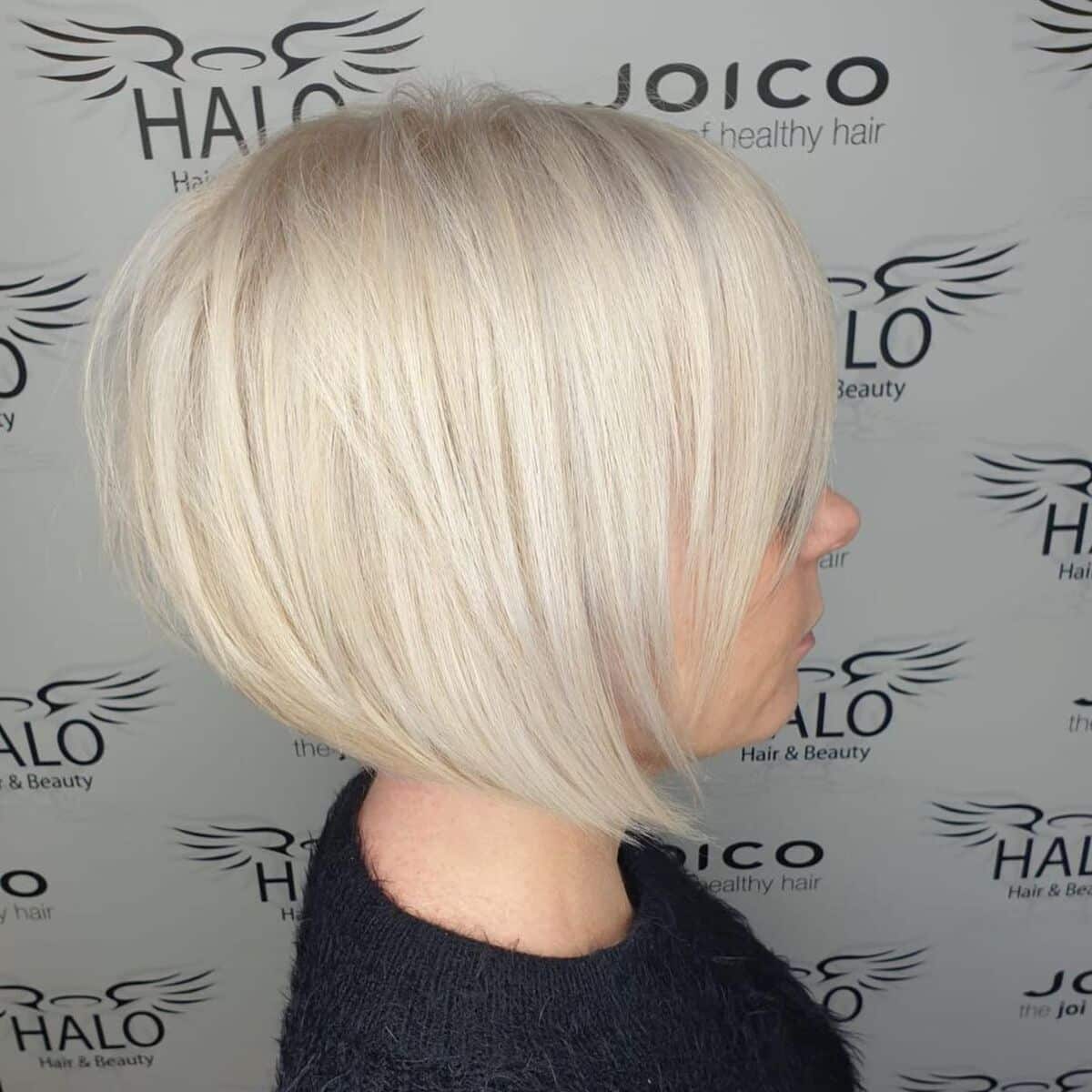 @halodenbydale
A graduated short bob for fine hair is meant to be cut in a way to add more fullness to your hair. This one was created by stylist Natalie Halonka of the UK. She says, "the short graduated bob cut suits most face shapes, and you can vary the length of the style to accentuate or elongate."
Use a small amount of Joico Color Therapy Oil & Smoothing Balm to create a smooth sharp finish. Then use a heat retainer brush to create lift, and straightening irons to perfect the ends.
Halonka says regular trims to reshape the back will ensure it's a style that takes hardly any drying time. When cut well a short bob with graduation will fall into shape with ease.
Modern Short Graduated Blonde Bob
@copenhagen_hairacademy
A short graduated blonde bob is a very modern version of the bob. This one was created by stylist Nadia Durrani of Copenhagen, DK. She says, "it can be styled straight, or with beautiful soft curls."
Durrani says that hair texture is very important. "Looking at the hair texture, you can choose a classic bob, short bob with graduation, or bob with layers," she explains. "The bob does not need much maintenance. But of course like every cut, the more time you put into styling, the more flattering it gets. Make sure to come for a 6-8 weeks trim."
Short Layered Graduated Bob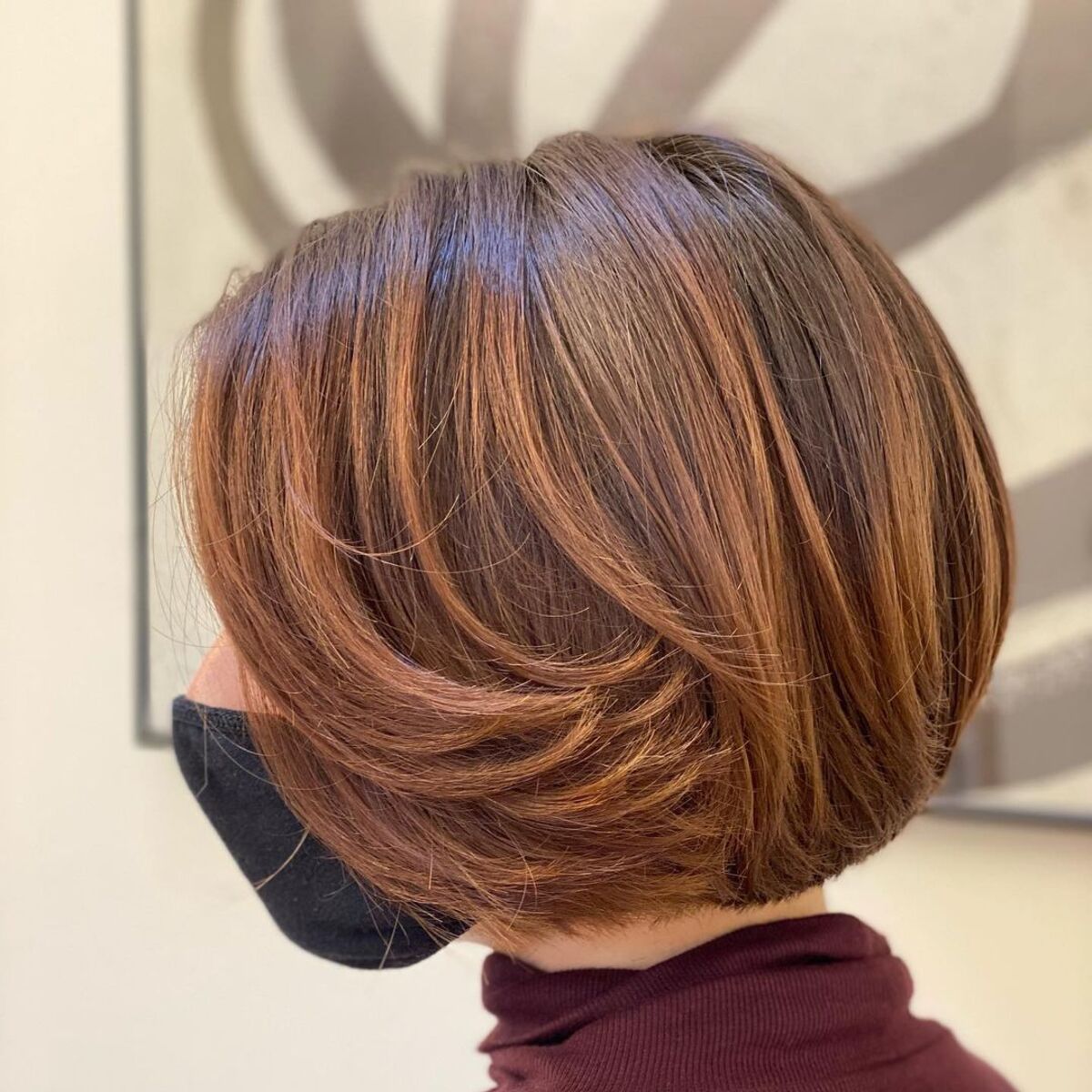 @amydoesthework
Consider trying a short layered graduated bob hairstyle for a grown-up style. Hairstylist Amy Boyington of St. Pittsfield, MA says, "it builds or enhances head shape, flatters faces, and opens the neckline."
The styling of this short graduated haircut is versatile. Boyington states, "smooth, beach waves or a vintage swoop can express the possibilities of this bob."