26 Best Ways to Wear Curtain Bangs with Short Hair
Chin-Length Shag Bob with Fringe Bangs
@lcs.hairdesign
A chin-length shag bob with fringe bangs is a popular new shape. This shaggy shape can be cut with a featured razor to maximize the wispy ends. It works best on hair with texture. For women with pin-straight hair, you might want to add movement with a curling wand. A curling wand is used only at the ends to achieve a flat, textured style. Layered hair needs trimming every five weeks.
@dmitrovahair
A short haircut with long curtain bangs is a perfect choice for a face-framing shape. The long fringe hits around the nose and compliments rounder facial features. If you're not ready to commit to a full fringe, this length grows out quite easily. Short haircuts can make your damaged hair look healthy and strong.
Bob with Layers and Curtain Bangs
@stebunovhair
A bob with layers and curtain bangs is a great choice to spruce up your style. Ask your hairstylist to point cut your layers to create a light and moveable shape. This technique creates texture on pin-straight hair. Try blow-drying using the nozzle of your blow-dryer to tousle the layers without a brush for a messy, lived-in finish.
Jaw-Length Edgy Bob with Middle-Parted Bangs
@nakedeyebeauty
Opt for a jaw-length edgy bob with middle-parted bangs. It could be the perfect style to try if you love short hair but like some length to frame your face. This cut is sleek and modern, a bit high maintenance, but is totally worth it. Ask your stylist if they would recommend this look for you.
Low-Maintenance Bob with Curtain Fringe for Women Over 70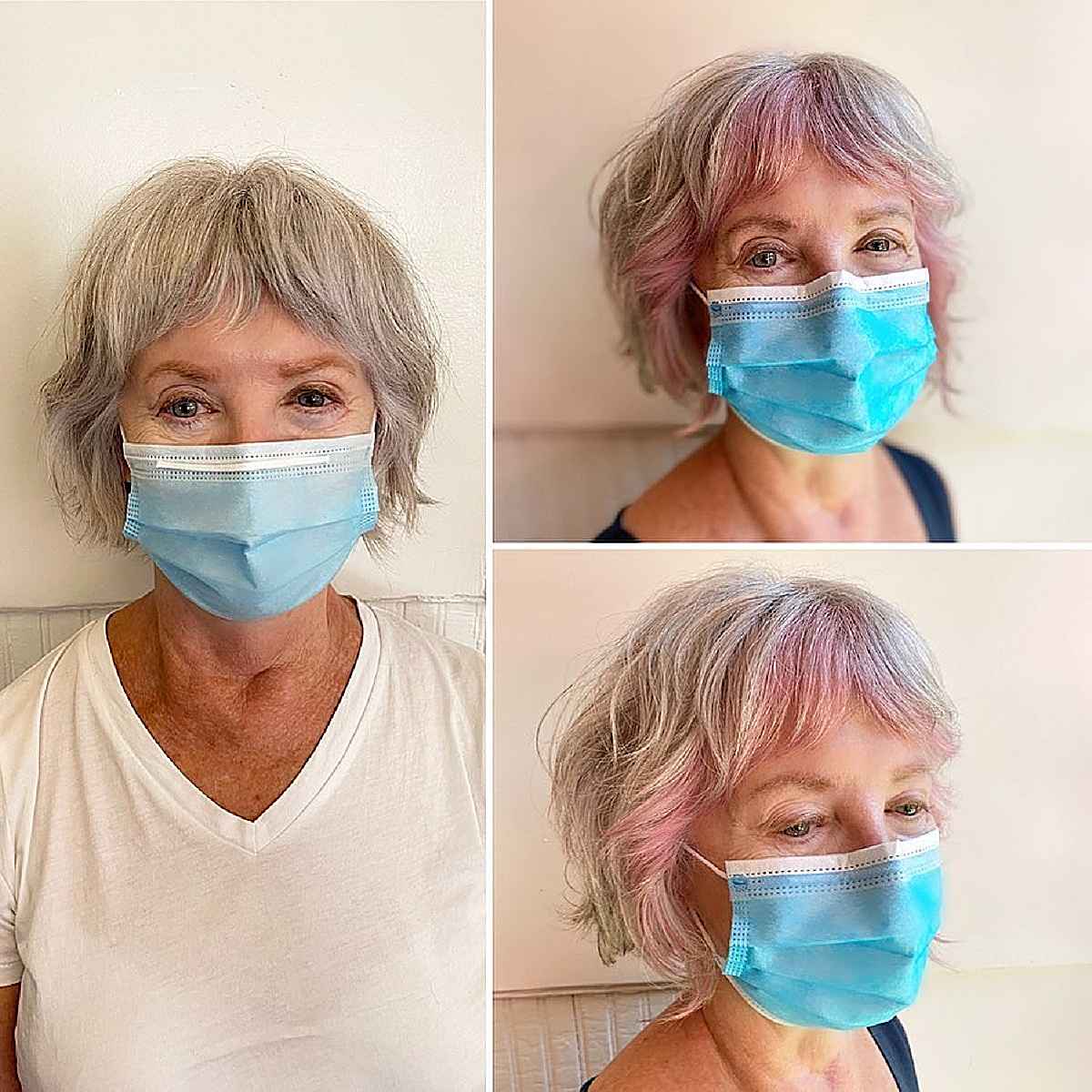 @queenofswordsbk
A low-maintenance bob with a curtain fringe for women over 70 could be the perfect look for you. A curtain bangs hairstyle frames the face in a flattering way. Ask your stylist if this look would work for your face shape. Spritz some Redken Guts 10 on your root area and rub it in before blow drying to get extra volume.
Related: See more layered haircuts with curtain bangs.
Neck-Length Shag with Center-Parted Bangs
@erikahawkins_
A neck-length shag with center-parted bangs brings attention to your eyes and jawline. The light feminine layered shag helps remove bulk and carves out your natural wave.
Short Shag with Curtain Fringe
@hollygirldoeshair
A short shag with curtain fringe is the new bob! Fall in love with short hairstyles that are low-maintenance and enhance your natural texture.
Feathered Cut with Face-Framing Fringe
@hollythehairslayer
A feathered cut with face-framing fringe is a beautiful option when growing out your hair. The length can be maintained while creating volume and bounce through the crown and face.
Wispy Curtain Bangs for Older Women with Shorter Hair
@thepainted_razor
Wispy curtain bangs for older women with shorter hair are the perfect low-maintenance haircut. Try a curtain bangs haircut to soften and hide forehead wrinkles and bring body to your finer grey hair.
70s-Inspired Curtain Fringe for Women Over 30
@marmaladeparlor
A 70s-inspired curtain fringe for women over 30 can bring life to grown-out pandemic hair. Don't you just love haircuts with curtain bangs? This hairstyle is the perfect match for those with naturally wavy hair.
Wavy Hair with Middle-Part Bangs
@manestyles_shaylateal
Wavy hair with middle-part bangs is perfect for a long-awaited transformation. When looking for a new fresh look consider this short style. Every hair type can rock this style.
Messy Short Hairstyle with Curtain Fringe
@giuliasteiger
Try a messy short hairstyle with curtain fringe for something fun and new. This style has the soft movement that everyone is looking for. Styling is easy, upkeep is easy, who wouldn't want to try this chic style? Rub a small amount of Osis Thrill into your fingers and rub it into the end of your hair after styling for this perfectly piecey look.
Shaggy Bob with Center-Part Bangs
@styled_by_carolynn
Try a shaggy bob with center-part bangs for something fun and sassy. We are loving any hairstyle with curtain bangs but this one is one to remember. If you have fine, lifeless hair and want to add some volume, this style could work wonders for you.
Layered Pixie with Voluminous Mid-Part Fringe
@local_honey
Be completely wowed by this layered pixie with a voluminous mid-part fringe. Curtain bangs hairstyles are flattering, but we are obsessed with this one. If you have ultra-thick hair and are looking for something low-maintenance and light, this is the style for you.
Small Curtain Bangs for Women Over 60
@thepainted_razor
Try small curtain bangs for women over 60 to instantly upgrade your style. Cuts with curtain bangs should be shorter in the center and longer toward the cheek while creating a soft face frame. This shape is perfect to soften stubborn lines and wrinkles on the forehead. They can be blown straight down or blown backward at the cheek for a stylish finish. Curtain bangs need trimming every 4-5 weeks.
Ear-Length Pixie Cut with Curtain Bangs
@anzhelika_gricenk_kst
An ear-length pixie cut with curtain bangs is a good transition cut if you're bored with your bob. Keeping the ears covered makes you feel like you still have some hair, but the pixie cut gives you some upgraded style.
Curtain bangs are a great addition and can be versatile. Push them over to the side or part in the middle for a full fringe effect. A pixie haircut will take you less time to style if you're a busy woman desiring to look cute and stylish.
Short Crop with Bardot Bangs
@brianaguilarhair
Consider a short crop with Bardot bangs for an easy-to-care hairstyle. Its relaxed and messy shape is achievable with lots of layers all around for a soft, tousled finish. Try styling the top forward and piecing the ends around the face outward with some wax, and you'll be ready to go in no time. Short hair is perfect for women on the go who want a funky style.
Straight Curtain Bangs on a Short Cut
@ashleytmariee
Straight curtain bangs on a short cut are a cute combination. Curtain bangs can be blow-dried under or off to each side. Be careful not to round them too much when blow-drying. Don't use a small round brush; try a medium size instead. It will help keep your style up-to-date. Hairstyles with curtain bangs complement all face shapes.
Curly Bob with Curly Curtain Bangs
@davidwbullen
A curly bob with curtain bangs can work on any hair texture. If your hair is curly, tame it with a 1-inch round brush, blow dryer, and a smoothing cream to calm the curl just a tad bit. Try softening the bangs by blow-drying them backward. It softens your curls without creating too much volume. Don't be afraid to try a short haircut, even if you have curly hair.
Razor Cut Shag with Bardot Bangs
@nataliarok
A razor-cut shag with Bardot bangs is a trending hairstyle that looks great on young women. A middle part compliments this messy shape. A feathered razor cut promotes movement and texture and is best used on medium to thick hair. It can be used on the ends or to bulk out internally to help your cut lay flatter. Try using styling wax as your finishing product to achieve a lived-in finish. A haircut with curtain bangs can work on most face shapes and is super cute to style.
Sleek Bob with Bangs for Straight Hair
@leboudoirdepascale
Choose a sleek bob with curtain bangs for straight hair to achieve a timeless, polished finish. Make sure you keep this style blunt cut to maximize the impact. A semi-permanent sealer is beneficial to seal the cuticle and create an extra glossy finish. Blow-dry with a medium-size round brush and try Redken's Oil For All, which increases shine and is great for all hair types. A short style needs trimming every five weeks to maintain its shape.
Related: See more straight hair ideas with curtain bangs.
Short Curtain Bangs for Women Over 50
@bareeminimum
Short curtain bangs for women over 50 take years off your appearance. Short fringe is a great choice to balance out longer face shapes, especially when coupled with a chin-length cut. Curtain bangs haircuts look best when tumble-dried for a messy, lived-in finish. Try air-drying or diffusing it in place.
French Bob with Bardot-Style Bangs
@lovesalonpdx
Try a cute French bob with Bardot-style bangs to quickly upgrade your appearance. To achieve a french bob, ask your hairstylist for medium-length layers to create movement and maintain the bob line. The Bardot-style bangs are styled with a touch of wax pieced away from the face. Air-drying comes highly suggested to avoid creating any volume to this shape.
Pixie Cut with Curtain Bangs
@hair_ritualist
A pixie cut with curtain bangs is a cute and fun cut. Curtain bangs should be longer in the corners to create the correct shape. Ask your stylist for 2 to 3-inch layers around the head for a tousled, sexy style. A pixie cut works on most hair densities and is easy to style with a dime-size amount of wax added for an extra layer of texture. Begin your transformation by getting a short cut now!
Short Layered Hair with Curtain Bangs for Women Over 40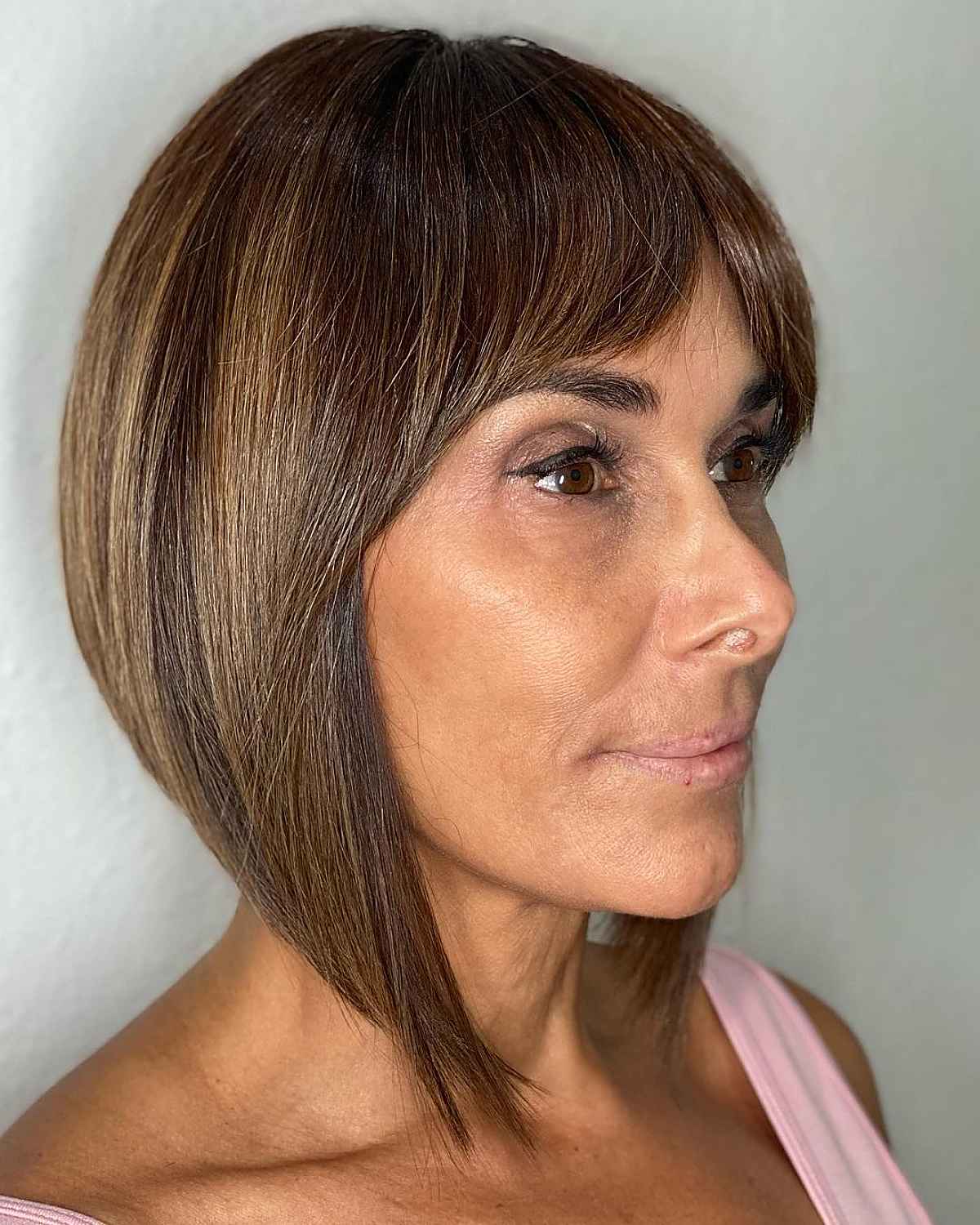 @hairpin_me_down85
Consider short layered hair with curtain bangs for women over 40 as your new style. Shorter bangs and soft layers work well on long or oval face shapes. The short layers perk up elongated facial features and freshen them up. A haircut with curtain bangs looks best when styled flat. Air-drying is a good option when styling. Create a bit of texture and volume using products like Redken's Aerate 08. Scrunch the product into your hair using your palms.
Curtain Bangs for Short Hair
@dmitrovahair
Curtain bangs for short hair look great on all face shapes. They look fabulous parted in the middle and can be parted off-center for variation. Any hair texture can benefit from a curtain bang. It's best blow-dried slightly off the face using a medium-round brush. A short hairstyle might be just what you need. Ask your stylist for more layers and a bang for a trendy new shape.
Related: See more curtain bangs hairstyles.