26 Short Spiky Haircuts for Women Over 60 with Sass
Spiky Short Pixie for 60-Year-Olds
@silver_is_sexy
Add a spiky short pixie for 60-year-olds to your list of haircuts to try.
It's a low-maintenance spiky haircut that is styled simply with a medium-hold hair gel twisted and lifted into place for a fun, fresh style.
Short Spiky Pixie for Women Over 60
@tress_elegance
Consider rocking a short spiky pixie for women over 60. Edge up your next hairstyle with a rock star-inspired short haircut that is a fierce show stopper. Use a volumizing mousse to blow-dry forward and up, then finish with a flex hold hairspray.
Classic Spiked Pixie for Mature Women with Glasses
@meaghanmayohair
Try a classic spiked pixie for mature women with glasses to highlight not just your haircut but your eyewear as well.
Take your spiky pixie cut to the next level with high contrasting highlights for a little extra flare. Style this cut with wax or strong-hold pomade.
Younger-Looking Spiky Pixie for Short Hair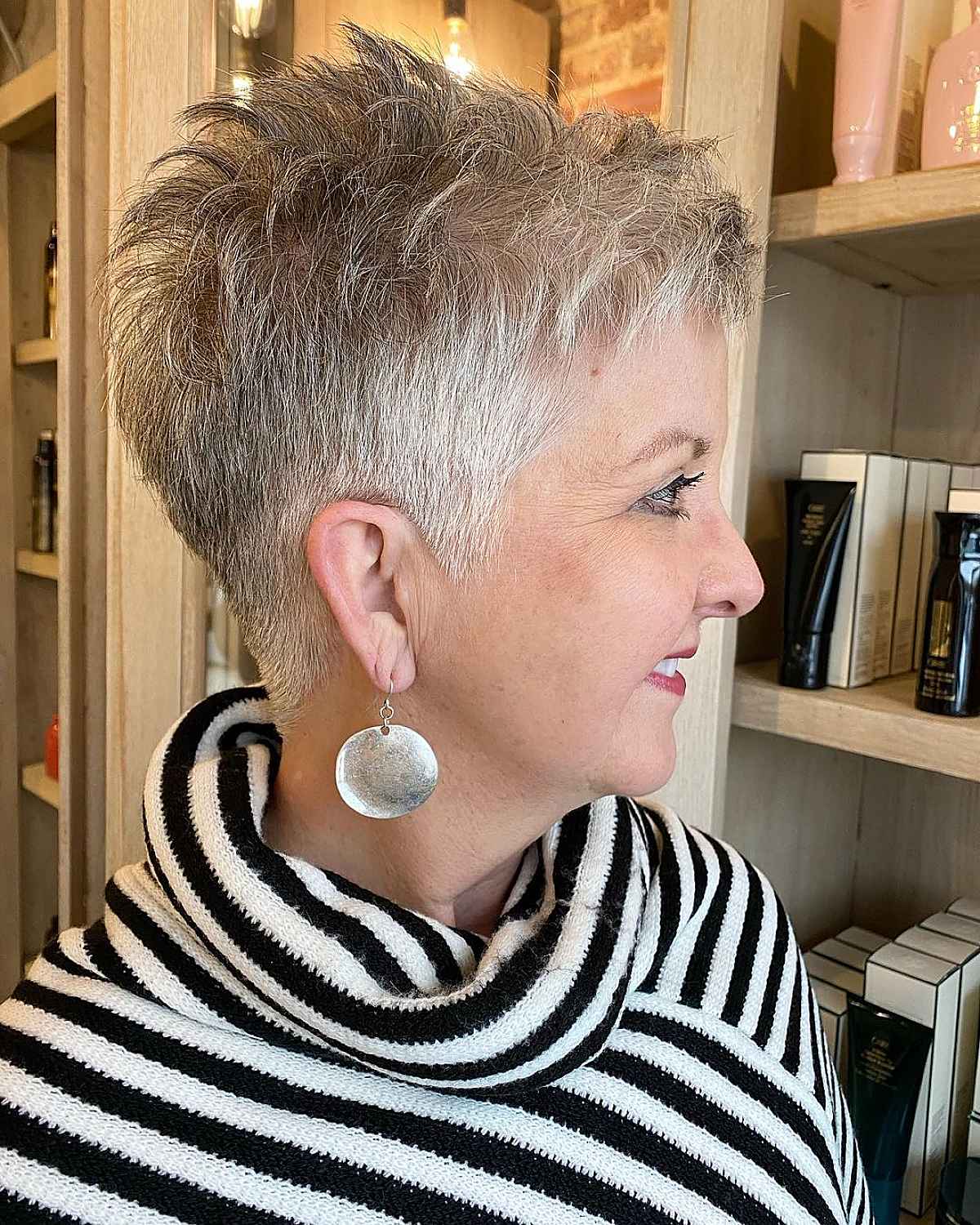 @blondesbaker
When trying a younger-looking spiky pixie for short hair, go for an extra short textured pixie haircut to lift the face and look 10 years younger.
There is no need to hide behind your hair with this type of haircut. Cut it short on the sides and add texture to the top to focus the eyes and cheekbones.
Short Pixie Hairstyle for Women in Their 60s
@mr_d_hair
A short pixie hairstyle for women in their 60's is an ideal option for women who want spiky pixie cuts.
Ask your hairstylist to cut or texturize your hair with a razor to achieve a soft, piecey texture. Style with a wax or pomade for that perfectly undone look. This haircut is optimal for women with wavy or curly hair.
Edgy Pixie with Spikes for Women Over 60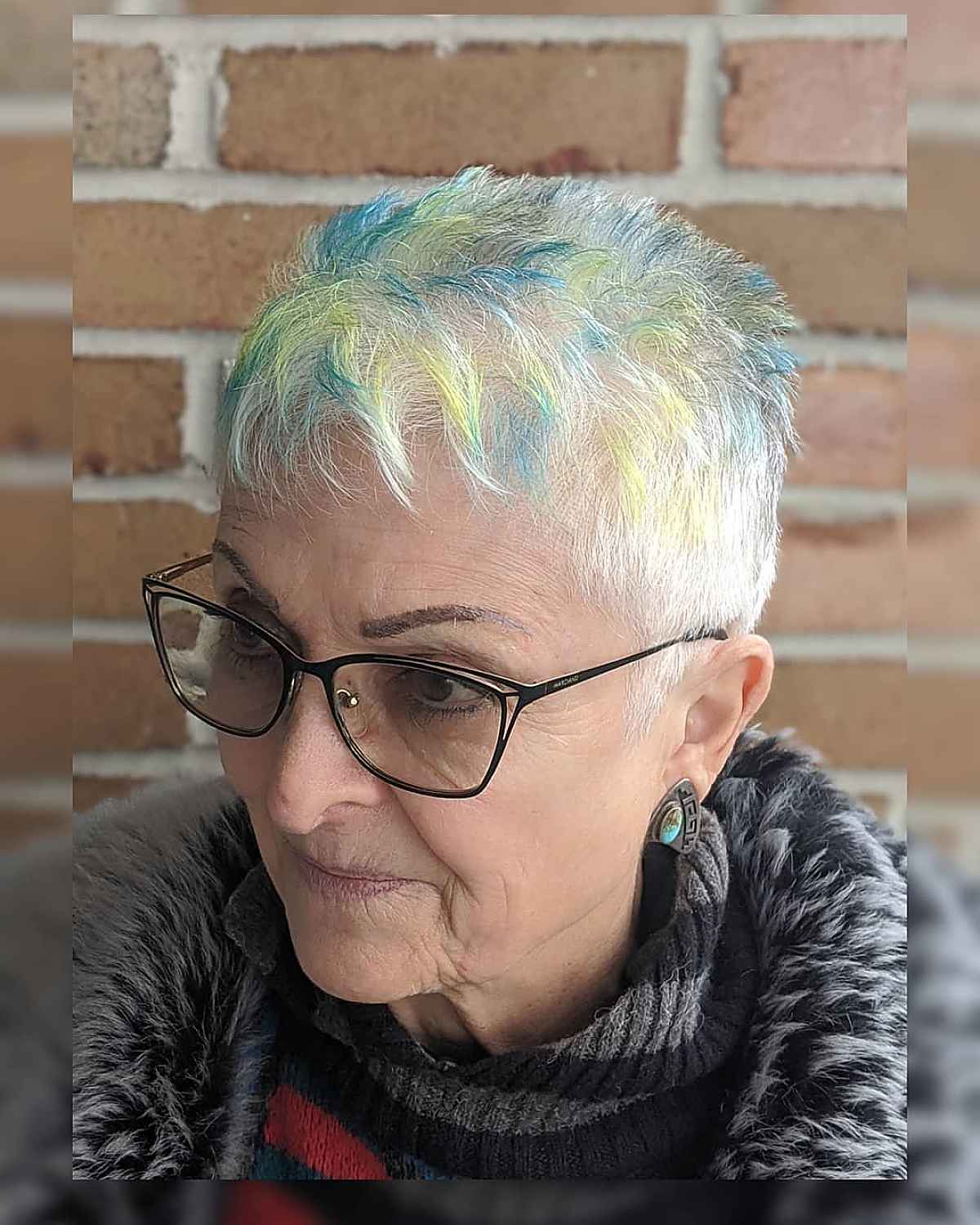 @chebella_hairdesign
An edgy pixie with spikes for women over 60 is a great style choice. For women with fine or thinning hair, this look offers a statement.
Pixie haircuts for short hair are low-maintenance in terms of styling. Set hair trimming appointments every six weeks to keep your cut looking picture perfect.
Related: See more edgy hairstyles for women over sixty.
Pixie Haircut for Older Women 60+
@violet.does.hair
A pixie haircut for older women 60+ opens up the face and is a fun and easy style to maintain. Short styles are customizable to every woman's unique hair textures. Adding a pastel hair hue is another way to personalize this pixie haircut.
Spiky Pixie Cut for Older Women
@hairbyshawnabagg
A spiky pixie cut for older women is easy to style. It adds some edginess to the haircut. Short cuts are perfect for older women as they require little to no maintenance.
Cutting hair with a razor ensures the hair has some piecey pieces with extra texture.
Youthful Short Spiky Pixie
@hairskittlez
An elderly lady should give this youthful short spiky pixie a try. This cut has layers at the back with graduated side layers and a textured fringe.
Pair it up with fresh highlights to show off the angles in the haircut and style with straightened sides and a textured crown.
Funky Spiky Pixie Bob for Women Over 60
@ke.hair
Try a funky spiky pixie bob for women over 60. Explore the rounded-out version of spiky pixie hairstyles.
It's a good haircut for women with natural texture or curls to add volume and waves to the classic style. This cut looks good styled soft and loose, with curls or spikes.
Classy Pixie Cut for Women Over 60 with Glasses
@ke.hair
You can't go wrong with a classy pixie cut for women over 60 with glasses. This short cut offers long layers and more movement than the classic pixie haircut.
It allows you to be able to tuck your hair bending the ear.
It can also help hide the temples of your spectacles if wearing glasses is a must for you. You may spike or curl this cut.
Related: See more flattering hairstyles for women over 60 who wear glasses.
Grandma-Inspired Short Spiky Pixie
@sheshejean
Try a grandma-inspired short spiky pixie. This cut is a modern take on a classic spiky pixie hairstyle.
Techniques like a razor-cut, point-cut, or the use of texturizing shears can all be utilized to create that wispy shattered ends. Try a spray wax for soft hold and textured lift.
Spiky Short Pixie Haircut for Women in Their Sixties
@feketetom258
A spiky short pixie haircut for women in their sixties is a fun style to explore. Spiky haircuts are created with the right styling products.
Start with a root boost when the hair is damp and blow-dry straight, then bring in your favorite was or texturizing spray to bring extra texture and height.
Low-Maintenance Spiky Pixie for 60-Year-Old Women
@katiemuth_jettvance
When looking for short hairstyles, consider opting for a low-maintenance spiky pixie for 60-year-old women.
Blunt cut for added volume and style up backward for added height. This haircut is edged up over both ears, making this cut a good option for an old lady wearing eyeglasses.
Messy Pixie with Spiky Top
@araeofcolours
Consider a messy pixie with a spiky top if you're looking for short spiky pixies. Ask your stylist to razor the front, soften the edges, and point cut the top for shattered ends.
Whether you're spiking it, curling it, or going with a straighter version, you're going to love this cut.
Related: See more hairstyles for women over 60 with round faces.
Grey Pixie with a Spiky Top
@transformationssalonandspa
Go with a grey pixie with a spiky top if you're looking for classic spiky hairstyles for women over 60 with grey hair.
Ask for a 5 or 6 guard clipper cut on the sides with a round blunt haircut on the top and a blended fringe. Try a strong hold hairspray to keep your new spikes in place.
Salt-and-Pepper Spiky Pixie Cut
@colorloungeburbank
Edge up your look with a salt-and-pepper spiky pixie cut. When talking to your stylist, ask for short sides.
Cut it longer in the center on top with a ton of texture. Simply style the top by blow-drying the hair towards the center, making this cut a good spiky hairstyle.
Choppy Spiky Pixie Cut for Older Ladies Over 60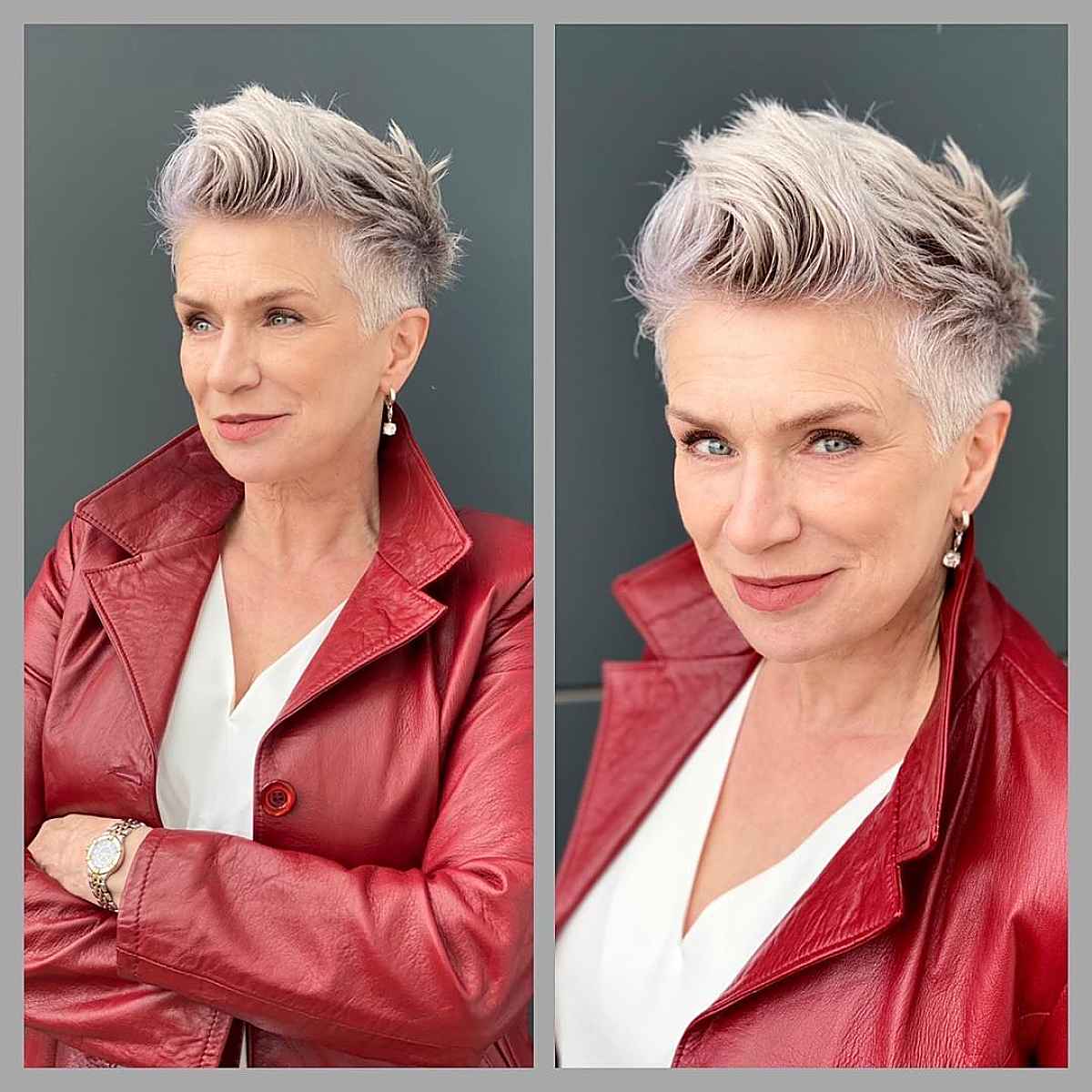 @petra_v1.0
Try a choppy spiky pixie cut for older ladies over 60. Getting older doesn't mean your style has to be out of trend and dull!
A choppy pixie is a great option to add fullness and crank up your sass with maximum texture and bounce.
Spiky Pixie for Short Hair for Senior Women
@estherysuscorazones
A spiky pixie for short hair for senior women is a good choice. Make it easier on yourself with a no-stress, wash-and-go micro pixie haircut.
Out of all the spiky short pixies, this sassy cut gives you the most freedom with the least amount of upkeep.
Very Short Pixie for Old Ladies Over 60
@whitehothair
When looking for a very short pixie for old ladies over 60, try out this symmetrical 1-inch all-over haircut.
It's a simplified pixie crop intended for women looking for a wash-and-go version of spiky pixie haircuts.
Related: See more very short pixies.
Simple Pixie with a Spiky Top
@awildhairaz
Look for a simple pixie with a spiky top if your desiring short haircuts. This cut is a good option if you're looking for a versatile haircut. Spike it up for some fun, curl it or comb through for a sophisticated finish.
Related: See more short haircuts for older women over 60.
Spiky Pixie with Wispy Bangs
@awildhairaz
Try a spiky pixie with wispy bangs if you're looking for a fun style with easy and quick styling. It's a fun short hairstyle that screams you're an edgy, confident granny. Toss some firm hold gel in the back, comb the fringe over to the side, and you're good to go!
Layered Pixie Cut with Spiky Top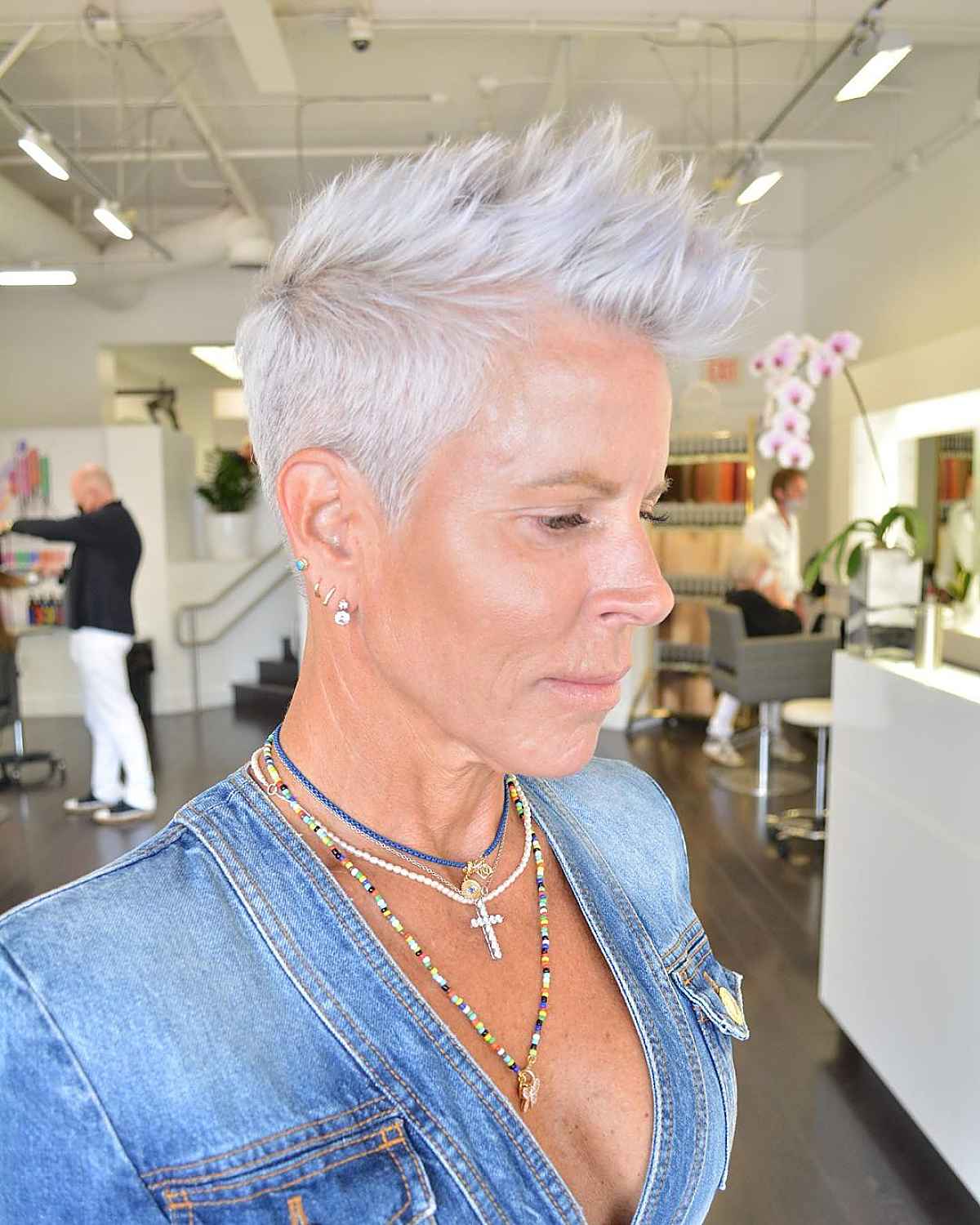 @cristophenewportbeach
Stand out with a layered pixie cut with a spiky top. Whether you have thick hair or suffer from hair loss, this is a good option if you're looking for ease without sacrificing style. Style with a pomade or try a volumizing power such as Design Me Puff Me.
Shorter Spiky Pixie Cut for Thin Hair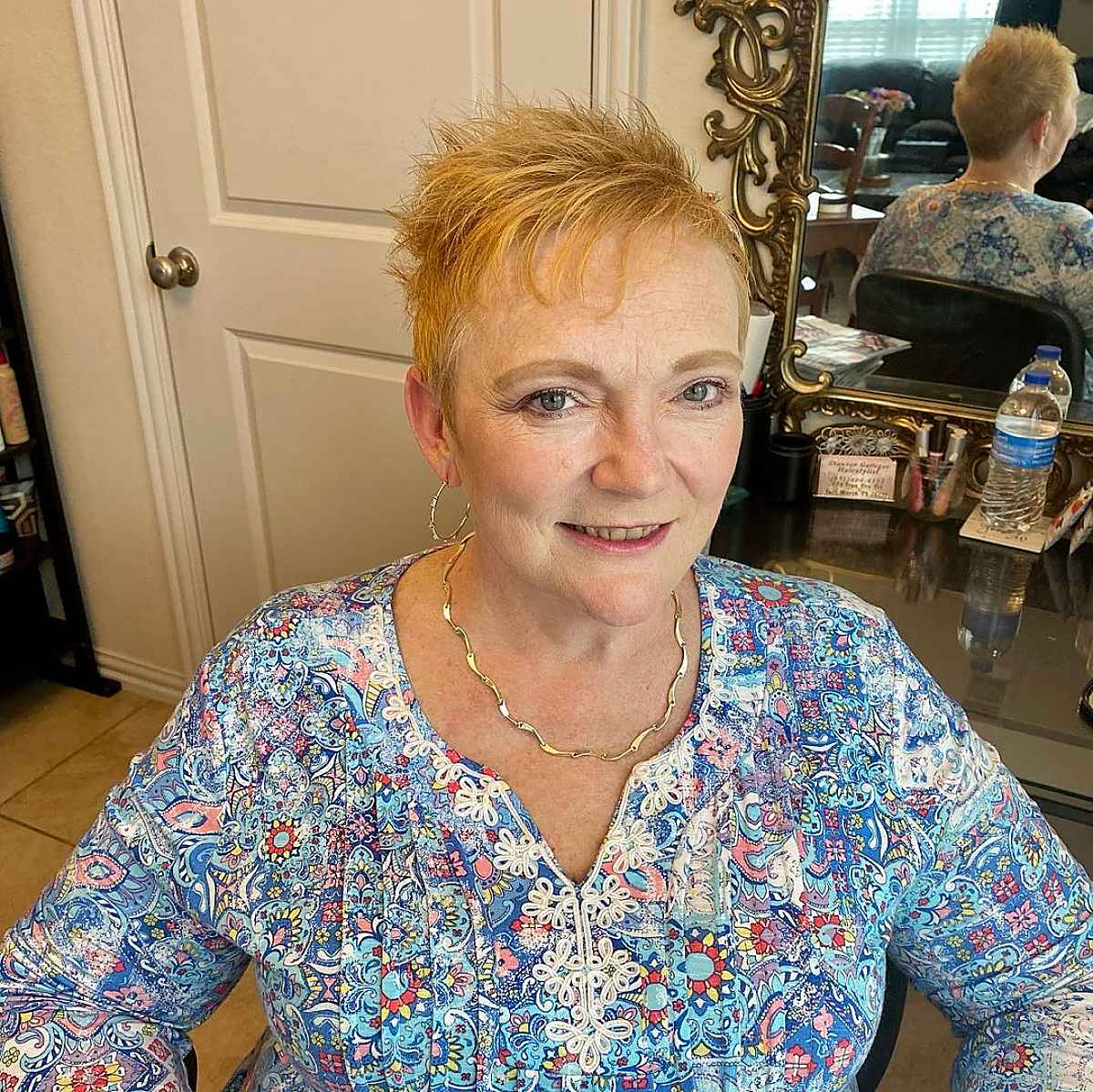 @shannon_love_hair
Consider a shorter spiky pixie cut for thin hair. Try a sleeked-down spiky pixie haircut if you're struggling with thinning hair. Use a volumizing lotion before you blow-dry to create added volume to your tresses.
Spiked Short Pixie for Fine Hair
@jennstransformations
Rock a spiked short pixie for fine hair to get all the fullness and height into your hair. Short hairstyles for sixty year olds with fine hair don't need to be worn so groomed and look great disheveled and textured.
The spiked length allows the hair to look more volumized, so ensure it stays all day with Aveda's Men's grooming clay for a matte hold.
Related: See more hairstyles for women over 60 to look younger.
Spiky Short Pixie Cut with Bangs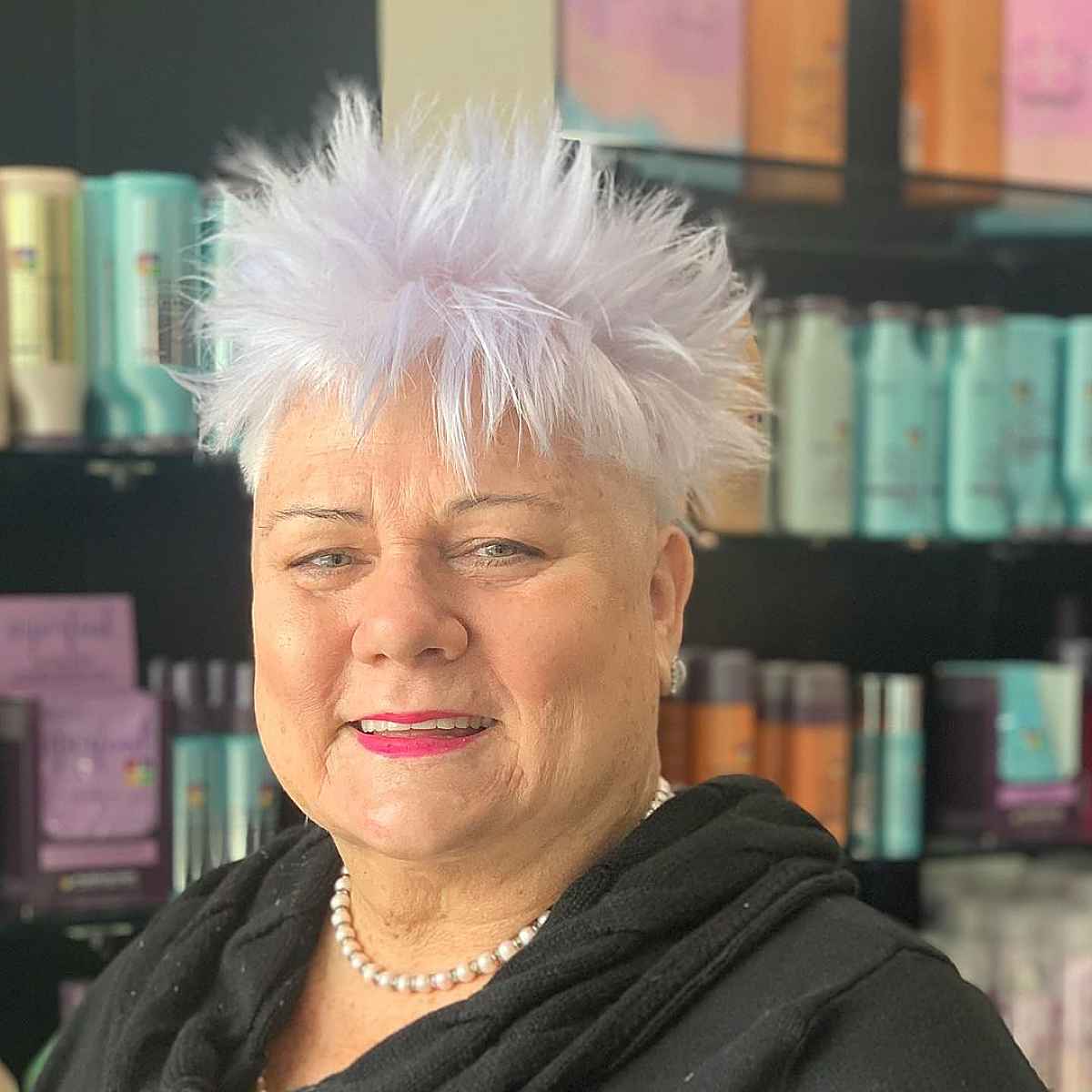 @beautybythor_
A spiky short pixie cut with bangs is ideal for women over 60 with short hair wanting to make a bold statement. To achieve a pixie for short hair, ask your stylist to cut the sides short, using clippers and leaving the top a bit longer and disconnected to the sides.
The length of the bangs can be the same as the top, allowing more versatility when styling. Use PLI thermo-modeling spray by L'Oréal before drying with a hairdryer for a long dry hold.