34 Hottest Pink Hair Color Ideas – From Pastels to Neons
Pink hair is a fashion hair color that blends lighter shades of red on lighter hair. It's what every millennial girl craves nowadays. This bubblegum color won't be going anywhere off the pink hair trend list anytime soon!
With pink hairstyles, one important thing you need to consider is the shade of your skin. Tan to dark skins are the luckiest because any shade of this dreamy color looks amazing on them. Women who have lighter complexions tend to look stunning in bright or pastel shades.
The darker your hair is, the more coloring sessions it will take to get to a light pink color. Play with this funky hue or choose from a vast spectrum of pink. A pink's hint can range from vibrant and bold neon to subtle and muted pastel.
Pink hair can fade quickly without the proper at-home maintenance, so be sure to speak with your stylist or colorist about which products to use, how often you should wash your hair, and the do's and dont's about styling.
Before your next hair appointment, check out these popular and pretty pink hair color ideas!
Two-Toned Pink

@making.magiq
This is a two-toned pink hair color that offers a dashing, flirty finish. Achieve a seamless blend of tones by using peach and rose hair dyes. The trend suits fair skin complexion the best.
Violet-Tinged Pink Hue

@stylehaircabeleireiros
A beautiful shade of a violet-tinged pink hue gives a woman a chance to show her style and edge. When considering a fashion color, women can always start by adding in the color of choice with highlights first, and then eventually going all over if that is the end goal. With any fashion color, an appointment every 4-5 weeks is recommended to maintain vibrancy and richness.
Blonde Hair with Pink Streaks

@lushculturebendigo
Adding pink streaks in with your normal highlights is a fun way to switch up blonde hair. The porosity of hair plays a big role in how well a fashion color holds up. The healthier the hair, the better color will stay in! To keep your color looking fantastic make sure to use a color-safe shampoo and conditioner and always use a heat protectant to avoid fading.
Pink Pixie Hair

@_style_cave_
A short pink pixie with shaved sides is edgy and a great way to show off your personality. When maintaining a cut that has shaved sides, make sure you are scheduling an appointment with your stylist every 3-4 weeks to ensure the sides do not get too unruly. You can choose to trim the top every appointment, or let is grow longer for even more versatility!
Unicorn Baby Pink

@vividhaircreations
These dramatic unicorn baby pink rose hues on long waves are to die for, and it's time to try 'em! This unicorn hair is perfect on a warm skin tone! Amp it up on a half updo with waves and a moon hair clip to really stand out.
Pink Bangs

@christinaperez93
Play with pink bangs to freshen up the area around the face. The fringe makes a chic pairing with any ashy blonde hair color that has a pinkish undertone, too.
The combination of colors is similar to the one worn by A-lister Mary Charteris. It's such a creative way to see if brighter shades of tresses can look great on a woman.
Short Light Pink Hair

@halohairphilly
Go a full-on light pink for short hair, especially when you have a bob cut like this one! It's ideal for neutral to cool skin tones. Doesn't it remind you of Ashley Tisdale's pink hair?
Lavender Pink

@fameho0ker
This lavender pink almost looks like a wig, doesn't it? I love this fading ombre finish that starts lilac then washes out adorably to her wavy ends. Using the best hair care products is key to achieving this smooth and shiny hair.
Bubblegum Pink Color
Bubblegum pink color is a soft and sweet candy pink hue painted on pre-lightened hair. To keep this vibrancy, it may require more maintenance at home. Another option is to let it fade out to a dusty rose version and still get the best of it.
Pink Magenta with Dark Roots

@kampaamokulma
Pink with dark roots looks more dramatic with soft waves on a mid-length cut. It's such a flirty and creative way of perfectly coloring your hair! Your natural hair will grow out with ease, blend in the color of the roots, to save you weekly visits to the salon.
Pink Mermaid Hair

@lestatty_
Pink mermaid hair is a great way to end your boring dark color. Ask your stylist to dye your hair to this unicorn rosy pink shade. This pink blends into a purple ombre on lengthy and layered straight hair. The depth in the roots let the tones shine even brighter, which also resembles model Irene Kim's dark-rooted pink locks.
Dark Pink for Curly Hair

@enigmatic_designs
Liven up the hair by adding pops of delightful pink, purple and coral hues all over. Just make sure to moisturize to keep your pink-tinted locks healthy and strong.
Copper Rose Pink

@lindamikaelsdotter
The copper rose pink color and vibrant mocha look amazing when combined. It complements smoothly waved hair and creates a dimensional appearance that's enhanced beautifully.
Pink Lemonade Hair Color

@cutxcolor
This refreshing, pink lemonade color is a thirst-quenching shade of pink. This super soft and light carnation hue is done on medium-length hair that ends in peachy pink tips with an orange undertone.
Neon Pink Hair

@hairbymandypavia
Neon pink hair isn't for just anyone. It takes a lot of maintenance to handle this hot pink electrifying color. This gradient pink hairstyle compliments any hair texture and length.
Metallic Rose

@maggiemh
This is a metallic rose color with a pastel cotton candy pink tone that works if the hair is lightened up properly. This rosy pink hair color looks amazing on smooth textures to show off that shine, so find the best colorist to get your hair pink.
Hot Pink Hair

@oxyjennbeauty
This deep hot pink color is one idea for women wanting a mermaid princess vibe. It's a bright and stunning hue that looks good on any skin color. It takes a lot of patience and effort to achieve this solid rich pink result, but in the end, it's absolutely worth it.
Lilac Pink

@jeffreyrobert_
A lilac pink tint is a demure hue sought after by millennials right now. It features a combination of metallic and a dusty pink together in one shade. These pink hair ideas can only be achieved on pre-bleached hair.
Watermelon Pink

@marciedidmyhair
This sweet watermelon pink color is for you if you wanna be cool for the summer. Show off this pretty color with some layers, streaks, and texture for a dimensional result.
Pink Champagne

@mahasoafr
Pink champagne makes a romantic hair color, which radiates a playful impression. Use a fuchsia shade to darken the roots. It helps the champagne tone to pop out. Feel free to upgrade the locks with waves to create a subtle texture.
Pink Platinum

@sydneyannlopezhair
Pink platinum has a combination of a metallic tint and a pale reddish hue. Straighten it and maybe add the bangs, you'll pass the Nicki Minaj's pink hair vibe. It's a perfect hair color for glamorous ladies who love fashionable, vibrant trends. Make sure the mane is healthy to keep its shine.
Soft Pink Hue

@color.by.yasmeen
"Faded fashion colors, like this soft pink hue, fade out quicker than other colors," explains colorist Yasmeen Osman of Boston, MA. "So the right products are essential to helping you maintain your pink-haired look. Dry shampoo allows you to go longer between washes, keeping your pink color vivid. Also, ask your colorist to mix you up a colored conditioner. Using that with every wash will help put back a little of the pigment you're losing with your washes."
To get a vibrant color, Osman says you'll need to lift your hair to a fairly light base. However, this can compromise the integrity of your hair.
Styling products and heat protectants keep your soft pink hair healthy and shiny.
Osman goes on to say, "if you're thinking about dabbling in the pink but are not yet ready to go all-out pink, you can always play with pops of color in your light brown or blonde highlight or balayage. Pink is also a good gateway color if you've been considering fashion tones in general. Subtle enough to be worn in an office setting, but still a bold statement."
Pinky Rose Gold Hair Color

@ks_bellashair
"With the waves mixed with the pinky rose gold color, I picture a beautiful mermaid-like Hailey Baldwin Bieber," says hairstylist Katlynn Squyres of De Ridder, LA.
"While doing a fun color, make sure you have fresh ends," notes Squyres. "This will tell you whether or not your bright pink hair is healthy. Use the color line Goldwell for the best results in achieving rose gold hair."
"Listen up, pink hair girl," she adds, "use cold water when washing your hair. Use a viral light pink shampoo and conditioner. The most important key to rocking this color and style is confidence."
Rose Quartz Hair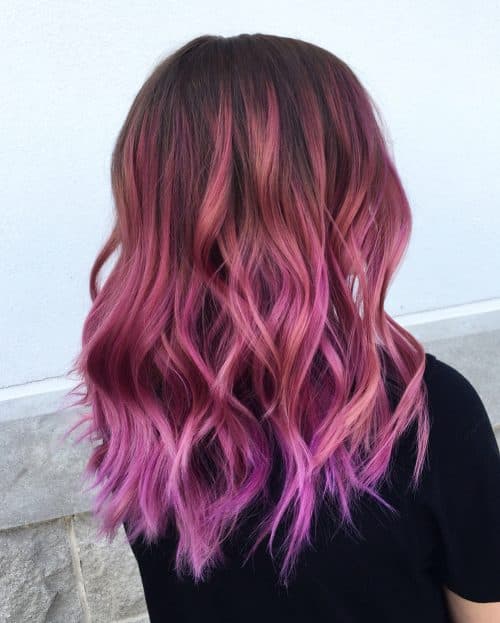 @fullhairalchemist
These rose quartz pink tresses are edgy, yet wearable! This particular hue was created by color specialist Felicia Jean of Williamsburg, VA.
"The blended placement makes it soft and gives it a natural feel while the tone is more spunky and vibrant," says Jean. "The natural hair has pink color blended in at the root."
This dark pink hair can grow out for months and continue to look great, with the option of changing it up a bit with the tone.
Jean says to keep in mind that to achieve these types of colors, your hair needs to be pre-lightened. "A blended balayage is perfect as it keeps it low-maintenance as it continues to grow out."
With fashion colors use a sulfate-free shampoo like Pureology as little as possible. Cool, cold water is best as it keeps the cuticle sealed closed and locks color in.
These practices will give you the most longevity for these semi-permanent colors. Embrace the fade! Be bold, and play with layering different tones in as it fades to your natural shade.
Purple and Pink Galaxy Hair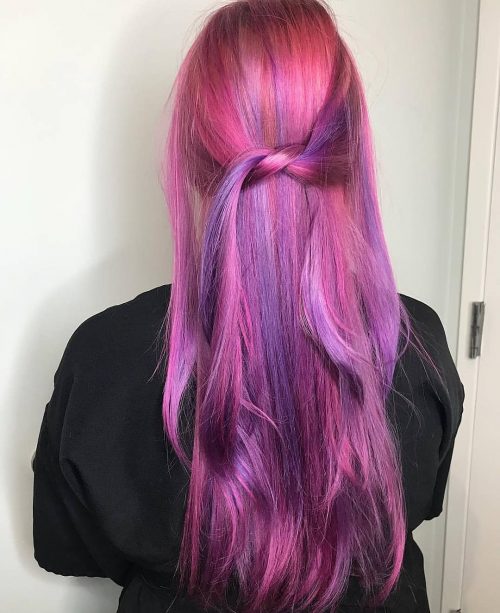 @brittni_perry
This purple and pink galaxy hair was created by junior stylist Brittni Perry of Boston, MA. "Its purple and pink dye job is a fantasy color melt," explains Perry. "Dyed pieces of hair in pink and purple are super trendy."
Pick colors that marry together and blend into a beautiful transitional color. Finish your pink hair off with a little twist to show off more colors.
Perry reminds us that cooler, blonde hair is easier to lighten than dark brown colored hair. "Trying this pink color out could be fun and new, but you may not get that 'Pinterest perfect pastel' on your first try."
Rinse in cool water and use minimal heat. This will allow you to keep your pink hair colors bright and beautiful. Fantasy colors can be worn by women of all ages, and you can rock your pink look in different ways.
Dusty Pink Hair Color

@styleby.louise
This perfect dusty pinkwas created by hairdresser Louise Keyvan of Sweden. "Very often you see a dramatic coloring with an even more dramatic cut," says Keyvan. "The loveliest thing is that the simple and straight cut makes the color speak for itself. The styling is clean which emphasizes smooth coloring."
If you're bleaching your hair, Keyvan says to use Olaplex to keep it in good condition. "It's a treatment that protects and preserves the texture of your hair."
She goes on to explain, "use color preservative shampoo and conditioner. Don't forget to use a hair mask. Book your hair appointments within 8 to 9 weeks to maintain the best results of your dusty pink hair."
Faded Pink Ombre

@jbootybb
"This faded pink ombre is a soft pastel ombré," says cosmetologist Julie Kathryn of Baltimore, MD.
"There's a fluid transition between the vibrant pink root and platinum pink ends," she explains. "For women wanting to color their hair pink, or with a touch of pink, this is definitely a good first option. Pastels are much more involved than most women realize."
Light pink hair dye takes longer to get right with darker hair strands. If you're looking for pink hair inspiration, Julie suggests you consider an ombre to help you transition.
"Ask your stylist about pink extensions before making the change," she adds. "Pastel tones have a shorter life-span than other vivid tones, so go deeper than vibrant. You'll get more out of your pink color as it fades."
Vivid and pastel colors may not be for pink-haired women that have to wash their hair every day. Looking for the gateway to the unicorn life? Pastels are concealable and easier to remove if needed.
Barbie Pink, AKA The Millennial Pink Hair

@style_haus_salem
This barbie pink hair is also known as millennial pink. It was created by hairdresser Cortney Pinion of Salem, OR.
If you have blonde or platinum blonde hair, Pinion says to ask your stylist about adding pastel opal roots first. "Pair your simple hairstyle with a very current or edgy color to create a great dynamic. The simple cut makes the color pop, and the bright shade shows off the elegance of a classic cut."
Pinion reminds us that this isn't a low maintenance hair color. "For pink hair styles, you'll need to minimize shampooing and only shampoo in cold water. Use Olaplex treatments week to care for your hair and your hair's color," she notes.
Pink is a universally flattering color. It looks great on all skin tones and complexions. Plus, it gives a healthy glow to both warm and cool undertones. Millennial pink is the new blonde. It's more intense than pastel pink, but paler than hot pink.
Dark to Bright Pink Ombre

@codyaroussel
This dark to bright pink ombre hairstyle is bold, yet minimal. It was created by hairstylist Cody A. Roussel of Prairieville, LA. "The juxtaposition of the bright neon at the base blends to a baby pink. All while the pastel gives the blunt bob softness," says Roussel.
When you choose to do a fashion shade, Roussel reminds us that it can bring out a personality you never knew you had. "Pink shades and purples are much smoother to transition. These shades usually turn into over-toned blondes and rose golds."
It's crucial that your stylist has a thorough consultation with you to make sure you are on the same page. Talk to your hair colorist about routine toning and treatments.
Icy Pink Hair

@hairicome_
"Icy pink hair, like all shades of pink hair color, is so popular right now," says bridal hairstylist Melissa Howlett of Gold Coast, QLD.
For at-home maintenance, Howlett says to use dry shampoo, hairspray, and texture powder to lock in the icy pink and preserve your hair.
Pastel Pink Hair

@jeanclaudeelmoughayar
This pastel pink is simple and sharp. It's a perfect option for women who would like to try something colorful, but nothing too bright.
It's also fading beautifully from lighter pastel pink hair to blonde again. The greatest thing about this look is the soft light pink tone of the color.
To achieve this pastel color, use pigmented shampoo or conditioner. It will help to maintain the pink tone.
Smokey Pink Strands

@tracy_ellen_beauty
Smokey pink strands and peachy pink locks on naturally black hair look almost like what Kim K would wear.
Cotton Candy Pink

@hairbyashleylynds
This cotton candy pink hair with beach waves creates volume and texture. Everything about these color pieces are pretty!
Flamingo Pink

@hairtiste
This flamingo pink fashion color is fun and exciting. Enhance the appearance of the red and pink hair tones by styling your locks with waves, too.