Light to Dark Green Hair Colors – 20 Ideas to See (Photos)
Olive Green Hair

@unme_salon
This olive green hair is an unconventional green hue in every way. Olive hair color brings a sheen to the hair and is surprisingly vibrant and cool.
Neon Green Roots à la Billie Eilish

@hoshiyuta
Neon green roots à la Billie Eilish is a hairstyle meant for those who are bold and daring. This trend consists of bleach-blond roots and black hair with neon direct dye. This technique should only be tried if the hair is in good condition and hasn't been color-treated for at least 4-6 months. Maintain hair color and integrity with Olaplex no 4, 5, and 8.
Green Semi Permanent Hair Color

@islandbreezehair_bygio
Green semi permanent hair color is a must-try to spice up your fantasy hair dreams. Make sure your hair is lifted to a level 9+ to get the best results. Try Arctic Fox to achieve this shade. A root melt to lighter green on the ends gives it more dimension and will last a few weeks before starting to fade away and need a re-touch.
Blonde to Green Ombre

@daisymayhair
A blonde to green ombré is a super fun color. It works great with naturally light or naturally dark hair, too. As long as you go to a skilled stylist that handles bleach well for lifting you can achieve this color within 1-2 sessions. More than likely this is semi-permanent color and will fade within a month and need some refresh of the green. Or jump to another color like blue!
Neon Green Hair

@ririfergharv
A sparklin', pop rockin' color that brings you back to the future! Bright pastel green is a refreshing take on the old grassy hue.
Dark Green Hair Color

@jonahrunswithscissors
This dark green hair color is bold, edgy, and fashion-forward. It was created by stylist and colorist Jonah Crescencio of Covina, CA.
"Make sure that 4-6 week maintenance appointments would work well with your schedule to ensure that the hair color is well kept and vibrant," states Crescencio. "Be sure not to wash every day (2-3 washes a week max) with cooler water using sulfate-free shampoos and conditioners to keep the green color from fading."
Lime Green Hair

@daniellesblends
You can see those deeper greens blending into an electric, highlighter green shade. "This color was created using the game-changing color line Pulp Riot. Something truly amazing about a bright, neon green, is that it's definitely a show-stopper. Statement greens are definitely original and unique," explains salon owner and stylist Danielle Gorewitz of Mooresville, NC.
For a woman wanting vivid colors, especially neons or greens (or both), Gorewitz says you need to be paired with a stylist who will educate you. "Proper at-home care and products are crucial in the fade-out process in vivids."
Something like a neon green is definitely suited for babes with an edge. It's an attention-drawing color. This lime green hair color can cover ahead or it can be placed as "peek-a-boo" highlights for just a pop of fun color.
Forest Green Hair Color

@vancouvhair
This color is forest green and was created by master stylist Amanda Vieira of Vancouver, BC.
"Think dense evergreens deep in the woods of the pacific north-west against the cool backdrop reflection of winter. It's the fun of fantasy/vivid color without trying to be in your face about it," says Vieira.
When wanting to maintain any fantasy colors like green, Vieira says avoid excessive heat styling for the first week or two and to wash with cool water. "Warm/hot water opens the cuticle of the hair and strips away color. Plus, any sulfate shampoo will strip color as well."
Because of the logistics of a bleach-out process and touching up the roots afterward, women who want fantasy colors like this should be prepared to come in every 5-7 weeks.
"Vivid colors look their best for the first 3 weeks depending on how often you wash your hair," she adds. "But it can stay fresher for longer if you don't wash your hair too frequently, you're washing with cool water and using sulfate-free products and custom color conditioners."
Purple and Green Balayage Hair Color

@giannadoll13
This creation is a peacock coloring that was handcrafted by creative colorist Gianna Lidgett of Bakersfield, CA.
"The coolest thing about this balayage is it's perfect for darker hair," says Lidgett. "When cutting long layers into hair, it gives movement to the color allowing you to see peaks of highs and lows."
Lidgett encourages you to embrace the fade. "Pulp Riot's colors fade true to the tone and become a more pastel version of themselves. It's a hair journey to enjoy the ride. As always, the right shampoo and conditioner and cold water will always take you further."
Green Mermaid Hair

@thehairpriestess
This curly green mermaid hair was created with Pulp Riot by color specialist Justine Louise of Leominster, MA.
"With Pulp Riot as the paint, the palette was fully customized with the use of 8 different colors, utilizing the contrast between rich greens and electric neon prisms to bring balance and movement to her hair," says Louise.
"For women willing to invest in not only the initial service but also the proper home care products, these greens won't disappoint," she explains. "Use Pulp Riot's color-protecting Bangkok shampoo, Tokyo conditioner, and Berlin dry shampoo in between wash days. Seven weeks later, at two washes a week, this beauty is still rocking the color vibrancy."
"I hear so often, 'I'd love to have fun colored hair, I just couldn't pull it off,' but rainbow hair is for everyone. There are women over 60 with either silver or grey hair who ask to be unicorns and mermaids," she adds.
If you're considering green as hair color but are hesitant, ask your stylist to start you off with some hidden or peekaboo panels. Keeping a natural colored root with either a melt, balayage, or ombre is also a great way to ease into the unconventional.
Pink and Green Balayage Hair

@melanniemillan
Flaunt your mermaid hair with flattering beach waves on your long and flowing locks. Surely, all the mermen are going to dive in for this look.
Bold Green Dip Dye

@erinscissrhands
This bold green dip dyewas created by salon owner and stylist Erin Holder of Colorado Springs, CO. "Opt for a color that is edgy and vivid, but also low maintenance. Colored ombres are fun colors to have," says Holder.
The coolest thing about this black and green hair is that it's edgy, but still easy to maintain.
"A color depositing conditioner lets you maintain the color in the shower," she adds, "and it'll last as long as you keep using it! This is a must for any vivid colors, especially black hair with green highlights."
Be ready to stain a few pillowcases and towels with any bright color, but it's worth it. Keep the base close matching your natural one, so the grow-out is forgiving. Especially if you're not someone who tends to get your hair done very often.
Pastel Green Hair Shade

@bree.little
"This minty fresh pastel green color is an amazing color to rock," says hairstyle expert Bree Little of Encino, CA. "Green and mint tones are reminiscent of spring, as the cold starts to fade away and we start to see all the fresh new life growing in nature. It's a beautiful hue on either cool or warmer color ranges," she adds.
Mint color tones like this are a soft way of wearing a color that oftentimes can be intimidating to people. Little says, "a lot of women feel that green shades may not suit or complement them. However, most women can wear any color – it's just finding the right tone and level of it."
Black and Green Ombre Hair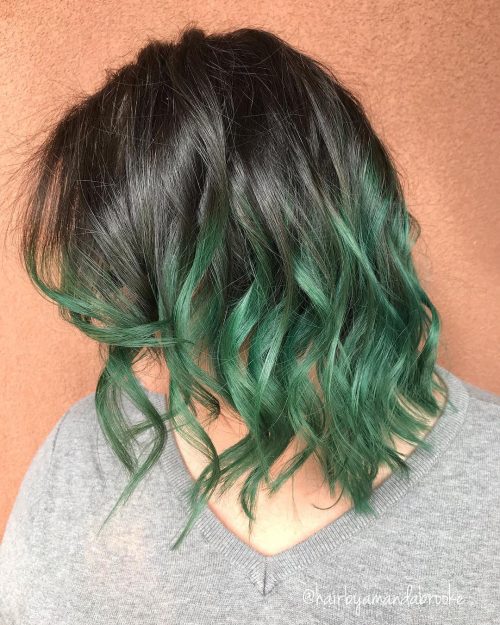 @hairbyamandabrooke
This is a black and green ombré hair color. "The base color was darkened and the ends were lightened. Then the dark green hair dye was applied," explains hairstylist Amanda Campbell of Sedona, AZ.
"This style is more for a woman who is okay with a bit of maintenance," says Campbell. "These fashion colors can stain towels, sheets, clothing, and more, especially when wet. These colors also fade very quickly. Use a pigmented shampoo to keep the color looking great!"
Bright Green Hair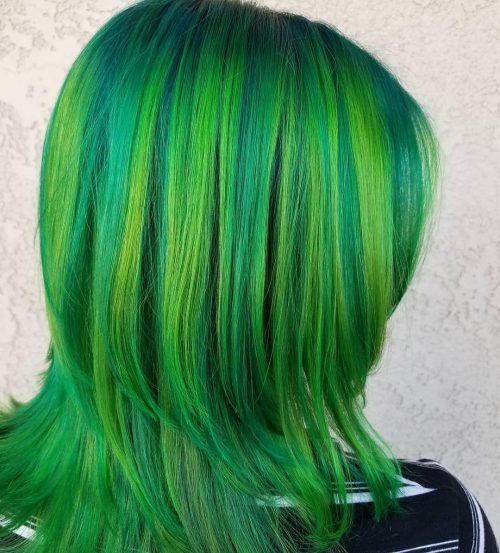 @yeessiie
This is a multidimensional green hair color. "The way the neon green pops, produces body," explains hairdresser Yesenia Fredrickson of Riverside, CA.
"Bright green hair is very high maintenance," says Fredrickson. "Your hair has to be blonde for the vivids to grab on to. For those who have darker hair, lightning sessions are required."
Fredrickson also says maintaining green hair requires a color care shampoo and conditioner. "For example, Eufora's Bodyfying shampoo has a vibrant color complex which helps extend the life of the color, so give it a try!"
Light Green Hair Shade

@rebecca_inthelab
"This light green hair was prepped with a leave-in conditioner and hair oil," says stylist Rebecca Dorsey of Baltimore, MD.
"Firstly, prep your hair before your color visit with a treatment like Olaplex #3," says Dorsey. "Do several treatments over a few weeks prior to getting the color done, then continue weekly treatments thereafter."
Try New Wash for color-treated hair. It's super gentle on hair color and nourishing to the scalp and hair. It seriously helps color stay longer. It cleanses and conditions in one step.
Even though the look shouts easy-going, Dorsey reminds us that maintenance is required on the scalp, with lightening every 6 weeks. "The color will be refreshed at each lightening and could be refreshed between visits if needed."
Since it is a pastel color, it will fade more quickly than a deeper hue. Cleansing only once a week or when absolutely necessary is ideal to help the color last longer. Even getting it wet can take a tiny bit of color out each time.
If your hair is chemically damaged or weak, don't opt for this type of color process.
"Follow your stylist's recommendations for at-home care," she adds. "Keeping the hair in its best condition will do wonders for the longevity of the color and the health of the scalp and hair."
Ash Green Hair

@j_joli
"If you're looking for a fresh look, try this ash green hair color," states hairstylist Jase Lee of Malaysia. "A warm color such as red/yellow/orange usually looks bored when you keep it for a long period. So instead, opt for an ombre color like this ash green."
Lee reminds us that not everyone is able to carry this ash green hair color. "One will have to wear makeup to prevent herself from looking pale, as this is a cool tone. Without makeup, it will make you look pale and fair."
Besides that, hair serum and mask are a must to create fewer tangles and also to make healthy and shinier tresses. Maintenance-wise, wash your dyed hair with sulfate-free shampoo and conditioner after 72 hours, and it is better to use color shampoo for the dyed hair too.
Blue and Green Balayage

@hairbyhannahgrace
This short, multidimensional, blue to green balayage color was handcrafted by cosmetologist Hannah Rodriguez of Austin, TX. "The roots are a natural dark brown color and were highlighted to melt into the blue."
"Ask for a dark blue, a pure green, and yellow color to achieve the melt," explains Rodriguez. "Take into consideration the amount of color bleeding that will happen during the rinse out, which is why the yellow is used on the ends. By the end of the rinse and shampoo, the yellow will become the perfect lime green."
This blue-green hair color is something you have to take care of, use the correct products on, and is expensive to upkeep.
"Because this blue and green hair requires the hair to be very light blonde, there are multiple bleaching services required before the green can even go on," she notes. "The bleach can make the hair fragile, so get regular haircuts, deep treatments, and use protein masks at home. Depending on how your hair holds onto color and how fast it grows, you'll need to make an appointment every 6-12 weeks."
Mint Green Hair

@alexanderscotthair
"This is a silvery mint color on a textured bob shape works on any skin tone. Don't you love the reflection of this ultra-light pastel tone," asks hairstylist Alexander Scott of Seattle, WA.
Pastel tones are beautiful – and fleeting. Scott says a color like this requires the lightest possible blonde undertones, "and every time you shampoo, the green-dyed hair color will change and fade. Typically with proper products and home care, a color like this will last 4-6 shampoos and then the hair will be back to blonde."
Emerald Green Hair Color

@natblondelle_hair
This lived-in vivid emerald green hair was created by designer hairstylist Natalie Reak of Wake Forest, NC. "That means you're able to grow your hair out without the worry of having any harsh lines. The dimension in this hair color is amazing, especially if you have low lights and roots that are your natural color," says Reak.
For maintaining the color vibrancy of this emerald green Reak wants you to wash minimally, "which means stocking up on dry shampoo! When you do need to wash, use cool water to keep the cuticle as close as possible."
As far as other things you should consider while thinking about coloring your hair color green, take a look at your wardrobe and decide if you will feel comfortable in those clothes while your hair is green. Color combination is important.