15 Edgy Hairstyles for Women Over 70 with Sass
Metallic Pink Spiky Pixie
@zoevshair_stevieenglish
A metallic pink spiky pixie is a fun way to showcase style and personality. This metallic hue can be achieved in the salon or at home using a vibrant color-depositing shampoo and diluting it to choice, with conditioner. Styling with some texture paste can define points in the haircut for edgy or sassy styling.
Shaggy Bob Haircut
@needleinthehaysalon
Older women who want to modernize their bob with a shaggy bob haircut should opt for this cut. This edgy haircut is perfect for emphasizing natural hair texture and shape and gives an edgy look with effortless styling.
Jane Fonda-Inspired Cut
@stylist_sara_cassaday
Consider asking your stylist for a Jane Fonda-inspired cut to give an edgy style. Perfect for women who love their hair short but want a more playful look. Enhance the texture with a paste to give a messy look.
Face-Framing Choppy Layers
@wendy_srh
Choppy face-framing layers are perfect for opening up your face and creating more shape to the cut. Layers give a youthful bounce and look to women over seventy. It works an all hair types, too. Style with a round brush and blow dryer.
The Wolf Cut with Glasses
@jesscastillohair
A wolf haircut is a perfect style to have with glasses. It gives an instant style while keeping hair away from the face. Plus, it gives the appearance of looking 10 years younger with playful wispy layers. Ask your stylist for texture around the face to emphasize the layers.
Low-Maintenance Shaggy Cut
@micolorsalon
A low-maintenance shag is the new edgy style for women over 70. If you're wanting more texture a shaggy cut is definitely the way to go. To create a trendy shaggy cut, style using a textured paste, finishing with a medium-hold hairspray.
Asymmetrical Cut for Grey Hair
@gwengjovikhair
Grey hair with an asymmetrical cut is very trendy, especially with shorter hair. Asymmetrical bobs are very edgy cuts, adding a lot of texture and dimension to the overall style.
Wash-and-Wear Bob Cut
@signedbybex
Wash-and-wear bobs are ideal for seventy-year-olds wanting an easy, low-maintenance haircut. A graduated bob creates volume without having to spend much time on styling.
Tapered Pixie Hairstyle
@adelejoneshairdressing
Tapered pixie cuts create texture and volume for a popular style for ladies over 70. To get this style, ask for a razored cut with point cutting, giving you texture creating a classy, trendy style.
Messy Long Pixie
@yesleuven
Consider a long messy pixie for mature ladies wanting a classy haircut. Longer face-framing creates a soft, glamorous look. It's a timeless style that is very popular.
Longer Shaggy Mullet for Fine Hair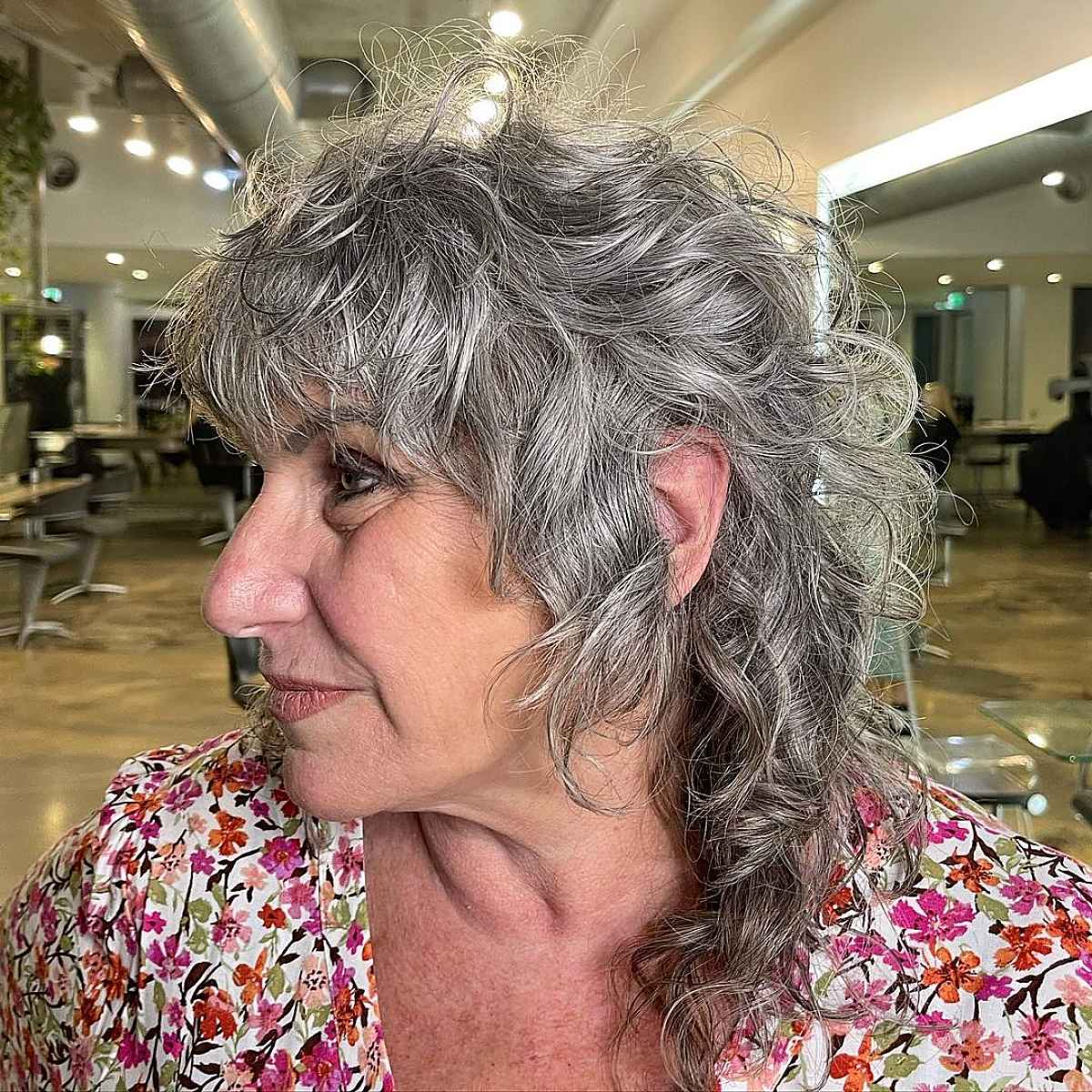 @josh_congreve
Consider a longer shaggy mullet if you have finer hair. A shorter length around your face will add volume and fullness. 70-year-olds prefer mullets as they are very trendy and stylish while staying low-maintenance.
Edgy Androgynous Pixie
@emma_maue
Consider an edgy androgynous pixie to keep your style full of youthfulness. An edgier pixie is perfect for women wanting a textured, messy, short style. For styling use a pomade, finishing with a sea salt spray.
Short Spiky Pixie Cut
@hairbyrachael.xoxo
Short spiky pixies are the perfect haircut for a stylish grandma. A spiky pixie haircut is ideal for women in their seventies for added height and volume. Style with pomade and hairspray to finish.
Short Pixie Cut for Thinning Hair
@strangehairbywilliam
Consider a short pixie for thinner hair to help create volume and fullness all around. Short pixies definitely help keep a younger-looking style for older women wanting the edgiest haircuts.
Shoulder-Length Layered Bob
@acamilaleite
A shoulder-length layered bob is a common style of choice for mature woman. It can be an edgy hairstyle or a polished hairstyle depending on the wearer. Layering can help create body and texture while one-length can create fullness and structure. Photos of reference during consultation will help determine style and maintenance.