26 Slimming Hairstyles for Women with Full Faces (for Plus-Sized Women)
Razored Shag with Curtain Bangs for Full Faces
@randa.rivera
Go for a razored shag with curtain bangs if you're looking to slim a round jawline. This shaggy razored cut has cascading layers and is a flattering haircut for round faces. Choose eyebrow-skimming curtain bangs that gradually dip longer across the cheekbones.
Cute Pixie with Side-Swept Bangs for Women with Double Chins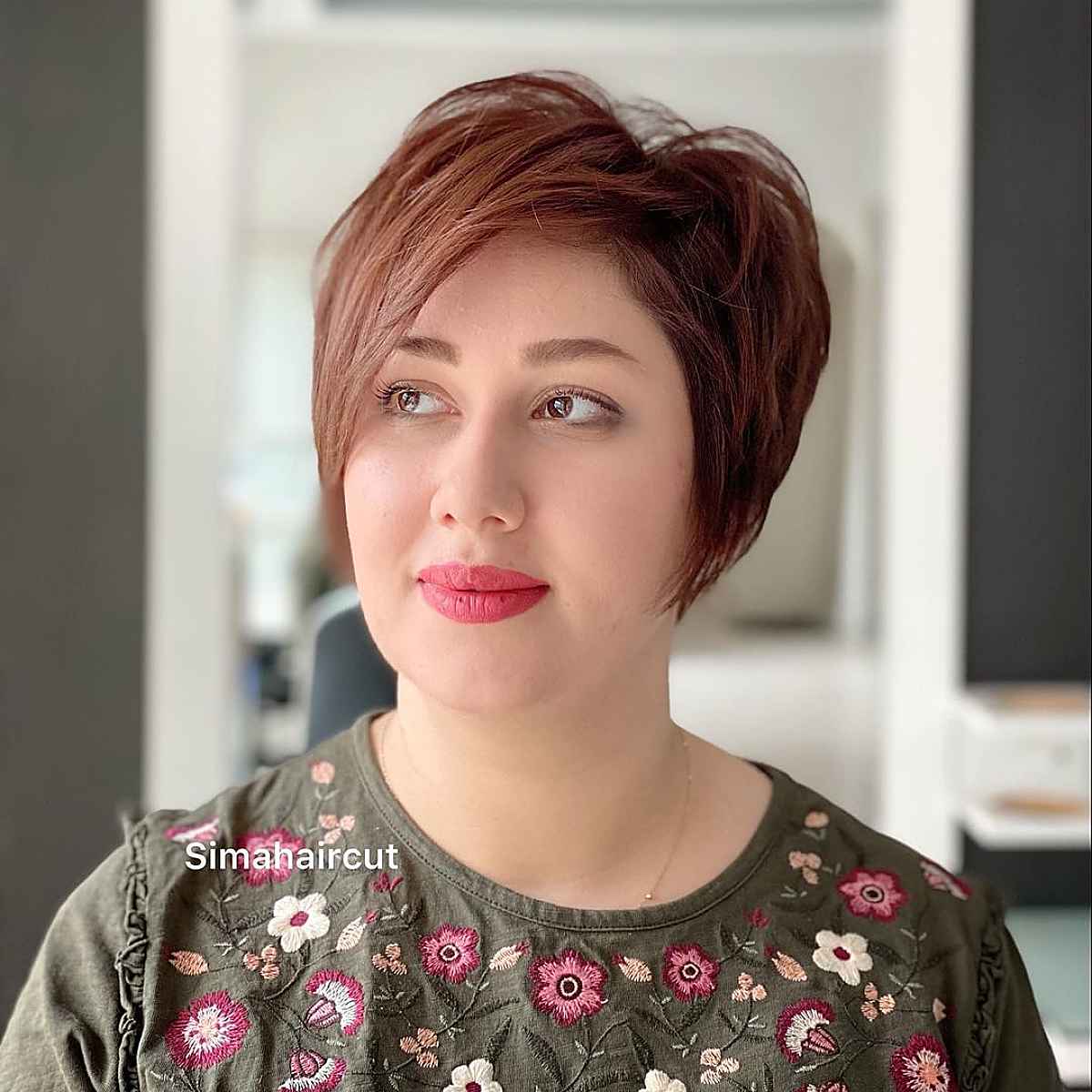 @simahaircut
If you're interested in a cute pixie with side-swept bangs for women with double chins, then look no more. Pixie cuts for full faces look best with longer side-swept bangs and jaw-grazing pieces. Make sure to schedule regular maintenance cuts every 4-6 weeks to keep your hair style fresh.
Layered Bob for Women Over 60 with Chubby Cheeks
@coolikovastudio
Go for a beautiful blonde layered bob for women over 60 with chubby faces. The perimeter skims the base of the neckline, perfectly balancing the layers throughout the cut. Try adding some texturized wispy bangs, or soft face-framing pieces to complement this chic haircut for full faces.
Related: See more hairstyles for women over 60 with round faces.
Mid-Length Inverted Bob with Long Bangs
@alexandriag_hair
A mid-length inverted bob with long bangs is a must-have cut for round face shapes. The a-line perimeter and side-swept bangs are must-haves if you're looking to slim your jawline. Ask your stylist for a rich chocolate brown hair color to show off the beautiful texture.
Asymmetrical Pixie for Older Women with Chubby Faces
@courtney.shagsalon
An asymmetrical pixie for older women with chubby faces deserves a standing ovation! This fun short hairstyle for round faces is not only slimming but youthful, too. Try adding some face-framing highlights for a pop of color.
Undercut Bob for Women with Thick Hair and Chubby Cheeks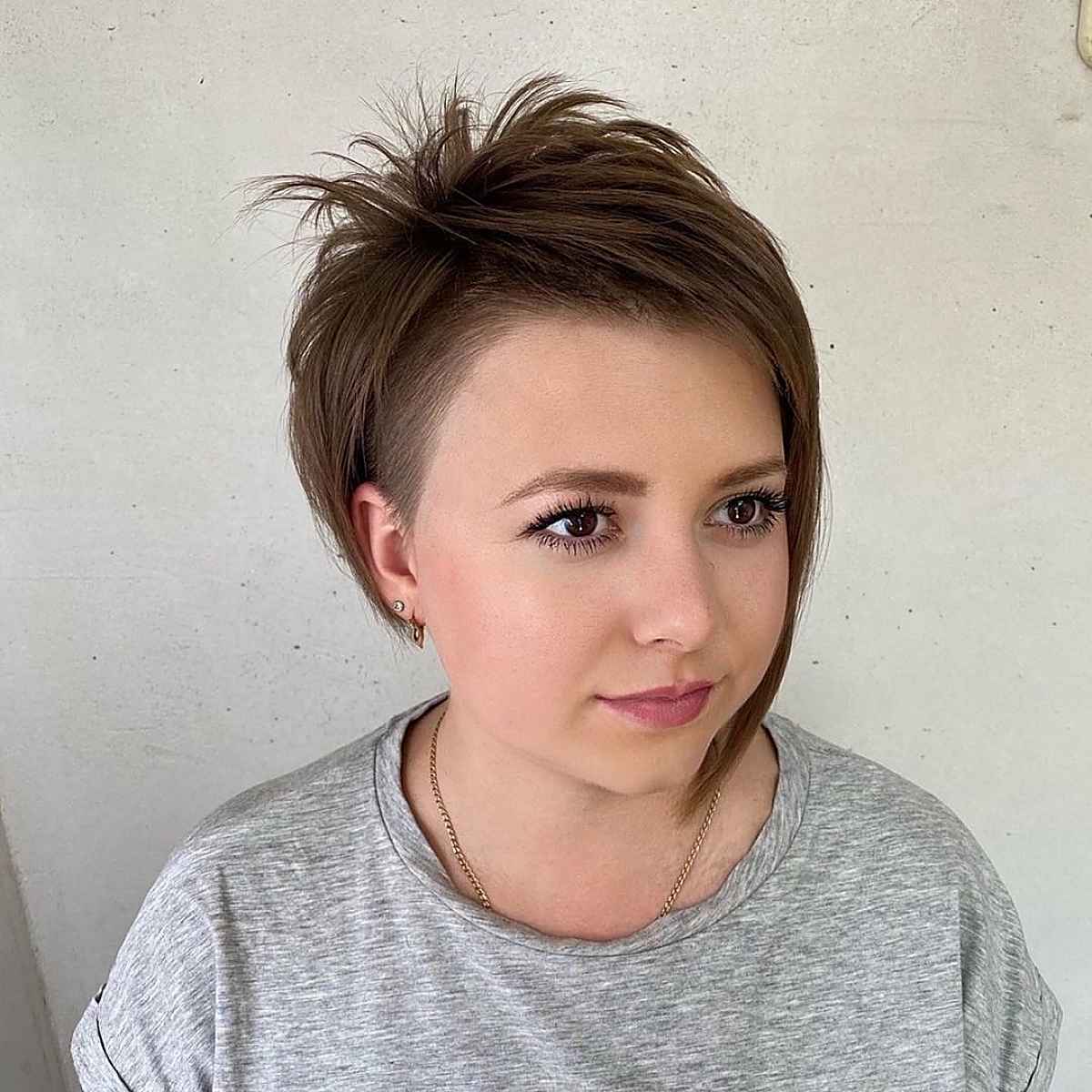 @nikitenko_elen_
Try an undercut bob for women with thick hair and chubby cheeks. Undercuts are an amazing haircut option to remove bulk and cut down on styling time. Asymmetrical cuts elongate the head shape making them perfect styles for full faces. To achieve the piecey separation try Amika Got Grit Dry Texture Paste.
Medium-Length Bob Cut for Women with a Double Chin
@hairbyelizabethh
A medium-length bob cut for women with a double chin is an extremely flattering haircut. The slight angle forward shape falling below the chin creates a slimmer jawline. Add some dimensional balayage for a beautiful lived-in look.
Choppy Wavy Side-Parted Bob Cut
@nothingobvious
Opt for a choppy wavy side-parted bob cut to slim a round face. The deep side part adds height to the top of the head, which elongates the face. A bob cut for full faces that falls just below the chin is an ideal length for round face shapes. Add some loose beach waves to your wavy hair, and finish with IGK Beach Club Volume and Texture Spray.
Edgy Pixie Bob for a Plus-Sized Woman
@olyakuzochkina
An edgy pixie bob for a plus-sized woman is a classic haircut that offers various styles for round faces. Consider keeping the back shorter with a slight angle forward to elongate the neck and narrow your cheekbones. Ask your stylist about texturizing to achieve piecey separation around the face.
French Bob with Angled Bangs for Women Over 70
@insocietyofbeauty
Consider a French bob with angled bangs for women over 70 if you're looking for a youthful cut with a touch of sass. Bangs pair well with haircuts for full faces because they make shorter faces appear longer. Consider soft honey blonde highlights to blend greys and warm up your skin tone.
Long Curtain Bangs for Women Over 30 with Round Faces
@yukistylist
Try long curtain bangs for women over 30 with round faces to give the illusion of a narrow shape. Center-parted curtain bangs on haircuts for round faces thin out a wide forehead and add facial symmetry. You will want to visit your stylist every 4-6 weeks to maintain the length of your curtain bangs.
Sleek Long Bob for a Round Face
@hairbykatieoakes
A sleek long bob for a round face touching just below the collarbone elongates a round face. A middle part with a blunt perimeter is a slimming haircut for chubby faces while giving the illusion of thicker straight hair. Add some beachy blonde dimensional highlights to complete the look.
Slimming Collarbone-Length Haircut for Chubby Faces
@john.n1115
Go for the wow factor with this beautifully slimming collarbone-length haircut for chubby faces. If you're trying to achieve the slimmest facial features with a new haircut, an angle forward center-parted bob is an absolute must. This beautiful honey-coral copper color completes the jaw-dropping look.
Long Shag Cut for Women with Full Face Shapes
@larissapugaciov
A long shag cut for women with full face shapes is a heavily layered haircut that camouflages wide cheeks. When searching for slimming cuts for chubby faces, consider a center-parted curtain bang that tapers into the long layers. Styling options for shags are endless, but a go-to product is sea salt spray, which creates a perfectly un-done texture.
Related: See more long hairstyles for round faces.
Asymmetrical Bob with Bangs Hairstyle for Full Faces
@saharkarimi1986
Try an asymmetrical bob with bangs for full faces if you're looking for slimming hairstyles for chubby faces. The exaggerated angle forward length tapers a full jawline, while also gives this bob an edgy vibe. Add a soft side-swept fringe to lengthen a round face.
Long Choppy Pixie Cut for a Fat Face
@stilist_o_tarasova
Try a long choppy pixie cut for a fat face, in order to narrow your cheekbones and slim down a full jawline. The long fringe and choppy pieces throughout the crown visually elongate a chubby face. This unique style for round faces looks best on women over 50.
Short Bob for Women with Curly Hair and Round Face Shapes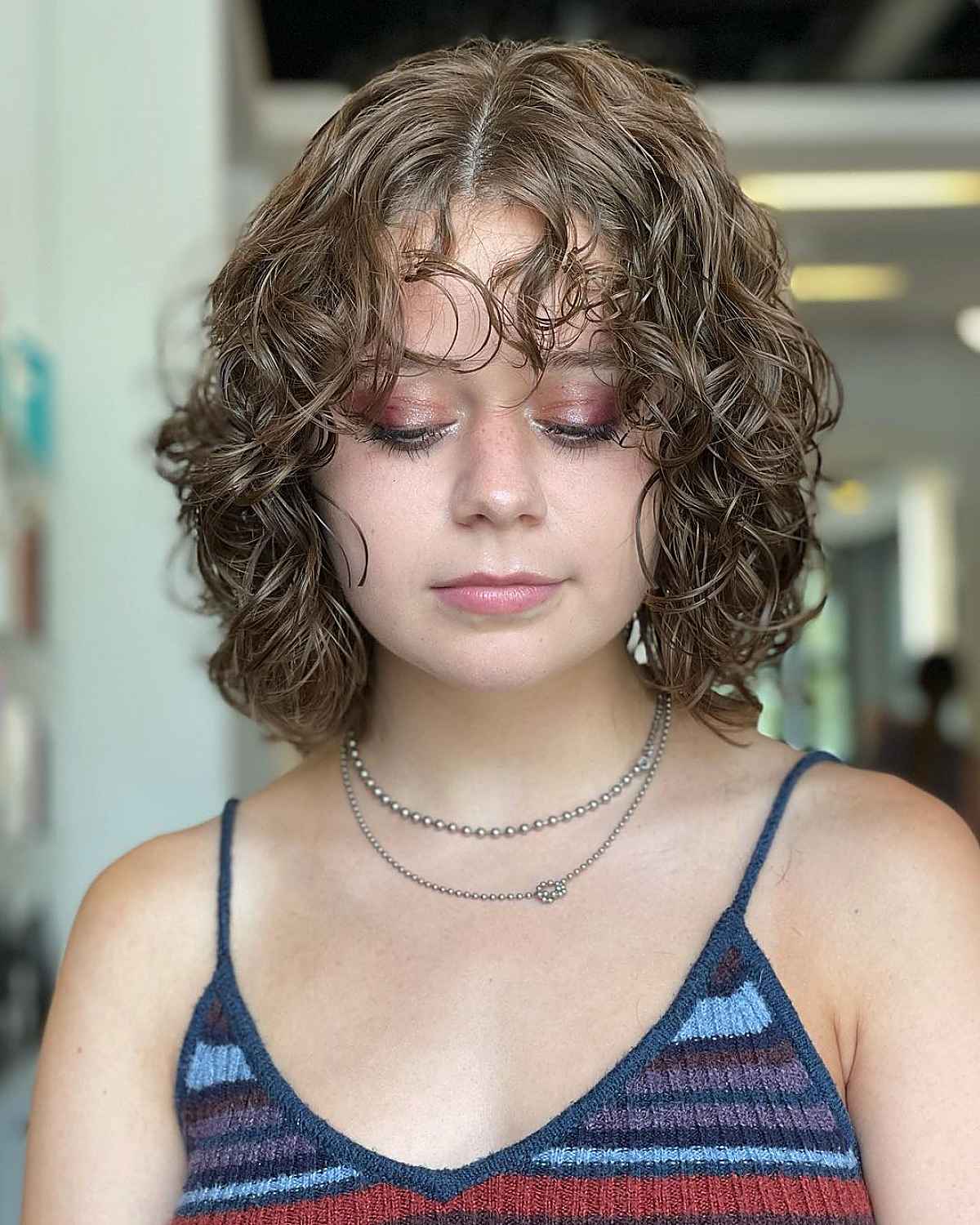 @shannaleebeauty
Consider a short bob for women with curly hair and round face shapes. Piecey bangs paired with balanced curls, create a perfect harmoniously blended style for full faces. Diffuse or air dry with Moroccanoil Curl Defining Cream.
Face-Framing Money Piece for Shoulder-Length Hair
@hairart_bydanae
A face-framing money piece for shoulder-length hair is a fun option to add bold color contrast. Due to the length falling below the chin, shoulder-length hair is an absolute go-to when it comes to finding a slimming hairstyle for chubby faces. Add some beach waves to create textured separation between the dark and light hair.
Slimming Pixie Cut for a Round Face Shape
@dikestier
A slimming pixie cut for a round face shape looks amazing with a side-swept fringe. Adding a deep side part transforms an ordinary pixie into a slimming cut for chubby faces. Consider enhancing this haircut with a platinum blonde bleach and tone for an extra wow factor.
Slimming Angled Bob for Round Chubby Faces
@lenina_yin
A slimming angled bob for round chubby faces is an extremely flattering hairstyle. An angle forward shape creates vertical length to a round face shape and is the definition of perfection when it comes to slimming styles for chubby faces. Finish with a round brush blow dry, and Reference of Sweden Ocean Mist.
Flattering Lob for Women Over 50 with a Full Face
@orriginalhairstudio
If you're searching for a flattering lob for women over 50 with a full face, look no more. This piecey chin-grazing bob softens the jawline and balances full faces. Adding textured bangs to cuts for round faces narrows wide foreheads.
Related: See more slimming haircuts for women over 50 with round faces.
Mid-Length Beach Waves for Women Over 40
@janamichellehair
Perfectly tousled mid-length beach waves for women over 40 are a must-have. A shoulder-skimming length with added texture is the perfect cut for round faces. Finish with undone beach waves, starting the waves at mid-length, and leaving the ends out of the curling iron.
Related: See more hairstyles for plus-sized ladies over 40.
Low-Maintenance Pixie Bob for Plus-Sized Women
@dexterslaboratory_hair
A low-maintenance pixie bob for plus-size women is one of the best go-to hairstyles for full faces. A pixie bob enhances cheekbones and narrows the jawline. Consider enhancing this haircut with dimensional honey blonde highlights.
Tousled Chop for a Round Chubby Face with Thin Hair
@hairbysarahante
A tousled chop for a round chubby face with thin hair is a stunning combination of angles and texture. This asymmetrical haircut is a go-to hairstyle for full faces, due to the diagonal forward elongating shape. Internal texturizing with a blunt perimeter adds bulk to fine strands.
Textured Shaggy Cut for a Soft Jawline
@salon01carmel
Try a medium textured shaggy cut for a soft jawline. Tousled layers frame the face and detract wide jawlines. This slimming style for chubby faces, is completed with a seamlessly blended curtain bang.
Slimming Haircut for Women with Chubby Faces
@amberhendersonhair
Long layers are a slimming haircut for women with chubby faces, looking to elongate their features. Layered hairstyles for round faces are most flattering when layers fall below the chin. Add a swoopy curtain bang to beautifully highlight your cheekbones.
Related: See more hairstyles for round face shapes!