The 21 Best Stacked Haircut Ideas Trending Right Now
Stacked Feathered Bob Haircut Ideas
@cabelosfhabioribeiro
A stacked feathered bob cut is great for slim face shapes. The hair flows away from the faces, creating width. The stacking in the back gives a classy look. Blowdrying with a round brush creates softness.
Purple Tones on Stacked Hair
@styled_by_carolynn
Add some purple tones on stacked hair to really accentuate the cut. Purple hues can be added with a semi-permanent color, that is super low maintenance. Stacked haircuts are fabulous and work on any hair type or age group. If your looking to update your style this is a winner.
Stacked Choppy Bob with Red Highlights
@headrushdesigns
A stacked choppy bob looks much more dramatic with red highlights. Blonde highlights might be needed underneath the red, depending on the color of red you want. Reds fade fast, so a color shampoo will be required for at-home maintenance.
Shaggy Stacked Bob for Thin Hair
@shmoakin_hair
If you have thin hair a shaggy stacked bob has your back. Longer than a pixie but shorter than a conventional bob, this length makes your hair appear thicker. Ask your stylist for a little point cutting with scissors and you've got a winner. Styling paste can add texture to this look.
Brown Highlighted Bob with Stacked Layers for Brunettes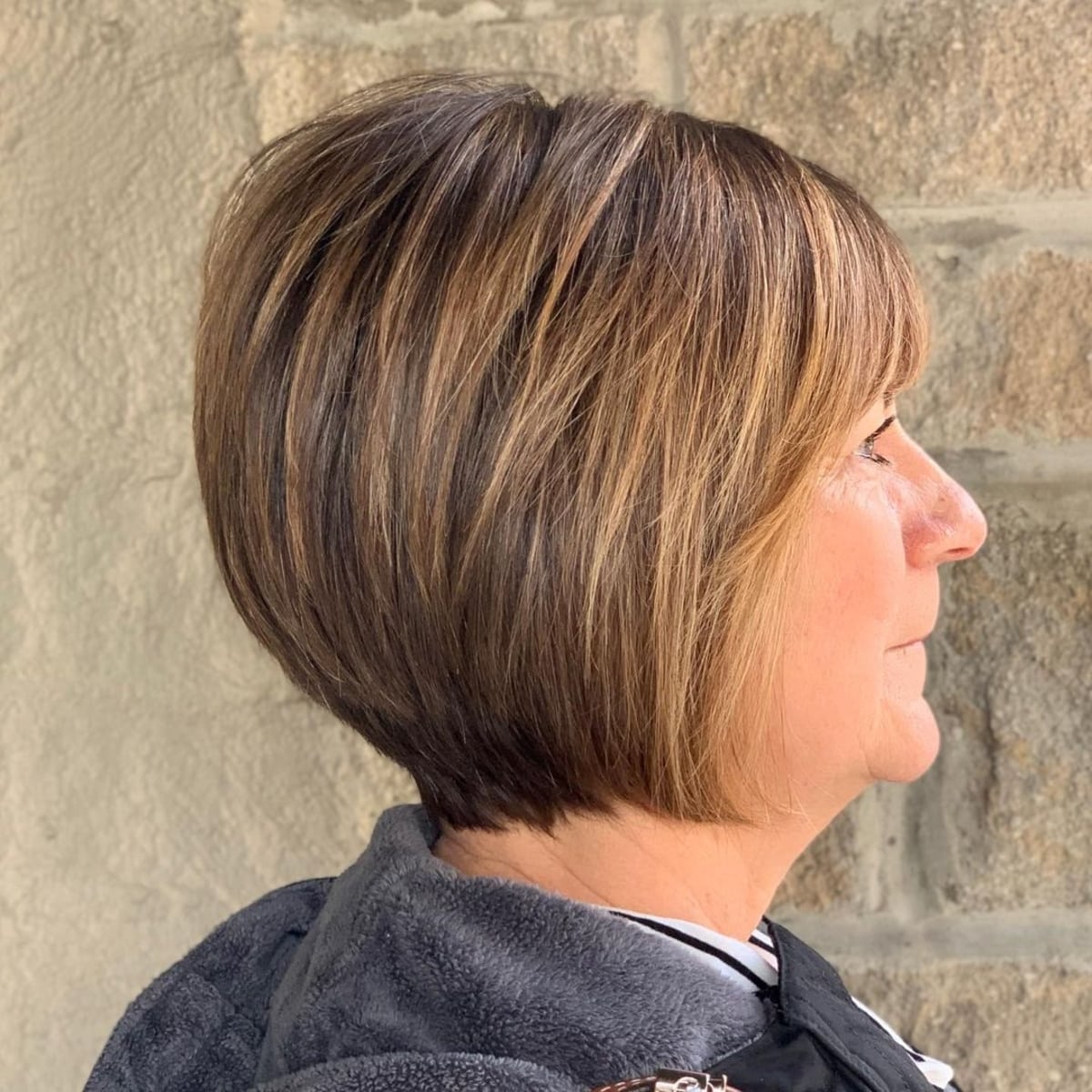 @emily_studiosevenhair
A brown highlighted bob with stacked layers for brunettes is a great cut for mature women with grey hair. While the highlights help hide the grey regrowth, the stacked brunette haircut adds interest. Want a chic haircut? This one is for you.
Super Short Stacked Haircut Ideas
@igor_yggor
A pixie bob is one of the best short haircuts for women. Tons of stacking in the back and texture throughout a cut makes it both unique and edgy. One of the best things about having a short pixie bob is the versatility, you can style it easily by adding a different product, curls, etc.
A Very Short Stacked Bob
@hair_by_laurenchivers
A very short-stacked bob works well on all hair types. It especially looks great on round face shapes. It's a versatile haircut and can be worn straight, curled, or tucked back behind the ears.
Stacked Layers with Side Bangs for Straight Hair
@gbhdesign
Long strands on this short and stacked cut make a remarkable balance for the look. This stacked bob with bangs works perfectly with straight hair, especially if you don't want a sleek blunt cut anymore. Layered stacked haircuts look best when paired with multiple layers and hanging bangs for a soft effect on the face. Such a bob with side bangs is guaranteed to give ladies a fresher, edgier style.
Stacked Angled Bob Cut with Wavy Texture
@hotsaucehair
This is one of the best short stacked haircuts right now. This short angled haircut comes out like this plump, especially at the back. Thanks to multiple layers and the wavy arrangement in this angled bob, you can still let hair loose around the face for a flattering effect.
Stacked Asymmetrical Haircut Ideas
@hairby_stephh
This stacked haircut up hair at the backside gives this whole look its structure while the growing short trims at the temple area make for an exciting feature. This is a short asymmetrical bob with stacked layers, which makes a great hairstyles for thick hair.
Layered, Stacked Cut for Short Curly Hair
@hair_by_marlo
A layered, stacked cut for short curly hair is ideal for curly girls. Longer layers will keep your curly stacked hair from puffing out. Throw some gel in and let your curls dry into spirals.
Stacked Graduated Haircut Ideas
@lilyandlocks
Bring out the bounce with stacks and stacks of layered hair paraded around your hair, mainly concentrated at the backside. Add some feathered bangs to lighten the whole stacked hairstyle for a balanced figure. This stacked layered bob is sure to flatter older women with round face shapes.
Short Stacked Pixie Haircut Ideas
@colorbyriley
A pixie bob is one of the best stacked haircuts for women who have silver and thinning hair. This short stacked pixie cut can make your thin hair appear longer and healthier. Layer it up for more texture and structure, with the platinum and caramel blonde colors helping the presentation even more.
Stacked Inverted Haircut Ideas
@hairdesignbysonya
Inverted cuts just show longer frontal hair than at the stacked back. Shorter locks at the bottom layers make this stacked inverted bob haircut's fuller form possible. Such stacked bobs work on medium to high hair density.
Chic Long Stacked Haircut Ideas
@hair_by_nikkirenee
An increase in volume and length makes a fabulous long stacked haircut! Layers add body to the hair and give your long hair more character, complete with soft waves and a dashing balayage highlights.
This long stacked haircut is a beautiful blended caramel blonde balayage with long layers and angles around the face.
Hairstylist Nikki Fasano from Katmarie Salon in Middletown, NY suggests, "use a sulfate-free shampoo and conditioner to help maintain your stacked blonde balayage from looking dull and faced." She goes on to say, "using purple shampoo at least once a week will cancel out any brassiness that may appear. To make the layers pop, style with a dryer and a curling iron."
Textured Stacked Bob for Fine Hair
@ton_schmidel
If you have fine hair, a textured stacked bob haircut is a great choice. The longer layers help keep bulk at the bottom so your hair looks thicker. The stacked bob hairstyle gives fullness in the crown. Highlights also help to give fine hair body.
Medium-Length Stacked Cut in Messy Style
@missyshair.yyc
Medium stacked haircuts are carefree and natural. This shoulder-length lob got style and spice, yet it's very low-maintenance.
Stylist Melissa Mossfeldt of Calgary, CA believes, "This medium-length stacked haircut works for many face shapes and hair types. The volume in this medium stacked bob cut can be created or taken out depending on thickness."
Chic long bob hairstyles like this also look stunning on brown locks with a blonde balayage hair color or just the blonde highlights. The extreme texture in this long stacked bob can emphasize those radiant tones.
Short Stacked Wedge Haircut on Ash Blonde Hair
@hairbycrystaldawn
A short stacked wedge haircut should have contrast.
Stylist Crystal Dawn from Crystal Weiss – Hair and Makeup in Suffolk, VA has this to say about a wedge stacked haircut, "I feel this style is more suited for medium to finer hair. It can still be done with thick hair – it just takes longer and you have to thin it out. Thinning it helps it collapse to get the look you want."
She adds, "This haircut can fit any face shape and hair texture. I'd recommend making it longer in the front depending on face shape, and it may need to be cut a little different so that it falls how you like it!"
Stacked bob haircuts like this are a little more high-maintenance, though. The underneath tends to grow out faster, and you'll have to come into the salon more often to keep it up.
Stacked Haircut Ideas with Bangs
@blacksheepsalonaz
A stacked haircut with bangs is fun and playful, and you can do so many fun color shades to accentuate the cut! Peekaboos are for women who like low-maintenance colors with these types of haircuts.
Always bring a picture like this to your hair appointment. Also, be sure to let your hairstylist know what your daily hair routine is. The beautiful thing about short hair is if it is cut right, you can rock it messy, curly, or smooth!
Salon owner and stylist Miranda Asadoorian from the Black Sheep Salon in Mesa, AZ says, "The right products are always necessary to achieve the goal you want. For this woman, we did a quick blow dry then finished off with Amika's vandal volume spray to give her some height and some texture!" She adds, "Stacked haircuts with bangs is perfect for a girl who's on the go and wants to look put together with minimal effort."
Cute Stacked A-Line Haircut Ideas
@faithmarie223
This is a stacked A-line haircut. By adding some texture with various shaping techniques and tapering the nape, it creates the illusion of volume, not to mention a sexy silhouette! You'll love this short stacked bob because it's a modern take for stacked haircuts.
Hairstylist Faith Parsons from the Eclektica Salon in Kansas City, MO offers a bit of advice for women considering an a-line bob and a stacked hairstyle. "I'd suggest a thorough consultation with your stylist. There are so many beautiful styles on the internet. It's hard not to want all of them, but we have to be realistic and do what is best for each head of hair."
After a consult, consider the hairline in the nape. Is it something that will need to be covered? Is there enough hair density in the front to create a clean angle?
Also, when cutting this short, the main styles are half up, styled fringe (braid, twist, etc.), straight or textured. Women who love putting their lock up in a messy bun and getting stuff done should avoid this cut.
After considering everything before the chop, this cute a-line stacked haircut is easy to style. It's super hot and flattering on almost anyone! Use Techni Art Transform texture gel-en-mousse for lift and Techni Art Liss Control to lightly smooth and define. Two products. So easy!
Haircut with Stacked Back for Thick Hair
@hairby_ericabranch
A stacked haircut for thick hair is so sassy, trendy and fun! Mimic the look by asking for a stacked bob with wispy layers.
Style creator Erica Branch at the Impressions Hair Studio in Saraland, AL believes, "Stacked haircuts for thick hair are a bit more maintenance, but it's so worth it! Go in every five weeks for a touch-up and haircut." She goes on to say, "With short hair, trims are a must, since it grows out of the style when it gets too long."