19 Hottest Ghana Braids You'll See Right Now
Ghana Braids With Pink Color
@futibraids
Go unique and coolest with this one-of-a-kind braid style that falls just below your shoulders for easy management. Take note of the spiral pattern and how it shows the dark roots for a gorgeous contrast. Ghana weaving braids hairstyles can be enhanced with either braiding or unique coloring like this one.
Jumbo Ghana Cornrows
@studio.aprigio
Extra huge ghana weaving braids make for a bold statement that flatters all hair textures. Long thick braid styles often promise very low upkeep with the few pieces of hair available.
Ghana Braids for Medium Length Hair
@silverhairgh
While most girls settle for lengthy Ghana weaving braid hairstyles, short lengths that have an intricate finish always look superb.
Ombre Hair
@myrebraids
Wake up in the morning feeling ready-to-go with this super sexy high ponytail hair with an ombre. This long hair comes with the versatility of styling in so many ways like a top bun. Ghana braids combined with ombre hair color creates a powerful hairstyle.
Zig Zag Braids
@blessed_hands01
This fantastic Ghana weaving style pattern consists of skinny cornrows braided in a neat zigzag design. Give this a try if you're searching for a unique way to have your hair in a trendy protective style.
Chunky Ghana Braids
@trancadapathy
With just a few exquisitely done braids, you can enjoy the benefits of having a low maintenance protective style. Alternating jumbo braids with thin ones, painted with a vibrant red, adds contrast to the whole look.
Ghana Twist In a Ponytail
@sleek_stylz
If you're a fan of high ponytails, try this pattern that gives you a sleek easy ponytail held by a glam accessory. The finished look creates a sexy aura that still works as a friendly and casual style. Ghana weaving braids hairstyles are often done in varying ponytail styles.
2 Strand Braids
@rodi_beauty
Jumbo 2 strand ghana braids offer an eye-popping way to get the hair out of your face and protect your hair in as they transition between relaxed and natural styles.
Half Updo Ghana Braid
@trancadapathy
This exquisite braided style involves thick braids and skinny cornrows that alternate them. Finished in thick Ghana weaves, this hair can be worn in an attractive half updo.
Feed In Ghana Braids
@tantalstyles
In this thin braiding style, the braids are onto the scalp down the back of the head. The loose thin pieces give you more creativity to style your hair and the choice to wear your Ghana braids up or down.
Big Braids
@slayedbymelb
Ghana braids are still popular for being easy maintenance and the exceptional looks they give! One of the trendiest style is to alternate super thin and jumbo braids for a more noteworthy look.
Ghana Braiding on Blonde Hair
@ashleymsparrow_
These outstanding vanilla sunshine Ghana jumbo braids are absolutely a must-try! You can add in some alternating thin braids to give more emphasis.
Straight Back Ghana Braids
@savsstyles
These lengthy on-point braids offer unlimited styles for you to try! From a half-up, a low bun, or a pretty ponytail to simply letting them down with some accessories, these braids will absolutely show you the true meaning of versatility!
Ghana Braid with Beads
@hairbykey___
Get tribal quick by trying this braided Ghana style using stylish beads at the end of those radiant blonde long braids! Super fun and flirty!
Ghana Braids for Short Hair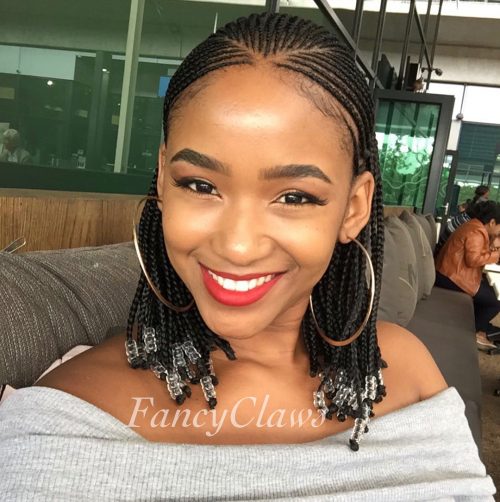 @fancy_claws
This is a fun yet sophisticated Ghana braids style for short hair. It can work perfectly for women in almost any age group with different hair types (coarse, fine, straight, or curly). I love the fact that you can make it tame or crazy and outrageous and have the beadwork on the edges.
In order to avoid dry scalp and flakes, you also need Braid & Conditioning Spray (3 in 1 Spray Treatment Mizani) which is a leave-in conditioner that soothes the scalp, as well as anti-dandruff giving you a healthy scalp and hair.
Goddess Ghana Braids
@@art.d.elis
These ghana braids are goddess and boho inspired braids.
I love the elegance that is created when the style is executed properly on Ghana weaved braids.
A thorough styling consultation is recommended before installing these type of braids. Longevity of this style depends on many factors. From my experience, these twists can last between 3-6 weeks.
The size of the ghana braids you choose also contributes to how long the twists will last (smaller twists lasts a bit longer). You are able to have an active lifestyle, such as dancing and light swimming. However, because you are only using two strands of silky braiding hair to create these braids, the twists may slip down or even out prematurely.
Ghana Braided Updo
@blackhairideas
Natural black hair looks stunning when styled up and high and added with hints of red without being too over the top. It is easy to style Ghana braids into a bun hairstyle.
Skinny Ghana Braids
@silverhairgh
Skinny Ghana braids like these start with intricate cornrows that meet from the sides and back into the middle. It's a gorgeous effect!
6 Braid Ghana Hairstyle
@arti_tude
Take your braids to the next level with 6 braids and add cuffs for a more ornate look.