The 19 Cutest Updos for Short Hair for Special Occasions
Short Curly Hair Updo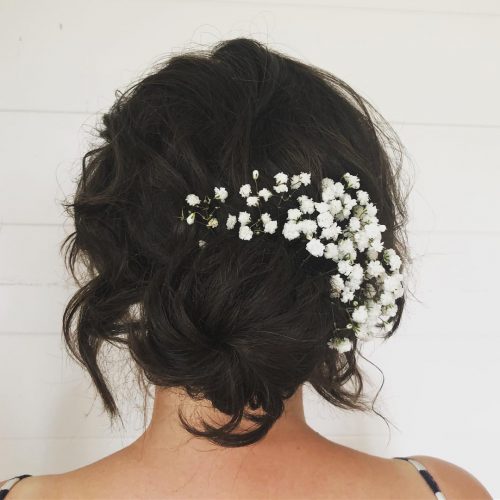 @kaye_adam_hair
Add dimension and body to your short locks by adding a little texture to your hairstyle. This messy pinned updo isn't complete without the small white flower hair accessories.
Messy Updo for Short Curls
@laura_steele_hairstylist
Flaunt your golden brown hair and curls in an intriguing short hair updo that will be perfect for a formal event. A loose messy curls updo like this can make your thin hair seem fuller.
Loose Side Braid Updo for Short Hair
@liz_lavoie7
This charming pastel pink hair weaved through blonde highlights and brunette roots creates an enchanting loose side braid updo hairstyle on short hair that has various dimensions.
Chic and Formal Updo
@pinmeupbride
Wow your guests on your special day with glistening short hair. Finishing such updo hairstyles for short hair with a cute accessory for a flirty look!
Twisted Chignon Low Bun for Shorter Hair
@hair.by.nata
This chignon updo for short hair is a popular choice. The best thing about this low bun style is that it's effortless and beautiful at the same time. Created by stylist and braider Nata Chivadze of Georgia, it looks elegant and it's really comfortable to wear.
"I would recommend this chignon updo for shorter hair to ladies for the following reasons: it's suitable for any kind of event where you want to look classy and it can be done on any hair type or length," Chivadze states.
To recreate this hairstyle, start by doing one or two low ponytails to twist them together. Curl the hair if needed to add texture and slight movement.
Short Wavy Updo
@leah.mooney.hair
This textured swept-away short hair updo was made by bridal stylist Leah Mooney of Oregon, and it looks very feminine and romantic. It gives you detail through the texture and keeps things soft and elegant throughout.
Mooney explains, "This chic updo for short wavy hair is achievable when using the right combination of products and technique with hot tools. Evaluating face shape, accessories, and style of the dress will help determine whether this formal look is best for you!"
Whimsical & Fun Updo
 @ashlishade_hair
This unique but casual updo for shorter hair is whimsical and fun. It can work for a casual or formal occasion. It was created by stylist Ashli Shade of Severna Park, MD.
"If your hair is thin, this style may look different and will need more effort and possibly more product. The look consists of a combo of twists and braids that are pulled out a tad to create a fuller look or to fill any gaps," Shade explains.
Romantic Braided Crown Updo
 @emilymillerstylist
This short hairstyle is a fun and romantic braided crown updo with pinned ends. It's polished enough to ensure it would hold up for a night of dancing! Having shorter/fine hair can be a challenge to create an updo with. However, using braids that show off the dimensional hair color, while adding texture and hold to the hair, can be the perfect solution!
Stylist Emily Miller of Williamsburg, VA says that this is such a great hairstyle for almost any event. "I always take the outfit and setting into consideration before choosing a hairstyle. Hair length and texture make a huge difference, but if you have at least shoulder-length hair, I'd say you could achieve something close to this look. Products are amazing in helping achieve any short updo hair styles," she adds.
Edgier Braids on Short Hair
 @rozithestylist
The best thing about this braided updo hairstyle on short hair is that it boosts super textured hair! The talented stylist who created it was Rozi Clarey from Dubbo, NSW.
For such a hairdo for short hair, preparation is key! Clarey's number one tip is to get the braids to look neat as possible, so it won't be very difficult to smooth the hair out later.
"I used a 'dust' product to make her hair 'dirty,' so it had some grip. Use enough to hold the style in all day because short hair braids tend to fall out if not in tight enough or if enough product isn't used," Clarey explains.
All-Occasion Fancy Updo
 @beautybykmorgan
This updo for short hair can be used as an look or for a special occasion. Hairstylist Kaylie Aichner of Michigan loves how this style looks great on girls with shoulder-length to long hair.
"For styling, have a good hairspray and a smaller barrel curling iron. I used the Aveda Air Control hairspray for this look," Aichner states.
If you're the type of woman that likes the messy but elegant look, then this is for you! It's so much easier to achieve this style if you have a strong base of hair to secure your hair pins and your bobby pins into.
Aichner adds, "To make it look like you have more hair, start the style further down on the head and make sure the ends of the short pieces are tucked in and secure."
Stylish Short Pixie Updo
 @imgrace_st
This is an easily styled updo that can be worn casually or even formally on a night out. Hair designer Grace Seo from Bellevue, WA, she says "Most women with short pixie hair don't believe anything can be done other than a nice blowout or some beach waves. But, with a couple of bobby pins and hairspray, it can be easily done."
Seo continues, "keep the natural hair dirty (textured naturally, meaning curly hair or even with some dry texture spray). "I recommend Oribe Swept Up or Dry Texture Spray."
Hairdos for short hair like this can give anyone the feeling that they took a good amount of time doing their hair, even though it really only takes a quick five to ten minutes. Whether you're late to work and you have bedhead, you can easily cover it up by adding curls or waves and some braids on both sides and bobby pinning them up.
Princess-Like Laced Style for Short Mane
 @mduckenfield_hairart
This short hairstyle is a laced updo style with long side bangs, designed by Australia-based stylist Michael Duckenfield.
"I love how the shortness of the hair didn't affect the detail of the style. Due to the layering of the individual pieces over each other, it gives it a floral twist to the style rather than an overly structured feel," Duckenfield notes.
Duckenfield didn't want to add more height but wanted the hair off the face to keep it feeling comfortable. Soften your updos for short hair with a sweeping side fringe.
Twisted Chic Updo
 @primper_colleen
This is a twisted chic style by stylist Colleen Hayes from Louisville, KY. "This look can be dressed up or dressed down and is best for shorter hair," says Hayes.
This is one of those easy updos for short hair. If a woman with long hair is considering this hairstyle, Hayes says the back would look fuller and would need more twist to it.
This is one of the easy hairstyles for short hair that's going to last. If you need something to stay all day or all night, Hayes says this should be your go-to! Because of the twist in the back, it helps to secure the hair so you don't have shorter pieces of hair falling.
Cute and Fun Braided Updo
 @colored_by_ashley
Who says you can't have fun and cute updos for short hair? This style works great on shorter hair! "This an elegant updo that's suitable for all sorts of occasions," says stylist Ashley Brinker.
Part off a rectangular section at the top of the head, starting wide at the forehead and gradually narrower until stopping a couple of inches past the crown. Then use a texturizing powder and tease the section lightly.
Now it's prepped to do your French braid. Keep the braid loose and use a clear rubber band to secure it. Pull apart the braid to make it as thick as you'd like it. Roll the end of the braid and attach it with bobby pins.
Brinker adds, "Section off both the front sides from ear to ear. Loosely pull the hair from both sections back and secure. Loosely braid the ends of those sections and twist and secure how you'd like. Part off three sections at the nape of the neck. Stagger the sections a little to hide the part lines. Braid each section and secure it with a clear rubber band. Pull apart the braids to loosen and attach."
40s-Inspired Victory Roll Style
 @theparlorlv_michelle
This is a 1940s-inspired victory roll style with a side part. It's an old Hollywood updo for short hair, created to mimic the fighter plane maneuvers. Women wore it to support their husbands at war, as well as to keep hair out of their face when they first entered the workforce.
Stylist Michelle Corpus of Las Vegas explains, "Victory rolls are commonly associated with the "pin-up" look. I love what this style represents and I love how something so classic looks great with short hair."
For shorter hair, you want to make sure to curl the hair with a smaller iron (3/4-inch) to get the needed hold to create the roll. For the back, you want to keep the small curls almost intact without brushing them out to give it that pin-curled look.
Simple Short Bohemian Updo
 @charisse.holliday
This is a simple half up half down style with a small pop of boho flair. It was designed by hair artist Charisse Holliday from Charlotte, NC.
A good texturizing powder is a game-changer for any braided style. Holliday states, "we used Kristin Ess Working Texture Loose Styling Powder at the crown, followed by a small tease for volume. After the braid was created, I applied more texture powder directly to the braid and pulled it apart to get a thicker and fuller appearance."
This bohemian updo for short hair is perfect for any lady with fine hair density that's looking for something simple with a little twist.
"Women that are limited on time but want to add a little pop of fun to a simple style is the perfect candidate to try this DIY look," Holliday adds.
Textured and Braided Updo for a Bob Cut
@hair.beautybyjen
This braided look is having texture, being versatile, and great for women who need their hair off their face. It was created by Minnesota-based stylist, Jennifer Wright.
The braid is an inside-out braid, or the Dutch braids. Each strand is brought under one another instead of over. The tighter you braid in the beginning, the more likely it will stay. Once you've finished the braid and have it pinned, you can gently pull the hair to give it a bigger, more textured style. Have extra bobby pins handy in case you need to pin little pieces that stick out back into the braid.
Updos for short hair like this work well for any hair type and texture (fine to coarse, straight hair or curly, etc).
Wright notes, "Sometimes it's hard coming up with a sophisticated updo that works with a longer pixie cut or a short bob, but with the look of this braid, short-haired girls don't have to be left behind!"
Elegant Date Night Side-Bun on Short Tresses
 @jennapeddie
Here's an elegant side bun with movement by hair artist Jenna Peddie of the UK. Updos for short hair like this are for wedding days!
After looking at various ideas, Peddie decided to do the plaited style made into roses. The best thing about it is the movement and how it swirled, which is used to finish the ends. The result is simple, yet not boring at all.
Peddie recommends short hair updos for ladies wanting to make the most of short layers at the sides rather than gluing them down with hairspray. The back of the hair could be for any length, but it would do best on shorter hair.
Easy Low Messy Bun Hairstyle
 @taismagram
This is an easy low messy bun that was created by twisting the hair. It's an idea by hairdresser Taija Pitkänen of Oulu, Finland.
Pitkänen recommends that the hair is not too long or short. The shoulder-length cut was enough, if only it's not too layered. Huge amounts of super sleek and thick hair are even kind of tricky to work with when it comes to updos for short hair.
Volume products are the key to styling fine hair. The products that Pitkänen used included sugar spray, dry shampoo, hair powder, a light hairspray, and shine spray.
This look was made for a female guest going to a lovely summer wedding. Looser buns are perfect for so many occasions and styles since they can be personalized in many ways.