The 26 Most Elegant Mother of the Bride Hairstyles You'll Ever See
Airy Volume Low Bun
@mam.hairartistry
This is elegant updo is created perfectly voluminous without being overdone. The thick pieces in front would be great for softening the face and giving off an elegant vibe.
Twisted Medium Length Half Updo
@veronica_burke_llc
A simple and super wearable updo that involves twists and loose waves down your head bringing softness and glamour. Definitely ideal for a lovely beach wedding.
Short Easy Waves
@salty.locks.by.clare
A soft textured style for those mothers who wanna let their short gorgeous hair do its own thing.
Lovely Side Bun
@dusty_james_bolyard
Q&A with style creator, Dusty James Bolyard
Hairstylist / Makeup Artist / Owner @ KOH Salon in Seattle, WA
How would you describe this look?
I'd call this a mod-variation of a classic side chignon.
Any advice for someone considering it?
I recommend this style to any mother of the bride who is inspired by a timeless look. It's best worn with a neckless dress, as it sits low and brushes the shoulder area at times. It can get caught on rhinestones and jackets etc. The side can also be easily taken down and transformed into a fresh look for a bride wanting a different vibe for their reception if executed correctly!
Modern Updo
@shannleighlars
Q&A with style creator, Shannon Larson
Master Stylist @ Salon Intrigue in Minneapolis, MN
How would you describe this look?
This look is a tousled modern updo. The cutest thing about this updo is how loose it looks. I love the pieces falling from the updo making it have a very natural look. There's volume throughout that many women want to accomplish.
Any advice for someone considering it?
This formal style would best fit for someone who has curly, shoulder to medium length hair. To achieve these loose pieces of hair falling out, the hair around the hairline must be shorter to create a balance throughout the updo.
I believe this updo is best for anyone who doesn't want anything too perfect or smooth. It can be worn by so many women. Brides, mother of the bride/groom, at the wedding, or even as a guest to any formal event!
Long Half Updo with Highlights
@happilyeverafterhair
Q&A with style creator, Jenn Macrina
Cosmetologist / Owner @ Happily Ever After Hair in Cherry Hill, NJ
How would you describe this look?
This mother of the bride hairstyle is soft, simple and feminine.
Any advice for someone considering it?
She loves to keep some hair on her face and a half up half down look. The client arrived with wavy and thick hair. We used a 1-inch iron to create a soft curl and lightly pinned up the half top to make her look more elegant for the event.
The highlights in her hair really make this look pop. We used Shaper Plus hairspray by Sebastian as we set the curl, Kendra Pomade to create the texture in the look and Tease Backcomb in a Bottle by Big Sexy Hair for volume. For the finishing touch, I used TIGI Hardhead hairspray to make sure the look last all day and night!
Simple Long Waves
@beautiful__black_
Q&A with style creator, Amanda Black
Hairstylist @ John Fredricks Hair Studio in Glassport, PA
How would you describe this look?
This bridal look is universal. It is a look you can wear to the office and go straight out for cocktails after.
Any advice for someone considering it?
The tools to achieve this look are a professional curling iron and a thermal styling protectant spray. As long as you have a good spray and curling iron, any hair type can work with this style.
Casually Tucked Chignon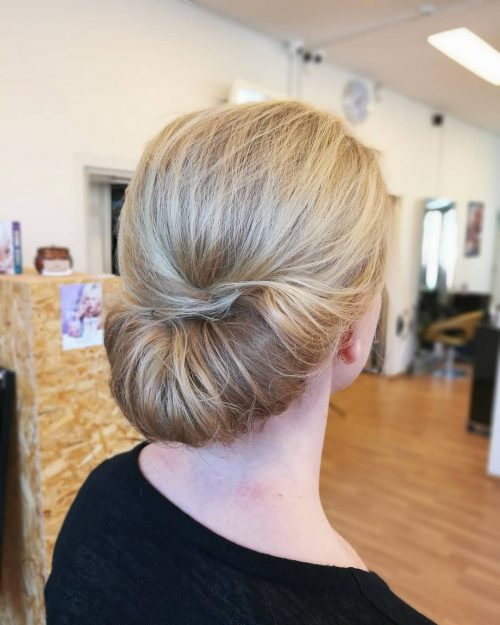 @hairbykatja
Q&A with style creator, Katja Suomalainen
Hairstylist @ VELVET Toolo in Helsinki, Finland
How would you describe this look?
This is a classical beautiful updo for a mom of the bride. It is easy going, romantic, lovely and simple.
I love its simplicity and easy going texture, which creates a soft appearance.
Any advice for someone considering it?
The updo fits a bride who is looking for a simple and romantic style.
With flowers you can make easily the updo appear softer.
The hair doesn't have to be really thick, but there has to be enough length to make the chignon big enough.
The client in the picture has quite thin hair. But with the volume products, you can make them more textured.
My favorite product to achieve this look is Schwarzkopf Session Label Powder Cloud to create texture even to the finest hair.
Fascinating Twist with a Hat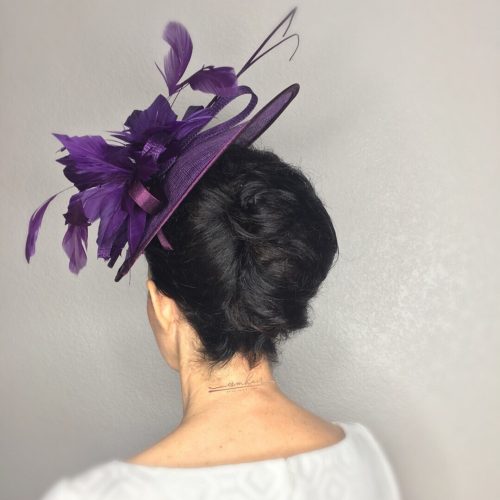 @csmhair
Q&A with style creator, Carissa McLaughlin
On-site Hairstylist @ CSM Hair in George Town, Cayman Islands
How would you describe this look?
This Textured Twist was inspired by the lovely purple headpiece this lady is wearing. It's actually a headband, hence the reason this twist is off center, in order to show the beauty of the headpiece and the twist, without either one clashing or being overwhelming.
Any advice for someone considering it?
This hairstyle is perfect for the bride's mother in an elegant winter wonderland wedding or even an outdoor beach destination wedding, in Spring or Summertime. It's a fantastic look for the mature lady (MOB) or a black-tie themed bridal party (Bridesmaid, Bride, MOB)
Such a versatile Twist. It's a great style for naturally textured hair, or if you need to create texture with any type of hot tool (curling or flat iron).
An amazing finishing spray for any up-styling, specifically this one, surely requires my all time favorite, which is perfect for any weather, and texture, is Kenra Professional Volume Spray 25.
Soft & Swirly Pinned Updo
@dream_reflection_makeup_hair
Q&A with style creator, Lianne Claire
Makeup and Hair Artist @ Dream Reflection in Sydney, AU
How would you describe this look?
This look is soft and swirly goodness! I love that it looks like the soft curls were swept up and effortlessly pinned. I always love an upstyle on a blonde because all of the different tones and textures come through so well.
Any advice for someone considering it?
Definitely curl the hair first and use a wide tooth comb to brush it out. I blow dried mousse into the hair, tonged it and brushed it out, then section by section (from bottom to top), I twisted and pinned the hair up.
Like any upstyle, good prep/curling/teasing and pinning is key. Some volume powder for the top section of the crown along with a good tease got us that gorgeous volume!
This was a mother of the bride that wanted something formal but soft. She also wanted something that she could pop her fascinator over the top but take it out later and still have a pretty style. She adored it!
Adaptable Braided Updo
@charisse.holliday
Q&A with style creator, Charisse Holliday
Lead Hair & Makeup Artist @ Be Pretty in Charlotte, NC
How would you describe this look?
This look can easily slide into either the romantic and effortless or polished and chic updo categories. Its versatility, depending on which dress you choose to pair it with, is my favorite thing about this style. There is nothing better than having a go-to updo that can be worn to an array of events.
Any advice for someone considering it?
Clients wanting this style should have either short or medium hair length and really any kind of texture. The longer the hair, the bigger the braid and vice versa. If they have coarse or curly hair, it will give the look a little more of a boho and relaxed feel. If the hair is smoother or even straight, however, it will give a more polished feel.
To achieve a thicker-looking braid and a bit of a tousled touch, try using a dry texture spray or powder to give the hair some grit. This look is perfect for any event from weddings and galas to a fun night out!
Soft Updo with Rose Flower
@staceyjadehair
Q&A with style creator, Stacey Jade
Owner / Stylist @ Stacey Jade Ltd in Bristol, UK
How would you describe this look?
This style is my personal take on a classic mother of the bride updo, emphasizing elegance with a soft yet detailed approach.
This versatile look suits all, making it a favorite for myself and clients alike.
Any advice for someone considering it?
The style itself is achievable with many hair types, however, it is key to choose an adaptable stylist with experience in multiple hair techniques. This particular look was achieved on fine/short hair, which can make this style challenging to create. It is possible with the correct products.
I recommend blow drying a medium hold mousse into the hair, followed by a strong hold hairspray to add definition and secure the hair in place.
Romantic Updo Curls
@desireeneel
Q&A with style creator, Desiree Neel
Salon Owner / Stylist / Make-up Artist @ La Muse Beauty Salon in Newberg, OR
How would you describe this look?
This is a romantic yet sophisticated updo with lots of texture.
My favorite part of this look is its versatility. It can work for everyone from the mother of the bride to prom night.
Any advice for someone considering it?
Always start with second-day hair because it holds the style soo much better. Medium to long length and texture works best for this look.
As far as prep for this style, my go-to products are Kevin Murphy Doo.Over and Bedroom.Hair to add both texture and volume to the hair. Having multi-dimensional color will also add visual texture to this style.
Soft Graduated Bob with Bangs
@jennifermhair
Q&A with style creator, Jennifer M
Freelance Special Occasion Hairstylist in Hertfordshire, UK
How would you describe this look?
This soft graduated bob is classy, delicate, and feminine. It was designed to make the mother of the bride look and feel beautiful on a such a special day.
My favorite thing is the color and how it complements her complexion and brings out those gorgeous blue eyes! The fascinator makes such a statement. I love how the neutral color allows for a larger sized accessory with lots of detail.
Any advice for someone considering it?
This is a beautiful style that is perfect for all occasions and lifestyles and suited brilliantly to the elegant and sophisticated woman. This style is also great for everyday wear. It can be tucked behind the ears or clipped to one side to give a different look, or simply blow dried with lots of body to give a sexy and powerful look.
I would advise the client to ensure they have a good cut with soft highlights about three weeks before the big day. She will then feel comfortable with the style and it allows for that little bit of growth whilst still keeping the shape and color fresh. On the day of, I'd advise the client to use little conditioner and then have a good blow dry to ensure body and shape around the face. When the fascinator is fitted, it must slot into a section of backcombed hair to keep it in place throughout the day.
I recommend using Alterna Caviar Style Satin Blowout Balm to set the perfect style, increase shine, and provide excellent heat protection. It also smells amazing! My favorite hair dryer to use is the Parlux 3200 combined with a variety of Denman round brushes. Finish this look off with a touch of Aveda's Brilliant Humectant Pomade to ensure the style remains in all types of weather. Finally, finish with a light spray of Alterna Caviar Anti Aging Working Hairspray.
Swept Up Low Bun Sophistication
@mish.hair
Q&A with style creator, Sherrie Michelle
Mobile Hairstylist @ Mish & Co Lux Mobile Hair + Tanning in Brisbane, QLD
How would you describe this look?
This look is classic messy/chic with a hint of swept up sophistication. I love this style for clients as it looks effortless yet glamorous.
Any advice for someone considering it?
This look is the perfect go-to style for a mother of the bride, bride, bridesmaid, or even a girl that wants a little bit of flirty glamour for that special event.
I always ensure the hair is washed the night before because that makes the hair easier to manipulate and "dirty up" with products. Here I used the Schwarzkopf Osis range. I prepped the hair with Osis Dust It which is a mattifying volume powder. For hold while styling I used Osis Freeze which is a strong holding hairspray. To finish the style, I used Osis Sparkler which is a shine spray that leaves the hair (especially blondes) looking healthy and chic.
This style was done on fine, medium to long hair, but would also work on any hair that is bob length or longer. It is best to smooth the hair if frizzy, and my hot tip is to always curl the hair before any type of upstyling for extra body. This is especially important if working with fine hair.
Crown Braids & Stacked Curls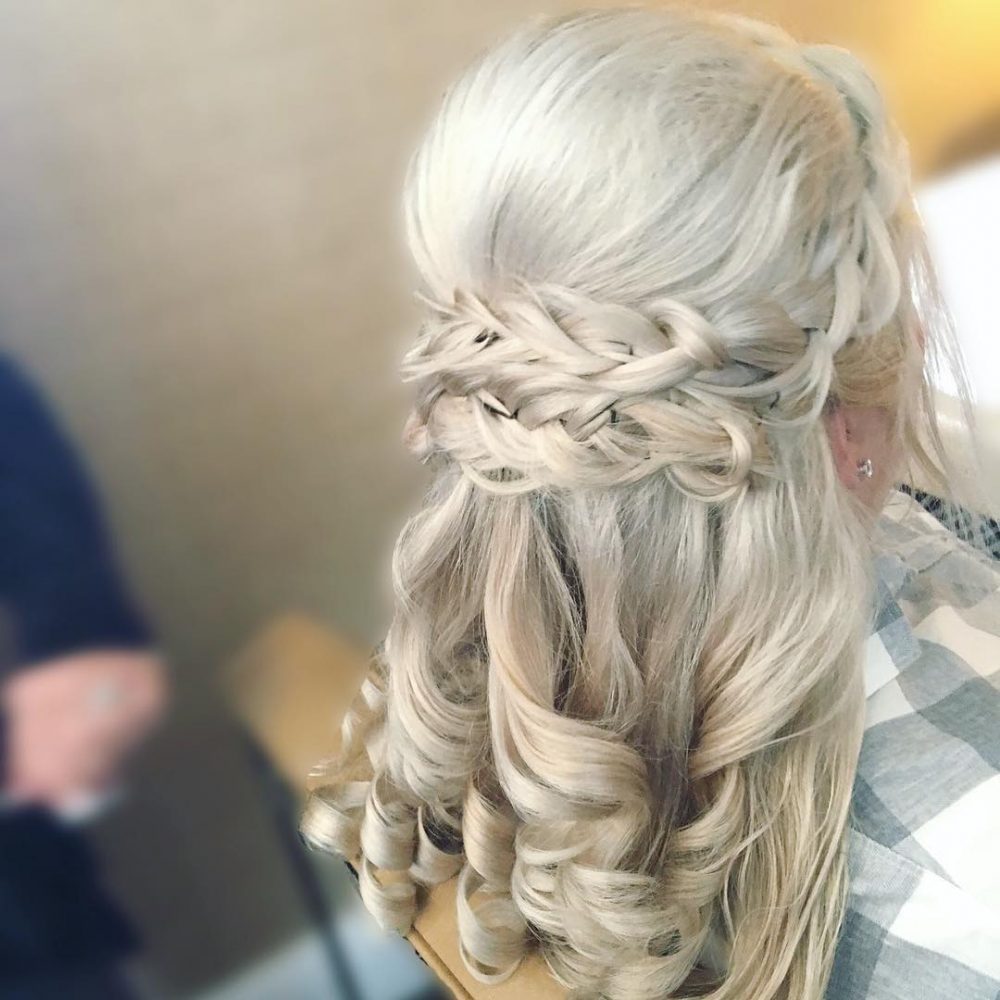 @belle_of_the_ball_by_lilyanna
Q&A with style creator, Lily Belfer
Lead Hair and Makeup Stylist / Owner @ Belle Of The Ball By LilyAnna in New York, NY
How would you describe this look and what is your favorite thing about it?
This style is a soft, romantic and natural look. It combines stacked curls on the bottom with volume at the crown that is held back by braids that wrap around the back of the head. The braids emphasize the height and volume of the style while setting off the curls. They make this look really stand out.
What tips or products do you recommend to recreate this look?
I started with a quarter-sized amount of Kenra Styling Mousse pulled evenly throughout the hair. Next, I set two rollers with a 3/4-inch iron on the crown, and let them cool for later. I divided the back of the hair into three equal sections from top to bottom. Working with the bottom section first, I worked in Kenra Styling Mousse and curled one-inch sections of hair. It's important to add the styling product as you go so that it is fresh and can hold the style. We repeated this process in the other two sections.
Next take out the top roller curls, then tease and smooth before pinning into place. Taking three sections of hair on either side of the face, I started braiding away from the face. I crossed the braids under the volume of hair at the top and pinned. I curled soft wisps of hair around the face to complete this romantic look, then finished with Kenra Strong Hold Hairspray to hold everything in place.
What type of client would you recommend this look for?
I find that this style looks great on everyone. I use it mostly for bridesmaids. The long curls down the back look great for photos and the braided detailing gets compliments all night long.
It's a perfect event style and one of my personal favorites to create!
Beautiful Chignon
@hairbykarleebarwick
Q&A with style creator, Karlee Barwick
Apprentice Hairdresser @ Lovely Locks Hairdressing in Port Macquarie, NSW
How would you describe this look and what is your favorite thing about it?
I love this look as it is a very soft and elegant style. It is a style to instantly be in awe of because of its versatility. It's the perfect look for occasions such as a wedding, reunion, casual dinner party, or even a school formal. This style complements any fashion statement.
What tips or products do you recommend to recreate this look?
Do not polish this style too much as it is more of a soft, textured look. Allow for your hairdressing authenticity to flow when working with your client.
I love Redken Powder Grip sprinkled on the roots to help create and hold the volume and texture, along with Redken Triple Take 32 hairspray to finish off.
Ensure you leave small sections around the face to allow for shape and a softened, natural finish. Cloud 9 applied curls can be a great way to complete this style.
What type of client would you recommend this look for?
I recommend this look for all clients, that is the beauty of its versatility. It is for ladies who embody various face shapes. It is a flexible, simple and quick upstyle for those clients who may be pressed for time prior to an event. Clients of all ages would be well suited for this upstyle.
Shorter Sassy Curls
@robynhairnmakeup
Q&A with style creator, Robyn Scheer
Hairstylist / Makeup Artist @ Blush Artistry in Edmonton, AB
How would you describe this look and what is your favorite thing about it?
This look is for the woman with hair on the shorter side (above the shoulders) who doesn't want your typical "mother of the bride" style. It allows the woman to be her sassy self!
This look is perfect when you want volume and texture, but nothing too curly or "perfect". Variations of this could be less or more curly, less or more volume, or adding a hair piece to one side. You could even tuck one side!
What tips or products do you recommend to recreate this look?
You could use a flat iron or medium barrel curling iron/wand to create this look. The less perfect, the better! Curl the hair in opposite directions and create elevation at the base of the hair. We want volume!
The products I used and recommend are a good heat protectant (Chi and Oasis make great ones) and Puff Me by Design Me to add all day texture and lift to the root area. It's also a great re-styler when you feel the hair has dropped a bit.
Hard Head by Bedhead is my ride or die hairspray and it'll lock your style in all day long.
What type of client would you recommend this look for?
This style is good for everyone as there are so many variations of how it can be worn. It is great for the short-haired client who doesn't want anything ordinary and wants to show off their sassy and fun side.
This look is versatile in that it will flatter all face shapes by adding height to the hair and masking imperfections. This style will help give thin-haired gals the appearance of thicker and fuller hair.
It can be worn on a younger client as well. Incorporating a headband would give it some detail and add an element of youth.
Curled Layered Bob
@lindseywillishair
Q&A with style creator, Lindsey Willis
Redken Certified Colorist / Master Specialist / Hair Cutter @ After FX Spa and Salon in Broken Arrow, OK
How would you describe this look and what is your favorite thing about it?
This look is best described as a layered bob that is curled with a 1-inch curling iron. My favorite thing about it is the ease and elegance of it.
What tips or products do you recommend to recreate this look?
To recreate this look, spray the hair with Reken Iron Shape and curl with a 1-inch curling iron. Loosely pin one side back with a couple of bobby pins and finish off with Redken Triple Take hairspray.
What type of client would you recommend this look for?
This client's daughter is soon to be married, so every appointment we play with the color or the cut. This day we were trying out wedding day styles!
She has thin hair with a touch of wave, so this style really boosted the volume of her hair. This style would really work for everyone.
Casually Coiffed
If you want to rock a casual, relax MOB style, this is the look for you!
How To Style:
If you have naturally curly or wavy hair, apply curling cream to your hair when wet, then use a diffuser to dry it.
If you don't have natural curls, let your hair dry naturally, or use a round brush to smooth it dry.
Use your 1¼-inch curling iron to curl each section of hair. Wrap your hair around the iron to avoid the curls being too "perfect". Be sure each curl is going a different direction. For example, if you curl one section towards your face, curl the next section away from your face.
Use your hands to separate the curls and apply a texture cream so the curls don't look overly manicured.
Best Face Shape and Hair Type:
This style is absolutely divine for those mothers who have natural waves and want to show them off. Medium to thick textured hair will work best, and any face shape will be complemented by this look.
Recommended Products:
If you have natural waves and want to give them a little extra boost, I love using Paul Mitchell's Sculpting Foam combined with Moroccan Oil. Mix these two products together, apply to your hair, and then use a diffuser to dry and accentuate your natural curl. If you don't have natural curls, not to worry! Add some Body Builder Mousse by Kevin Murphy to your roots pre-blowdry to give some extra oomph at your scalp.
Twisted Bun
@vlgartistry
Incorporate some twists and turns in an enchanted updo for amazing texture and dimension! Top it off with a nice piece of decor to finish the formal look.
Loose Curly Updo
@byjennifermonzon
A glamorous curly upstyle that's charming on women who want to make a lasting impact in a special event.
Easy and Elegant Updo
If you want your hair up and out of your face on your son or daughter's big day, then consider this look. It's incredibly simple and once it's done, you won't have to think about it for the rest of the day!
How To Style:
Secure hair back into a high ponytail in the crown section of your head. If needed, spray it with a light hold hairspray and use a soft boar bristle brush to smooth.
Gather the ponytail in your hands and twist it around itself. Then wrap the hair around the ponytail holder, pinning with bobby pins as you go.
Spray everything with a strong hold hairspray.
Best Face Shape and Hair Type:
This look is great for those moms with longer hair. This style will be absolutely stunning if you have a round face and are looking to elongate it.
Recommended Products:
To help get your hair smoothed back perfectly, I love using Bumble and Bumble's Does It All Hairspray. It's light and won't get too sticky. If you have extra unruly hair, try using Super Goo by Kevin Murphy. It's a little heavier and will keep your mane tamed all night.
Stylish Half-up Half-Down
@thathairgirlzoe
Look like a damsel-in-distress without any stress with these half-tied curls! Bring to life your favorite princess fantasy with a few hair pins and a floral accessory to create a look that anyone would envy.
Traditional Updo
@holliepocketthair
Channel your royal elegance with a simple low do that sits on your nape. Simple and graceful.
Classic French Twist
@hair_by_chauney
Roll the day away with this jaw-dropping hair do! It's smooth, elegant, and will certainly make you the star of the event.