22 Stunning Purple Ombre Hair Color Ideas for 2021
Platinum Blonde to Purple Coloring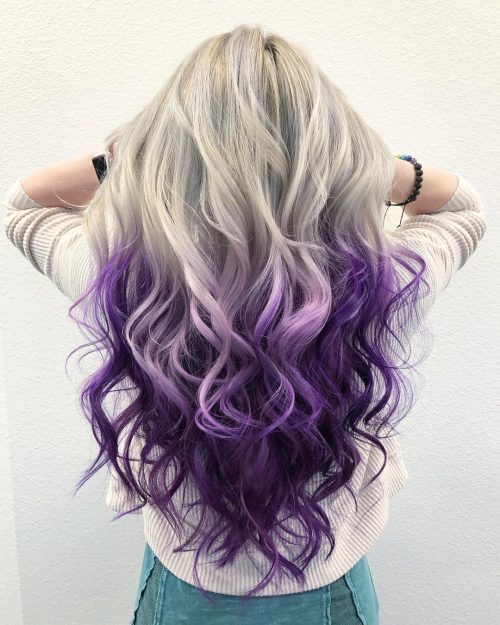 @joyahairdesign
Q&A with style creator, Joya Smith
Hairstylist @ Joya Hair Design in San Diego, CA
How would you describe this?
This purple ombre hair color is versatile and can be transformed. Blondes, keep your blonde bright by adding a shadow root to keep your regrowth more natural-looking.
The purple ombré with the lavender blend creates depth within the hair.
What's your best advice?
If you're considering a vivid color, just know that they fade. Like a lot! Every time you wash your hair you will literally see the purple and lavender hues go down the drain. So, for women that wash their hair every day, or more than twice a week that is something to keep in mind. With that, vivid colors can also take a lot of time and patience to remove. So when deciding on a bright and fun color, just know that it will be a commitment to your hair. But usually well worth it!
Lavender Ombre

@cassandracolours
This lavender ombre hair features a platinum blonde to silvery purple hair color melt that is too magical. Having a lightened base makes it really easy to dip your locks onto some purple goodness, like these lavender ombre ends!
Light Purple Ombre

@hairbykatiek
A little smoky lilac or light purple hair hue on medium-length waves is just plain adorable! This muted violet hues complement complexions with pinkish undertones.
Lilac Ombre

@hairbyadriennewalsh
Shiny metallic layers with edgy muted lavender hues will surely add dimension and character to your night out look.
Pastel Purple Ombre

@amberbeckjordhair
Perfect for any lazy day look, scrunch the tips of your enchanting faded violet ombre to achieve this natural beach wave result.
Dark Purple Ombre Hair

@crystal_d_salon
Layers and long side swept bangs flatter any medium-length hair; pair that with funky loose curls and you will be ready for a night out. There are many shades available for purple hair color and this dark purple ombre hair color uses darker tones.
Ash Purple Hair Ombre

@garynghair
We are so in love with this smoky plum tone and so should you! Having two different ombre shades of purple on effortless waves is an innovative way to wear this trend.
Light Brown to Light Purple Ombre

@hairby_rr
Some lovely hints of violet on a rich, envy-inducing brunette hair is unbelievably flattering! Make your thick, long locks a canvas for this exquisite violet ombre style.
Violet Ombre

@konstantinos_bakogiannishair
Have your deep black strands glimmer everywhere you go when you end them with this brilliant violet ombre hair. Styling your mane straight can show how smooth and impressive the color transition is.
Burgundy Ombre

@tressesbytim
Layers on a long mane with perfectly curated soft curls and sexy wine-colored tips will make sure everyone will be dazzled by you.
Purple and Pink Ombre

@samonpie
The perfect balance of bold and delicate. These vibrant yet soft curls will make any magical creature envious of this sweet mermaid-esque blend.
Plum Ombre

@hair_by_rachhh
Channeling your inner mermaid? Complete the plum ombre look with a medium-length cut and perfectly styled loose curls.
Silver to Purple Coloring

@melanniemillan
Match your waves with these super cool hues! Play with some blue-violet and ash goodness for a modern funky finish.
Black to Purple Hair

@coralfasthair
Q&A with style creator, Coral Fast
Hairstylist / Chair Renter @ Euphoric Day Spa in North Delta, BC
---
How would you describe this?
This black to purple ombre hair color is fun and modern. Playing with funky colors on a dark base makes the rich color pop! If placement is on point, you can sport this look straight or curled but I love when texture really shows off the contrast.
What's your best advice?
If this style is something you would like to try, keep in mind that fun colors can be high maintenance. Choose a color that will fade out nicely if you don't want to be visiting the salon too frequently. But also as the color fades it can give you a great excuse to try a new different color!
Dark Brown to Purple Ombre

@hairbyerika_rohrbach
Q&A with style creator, Erika Rohrbach
Hairstylist @ Bella Hair Salon in Northampton, PA
---
How would you describe this?
This is a long layered cut with brown to purple ombré hair color. Style it using a one-inch curling iron so the waves in your hair show off that pop of purple on the ends.
What's your best advice?
Know that vivid hair colors like the purple on the ends are very temporary. Do your ends purple so it's easier to touch up with colored conditioners like Brand Overtone, between color appointments.
Blue and Purple Ombre

@hairby_milly_mermaid
Q&A with style creator, Amelia Mercado
Freelance Colorist in Long Beach, NY
---
How would you describe this?
This is a dark aqua blue to a magenta color melt. These colors together, while on the darker side, are still very pigmented.
What's your best advice?
You have to be willing to upkeep the proper way so the color will last as long as possible, such as washing with cold water and using color-safe products. Like anything else we do for ourselves, hair comes with a commitment.
Purple and Blue Ombre

@bleach_and_tone_81
Q&A with style creator, Meagan Bester
Owner @ Bleach & Tone in Pretoria, South Africa
---
How would you describe this?
The cut elevates the purple ombre with long layers that are flattering to most face shapes and are super versatile.
What's your best advice?
Use a vegetable dye to achieve this bright color, which can fade quickly if not treated with good quality products at home. Look for products that not only protect color but also nourish your hair. Try KMS Moist Repair Shampoo and Conditioner coupled with Goldwell Dualsenses Color Extra Rich 60s Treatment.
Metallic Purple

@paigelindseyy
Q&A with style creator, Paige Dudenhoefer
Hair Artist @ Moxi Hair Salon in Erie, PA
---
How would you describe this?
This is a "Dusty Purple Ombré." The prettiest thing about this particular look is the vibrancy of the purple color. Purple ombre highlights are very flattering on various skin tones.
What's your best advice?
Keep in mind the upkeep. You must keep washing at a minimum, use color-safe shampoo, turn down the temperature on your tools, and reschedule a color refresh with your stylist!
Purple is the perfect color to try if you're looking to spice up your color in a way that it will fade out to a beautiful blonde if you let it go. Although, it will not last long if not following the instructions above.
Also, keep in mind it may take a few appointments before you achieve this purple ombre hair color. Expect to spend around 5 hours in the chair. Ask your colorist to first create the ombré, then apply the purple color.
This purple ombre hair color will work on all hair types and textures but it may take time to get there depending on what color you start out as. The blonder, the better!
It also the perfect way to spice up an old ombré or balayage highlights!
Deep Purple Hair Ombre

@hairbynoora
This is a purple ombré done by balayage plank application as the first step. The second step is a color-melt using Guy Tang's my identity, mixing custom colors through zone 2 and 3.
Hair seems to come alive with these piercing vivid hair color styles. It makes all the time for appointments in vivid coloring worth every minute!
For purple hairstyles, consider the total appointment costs. Take note that the longevity of a purple shade is minimal, lasting 2-3 weeks with little cold hair washing.
Use a color shampoo and conditioner with color pigment and color-safe like Celeb Luxury Gem Lites Colorwash that's available in an array of colors!
Red and Purple Hair Color

@melissahairlove
Q&A with style creator, Melissa Hartlove
Hairstylist @ Elsewhere Salon in Wilmington, NC
---
How would you describe this?
This is an ombré with a copper-based red at the root to the mid shaft that transitions to purple towards the middle to end of the hair shaft.
It's cured using a two-inch wand, wrapping each section around the wand one and a half times. The waterfall braid shows how fun and dimensional the color is.
The coolest part of this style is the translations of colors and the movement of the hair! It's also good for women who want a fun color, but don't want to lighten their hair too much. You'll only need to lighten yours to a level 7 to achieve this bright purple.
What's your best advice?
Be patient with the lightening process and listen to your stylist. Also, the purple used in this color is a direct dye and is not permanent, so if you shampoo your hair every day it will fade fast. On the other hand, being as the color isn't permanent it opens a world of possibilities for other colors!
Amethyst Purple Sombre

@ave65salon
Q&A with style creator, Tina Ong
Hairstylist / Colorist / Owner @ Ave 65 Salon in San Gabriel Valley, CA
---
How would you describe this?
There's a fun color element to this purple ombre hair color. The purple hair color combination blended very well.
What's your best advice?
The coloring and processing part takes a great amount of time. After obtaining this ombre purple hair, stay away from swimming and avoid washing your hair for the next couple of days. To extend the color, using dry shampoo in between wash is best. To help keep hair healthy, use a leave-in hair treatment every two weeks. Maintaining colored hair requires a lot of attention and dedication. However, the color is worth it!
Bright Purple Ombre

@hairbysaretta
Stylist Saretta created this ombre color scheme out of long, lilac hair that's lavishly braided.