These 22 Caramel Hair Color Ideas Are Trending for 2021
Golden Caramel Color with Long Loose Curls

@suzycolorist
These long loose curls are made more luscious by these rich caramel blonde balayaged strands. This lighter caramel-colored hair is great for most skin types as well.
Light Mocha Caramel Shade

@nahee_stylist
A light mocha caramel shade is a cool brunette hair color shade that is very on-trend. Light matte brown tones are super unique and allow brunettes to play around with different mocha and caramel hair color shades. For hair that looks soft, has a lot of movement, and to flaunt your cool mocha hair color, use a curling iron to style, then use a wide-tooth comb or paddle brush to loosen the waves, giving an effortless luxe finish.
Caramel Brown and Auburn Blend

@hairbyelijahs
A caramel brown and auburn blend is a stunning hair color that reflects warmth and beauty. Dark brown lowlights and warm auburn red highlights blend seamlessly together to create this radiant, shiny, multidimensional hair color. Try out a warm copper caramel toner over dull, lifeless blonde hair to refresh and bring life and longevity back to your hair color.
Deep Caramel Coffee Balayage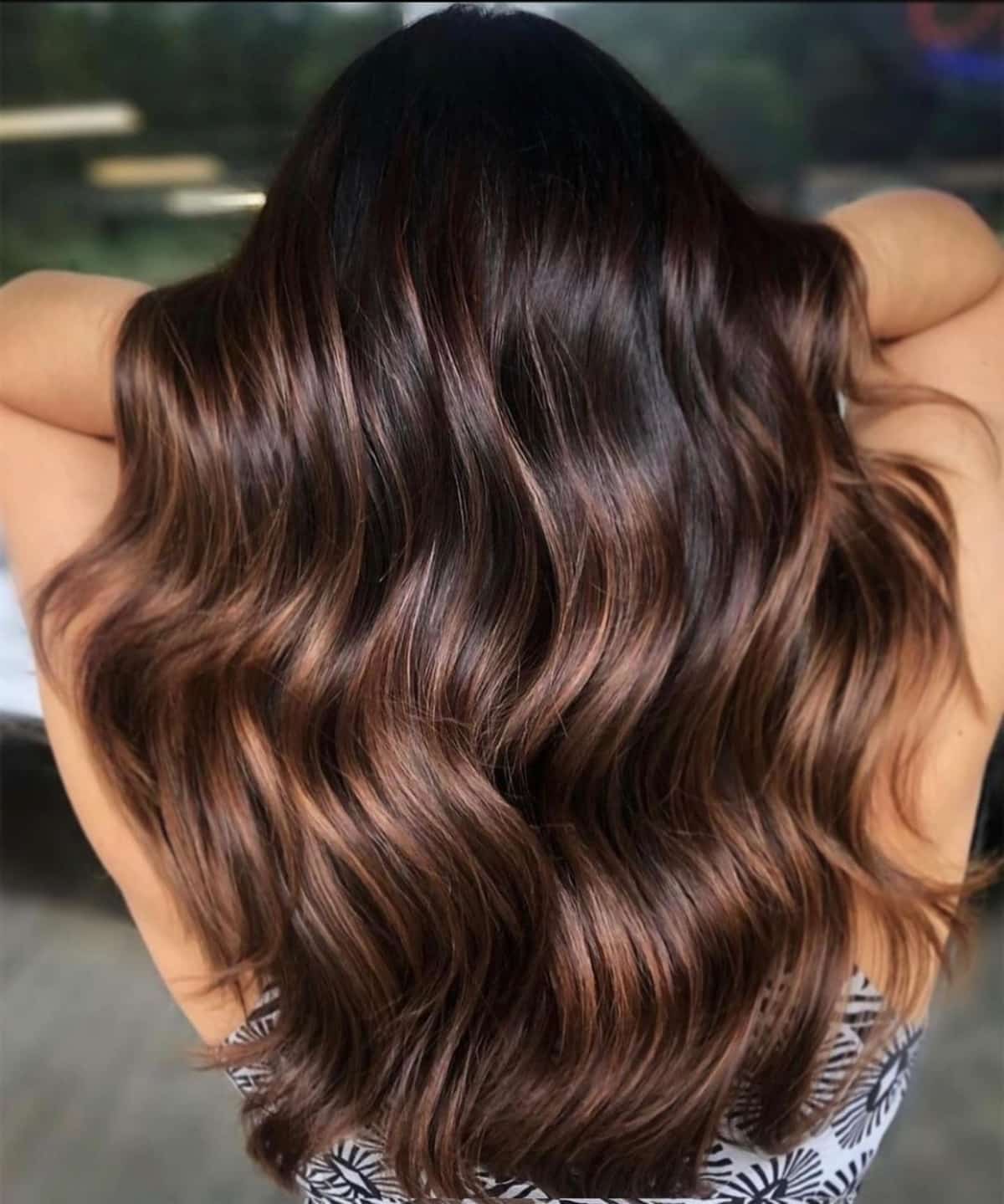 @jessicascotthair
Deep caramel coffee balayage shines radiantly with warmth and brightness. Copper and deep chestnut tones add shimmer and vibrancy that will leave your hair looking soft and shiny. These chocolate and caramel hues look amazing on women with deep skin tones and bring life and brightness to dark tresses.
Caramel and Beige Blonde

@hairbyamybee
Caramel and beige blonde hair is a perfect shade for women with darker hair and tan skin complexions the darker hair already veers warmth. Caramel tones are rich and give the right amount of warmth without it looking brassy. Melting being into it will help balance both tones since it has the right combination of coolness and warmth, producing a natural result.
Chunky Caramel Highlights

@hairmeroar
Chunky caramel highlights add deep pockets of depth to help create a beautiful dimension on brunette hair. Caramel highlights can suit all skin complexions as they can be easily modified.
Honey Caramel Color

@samantha_hairdesign
Stun everyone with the dimension and body brought by these honey caramel highlights on medium brown hair. Huge, easy waves on medium-length cut give you that stunning result when highlighted by honey caramel hair dye.
Creamy Caramel Hair

@hairbyabbyhelms
Spice up shoulder-length hair with a creamy caramel hue and beach waves for that deep and dimensional look! The cool caramel tone is perfect for any skin type during all four seasons.
Caramel + Chocolate Color

@strangestylez
Mesmerizing sleek curls with caramel and chocolate tones fit for any event from your local coffee shop run to a casual date night. Just like the candy, the color blend here is great!
Ash Caramel Balayage

@chiyukihair
A cozy contrast between dark ash and blonde caramel color! This faded version of toffee hues on beach waves have a softness and impressive allure!
Caramel Hair with Blonde Highlights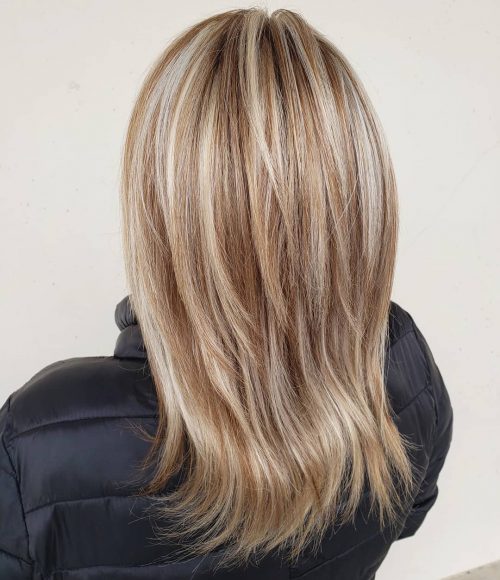 @hairartistrybyjordinh_
On this medium, layered hair is a contrast of intertwined platinum blonde and caramel-hazel strands. The combination of tones creates a dirty blonde hair color effect that's sure to match ladies with a fair skin tone.
Warm Caramel Blonde Hair

@hair.by_laurenn
A bright mellow shade to lighten your waves—these caramel blonde highlights are a real show-stopper! Own sun-kissed tresses that look adorable all year round!
Black Hair with Light Caramel Highlights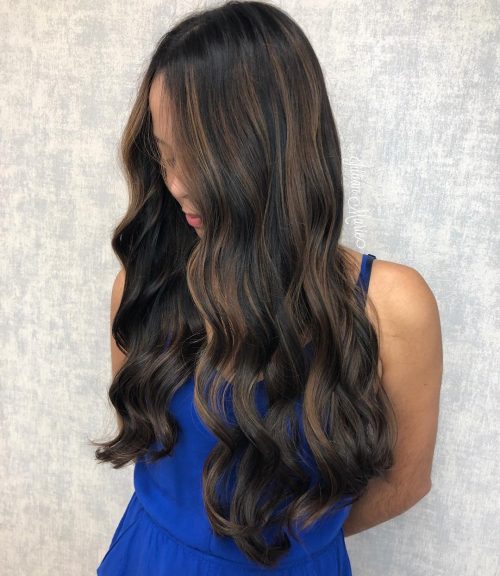 @jillianmariebeauty
Become a dimensional brunette with sweet honey swirls and hints of caramel in your tresses! It's a total lowkey hue that doesn't need too much maintenance or styling. Adding a caramel color to a darker base color creates a new color spectrum. It sure works on a short bob or a lengthy wavy haircut.
Dark Brown Hair with Caramel Highlights

@_locksbylexa_
If you're looking to brighten up your dark chocolate locks and add dimension, give these caramel highlights a try. The blend of base color and highlights creates captivating caramel streaks.
Light Golden Brown Shade of Caramel Hair

@hairby_prattana
This soft golden brown tone on caramel hair is the way to go for unparalleled definition and glow. It's a natural warm caramel shade that will make you obsessed with the new you!
Caramel Toffee Shades

@n.m_hair
The magic that a caramel-toffee balayage plus babylights can do! This multi-tonal hair is perfect for ladies who want versatility when it comes to styling.
Caramel Balayage on Dark Brown Base

@glenhew
This is a caramel balayage ombré on top of natural dark brown hair color, created by hair artist Glen Hew of Malaysia. This creates a multi-dimension effect of highlight with caramel. The best part about it is you can maintain your natural color while looking trendy and fresh.
Hew notes, "Caramel color on dark hair is different from others where it lasts longer. And with the balayage ombré technique, you will still look good even after new caramel roots grow."
This hair color is suitable for natural or colored hair – from black, medium brown to light brown. You can customize the shade according to your face shape and skin tone. Just use the balayage face-framing technique.
It's also suitable for a woman who wants something that lasts longer. "Maintain your warm tones and style with a beach wave spray. Try a leave-in conditioner and natural hair oils, too," Hew suggests.
Caramel Balayage with Color Correction

@theladymisst
This gorgeous caramel balayage was actually created by a color correction.  Style creator Theresa Hardy describes her process below.
"To get the look, remove five inches of hair and then do a color extractor to get rid of some of the red hair tones." The Florida-based stylist continues, "Ask for a subtle shadow at the root and keep the tone in the warmer and richer caramel family. This will keep it low-maintenance."
This caramel coloring process took a total of 4 1/2 hours. "Be sure to use Olaplex every step of the way to help maintain the integrity of the hair. This color will last you about 4 to 6 months with the low maintenance of trims, glosses, and treatments," Hardy explains.
Light Brown Hair with Caramel Highlights

@sophsoph_luxe
This light brown hair with caramel highlights offer softness to the color. Look creator Sophie Henderson of Chatswood, NSW states, "balayage is a low-maintenance and effortless color technique. Once you have your color done, it can be maintained for months afterward with color toners. And you don't have to worry about being back in the salon every 5-8 weeks to top up your regrowth."
According to Henderson, "caramel tones are popular because they have a broader range of root or base colors, especially on women with darker hair. Caramel color allows for a really nice subtle variation. The warmer tones reflect the light more so the hair looks healthy and shiny."
Balayage is great for women who want a color with easy hair care. However, the first appointment is often a big one. Henderson recommends using brands like Olaplex, Davines, Kerastase. She adds, "They are great to maintain the hair condition and keep your color lasting longer. Losing the intensity of the color can make a huge difference in the hairstyle."
Dark to Light Caramel Ombre on Natural Brunette Hair

@hairlust__
This dark to light caramel ombre for brunette hair was designed by stylist Rhiana Cielonko of Texas "It's a nice golden caramel hair color. It was turned into a creamy blonde with a slight gold undertone," Cielonko remarks.
"The best thing about this caramel with a salted ombre is how much warmth can be present in the hairstyle. Nowadays, cooler tones are what many girls want," the stylist adds.
This color is for women that still want to be brunette, but add a pop of blonde in their life. Having the natural root color melt into a caramel creates minimal upkeep. All while still maintaining the all-over lightened look.
Rich Caramel Latte Hair Color

@bbridgetta
This caramel latte color is subtle. It grows out beautifully and gives you the easy boho vibe! It's also super easy to keep! This hair gem was created by Bridget Holmgren of Los Angeles.
If you want to lighten your hair, you should always have products to keep it healthy and shiny. "Lightener will damage hair no matter what. So a trim or treatment is a must with this light caramel hair color service," Holmgren explains.
Dark Caramel Hair

@behindjessieschair
This is a low-maintenance yet high-end haircut and darker caramel color by hairstylist Jessie Maulden of Huntersville, NC.
"This dark caramel hair color is for laid-back girls who don't want to maintain their hair color every 4-6 weeks. It's more for women who wouldn't mind going every 8-12 weeks," Maulden notes.
The most beautiful thing about it is the warmth the color has as it's on the warmer spectrum of caramel.