26 Ultra-Flattering Hairstyles for Women Over 70 with Glasses
Short Shaggy Cut for Older Women with Small Rims

@jikaiahstylist
A short shaggy cut for older women with small rims emphasizes the delicacy of the face in a laid-back way. Women over 70 hairstyles can be modern while shaggy and plucked at the ends of the hair.
Silver Long Pixie for Mature Ladies with Glasses

@thin_latin_moose
A silver long pixie for mature ladies with glasses will beautifully show off your neck and jawline. It's one of the perfect cuts for women over 70 with glasses. The longer length of the pixie makes it versatile enough to keep it smooth or give it some volume with curls. Adding bangs helps to hide forehead wrinkles, lines, and crows feet, too.
Lob for a 70-Year-Old Woman with Large Rims

@studio_betinha_leao
A lob for a 70-year-old woman with large rims helps add volume and fullness to limp hair. This lob is the perfect option if you are looking for women over 70 haircuts that you can embrace and that will bring your hair back to life.
Grey Textured Bob for Older Women 70+

@kenyohoffman
A grey textured bob for older women 70+ is a great way to add movement to limp hair. The texture made through layering is a flattering cut for women over 70 with glasses.
Short Bob with Layers for Women with Large Glasses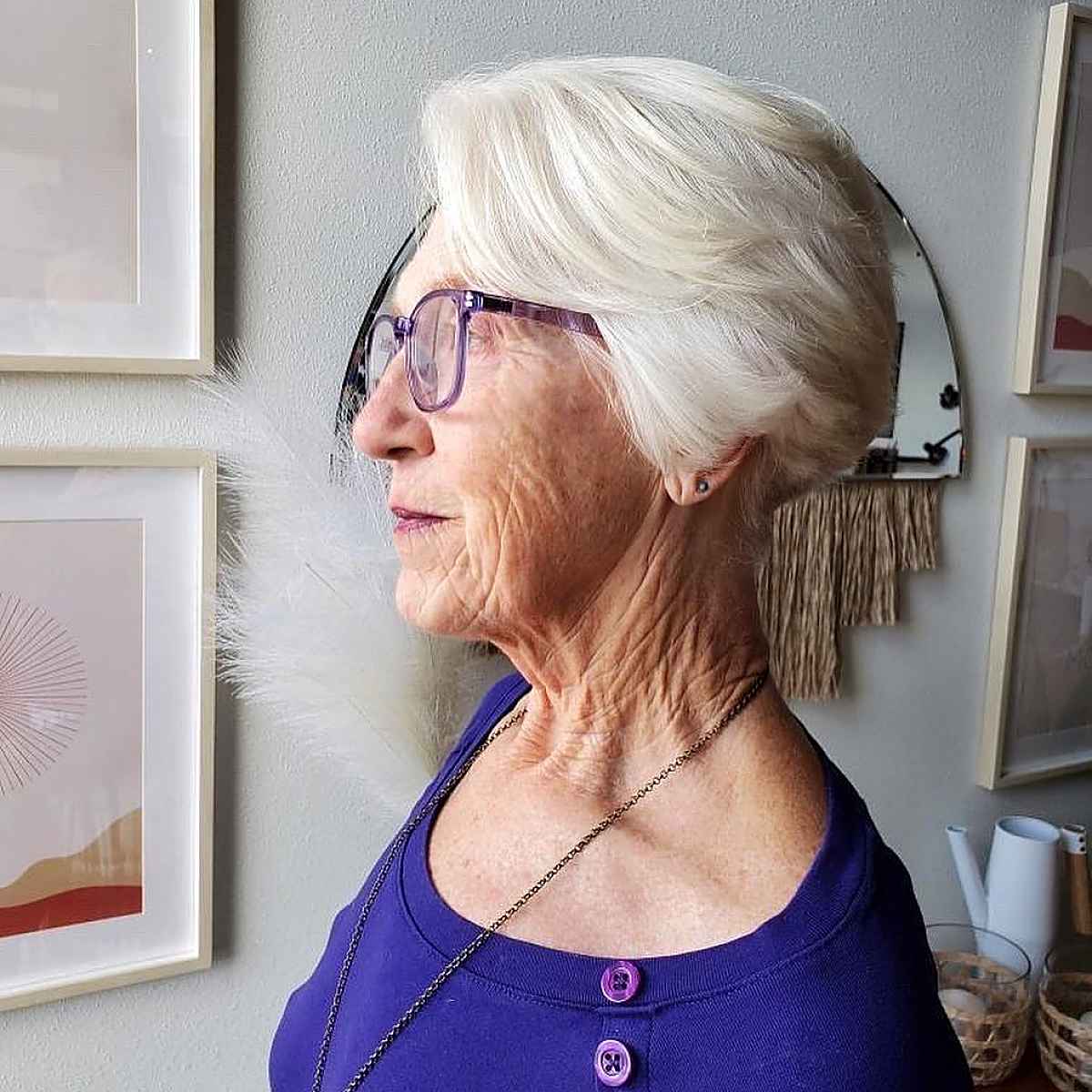 @foil_and_fern
A short bob with layers for women with large glasses consists of bold, edgy cuts that offer a youthful-looking glow. Women over 70 hairstyles should accommodate the presence of any eyeglasses. Have the clients wear their glasses when cutting. This way, you're certain that the fringe is slightly above the eyeglasses.
Shaggy Long Hair for Older Ladies with Glasses

@colormescarletttt
Shaggy long hair for older ladies with glasses can work wonders for you. The softness of the shag is very flattering, especially for women with round face shapes. It's vital to do a consultation for this cut while wearing glasses for your stylist to plan out perfectly how to recreate this cut in a way that would flatter you best.
Related: See more shag cuts for older women.
Salt-and-Pepper Short Shag with Bangs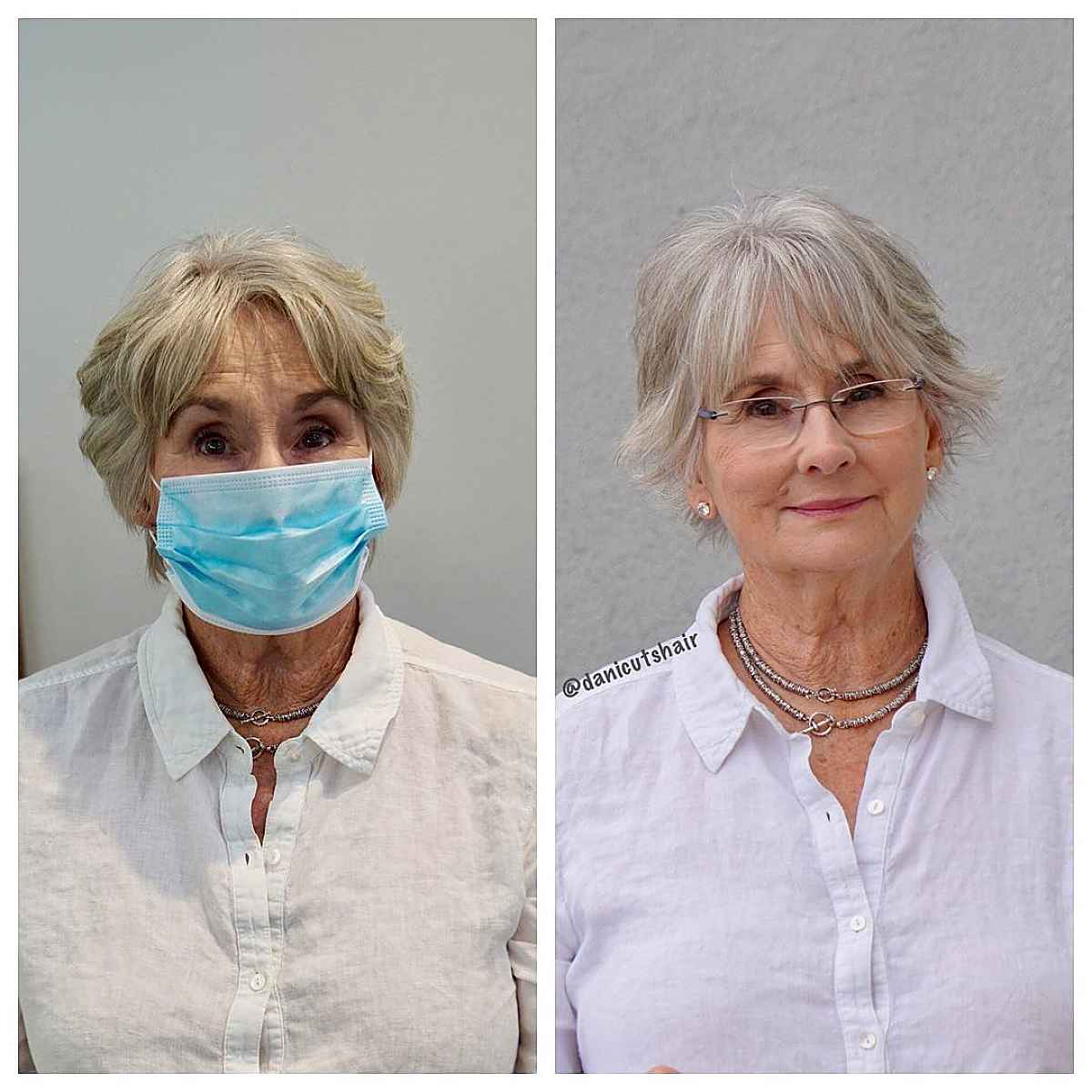 @danicutshair
Try a salt-and-pepper short shag with bangs if you are looking for a short hairstyle that is both fun and flirty. A wispy hair style like this pairs perfectly with modern eyewear. It's simple to style this cut if you have straight hair. Ask your hairstylist for some tips on maintaining and styling this cut on wavy hair texture.
Gray Pixie Bob for Edgy 70-Year-Olds

@kd_cut_and_color
Try a gray pixie bob for edgy 70-year-olds, and you'll feel younger than ever before! Bobs have strong lines at the bottom, which give the style a bold, clean shape. Add some layers to create width and interest.
The added graduation at the nape area gives a stacked shape. This style is versatile and can be blown straight with a medium round brush or curled with a 1-inch iron. Upgrade it in an instant by tucking some of your gray hair behind the ear.
Mid-Length Cut for Women with Small Glasses

@christiesalon
A mid-length cut for women with small glasses is a perfect choice for women who don't want to chop their hair too short. Women over 70 haircuts are a gold standard. To achieve this, ask for a slight angle around the face to create a soft backward sweep that accommodates your eyewear. A side-swept fringe works well to keep that hair away from the face and soften any harsh facial lines.
Long Bob for 70-Year-Old Women with Glasses

@hairbykamo
The beauty of a long bob for 70-year-old women with glasses is that it's an elegant length for mature women, and draws attention to the shoulder/decolletage area. Those that wear glasses may prefer a length with which takes the attention away from them. Try it with a side parting to add some softness around your frames.
Spiky Pixie Cut for Women in Their Seventies

@sagedoeshairmke
Go for a spiky pixie cut for women in their seventies to totally push the grandma look aside and rock some cool hair. The spiky pixie looks awesome on white hair, don't be afraid to draw attention to your locks. Emphasize your style with Aveda's control force hairspray to keep your hair rocking all day long.
Classic Pixie with Bangs for Mature Women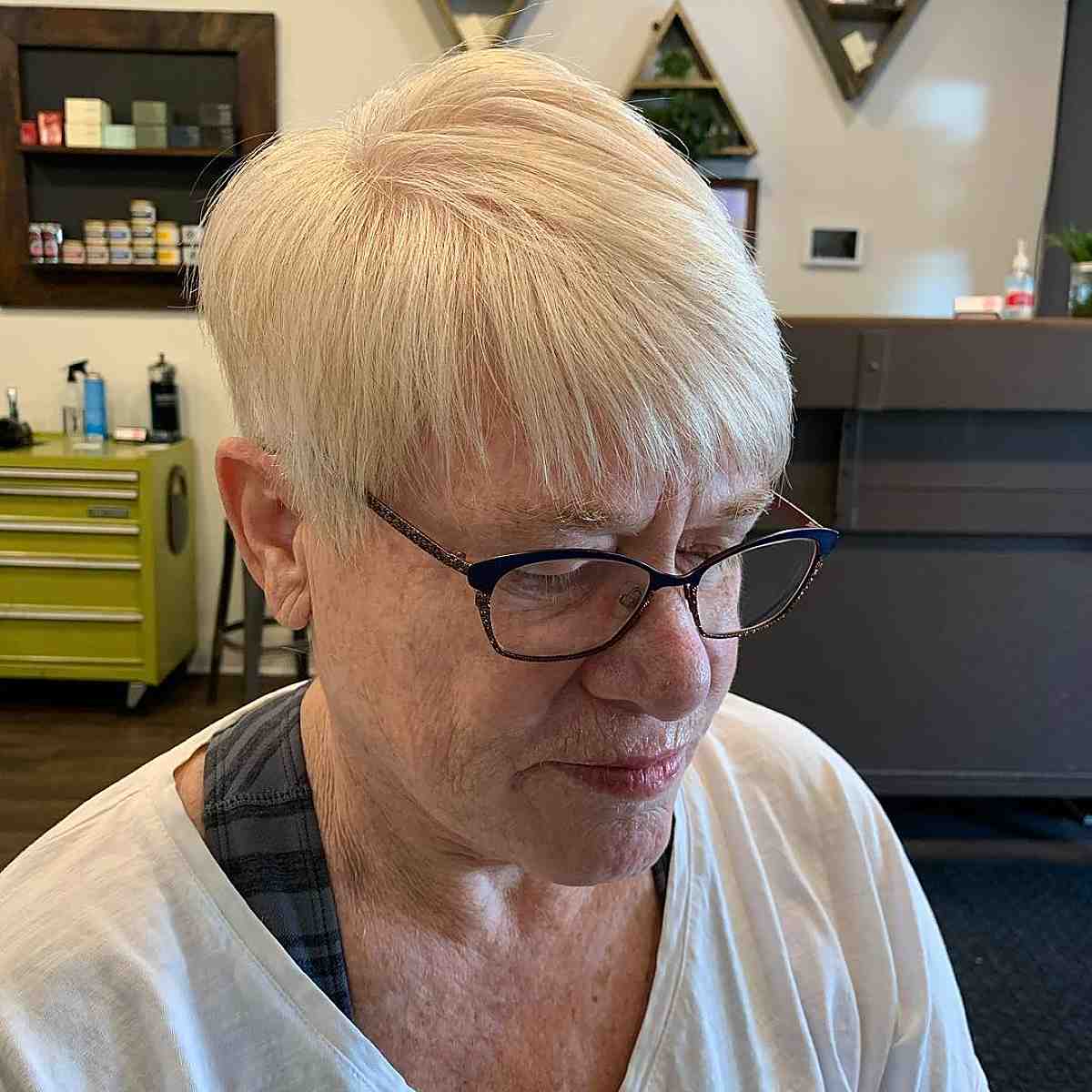 @haircolor_by_doris
Try a classic pixie with bangs. It's for mature women that want a softer subtle shape on fine hair. A pixie doesn't need to be overly textured or harshly styled, a clean shape with soft outlines, with bangs that follow the curvatures of your face, and lenses is a timeless look and easy to maintain day-to-day.
Asymmetrical Bob for Women 70+ with Glasses

@lenkahairsalon
An asymmetrical bob for women 70+ with glasses is a timeless haircut. Try adding a pair of eye glasses to give more creativity and color to the look.
French Bob for Classy Women with Glasses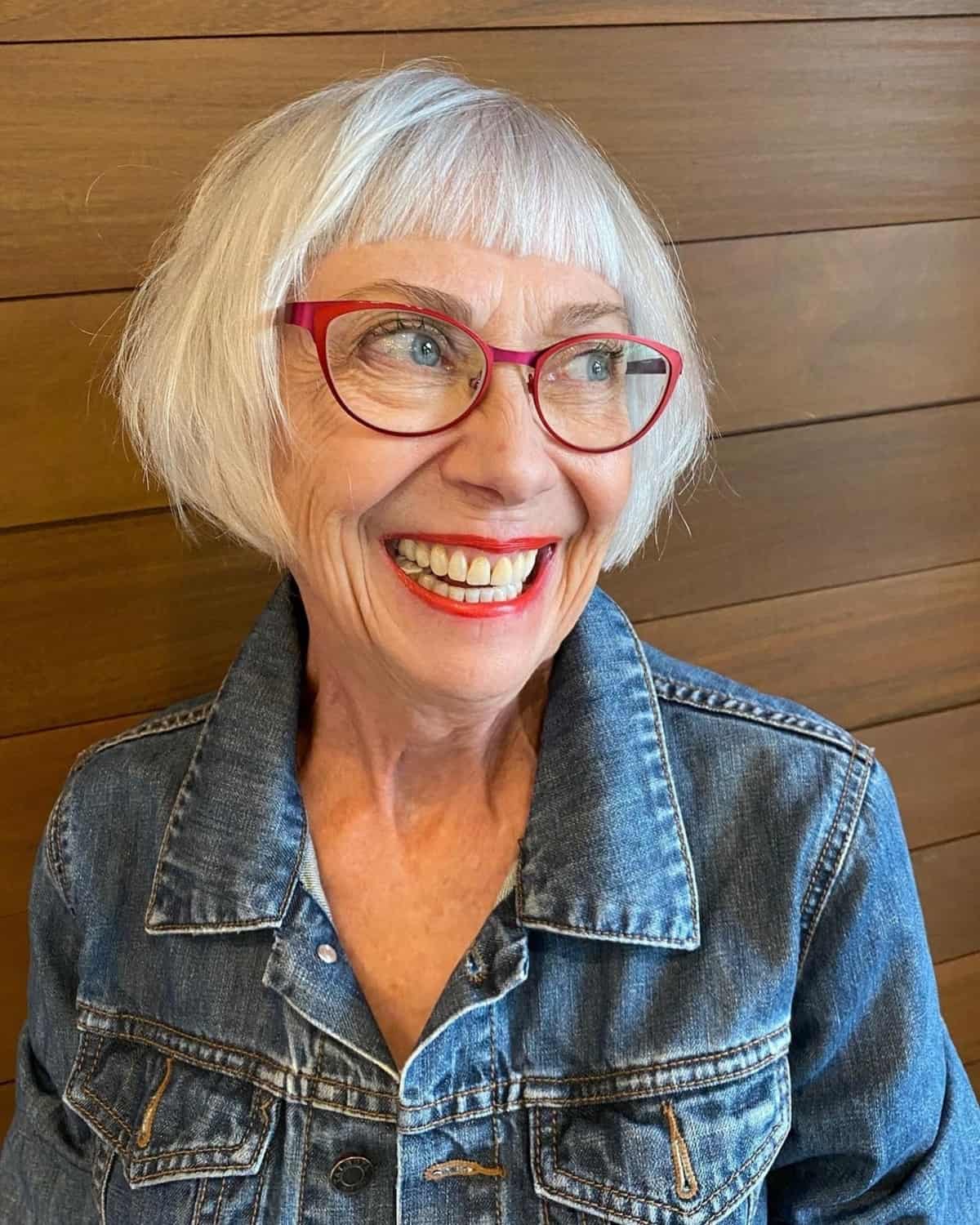 @xiphiumsalon
A French bob for classy women with glasses is great for an old lady that wants a timeless cut that makes you look half your age. When it's angled correctly, it can add a lot of bounce, volume, and texture to your tresses.
Wash-and-Go Short Haircut

@hairbycalliesmith
A wash-and-go short haircut is easy to style and maintain. Try some leave-in conditioner after washing the hair, adding an extra layer of texture, bounce, and volume.
Flattering Voluminous Curls for Women Over Seventy

@shannon_love_hair
Flattering voluminous curls for women over seventy looks best when paired with natural hair curls. Try adding some accessories to give a sophisticated yet fun look, like a pair of glasses.
Layered Bob for Older Women with Large Frames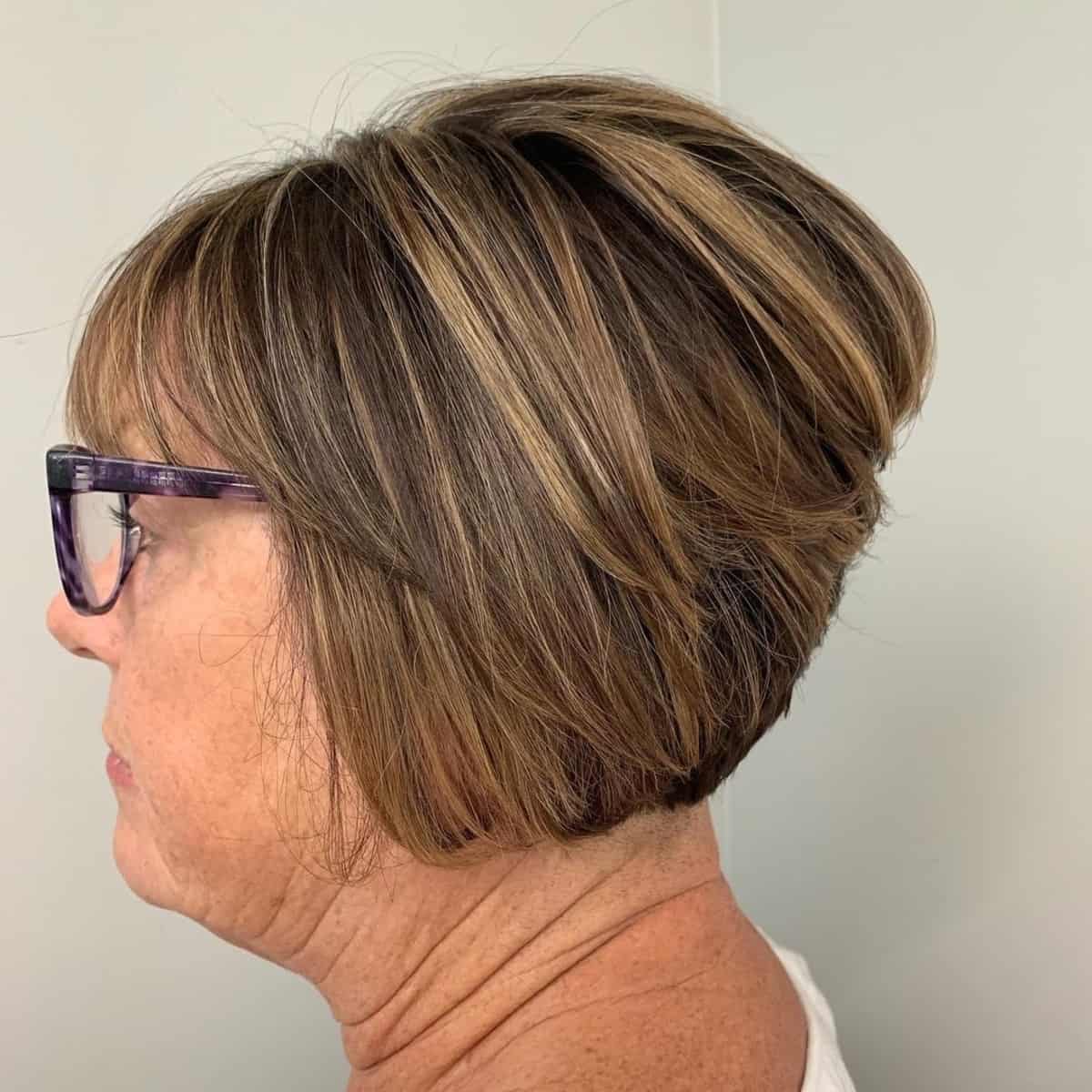 @hairbyer_ika
A layered bob for older women with large frames is a popular hairdo. The stacked back gives a bob haircut some finesse. A layered bob, on the other hand, works for women with varying hair textures. The curlier the hair, the more round brushing is needed. Bobs are a good haircut for women over 70 with glasses and will work on almost all face shapes.
Younger Pixie Bob for 70-Year-Olds with Glasses

@timurbegichevstudio
A younger pixie bob for 70-year-olds with glasses is a good choice for women with fine and straight hair. The long layers on top give a smooth, polished finish. If you don't like flat hair, this cut might not be for you. A pixie bob is shorter than the traditional bob and will make you look 10 years younger. Ask your stylist for a balayage to enhance your hair color, especially if you have thick hair.
Low-Maintenance Cut for Women with Thinning Hair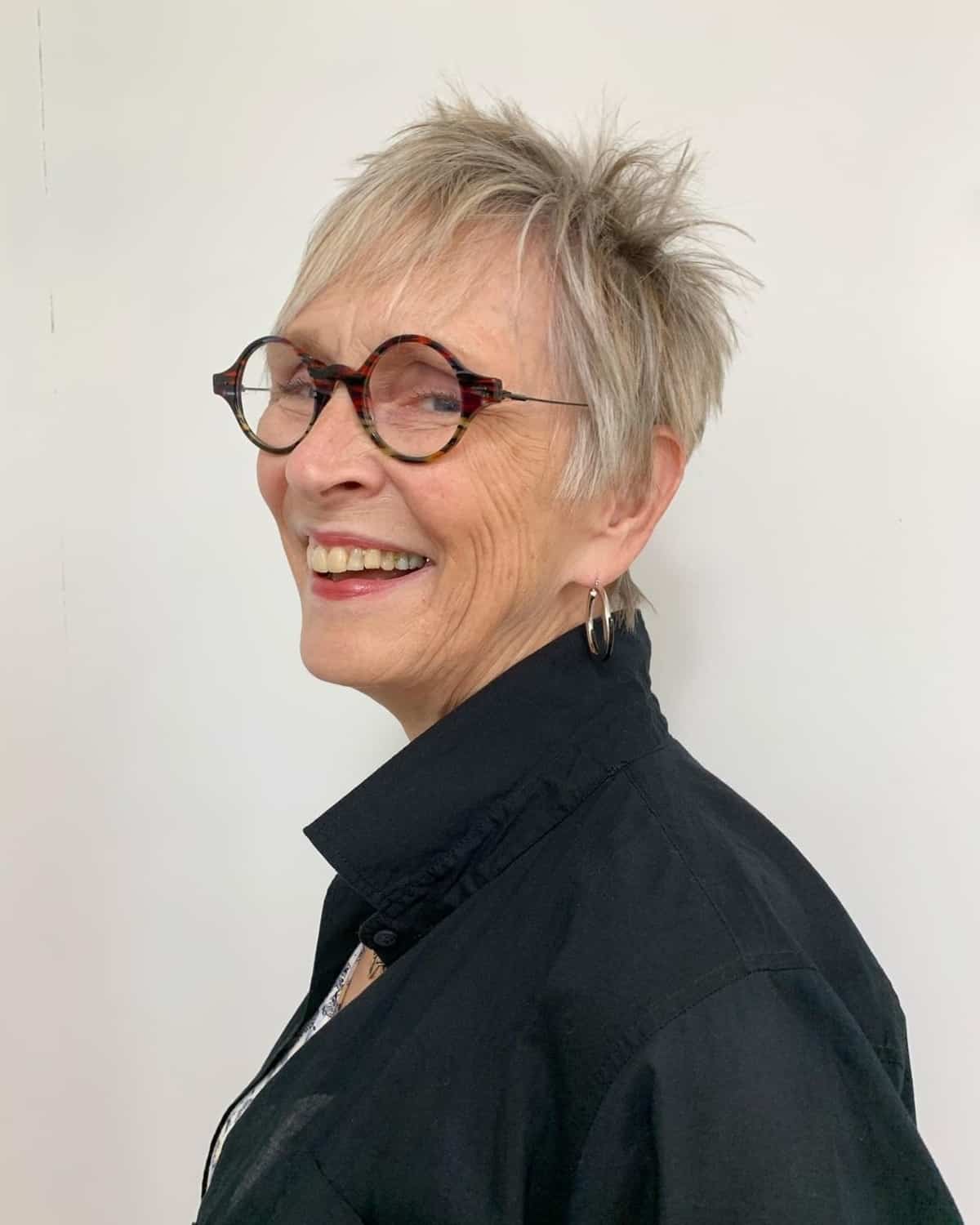 @orriginalhairstudio
You'll want to try a low-maintenance cut for women with thinning hair. Hair can start thinning out as we age, and a great haircut can make a huge difference. A short haircut can make hair look thicker and fuller. If you have a receding hairline in the front, ask your hairstylist to leave the entire fringe area longer and brought forward. The rest of the haircut should be cut short and worn forward to show less scalp.
Very Short Pixie for Women in Their 70s

@blondriot
A very short pixie for women in their 70s can take years off your appearance. A long hairstyle can drag your face shape down, and short hair can give your appearance a lift. As a bonus, short hair is quick and easy to style. Ask your hairstylist to cut your hair short but leave some length on top for the illusion of added volume. It benefits women who have eye wear and will look best when the hair is pushed off the forehead.
Timeless Medium-Length Cut for Women Over 70

@jenny.hartfordshairdressing
Consider a timeless medium-length cut for women over 70 and enjoy a soft hairstyle. Medium-length hairstyles are a good choice for women who want to feel like they still have some hair while putting it up in a bun. The option of styling it towards or away from the face is a great benefit. It allows women with any face shapes to wear it. It's moderately easy to style with a medium-sized round brush and 6-8 week hair trims.
Short Bob for Women Over 70 with Glasses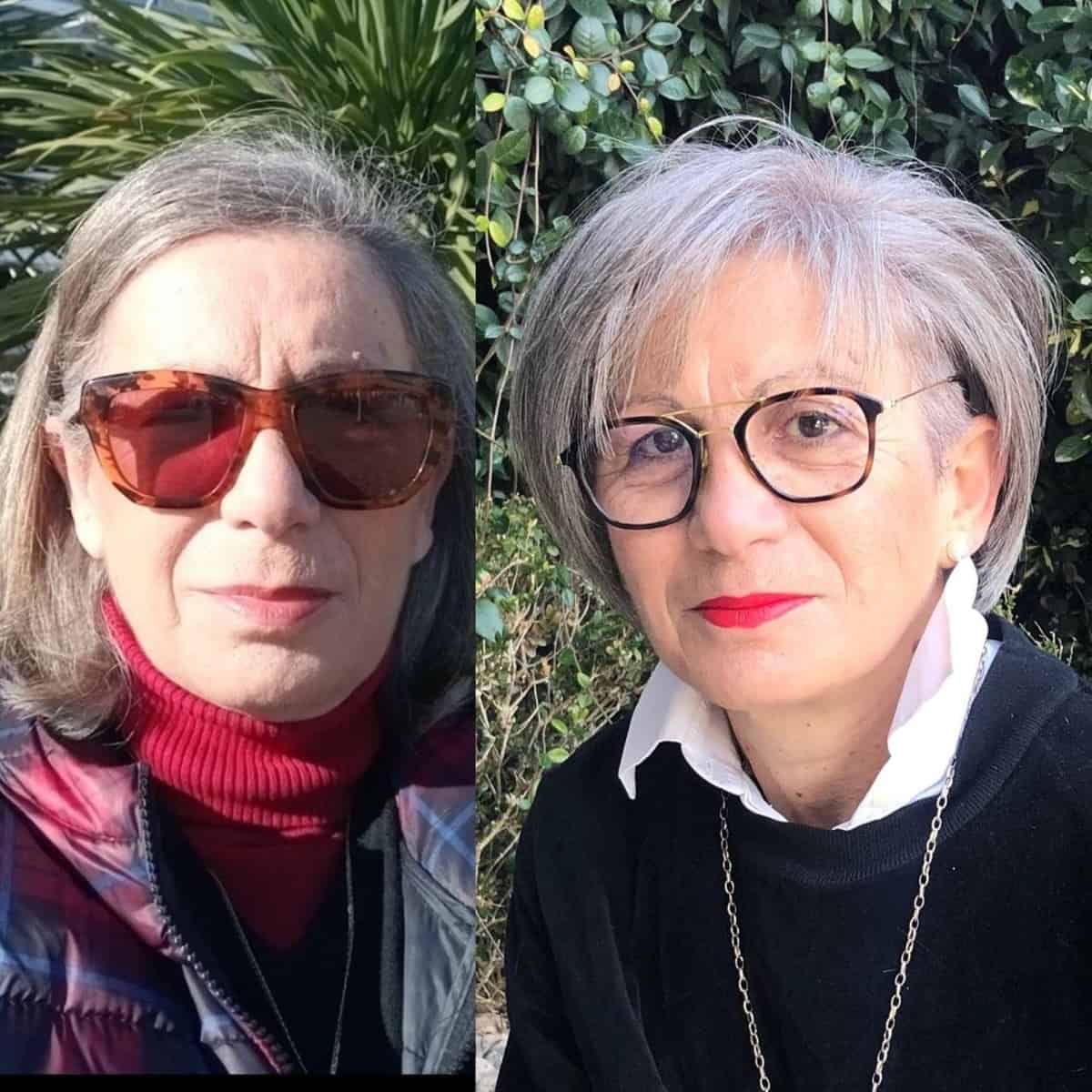 @soubecas
Opt for a short bob for women over 70 with glasses. Many women don't realize that there are so many versions of a bob. There are layered bobs, one-length bobs, and undercut bobs. If you are looking to soften your look, a layered bob with wispy bangs is what you need. Bob haircuts for women over 70 with glasses come highly recommended.
Pixie Haircut for Senior Women with Small Frames

@orriginalhairstudio
You'll want to try a pixie haircut for senior women with small frames. Wispy short layers should have a textured cut for a lived-in style, suitable for wavy to straight hair. Pixie haircuts can be dried by pulling with your fingers backward, forwards, or even to the side. Spectacles with a small frame suits this cut the best.
Feathered Pixie for Older Women with Glasses

@orriginalhairstudio
A feathered pixie for older women with eyeglasses is a soft style with more length than the traditional pixie haircut. Leaving hair on the tips of the ears and a bit of length at the back will give you a youthful, feminine glow. Shorter bangs look stylish and complement rectangular face shapes. A feather razor is used to cut your hair and give your hair an added layer of texture.
Youthful-Looking Pixie for Women Over 70

@preo.hair
Choose a youthful-looking pixie for women over 70. Make sure you dry your pixie haircut forward, not backward. A pixie haircut dries in minutes with a round brush and a bit of hair mousse, providing a luxe, polished finish. Narrow eyeglass frames are recommended if you have trouble with hair around the ears sticking out.
Short Haircut for Elderly Women with Curly Hair

@abetterwayattaras
Try a short haircut for elderly women with curly hair. You'll have quick and easy styling and upkeep with this bouncy cut. Chin-length cuts perk up your face and soften unwanted facial wrinkles. Ask your hairstylist for medium-length layers that will air-dry into a pretty, soft curl. Your eyeglasses will work well with this style since the sides aren't too short around the ears.
Related: See more modern hairstyles for women over 70.