13 Best Long Box Braids for Protective Hairstyles
Chunky Long Box Braids
@reformedhair
Looking like lady Rihanna! You better work, work, work those chunky long box braids in, honey!
Long Box Braids with Curly Ends
@betty_bella_braids
After going for a tidied-up long box braid, add some pizzazz at the end by leaving the curls all loose and fabulous.
Long Box Braids with Shaved Sides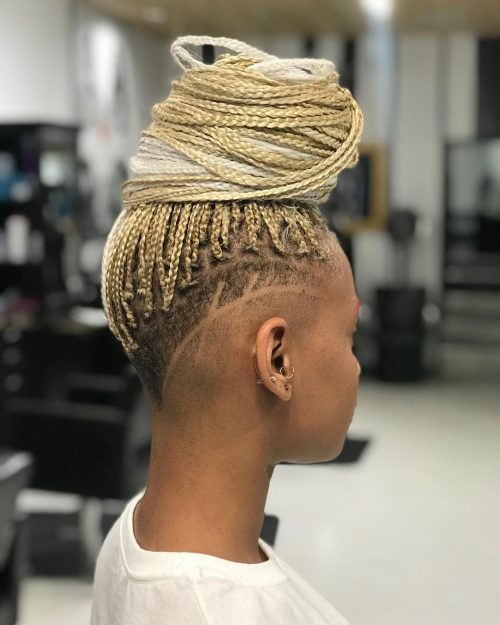 @nafisthebarber
Perk up your look with these box braids for long hair! Leave it to a braided bun updo on top of the head. Add hair tattoos to make you shine.
Long Blonde Box Braids
@queenofbraids_leslie
Take those dark roots and twist them into long golden blonde box braids. Add beads and strings for the ultimate boho look.
Long Bob with Box Braids
@hair_nails_by_ashanty
A long box braided bob with golden cuffs and string? If you're a girl with a round face shape, make sure to keep the length a few inches beyond the shoulder area for an elongating effect.
Small Long Box Braids
@hairbysteph_1
A detailed pattern such as these small box braids on long hair deserves a long canvas, don't you think? Feel free to style these box braids in a low ponytail with beads and cuffs to create a boho look.
Long Big Box Braids
@bellahairstyler
The angels must be smiling upon you because of that heavenly box braiding hair idea! A thick long hairstyle with box braids would look nice with some hair gems at the front for a face-framing effect.
Long Jumbo Box Braids
@kiss_and_makeupgh
To add to the party, utilize some extensions, beads, or strings for the ultimate long box braids hairstyle.
Long Medium Box Braids
@_b.rad__
To achieve these long box braids with long hair, you can pancake your chunky braids. Flatten them out to make them wider, thus a little bit bigger.
Long Crochet Box Braids
@magesticbraids
The fellas would want to get in line with those gorgeous long box braid locks of yours! A little box braiding goes a long way for you when you combine box braids and crochet braids.
Long Triangle Box Braids
@yaki_hair_braiding
Get creative with some tri-pointed waist-grazing box braids on your locks! The more patterns, the better, right?
This look is what professional braider Yaki of Windsor Mill, MD would call the triangle part box braids. They are waist-length and range in pricing from $160 to $200 depending on size and length.
Yaki points out, "The best thing about these long box braids is it doesn't take long to do like most of the styles like regular box braids and cornrows."
These braids look amazing on all hair types, from 1 to 4c hair. The braid style eliminates having to wake up every morning and having to struggle with the hassle of getting your hair ready for the day.
Yaki adds, "This style can last for up to 2 months depending on your routine of maintaining the style, meaning wrapping your hair at night with a scarf can definitely help keep it looking fresh."
Long Box Braids with Beads
@cheveuxbelle01
This hairstyle features three-stranded long box braids that start from being thick to having small fine strands at the ends to bring out that gorgeous shape. It's created by a hairdresser from Johannesburg, Jenny Mpanzu.
"The best thing about box braids is the way the shape of the boxes turn out to look and the fact that the braids are flexible right from day one and, with an additional touch of beads on the braids, look so goddess! I also love the joy it brings to women. It's always a good thing to see them walk out with smiles on their faces," Mpanzu explains.
When it comes to a long box braid hairstyle, Mpanzu thinks that one should always consider their hair type first. As soon as you know your hair type, then you can take the next step.
Mpanzu goes on, "An example for black girls with natural hair – heat does not work with natural hair, as we all know, therefore they need to consider to use heat-protector on their hair before hair drying. In this way, the heat doesn't damage the hair."
Mpanzu emphasizes that styling is one important part. "Styles like up-ties (ponytails), lazy buns, or just simple buns are must-do stylings. They save you so much time."
Long Box Braids on Red Hair
@braidme_tt
These red long box braids are what known as a protective style. It can be done on any hair type. Dressed down or dressed up, it's suited for all occasions. It's the perfect vacation hair.
"My favorite thing about this long hairstyle is its flexibility in styling and its longevity. It also promotes hair growth," says braider Natalia Moses of Trinidad and Tobago.
Moses' advice to ladies is when styling long box braid hairstyles, refrain from pulling on your edges or hairline too tightly as this can cause hair loss. If you have a very active lifestyle, Moses also suggests getting them lightweight, as it can be heavy depending on how it's done.