Here are 15 Hot Examples of Red Box Braids
Burgundy Red
@beauty_and_beats_by_ash
Big box braids in burgundy red. What a mouthful but a sure win in all angles!
Long Braids
@thamy_braids
When you've got hair this magnificent, growing it out to make these gorgeous red box braids is the way to go!
Red Bob
@styledbyavii
Yep. All the goodness of a sleek bob but with red hair in box braids. How much cooler can you get?
Red Crochet Braids
@crownedbyrm
From the braids to the cut to the color, this whole red box braid bun is a work of art.
Dark to Light Red Ombre
@_niquestylez
Like a fire slowly creeping up a canvas of deep, dark night. The whole box braid red hue look deserves a second look.
Triangle Braids
@millyb_creations
Doritos-hair approach to bright red box braids! A satisfying pattern that is equally beautiful. Come see some of the best triangle box braids styles right now.
Copper Red Jumbo Box Braids
@ellihairbraiding
Protectively stylish, these ones keep the color and moisture in. In this manner, the color lasts longer because of added protection. See our latest pictures of jumbo box braids here.
Bright Red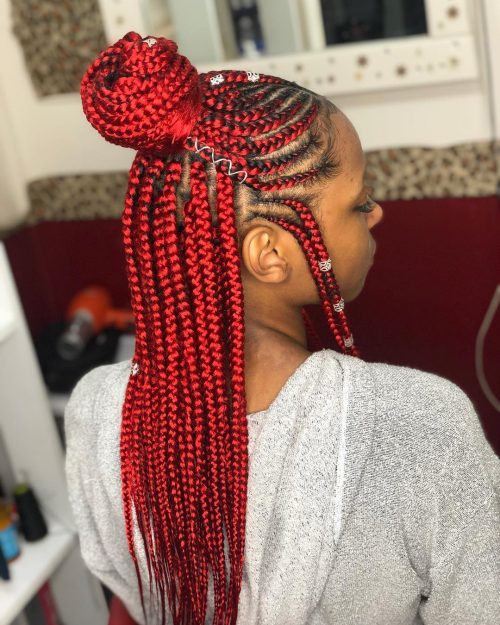 @styles_by_tashi
Scarlet red box braids is a powerful statement piece that you can wear. Show them who's the boss!
Black and Red Braids
@cotyplecieszrybnik
The level of effort you give to styling your hair does not go unnoticed. Black to red ombre on long box braids is seriously giving life!
Maroon Red
@stylesby.tee
Get creative while preserving your hair's health! A rusty red color on box braids is definitely a shade that you must try on.
Auburn Red Medium Length Braids
@devinerootz
The right amount of auburn red with box braids helps bring out a glowing flush especially for maidens rich in melanin.
Blonde and Red
@cardinalsi_hair
A great conversation starter or a neat closing statement, this kind of box braid with red hair can be all sorts of things. Perk up any room and carry that friendly vibe anywhere you go.
Q&A with style creator, Simone Cardinal
Hairstylist @ Hennessy Salon East in Edmonton, AB
How would you describe this look?
Hot and spicy! This is for blondes who love a little pop of color. With this, you can still have blonde with a little bit more fun. The box braids are very trendy, and adding the red makes it so much hotter.
Any advice for someone considering it?
I think any one looking for a little adventure should definitely give the box braids a try. However, I wouldn't recommend it to a person with fine baby hair as it would pull a lot. I highly recommend it to the ladies living on the edge full of raw wildness. This is definitely a style that you can wear many times and could last 3-6 months. Washing and maintenance are very easy.
Red and Brown
@copana_braider
Q&A with style creator, Vanda
Hair Braider @ Copaňa in Košice, Slovakia
---
How would you describe this look?
This box braid hairstyle is not considered to be elegant. I would say, it has rather an ethnic touch and fits an energetic personality with the soul of a wild girl. I personally like the small wooden beads which accentuate the overall impression and create an original wild style.
Any advice for someone considering it?
Lifestyle, as well as the fashion style, is crucial. Hair color is actually not very important. The ethnic effect may be conjured on any head when using the natural shades of Kanekalon Hair. I always recommend my clients to choose such a combination that will make them feel good.
Big Box Braids
@slayed.by.gabe
Q&A with style creator, Gabrielle Christy
Licensed Cosmetologist @ Slayed By Gabe in Gonzales, LA
---
How would you describe this look?
These red big box braids are a protective style that would be great for someone who is going on vacation. It is easy maintenance and gives you a goddess causal look with the pop of color and curls.
What I like about this style is its versatility. You can wear it all down, up into a bun with a few curls hanging, or pull a few braids up into a ponytail with the back down and it would go with any attire!
Any advice for someone considering it?
This style normally lasts about 3 months without the curly hair, but with the curly hair, it would last about 1-2 months. I use Kanekalon braiding hair to braid the client's hair and Free Tress crochet hair for the curls, so you can cut the curls out if need be. The triangle parts are very hot and unique therefore edge control is used to define the parting. This is the most popular style for this upcoming summer!
Dark Red Box Braids
@queen_dynat
Q&A with style creator, Modinat Adaranijo
Hairstylist & Makeup Artist @ Dynat's in Indianapolis, IN
---
How would you describe this look?
It's a side part triangle box braid perfectly tucked to give the full burgundy effects. The triangle part was perfectly parted and neatly and tightly braid to keep the tucked hair to make the style last longer. It's a protective hairstyle for all women to prevent their hair from being exposed to harsh weather and prevent damage to the hair. The style lasts for at least 1-2 months depending on how the hair is managed.
Any advice for someone considering it?
Before going to a stylist, it is preferable to have your hair washed and dried without any oil/cream in it. Also, it's important to ensure the stylist you are going to won't pull too tightly and won't use a lot of hair extensions, so it doesn't put too much strain on your scalp or pull out your edges. Overall it is a very good box braid hairstyle – less painful and beautiful if done the right way.