17 Hot Styles – Braided Ponytail for Black Hair
Fishbone Braided Ponytail for Black Hair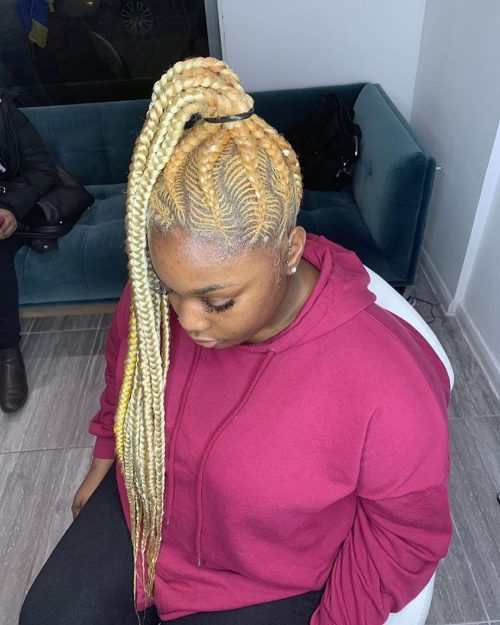 @braids_for_all_textures
Isn't it mesmerizing to look at? Similar to the other braids, you can get fishbone braids by sticking close to the scalp while doing a fishtail.
Box Braids
@braids_by_antoinette
Get your plaits even more manageable when you gather them into a lovely top ponytail! This way you can show off your pretty face neatly and brightly.
Kinky Twist Ponytail
@crownmeb_
Pile your braids into this first-rate high do for a quick elegant style! Totally a way to get everyone's attention!
Lemonade Braids
@styledbyglammmaaa
Go tribal with this cool and delicate design of cornrows before pulling it all up into a sleek accessorized pony! A braided ponytail for black hair can be infused with braiding techniques like this and others for a unique look.
Crochet Braiding
@irenesbraids
This one is so pleasing to the eye with its cute spiral twists that fall straight and amazing from a ponytail. It starts with really thin evenly spaced cornrows and ends at the top of the head to transform into those stunning jumbo pieces. Braiding can also become an art form with a variety of ways to create beautiful creations.
Braided Ponytail Weave
@taylordddd._
Simplicity at its finest! These exquisite natural braids with a red ombre will wow anyone who sees it.
Goddess Braid
@queenveehair
We have here a stunningly beautiful accessorized protective style. Those golden metal cuffs and strings and vibrant highlights all create a really stylish look perfect for royalty.
Perfect Protective Braid
@blisshaircare
With topnotch ponytails like this one, you can be versatile in personalizing your hair. Use combinations of thick and thin pieces and some yarns for a charming result.
Jumbo Braid
@rudysstyles
Have your relaxed hair all pulled into one gigantic tail for an effortless yet sleeker look. This '90s inspired hairstyle is a dazzling option for prom or for your everyday style.
Cornrow Braids
@im_theantidote
Vibrant color is a cool way to update your feed-ins. Use hair accessories for a trendier style, and you can also have one piece fall in front of your ear for a unique touch.
Cute Ponytails for Little Girls
@aintya_mama
These unicorn lemonade braids are a creative way to protect your little girl's natural hair from the harsh sun. Have her feeling like a mermaid when you blend those pieces with purple and pink strands! For some reason, cute girls and ponytails just go hand in hand.
High Ponytail Braids
@hair.it.is_rhea
A Beyonce-inspired top hairdo like this starts with evenly made thin cornrows that spiral a bit from the start for a more feminine effect.
Feed-In Braids
@minyatas_touch
This edgy tail has a combination of really huge and thin cornrows for a neat contrast. The smaller pieces accentuate the intricate design of this look.
Low Ponytail Braid
@braidsby_ikea
Q&A with style creator, Ikea Smith
Hair Braider @ Braids By Ikea in College Park, MD
How would you describe this look?
This look is nice, elegant, and versatile! The best thing about this look is the fact that you can wear it down or bun it. That's where the versatility comes in at. Depending on the look you want, you can rock it either way.
Any advice for someone considering it?
Not many products should be used. Turn around time is about 1 hr and a half long to finish. It's a protective style, so no breakage should come from this style of the braid at all. Anyone can wear this style if you love braids. It's versatile, and it should last you about a month's time all depending on how you take care of it!
Ghana Braids
@ashleymsparrow_
Q&A with style creator, Ashley M. Sparrow
Licensed Cosmetologist / Owner @ Hair by Ashley M. Sparrow in Atlanta, GA
---
How would you describe this look?
The Ghana braid ponytail is a sleek and neat protective braid style that can show off a sassy to classy personality. The greatest thing about this style is that it is pulled away from the face to show off your natural beauty.
Any advice for someone considering it?
Use a satin or silk scarf at bedtime to maintain a longer-lasting style and prevent the hair from frizz or dryness. Moisturize the scalp with a natural oil at least two to three times weekly. This style is for any personality type and can be worn during a work out session or business meeting. This is also a get-up-and-go hairstyle.
Small Micro Braids
@braids_by_msnelly
Q&A with style creator, Nelly Span
Celebrity Braider @ Braids By Ms. Nelly LLC in Irving, TX
---
How would you describe this look?
This braided ponytail is sleek and bold, and because it's a style inspired by rap queen Nicki Minaj, that bold energy just naturally comes with the look. The precision parting at the top is such a complex design yet simple. The precision is the design and I think that's the best part about it.
Any advice for someone considering it?
Be prepared to draw attention but of positive reactions and looks of awe! It's a style that is not easily replicated and few can execute well. The upkeep is quite simple and the hair type for African American women should really just be healthy with healthy hair edges. I expect this look to go well with a woman who has an edge in her personality and enjoys nightlife and selfies. It's definitely an attention-getter!
Mermaid Braid
@indigo_dazzle
Q&A with style creator, Kurlene Rudo-Matthews
Certified Cosmetologist / Educator @ Indigo Dazzle in San Juan, Trinidad and Tobago
---
How would you describe this look?
This butterfly braid is very conservative but stylish. I love it because it's the perfect style to unleash your feminine side while keeping it basic and keep the heads turning.
Any advice for someone considering it?
This braid, however, is not one that's very long-lasting. You can wear this style for about 7-10 days for naturally straight hair and approximately 3-7 days for kinky/curly "unruly" hair. I advise blowing straight a curly hair before attempting the style. The butterfly braid is great for any occasion. You can go from a daytime event to dinner and right back to the office with this versatile style! Perfect for everyone!