22 Awesome Examples of Short Sides, Long Top Haircuts for Men
Man Bun for Shoulder-Length Hair with High Temp Fade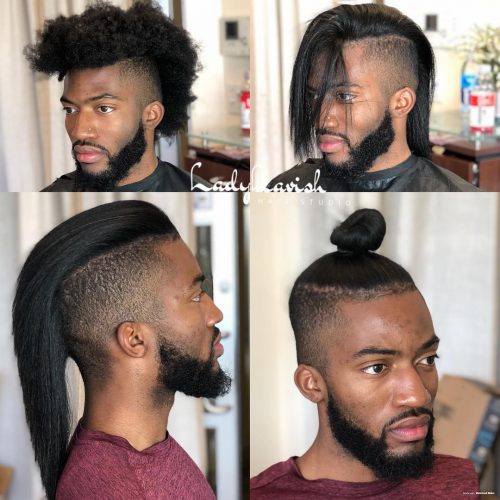 @ladylavish_
Draw attention to a perfectly sleek and high man bun or top knot, placed on top of the head, with a strong high fade. You would surely be the life of the party with long hairstyles like this!
Short Sides Long Top Fade for Men's Hair
@raduvitca
Balance is key to achieving this crisp and cool cut. A little bit of mess and texture on top plus a sharp disconnection equals a dapper gent look.
Long Man Bun with Dreads and Mid Temp Fade
@cardinaltribe
A hot style with dreads is one of the top haircuts that offer the best hipster look you can try. Pair it with a beard and clean sides for a rugged gent look.
Spiky Hair with High Fade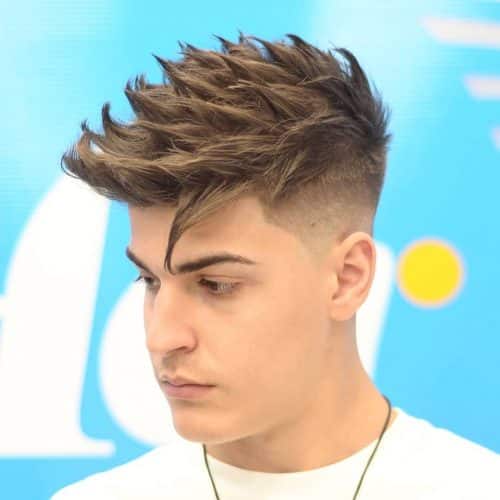 @studio27_barbershop
Leave your hair on top with epic upward spikes. When wearing a textured top and high fade haircut like this, make sure to use your best stylist-approved hair gel or wax for maximum hold!
Longer Haircut with High Drop Fade
@reyesthebarber
A well-textured on-trend short sides long on top haircut like this will definitely take you places. It's a fusion of a drop fade and wavy top that creates a groomed and punk finish and gives lots of versatility for styling.
Side-Swept Hair Long on Top
@ambarberia
One style you can create with an undercut is a combover to one side, creating a sleek side-swept top with short sides. This undercut hairstyle especially works on long hair regardless of texture.
Surgical Line with High Bald Fade
@sean_rodman
Stand out from the other guys with a bold haircut like this. It's shorter hair that features a high textured top, disconnected by a hard part and transitioned neatly to the skin with a bald fade cut.
Hard Part with High Taper Fade
@bruno.thebarber
A generally low-maintenance cut, this taper fade with a hard side part is a classic favorite for its vintage vibe. Such short hair is perfect for guys who want a professional clean cut!
Comb Over with Skin Low Fade
@fernandobarbers
These neat shaved-to-the-skin sides work well with a comb over style of top because of the high contrast they provide. Such low fade haircuts allow you to create a super cool hairstyle plus a rocking beard!
High Pompadour with Bald Fade and Sharp Hairline
@wester_barber
The play of texture in this super impressive pompadour with faded sides is trendsetting! The sharp hairline plus the long beard and smooth top equals a look that will take you places.
Short Sides Long Top Haircut with Low Drop Fade
@wayne840903
Look like a legend with this classic pompadour that stands out flawlessly! A men's short sides long top style like this is perfect for mid to long hair.
Medium-Length Faux Hawk with Drop Fade
@ragan.barbering
Take the bore away from your hair when getting a short sides medium top haircut, and style it like this faux hawk! Add your best holding product for a really cool and impressive output.
Short Hair with Long Front Strands on Top
@stebbicutter
A classic style complements textured wavy hair superbly as it gives the whole look a stylish neat finish.
Textured Hair with Taper Fade
@moha_barbershop
Refresh your look with this iconic textured top with taper. This short hairstyle gives way to your longer hair on top and allows you to style it any way you want! Plus those very clean sides accentuate a cool beard and mustache nicely.
Brushed Back Hair with Mid Skin Fade
@mg.barber.manchester
Nothing's more stand-out when you do classic pomp with a modern mid-skin fade! The style of this brush back and faded undercut can still be improved with a neatly shaped beard.
Mid-Length Haircut and Beard with Mid Taper Fade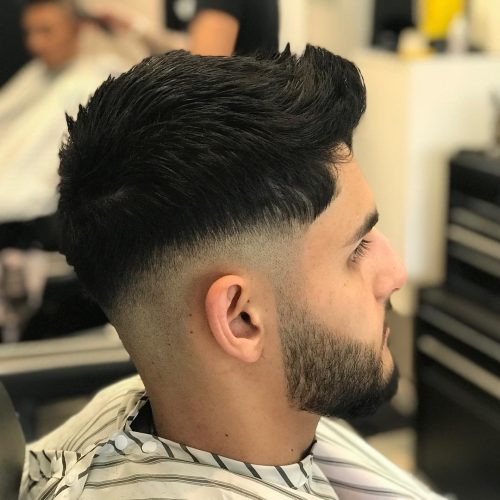 @estebannotsteven
Men's hairstyles that feature a mid-length cut with taper fade and beard definitely create a funky cool guy look! Add a little wave up to the front for a thicker hair illusion that can be emphasized more with a nice mid fade.
Quiff with Low Skin Fade
@meladiin
Getting a low skin fade with a quiff will bring you all the attention you want. This brushed back thick and handsome hair makes a cool style if you have long hair that you want to control. Adding light facial hair would complete the style, too.
Thick Hair with Burst Fade
@deeloadingg
A sharp burst fade and medium crop plus a thick surgical line can create a modern brushed-up style! This line style looks smooth, especially for boys with dense hair.
Slicked Back Hair with Mid Drop Fade
@george_barber_shop
A simple and smart style – this slicked back hair with neat shaved sides is one of the most classic looks! Clean each side of the head and slick back the hair, so the top will look dimensional.
Disconnected Undercut with Mid Bald Fade
@lacynthiatepinta
This men's haircut is what you would call a disconnected undercut with long front strands as the fringe. It's one of the California-based stylist Cynthia Torrence's favorite looks for men's straight hair!
"This is a haircut that has a very sharp contrast between the very short sides and longer hair on top. It's a very clean cut but having the length on top allows for total versatility! You can style the hair forward for a little mystery, slick it back for more of a suave a-la-Johnny Depp look, or go wild playing with texture," Torrence mentions.
This high contrast sculpture is unique and memorable and would be recommended to a wearer who wants a classy, refined look. To style, depending on your hair type and density, a good gel or a pomade would be recommended.
Long Pomp with High Skin Fade
@nunezthebarber
A long pompadour with curly hair ends and high skin fade is a rugged look, cut by Peter Nuñez, a barber from Suffolk, UK.
Nuñez's advice for gents who want to try this cut is to have enough length to get the desired style. "For hair products, I would use a matte clay to have a hold for the desired style. I used powder to give some volume as the hair was lacking volume. And to finish it off, I put hairspray to hold it in place," he adds.
Undercut with Shaved Sides
@cvtthroatxdan
Short sides long top hairstyles that looks like this undercut are a mix between old school and new school. According to barber Daniel Holmes of Australia, "That's the exact reason I fell in love with barbering because of the school styles and ways of doing things, and to put my modern look into an old school combover pomp."
Hairstyles for men like this work best on thick hair. With thick hair, it's a lot easier to style and hold into shape with a product. As for a product, Holmes would use Hanz De Fuko Gravity paste to give a medium hold with a matte finish.