The 18 Best Examples of a Low Fade Comb Over Haircut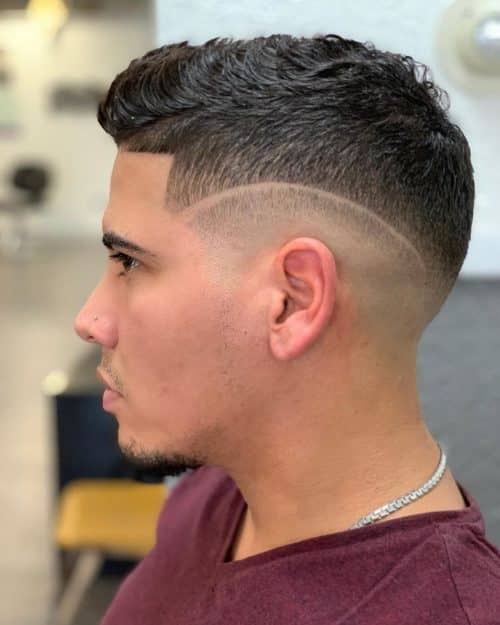 Short Comb Over with Skin Fade Military Cut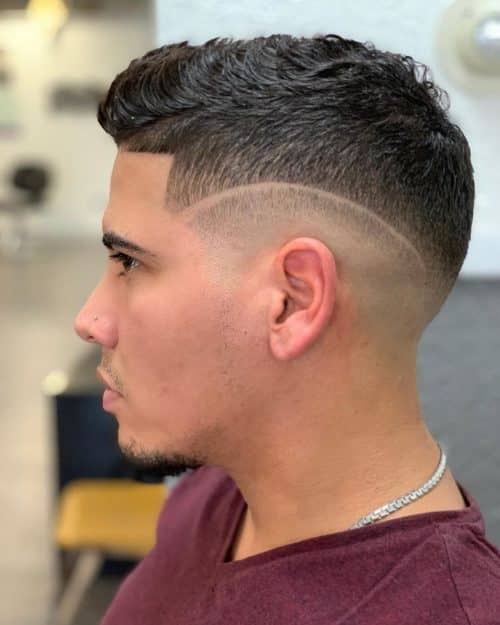 @brihanna_jayde
A very strict low fade comb over cut has different contrasted areas that make for a nice upfront look. Add a shaved curved line to this short comb over fade to make it look edgier.
Comb Over Fade with Shaved Line for Long Hair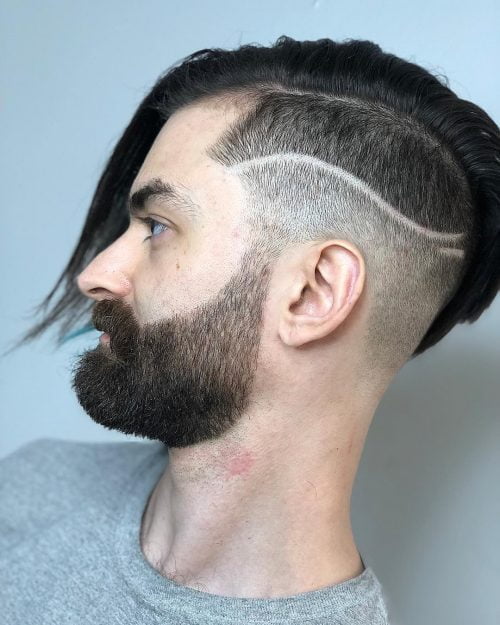 @christinaxclips
Going for a low fade with a comb over may seem like a risky thing. So why not go for the other extreme with a comb over fade and long hair swept to the other side?
Low Fade Comb Over With an Undercut
@stebbicutter
Yes, a low fade comb over with no line does exist! This is a great low and faded undercut comb over style to enlarge your head area. It really gives you a lot of room to work on different stylings, too.
Medium-Length Low Fade and Comb Over Style
@cjdabarber_
This low fade comb over hairstyle has versatility and easy upkeep that any boy or man can try.
Comb Over Fade with Sharp Side Part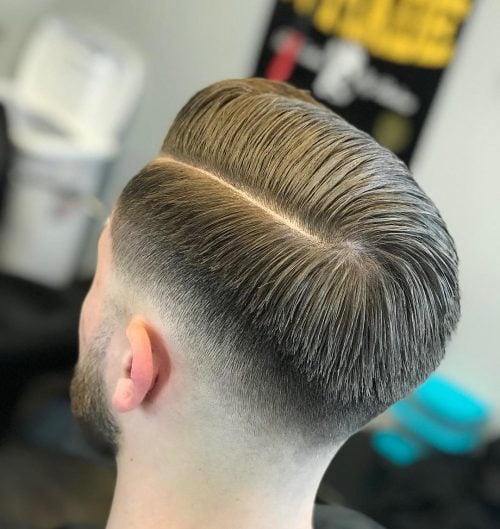 @king_hollywood_barber
The volume given by this low fade hairstyle is perfectly balanced with a satisfying surgical part. It definitely looks clean and proper, making it suitable for younger or older men!
Ivy League with Low Taper Fade
@salondejavunj
This taper fade comb over with an ivy league cut proves that an everyday look doesn't sacrifice style. It's casual for work and comfy for play.
Low Shadow Fade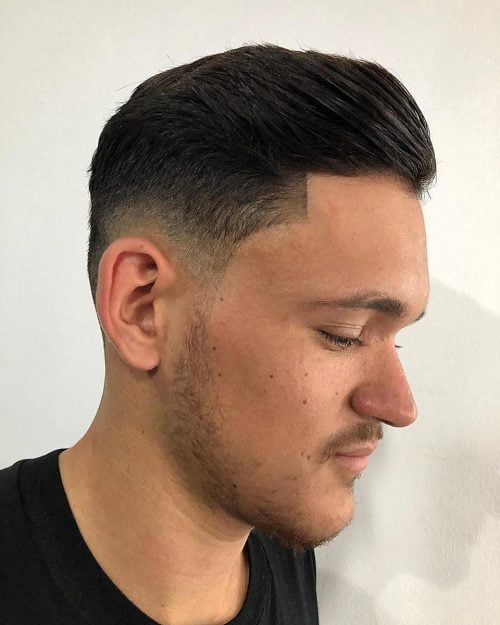 @marcos_barber27
Try this faded low comb over haircut when you start to grow your hair longer but still want that skin fade magic. Short hair blends impeccably into the full top.
Wavy Comb Over Fade and Hard Part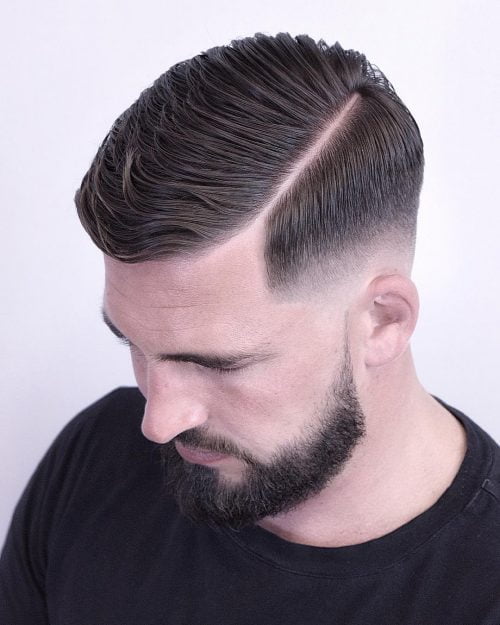 @paul_barbercode
A clean surgical line along the side of the head gives the illusion of a fuller, more organized low fade with short wavy comb over haircut. Fresh and casual, this low fade comb over with a hard part would go well with a beard, too.
Low Fade and Comb Over with Beard
@criminal__barber
Low fade comb over hairstyles like this one puts an ordinary cut to a higher level because of the overall visual appeal of the beard with a low fade.
Low Drop Fade with Line Up
@elizuniga14
The combination of drop fade and line up is a clean take on the classic low fade cut that flatters most men. This comb over fade with line up will leave everyone swooning over you.
Comb Over with Razor Fade
@jr_blurrystyles
Sharpened blades will be your friend when you want to try this beaming short comb over with a razor fade. A clean shave that stops mid-sides creates a wonderful contrast of hair fullness.
Zero Fade on Comb Over Crew Cut
@cutsbyjenniferlynn
Similar to a tapered fade, this low skin fade with a comb over keeps the hair on top separate with a hard part and medium-shaved sides.
Low Bald Fade and Comb Over
@saynomore_barbers
Don't be afraid of getting this low bald fade comb over. Exposing your scalp every now and then is a fresh and easy way to maintain the hair on top. This low bald taper fade comb over offers a neat chop without sacrificing too much length.
Long Comb Over Bald Fade
@davidmarchant_hair
This long comb over fade is a side-parted hairstyle with a dipped outline to strengthen the shape. Berlin-based barber David Marchant is the one who created this look for this gent.
"We took the side part pretty tight and square to the head, so the weight sits close to the head using the shape of the guy's head to determine length and size. Leaving the corner square prevents the parting from jumping or sticking out," Marchant explains.
Low Temp Fade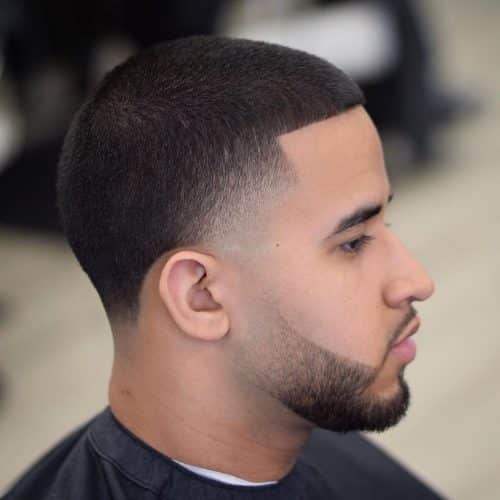 @jeffthebarber
This low temp fade haircut looks neat and straightforward, yet stylish! It's a popular choice to give men both a smart and mischievous style. The chop does a better job on thick, black hair to show off its fuller edge.
Comb Over Fade Haircut With a Hard Line
@isacmagno
A comb over fade with hard part or surgical line might be the one that dudes need to step their game up! Simple styles like this fade and comb over could have a new look with a single, clean line.
Low Fade Comb Over for Curly Hair
@charmiguel
This haircut is a low fade comb over for curly hair. The best thing about this haircut is definitely the gradient of the fade on the sides and how it complements the man's head shape nicely. Barber Charleen Miguel of Las Vegas mentions that for thick curly hair, this haircut is a great, low-maintenance style that needs trimming every 1-2 weeks.
This comb over with skin fade haircut also includes a hard part where a thin line is cut into the natural parting of the hair giving the part a definite, sharp look. Miguel also warns that this also needs more upkeep since the part does grow out.
Mid-Low Fade and Comb Over Haircut
@francesco.amoroso_barber
There are so many types of fades, but the true fade is the graduation of a lower fade paired with a comb over. This is according to stylist Francesco Amoroso, who created this haircut.
When asked for tips, Amoroso states, "Consider the height of the fade. I always recommend a nice shade with graduation that's very clean."