14 Coolest Men's Flat Top Haircuts and How to Get It
Cool Flat Top for Little Boys
@jorelscott_official
And to think that you've never been this chill with a flat top hair! Check out this little dude rockin' it with cool blue hair.
High Flat Top
@pavelmoiseev_
Such a discreet way of wearing a flat top haircut! The styling is exquisite and is a stand out from most flat top haircuts.
Retro Horse Shoe Flat Top
@jarviskuts
Stylist Kristian has divine hands for making this eccentric flat top cut an admirable one. Only a good-looking madman could pull this off!
Flat Top Fade
@sailingbarber
Create a full flat top hairstyle quiff then press down top part to flatten out hair.
Flat Top Dreads for Black Men
@queenofbraids_leslie
My guy's looking steamy! Some patterned braids in a flat top? Can it get any slicker?
Flat Top Boogie
@bogvay
Have that Johnny Bravo energy that takes you to both the past and the future! Having flat top fenders means longer and more careful styling but don't let that stop you from rocking this bangin' cut.
Curly Flat Top with Taper Fade
@slickjameshill
A casual flat top style spiced up with transition shaved sides. Curly hair completes the package, giving volume and life to the whole style.
Short Flat Top with Skin Fade
@rafahairbarber
Fashion a military style on the streets as the mini pompadour on the top makes for one of the most modern flat top hairstyles.
Tall Flat Top for Black Guys
@picazo_93
Feeling nostalgic? Bring back a 90's flat top jive with this clean flat top haircut. Smooth edges and shave balance the bouncy top.
Rockabilly Flat Top
@21_nik_one
You got to be a different type of cool to rock this straight flat top!
Old School Flat Top Haircut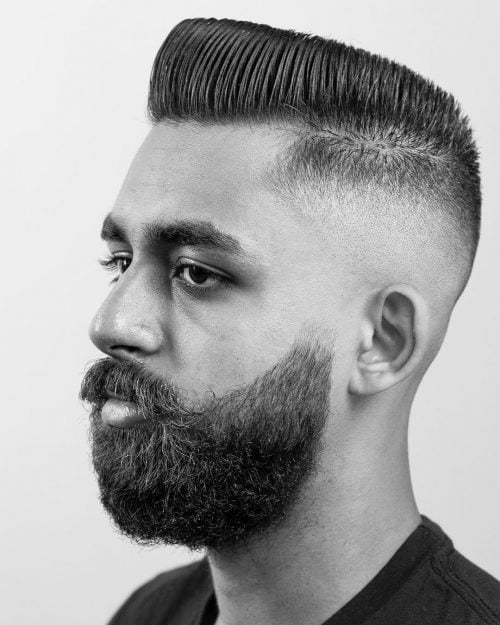 @sailingbarber
Q&A with style creator, Raymond DeCandia
Barber / Owner @ True North Barber Shop in Phoenix, AZ
How would you describe this look?
On the Schorem haircuts poster, this one is called a "scumpadour". Although it's just a funny way of saying a razor faded flat top haircut that inclines in the front. My favorite thing about this cut is, well, the whole haircut. My favorite haircut to do is a flat top. The thing about them is there are all kinds of versions, lengths, and variations of a flat top haircut. I also like the fact that not many barbers nowadays seem to want to do them or can do them. That makes me want to do them even more.
Any advice for someone considering it?
It's a masculine cut. It really takes the "square" shape, which is the shape of all the traditional men's cuts to the highest level. As it grows out it won't be as precision looking so you may want to come in to get the cut every two or three weeks. Use a strong product to keep the top in place. Usually, I'll use a matte clay first to style it. If I want to shine, I'll add some pomade with the clay. Personally, I love it, and I wish more guys would get them. Unfortunately, it can be a haircut that gets associated with being a gym teacher or a police officer. That's bullshit. There are all sorts of people who wear flats that look cool with them. Get flat tops! I want to do more!
High and Tight Flat Top
@antonis.outsiders
Q&A with style creator, Antonis
Barber @ Outsiders Barbershop in Athens, Greece
---
How would you describe this look?
This look is rooted from the classic high and tight flat top haircut with a twist of psychobilly infuse influenced by the psychobilly and hardcore music scenes and musical genres.
The coolest thing about it is that it's a very detailed and difficult haircut and it's always a challenge for perfection.
Any advice for someone considering it?
First of all, the client that would ask for this flat top haircut should have round face shape, basically straight hair and not curly, and should use an oily type of stronghold pomade (not a water-based pomade).
Usually, the lifestyle and personality of a person with this haircut could be also for a normal type of guy but mostly you can see it on people from the underground urban styles.
Military Flat Top Haircut
@ave_kiddy
Q&A with style creator, Avetisyan Lernik
Barber @ Barabas Barbershop in Russia, Bryansk
---
How would you describe this look?
This is an old school flat top haircut, first of all, and I like that style. Secondly, this very haircut disguises some particular hair growth features, like hair loss. The smooth, though definite flat top fade matches head shape perfectly, accentuating distinct facial features.
Any advice for someone considering it?
First of all, if you decide to get yourself a flat top haircut, you should keep in mind the necessity of visiting your barber weekly or so, as the shorter your haircut is the more often your visits should be. Choosing a product is absolutely due to your preferred style. For example, if you want to add some rockabilly feel to your look, choose some kind of higher psycho flat top or flat top boogie, styling it with high shine grease or water-based pomade. Actually, the shape is affected by the profession, lifestyle, your personal desires and so on. Unfortunately, this haircut is rare to be seen in Russia, usually worn by the bold and brave folks.
Curly Flat Top for Black Guys
@m_arcoscristo
Q&A with style creator, Marcos de Almeida
Barber @ Syrian Barbers Club in Paraná, Brazil
---
How would you describe this look?
This is a popular flat top haircut here in Brazil, we already have some references such as Babu barber, Dedblack, and Rafael Mota.
This flat top haircut I did in my free hand hair dryer after the cut finished with nudread hairstyle with the styling sponge and pigments in the flash line.
What I like most is to carve, as I do the free hand so I let the imagination flow.
Any advice for someone considering it?
Clients who have afro hair should use products suitable for this type of hair and look for excellent professionals in this area. The hair makeup applied in this cut is usually professional handling, but today there is hair makeup that can be used by customers at home.
I use hair fiber, pencil, and airbrush (professional exclusive use).