15 Modern Comb Over Haircuts for Men
Stylish Long Comb Over with Undercut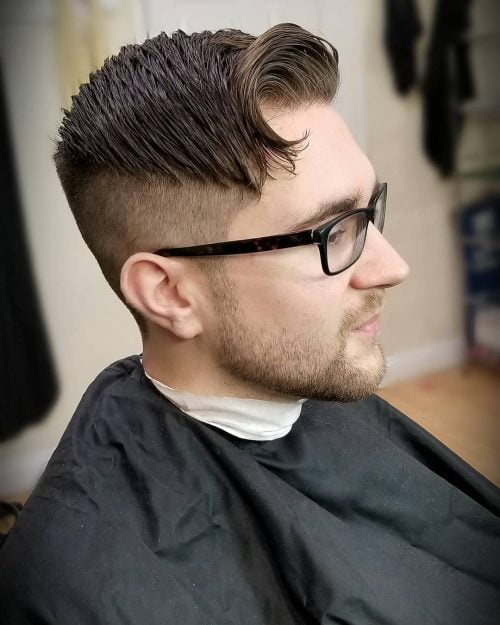 @fadealist
Warm brown hair styled in a cool long comb over cut – this look is perfect for a formal event or when you want to impress someone. Such length is also ideal when hiding a bald spot.
Hipster Comb Over with Beard
@efyourbarber
This classic style will introduce you to the world of hipsters! Keep it tapered with a fade on a sharp black hair.
High Fade Comb Over
@barberlily05
Keep a cut perfect for a fresh everyday look with this easy-styling comb over with a high fade haircut.
Mid Fade Comb Over
@kaazbarber
Show that precision-cut in a sleek comb over with mid fade that's jazzed up with a shaved hard part to complete the style. Facial hair is sure to complement the style of this medium fade comb over, too.
Medium Side Part Combover
@cutbyjake
Looking for the sharpest hairstyle for men? This neat side-parted hairstyle brushed to the sides is one of the most perfect and easiest groomed looks you can get.
Comb Over + Drop Fade
@barber_hache
Sleek hair faded from the temples down to the nape completes this perfect beard-style comb over for a real gentleman look. This shows how comb over cuts and drop fades really go well together!
Comb Over with Low Fade
@silver_cutz
Show off your clean sides with striking black hair and achieve that dapper comb over with a low fade cut.
👉 See more low fade comb over haircuts.
Comb-Over + Bald Fade
@hosea_the_barber
Stop crowds with sharp dark hair paired with neat sides and a comb-over cut. Any dude would look bolder and sleeker with this look!
Classic Comb Over Fade
@rusthemaster
This classic and short comb over haircut can be worn by most dudes. This impressive style can accommodate any guy who has the class and awesomeness to wear it. Use a fade to transition neatly into a handsome beard.
Short Cut Comb Over
@jds_barber89
Comb over hairstyles are versatile. "You can really slick it back and over for a formal event or just loosely style it for a more everyday relaxed look," style creator Jonathan Shaeffer of Colorado describes.
To anyone receiving this stylish haircut, Shaeffer's advice is to make sure you don't focus all your styling product in the front. This look can be easily achieved regardless of the level of formality desired and regardless of hair type with these proper styling tips provided by Shaeffer:
1. Use a pre-styling product. When your hair is damp, use a small amount of styling cream or paste and spread it throughout your hair evenly.
2. Blow drying. Use medium heat and medium strength on a blow dryer and lift the hair off the scalp for volume. Then set to cool mode for cold air and direct the hair where you want it. This will lock in the style for an all-day hold.
3. Finally, apply a styling product. This is whatever styling product you prefer whether pomade, texture material, etc. Take a dime amount and warm it up by rubbing between your palms and spread it throughout your hair. Then use a comb and/or your hands to direct the hair the way you want it. Hairspray after is optional.
Comb Over Taper with Hard Part
@xhrisdavis
This look is a tapered comb over with a hard part, made by barber Chris Davis of Bellevue, WA. "The best thing about this would have to be the tapered nape and temple tapering. I like a sharp clean look all around with some soft blends in those focal point areas," Davis states.
"Any hair type can pull this hard part comb over hairstyle off. I personally like the dark more coarse hair, because the contrast is more noticeable," says Davis.
Skin Fade Comb Over
@djtrevy
This haircut is a mid skin fade comb over and was created by barber Tre' Allen of Florida.
"This style is typically achievable with most hair types, but some may need the assistance of hair products. Pomades, soft or hard gels, and specific hairsprays like spritz or holding sprays are all great products to use! If you're pursuing this haircut but prefer to have more volume to it, you will need a strong wide-tooth comb and a blow dryer to assist that desired look."
"Physical work or activity, humidity, or wetness could all affectively ruin the style, so keep that in mind! Otherwise, I recommend everyone give this haircut style a try," Allen adds.
Men's Undercut Comb Over with a Line
@oscarjuicebarber
This haircut is an undercut bald fade comb over with line and faded beard. It was created by barber Oscar Jarvis of Florida.
"I would recommend this haircut to men with straight hair, and to maintain this style you must use a strong holding product," Jarvis points out.
Comb Over with Taper Fade
@shawntheebarber_
Here's a modern, professional everyday comb over haircut with tapered sides. "What I like about this comb over hairstyle is that you may also wear this spiked on top for a more edgy look," says the style creator from Texas, Shawn Warren.
Warren's #1 tip is to keep this cut clean. Styling mousse can be used for upkeep. Pretty much any face shape can be worn with this cut.
Disconnected Comb Over Undercut
@el_barbero_
This disconnected undercut comb-over haircut embodies the method of barbering. "The quiff is a nod to Euro-chic men's hairstyles. I proceed to take inspiration from my own Latin heritage in the precise razor work and skin-tight blending," stylist Franky Abundes of Bluffton, SC explains.
The haircut starts as a medium, bald fade, and ends in a "V" in the back, silhouetting a mohawk in the darker areas of the hair. Abundes finished the cut with a simple design flourish to enhance the look, but not detract attention from the bald fade or disconnected quiff.
The coolest part of the haircut is the little details that were put into it. Abundes notes, "In the side profile especially, you can see the way the hard part and shadow of the fade create a wedge or triangular shape."
The hard part also runs pretty parallel to the simple design slashed into the side, which is ironically also halfway between the beginning of the hard part and the end of the "V" fade.