30 Coolest Men's Hair Color Ideas to Try This Season
Purple & Pink for Men's Hair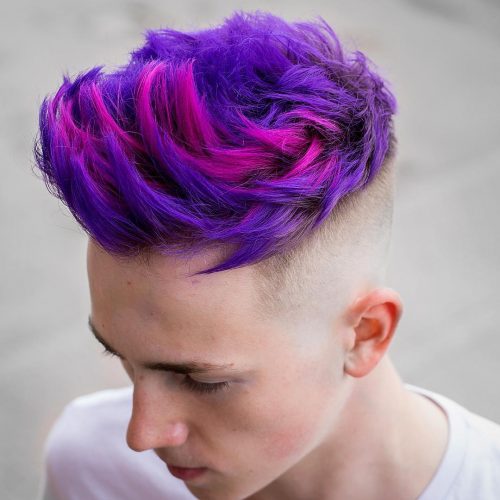 @jarredsbarbers
This pink and purple hair color for men looks exceptional! It starts off with quite the conservatory skin fade and is full of bright colors all around the top with wavy hair.
Multi-Color for Medium to Long Hair on Top
@tote_barber
A daring cut plus multiple colors on dark hair makes a fashion statement. You get the medium to long hair on the top, pointing daringly upwards, a mix of bright colors, and lines on both sides of the skull.
Platinum Blonde Waves
@mr.7_t7barbershop
This platinum blonde hair dye on waves is for the cool fans of anime! Big batched pointy spikes, with full thick bodies, all pointed forward and white-colored at the top. Something to consider if you're a t-shirt kind of guy.
Blended Turquoise and Blue Color
 @hylianhair
These shades of turquoise and blue on a medium haircut with shaved sides look fun and edgy! Stylist Taylor Campbell of Canada, who created this, loves fashion colors.
"My favorite thing about this look is the different color tones that pop and how many different looks you can create with the haircut," Campbell states.
If you want this certain dyed hair, go for it! Of course, make sure that it's the right for whatever job you have and be aware of the upkeep it requires.
Campbell shares additional tips, too. She notes, "Make sure you have all the right products like a color protector to prolong the vibrancy and anything hydrating to prevent hair from becoming dry."
Natural Black and Green on the Side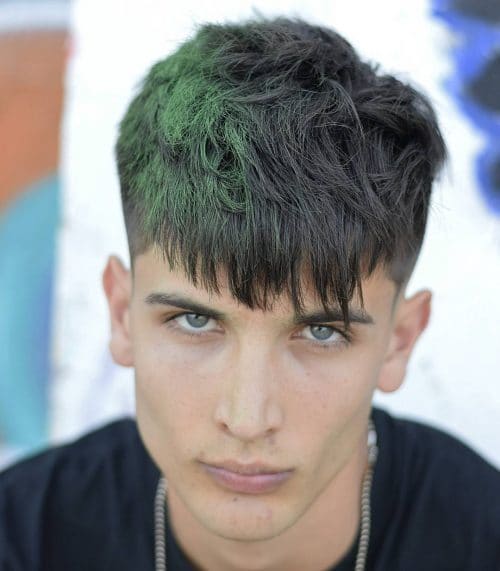 @aleb_barber
A green-colored hairspray on a round and layered haircut with medium fade creates a look inspired by the 70s. Barber Alessio Bolognesi from Italy played with a little movement for the bangs to amp it up more.
"I recommend this kind of look to all guys, particularly to those who don't want to spend a lot of time brushing because the look is casual and adaptable," Bolognesi describes.
No matter what the hair type, all you need to create this look is a dry effect product. Bolognesi says that frizzy or matted hair is actually the best for a cool, messy result like this.
Highlighted and Disconnected Combover
 @topstylestudio2017
This highlighted disconnected combover was created by barber Pavel Krumer of Regina, SK.
Krumer advises that a man considering this look must have flexible hair that can be pulled to the back, otherwise, it will fall down. Also, the hair has to be straight or just a bit wavy, but not too curly.
"Know that you'll have to use a blow dryer to smooth the hair after washing to give it direction, and will also need to apply a styling product at the end," says Krumer.
An appropriate color or highlights will create a shiny, fuller, and edgy effect.
Purple, Green, Salmon Aged Metal
 @teemarie_studyhair
The combination of purple, green, and salmon colors resembles aged metal. Contrasts emerge in organic patterns and are muted with matte effects. The more intense colors are at the base of the hair and a softer pastel shade is at the ends. Connecticut-based hairdresser Teena Gugliotti designed this look.
To give this look a matte effect, Gugliotti used Sebastian Dry Clean Only and sprayed it into the roots of the hair, and massaged it in. This will also allow you to skip a day of washing their hair, allowing the color to last longer.
According to Gugliotti, men considering this look should express what they would like to see in terms of more than just color. Where do you want the color? How long do you want it? And you willing to give your hairdresser an open mind to design it?
Gugliotti also adds that this look was created by using Wella Color Create direct dye, which shampoos out in 20 washes. "Men that need to keep things a bit more conservative can get this color on one side of the head and keep a more natural blonde on the other side. This way they can change their part and in turn, change their color," she explains.
Smokey Grey Curls
 @toniandguyshoreditch
Bleach the hair and tone it to achieve a slate, smokey grey color. This is how London-based colorist Stuart Marsh created this hair gem.
Though grey can look matte, it still shines almost metallic-like to complement every curl that was diffused.
Marsh suggests, "This look is great for the guys who want to completely change their look. This smokey color will fade into a subtle and soft blonde which can create a more undone, rough, and gritty look. Maintaining this look can be easy by using a slate grey shampoo or a platinum blue shampoo."
For men wanting to try this, know that the perfect tone isn't achievable in one sitting and it can take a couple of applications to get right. "Be patient and it will come," Marsh emphasizes.
The texture of the hair can change with bleaching, making it hard to get that lovely soft finish. Some will find they need to use more oil to get that finish. Marsh recommends Label M Radiance Oil because it works well on most hair types.
Silver Ashy Blonde
 @manesbymaegan
This silver ashy blonde is great because of its more natural side of the creative color spectrum. Men looking to explore the fun and creative side of hair tend to lean toward the silver and ashy blonde first rather than diving in headfirst to bold blues or greens, for example.
"My favorite thing about this shade of blonde is that as the toner begins to fade, he will still be left with a clean, ash blonde! Purple or blue shampoo helps to maintain the ashy tones," says hairstylist Maegan Porto of Burlington, ON.
Porto's favorite product for blonde hair is Eufora Blonde Color Revive. It's a deep conditioning purple mask that neutralizes any yellow tones while keeping the hair feeling great.
The stylist doesn't recommend this hair color for people with naturally very curly hair because it's more fragile than any other hair texture and can be easily damaged during the lightening process.
Porto adds, "The great thing about short hair is that if you don't feel like keeping up with the maintenance of this color, you can easily just cut your hair and it will be cut out in no time."
Orange and Peach Color Melt
 @savannahnethken
This orange and peach color melt looks very New Orleans boho, according to stylist and colorist Savannah Nethken of New Orleans, LA.
Nethken states, "My favorite thing about this look is how the bright orange into yellow ties his whole look together. I wanted to give him a lot of dimensions while still keeping it fun, which is why we choose to go for this awesome peach sunset melt."
Nethken's #1 tip is to choose a color that fits well with your lifestyle. "Your everyday style plays a huge part in what kind of colors will suit you best. If you are a guy who wears lots of bright colors, you may want to choose a softer pastel hair color that won't clash with bolder pieces," she adds.
Silver Hipster Hair Color
 @richieelewinski
This is the trendy silver hipster hair color by Richiee Anguiano, a hair artist from Stockton, CA. "My favorite part of this icy color melted look is the texture I created with his thick and wavy hair," says Anguiano.
This look is high-maintenance. To achieve this color, "you'll undergo a heavy lightening session with hair color lightener to lift your hair to almost platinum. I suggest using a deep conditioner and most definitely a purple shampoo. I also recommend a flexible matte pomade to get this messy look," Anguiano shares.
Trendy Ash Grey Hair
 @nohbyjin
This smoky grey color is trendy and fun and was designed by Texas-based stylist Jin Noh.
Noh loves using Eufora products because they're sulfate and paraben-free. "I recommend Eufora Moisture Intense shampoo and conditioner, along with their Color Lock. These products will add moisture and shine because they seal the cuticle, keeping the color vibrant for longer," Noh suggests.
When asked for a number one tip for this color's home care, Noh mentions shampooing and conditioning the hair every other day with lukewarm water. If you feel that your hair is oily, using dry shampoo helps. Don't use hot water because it dries out the hair and makes the color fade faster.
Noh remarks, "Any guy can have this color if they want it. Just be mindful that having this color requires a trip to the salon every four weeks."
Slicked Back Yellow Blonde Hair
 @shagshopinc
This yellow blonde shade on slicked back hair looks fun, adventurous, and edgy while still looking professional and clean. The mastermind behind this look is stylist Michele Macdonald of California.
"This hair color can be higher-maintenance, or low-maintenance when you use it for different types of looks as it grows out. Once it grows out a little, it can take on a whole new look with some roots. Dare to be different, change is fun," Macdonald advises.
Blue and Green on Natural Black Hair
 @shortyslayz
This is a men's version of the smoky color melts we've been seeing a lot on women lately.
Created by stylist Elise Brockmiller of Arizona, this is a combination of a classic cut and some bold colors. It's unexpected, stylish, versatile, and allows your personality to shine!
You can personalize this look with any combination of vivid colors. Brockmiller notes, "we kept this one deep with green and blue jewel tones. We pre-lightened the areas we wanted to accent and deepened the base color with a shade darker than his natural color. This added an intense ash to the base color, keeping the look blended and cohesive with all cool tones."
Brockmiller recommends Davines hair color and styling products. They're eco-friendly, sustainable, and plant-based. The color line contains no ammonia, which is especially good for men who have sensitivities or allergies to chemicals.
Neutral Icy Silver Hair Color
 @tylerjameshair
This color is neutral icy silver. It's on the verge of being cool, but there is only a hint of ashy tones so it's more silver-grey than a pale blue silver.
"My favorite thing about it is its neutrality. It is a silver statement without that fashion blue or violet pop that could be over the top," says style creator Tyler James of Portland, OR.
"Silver-blonde is a high-maintenance color and it requires a healthy canvas to begin. Lightening hair can increase its fragility, so if you have a low natural level, getting to a 9 or 10 (required for this look) can be a journey," James explains.
Edgy Brownish Grey
 @bangsandboujee
Brownish color on an edgy cut? Why not!
"Keeping his hair longer on top allowed for a color that would last longer than three weeks before cutting it out," stylist and look creator Rachelle Good from Virginia points out.
As for the maintenance, a toner every six weeks is crucial to maintain the grey. In addition, use the Colorproof violet wash shampoo once a week.
Peacock Bright Purple and Blue Color Melt
 @beauty.by.jennie
The blue-purple root melt is a fun color for guys who want something different. It's unique and allows you to stand out from the crowd.
To achieve the hue, "I bleached out the mid-shaft of his hair first with Lanza Healing Color Decolorizer, then used blue and purple vibes Lanza color for the melt," stylist Jennie Rasband of Utah explains.
This peacock-looking melt looks best on people with a cooler skin tone. It's high-maintenance but is easier to maintain with the Vivids shampoo. Rasband continues, "I only recommend this to men who are willing to use the shampoos every time they wash their hair."
According to Rasband, it's harder to get this look with dark coarse hair but is still possible. It just takes a little bit more time to prevent damaging the hair. Men with lighter hair get this look a lot easier with less damage.
Copper Brown
Photo credit: Shutterstock.com
The vibrant hue of this copper brown brings out the texture of each curl.
Guys with warm skin tones will look great in this color! Warm skin tones contain olive or yellow undertones. Men's hairstyles like this are perfect if you have naturally curly hair. Men with straight hair can wear this color as well but would benefit from a shorter, slightly messy style.
Men's Dark Warm Brown Hair
Photo credit: Shutterstock.com
This dark espresso brown color has a hint of caramel, or warmth, as seen in the tips.
Get some serious height with this cut and color, which is great on men with olive, yellow, and tan complexions. This guy's hair is on the medium to thick side, which gives the style fullness and movement.
Texture spray or wax used on dry hair is the best product for this style!
Neutral Dark Blonde Hair Color for Men
Photo credit: Shutterstock.com
This neutral hue looks great with a style that is short on the sides and slightly longer on the top.
Light-skinned guys with cool complexions will pull this color off really well! Dark brown eyes will stand out against this color. The ideal hair texture for this style is medium; not too fine or too thick.
Warm Dark Blonde
Photo credit: Shutterstock.com
The dark blonde color with a hint of copper seen here is cut close on the sides and left slightly longer on top.
Check out this color if you have light skin with slightly warm undertones. This color really brings out blue eyes, which will leave great first impressions! Fine to medium textured hair is perfect for this style.
Chocolate Brown Hair
Photo credit: Shutterstock.com
How dreamy is this medium, slightly warm brown look worn to just a bit to the side?
This hair color looks great against all skin tones! For this style, hair should be thick. If you have fine hair, use a thickening serum to pump up the volume in your hair before applying a styling cream or mousse for hold.
For fine or thinning hair, try Nioxin products. They create an optimal scalp environment and provide thicker, denser-looking hair.
Warm Medium Brown Hair
Photo credit: Shutterstock.com
Caramel tones can be seen throughout this brown color, really giving it some added texture and dimension.
Warm tones, such as caramel and others with hints of gold or copper, look fantastic against neutral and warm skin tones. If you have a cool eye color, such as blue or cool green, your eyes will really stand out against this hair hue!
Keep warm browns bright with gold or copper-based color depositing shampoo.
Bright Copper Hue
Photo credit: Shutterstock.com
A copper color really complements this shaggy, medium-length layered cut.
Try this color if you've got a daring streak! It works best on dudes who have a light to medium complexion with warm undertones. Those with fair skin and a neutral complexion pull this color off really well, too.
Dark Red Tone
Photo credit: Shutterstock.com
Keep it cool with this short, close-cropped cut that is left a bit longer on top in a deep red tone.
Deep, cool reds look great on cool-toned fair and medium complexions. Those with darker and slightly warm skin tones can pull this color off too.
This guy has really thick medium textured hair, which gives a great base for a super short, yet very full, style. Don't let your hair texture stop you though; reds wear well on any hair type!
If you're not sure which tone of red hair you'd look best in, consult your closet. If you tend to wear dark red shirts, go for a cool deep red. However, if you like bright red, then you're most likely a great candidate for bright reds or reds with a hint of copper.
Golden Blonde Shade
Photo credit: Shutterstock.com
Warm things up with a golden blonde hue and an angled fauxhawk.
Gold doesn't have to stay in your jewelry. Golden blonde hair complements fair to medium complexions very well. Usually, those with light eyes are a dead giveaway as being the perfect candidate for this color.
Golden Highlights
Photo credit: Shutterstock.com
Medium brown hair with golden blonde highlights really enhances the texture of this style.
Opt for highlights whether you have natural texture in your hair or not! Highlights will enhance existing texture or add texture to otherwise flat hair. Thick, curly hair is seen here, but men with medium to thick straight or wavy hair can pull this look off as well. The golden blonde tone of these highlights works best on those with medium warm complexions.
Steel Grey Color
Photo credit: Shutterstock.com
Mostly dark grey with a little white peppered in, this hair is styled forward and flicked up in front for an edgy feel.
This combination of whites and greys is probably the most desired since there's little white to be seen. If there was color left, it would look almost like a dark brown with highlights, so this grey is worn best by those with medium complexions that have either warm or cool tones.
Blackest Brown Hair Color
Photo credit: Shutterstock.com
This very deep brown, almost black, hair is styled up and off the face for a cool and professional look.
The black-brown hue of this hair color perfectly complements guys with medium to deep complexions. The dark nature of this color is best for men with cool or neutral skin tones. This color is great for any hair texture!
Those with dark complexions and finer hair will benefit from this dark color since dark hair color has a thickening visual effect.
Blended Gray Hair for Older Men
@keilamariesierra
The blended gray hair for older men is perfect when wanting to rock your natural color. To blend the natural grays, adding lowlights would give them a dimensional edge.
Another one way to amp up a gray hair color is to pair it with a modern pompadour. To do this, Massachusetts-based stylist Keila Sierra states, "Blend the sides and back with a taper, and cut the top with shears. To style the top, apply a matte flexible hold pomade along with a volume zing powder."