26 Hard Part Haircut Ideas for Your Next Inspiration
Thin Hard Part Haircut for Men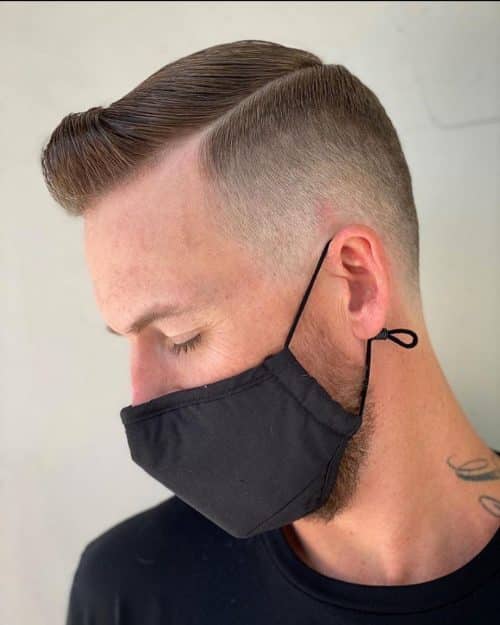 @hairby_caitlynrain
This is a thin hard part haircut for men. Its sleek finish works wonders on straight hair. Neat and smart-looking—this is something to wear on a formal date night.
Side Part +Low Fade
@ali_bar.ber
Working a spiky hard part with low fade haircut like this requires patience, creativity, and a whole bottle of hairspray.
Hard Part Haircut with Temp Fade
@cj_thebarber96
Hard part hairstyles, when styled sleek, create that fresh, clean-cut, and formal look.
Hard Part Pompadour Cut for Thick Hair
@abu_barber
This is a hard part pompadour. It's eye-catching heights and edgy faded style is perfect for men with thick hair. Styling a hard part haircut becomes important because you don't want to not take away from other features. Going high is a definite option.
Disconnected Undercut Hard Part
@nando.quaranta_barber
This disconnected undercut with hard part allows for so much versatility in styling. The crisp line can create a stark contrast between the skin and a funky long top.
Hipster Hard Part Style with Beard
@nurii_b
Everything on this hipster hard part with beard is absolutely on point. The strong angles, clean sides, hot top, and the beard make a look that's worth showing the world!
Hard Part Skin Fade
@lucas_kemper_hair
Own this awesomely sharp hard part skin fade when you pair a bald fade with a sleek parting! Definitely a hard part hairstyle for casual and business events.
Long Hair on Top Short Side Part
@look.dw
This long hair on top + short side part is a fun way to freshen up your style. Shaved sides offer a real sharp distinction for men with textured, lengthy hair, and it allows you to style it any way you desire.
Short Hair with Double Hard Part
@a.floreshair
A double hard part on short hair is one of those haircuts for men that cause extreme duo action. Talk to your barber about this really cool hairstyle with a hard part. Do it with two lines on the same part of the head or on opposite sides.
Low Bald Fade with Hard Part
@erikberto_diaztorres
This is a low bald fade with hard part. It's a very neat and sleek yet contemporary haircut with a hard part.
Low Bald Fade Razor Part
@big_rudy_da_barber
A highly stylish low bald fade razor part that will definitely make you the center of attention.  This razored hard part effectively provides a direct contrast between the side and top mane.
Hard Part Hairstyle with High Fade
@devan_thebarber92
If you're the type of guy who desires a more polished look, a high fade with hard part and comb over like this is best for you. Make it more exciting by parting it from the side to create a visible shaved line and contrast.
If you think the fade is too high, check out more pictures of a low fade comb over cut instead.
Crew Cut with Hard Part on Short Hair
@leh_0liveira
This short hair with a hard part and crew cut features a low fade, too.
Mid Skin Fade with Side Hair Part
@rippers_yanagawa
This is a mid skin fade with side hair part. Fading the hair, starting from the middle section, puts all the focus on the top hair and makes it effortless to wear any type of cut.
Military Buzz Cut with Hard Part
@milenahairtattoo
This is a simple military buzz cut with hard part haircut. Created by Moscow-based stylist Milena Lazareva, this eye-catching detail can help to emphasize the dignity or to hide the flaws of the head shape.
"Take care of your scalp regardless of whether you're considering a men's hard part like this or not. All of your skin flaws will be noticeable," says Lazareva.
There are actually a lot of styling options for this haircut. Use wax or gel when preparing for an event. Decide which product to use according to the effect that you want to reach: glossy, matte, or somewhere in between. For haircuts like this buzz cut, styling really makes a difference.
Slicked Back Hard Line Haircut
@danidoeshair5280
This is a slicked-back hard line haircut, also known as a disconnected pompadour haircut with a hard part. The best thing about this look is the hard part that can literally change the entire look in 3 seconds.
When styling, stylist Dani Ernst of Colorado suggests using a mousse when the hair is damp and a round brush to help with volume. Ernst says, "then use a mixture of a texturizing paste to piece it out and a dry texture sprays for some grit to keep the volume. Then finish it off with some strong hold hairspray so it won't move."
This is a haircut for men that have a lot of and/or thick hair for styling purposes.
High Taper Fade with Shaved Part
@garycorry11
This hard part style is a classic 40's/50's hair cut with a modern twist, made by Gary Corry, a barber from England. It's a bold skin fade with a hard part, also known as a high taper fade shaved part. "Talk to your barber about keeping the fade mid to low to drag the fade out and enhance the faded look with the hard part," Corry suggests.
Having the right face shape is important to the cut as it complements an oval face shape best. The hair type itself is also important. The best hair that works is straight heavy hair. You can get the same look with finer hair but, for Corry, heavier hair works best.
Faux Hawk with Classic Taper and Hard Part Line
@esebigtrimmer
This is a very popular faux hawk with a classic taper hard part line by barber Anthony Jaime of Victorville, CA.
"This haircut goes with any face shape. For styling products, go with a shiny hard holding gel or with a dry paste look and give it some volume," Jaime advises.
High Taper Fade with Long Straight Line Part
@momoneythebarber
This hairstyle is called a bald fade combover with hard part. Barber Mo from Florida suggests to ask your barber for a high taper fade long straight line part to get this specific hairstyle.
When adopting this cut, Mo points out that you must get used to using a blow dryer.
Mo adds, "Products are good, like pomade or wax, but the blow dryer will give the hair its initial direction. Products will give you a longer lasting hold, especially for the pompadour hairstyle. This will give you an extra sophisticated look on top of being stylish and having a good fade. It's the ultimate classic hairstyle."
Brushed Back Undercut with Hard Part
@stirlingstacey
This is a great brushed back undercut hard part for the modern man! Tapered sides and back give a nice clean look while the top has length and style possibilities! You can achieve a pompadour, quiff, slick back, or side sweep look.
"For a man with curly hair, and I love that we can get a great 'S' shape to set the look apart and give a little personal style," says hairstylist Stacey Stirling-Brown of Canada.
Stirling-Brown suggests, "If you're considering hard part haircuts like this get a paddle brush and blow dryer with a stronghold paste. These will be the best tools for success!"
Mid Fade with Hard Part
@oscvrthebvrber_
This mid fade with hard part is classic, timeless, and traditional, and was cut by barber Oscar Gonzalez of Maui, HI. The coolest thing about this trend is the versatility of style that you get with this cut.
Gonzalez notes, "For men with a rounder face, go for a little more volume up top with your hard part. Men looking for the messy style should try the product Suavecit (Firme Clay or Matte). For men wanting a more slick and sharp look, try using Suavecito (Original)."
High Bald Fade with Hard Line Part
@detroit_dzikus
This cut is a bit of a classic combover/pompadour hard part with a mid to high bald fade with a hard line part hybrid. It's a creation by Aaron Kieltyka, a barber from Detroit, MI.
"This men's hard part cut is easy to comb. Add a little bit of water based pomade for a more glossy look or some clay for a more natural windblown look," Kieltyka states.
High Skin Fade with Line-Up and Hard Part Comb Over
@the_barber_aaron
This is a modern haircut with a straight razor hard part comb over finish! It's a high fade and hard part with line-up. Barber Aaron Tamayo of California says, "This haircut creates sharpness, symmetry, and cleanliness. The hard part line adds that extra crisp to top off this style."
The cool thing about hard part haircuts for men is that you don't necessarily need to go down to a zero on the sides to get it. "The hard part is a nice detail on a haircut when the top of the hair is long enough to style," Tamayo explains.
Boys' Hard Part Fade Haircut
@hairrockerbet
This undercut with a hard part is edgy and business at the same time. It's a great statement look for fashionable boys and men alike. Slick it back or pump up the volume with a cool pompadour.
Ohio-based stylist Bet Vannoy warns that a boys' hard part is a high-maintenance haircut. "To stay sharp, keep up with the cut every 3-4 weeks. Styling clay or creme will be your best friend for a natural or matte finish. For that slick and glossy rocker-do, use a high shine, high hold gel," she adds.
Curly Hair with Hard Side Part
@jojo.larae
This cut is a curly hard part with a skin fade, created by barber Jovanna Hamilton from Florida. The best part about this hard side part is the razor work that makes everything look clean and sharp.
Hamilton points out that this hard part on curly hair makes a style that's good for dudes whose hair can be manipulated with product easily or with enough length to move to the side.
"Most guys would use pomade or paste for these styles, but if you have curly hair a gel, curl cream, or leave-in conditioner would be perfect for curls and easy to style," Hamilton adds.
Mid Bald Fade Razor Line Part
@mr_barber91
The mid bald fade razor line part is great for men with thin hair. It emphasizes the hair up top while creating contrast with a skin fade and hard surgical part.