15 Perfect Examples of Light Ash Brown Hair Color
Light Ash Brown Highlights on Dark Hair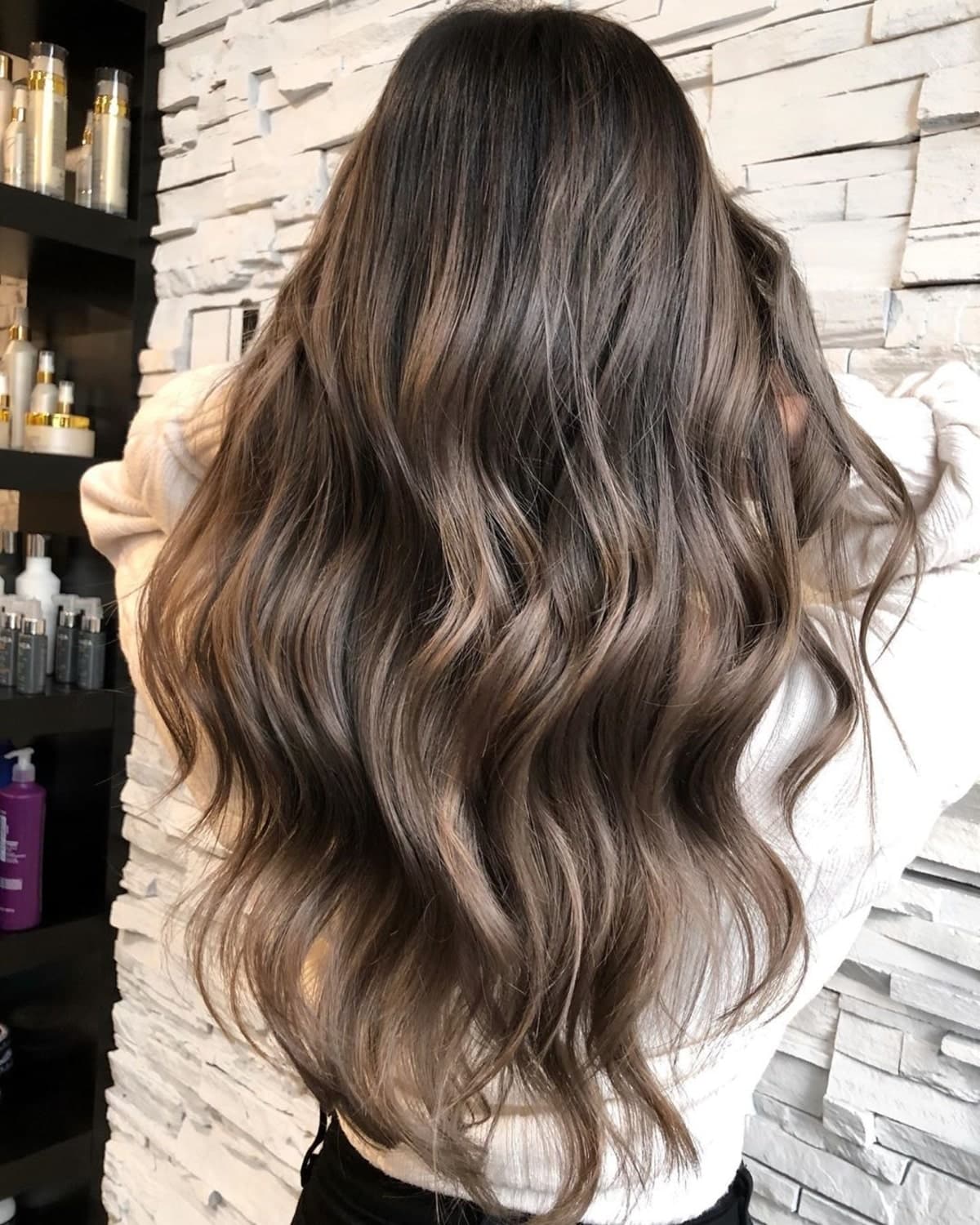 @hairandstyle_jenna
A pale grey-ish undertone is perfect on dark hair to form a beautiful metallic brown effect. You can't also just deny how stunning the waves are in this lengthy locks. The movement enhances the shine of this look's balayage ombre technique.
Black to Light Ash Brown Ombre
@alvison_hair
Would you like these smooth beach waves on your long hair? If so, you can always flaunt it in a much exciting way. This black to light ash brown ombre will appear as if it follows the movement of your waves.
Light Ashy Brunette for Asian Woman
@hair_bynikki85
Here's a light ash brown ombre balayage on a mid-length lob best for an Asian woman like you! A dark root with a melting ash tone will flatter your olive skin and dark eye color. Beach waves with straight ends are in and will add flair to your look.
Light Golden Ash Brown
@haircutsattiffanys
Though you can never go wrong with a shoulder-length lob and a good amount of waves, there's still one way to class it up. Light golden ash brown through balayage and ombre is always effective. It keeps your locks dark, but with a touch of platinum hue and streaks of beige.
Gorgeous on Dark Skin
@carmendeltorohairstylist
Looking gorgeous on dark skin, this is the best light ash brown hair to die for! It has a subtle touch of brightness to flatter your skin tone. Added beach waves on your long, thin tresses will make you such a stunner!
Light Ash Brown on Black Hair
@hairbyxvee
Flaunt your long, dark tresses with an extra pop of color. Here's a light ash brown on black hair that works best on beachy waves. Babylights and balayage create streaks of accentuating intensity to brighten up your locks.
Short Light Ash Brown Balayage
@shearpistolsalon
This is the look to convince you to get a new chop and color right now! Movement and choppy layers in this shoulder-length bob are what enhance the dimension. You sure can't imagine this short light ash brown balayage without the waves.
Light Ash-Brown with Platinum Highlights
@americanbeautiessalon
With platinum highlights, your light ash brown will twinkle throughout the day. The accentuating color outlines the best with soft waves and texture added to your long hair. There's something about it that will make you feel gorgeous at all times.
Light Ash Brown on Bleached Hair
@make_it_hairy_
The right balance of brown and blonde will give new life to your long, straight locks. This light ash brown on bleached hair is versatile for all ages. It's the color that will allow your black or grey strands to grow out naturally.
Very Light Ash Brown Hair
@stylist_thiri
So over with the yellow-ish or bleached blonde color? You can still lighten your locks with a different tone. Your a-line bob cut, grazing your collarbones, deserves a hint of rich grey hue for its new look. You'll not believe how this very light ash brown hair can boost your glam after all.
Light Deep Ash Brown Hair
@marikasafirahair
Hair colors can make or break your entire style, so make sure you choose the best one for you. Try a light deep ash brown hair to make a statement. At times, natural baby highlights are what you need to brighten up your straight, long mane.
Highlights on Dark Brown Hair
@glamour_valdivia
Never doubt incorporating highlights on dark brown hair to slightly give shine to it. Big voluminous waves are a great addition, which enhances the body of your mid-length cut.
Ashy Brown with Blonde Highlights
@belle_envie
Oh-so rich! Gear up your look with blonde highlights, babylights, plus very subtle hints of ashy tint. Done via balayage, these shades provide a depth illusion at the root, and softer finish at the hair ends. The payoff will blow minds if you match it with a mid-length chop and some delicate waves.
Light Ash Brown on Red Hair
@mudzihair
You can pull off an exceptional dark mane with this combination of colors. Light ash brown on red hair is guaranteed to emphasize your fair skin tone. Feathered layers are another added touch to your long locks, making it so flawless in many ways.
Over Orange Hair
@gigi.the.creator
Wear this over orange hair for a fun and bolder vibe. This has the radiant tones that most ladies would love to have. The finish appears softer when tresses are styled with loose curls and waves.