29 Hottest Caramel Brown Hair Color Ideas
Short Caramel Brown Hair
@meraki_hairdesign
These sweet caramel brown hair hues on a layered bob could make anyone look picture perfect! You can also add some flirty waves for volume and depth. The light brown shade really comes out nicely with this haircut.
Evening Out Brown Waves
@_hairbygabrielle
We're in love with these big voluminous shiny brown waves painted by sweet caramel highlights! This style is so adorable on any night out with friends or a date! The dark brown with the highlights really creates an illusion with the waves.
Dashing Caramel Brown Balayage for Olive Skin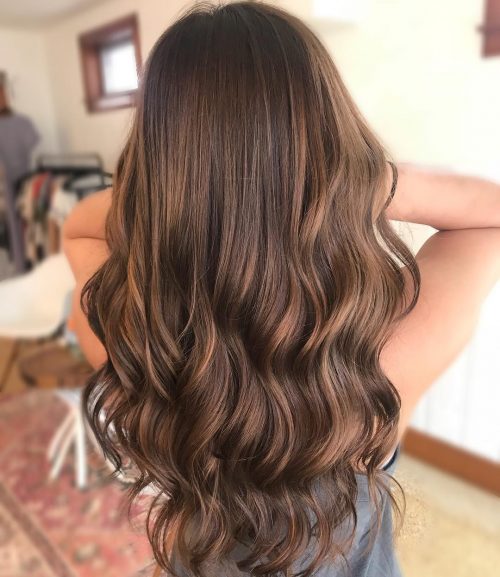 @solaciesalon
Genuine brown is the best hair color for olive skin but any of its shade would also do good. Take note that all skins come in a range of underlying tones, so better consult with your stylist first for the best recommendation. You can tweak the shade of caramel brown hair color to match any skin tone.
Golden Caramel Brown Hair
@kalyna.buresh
Q&A with style creator, Kalyna Buresh
Hairstylist @ Beauty by Kalyna in Wellington, KS
How would you describe this look?
For this look, I love how I took a client's natural hair color and did a balayage with baby lights to help bring dimension and freshness to her hair. This particular client has really long and thick hair so I wanted to achieve a look that helped her look sun-kissed and more natural. I ended her color with long layers and chose to style her with loose curls to give her hair soft volume and body.
Any advice for someone considering it?
The nice thing about this style is it is very low-maintenance and very well blended. For a caramel brown hairstyle, a client needs to know they will be working with a warmer palette. I do feel warmer palettes are underappreciated and tend to be more flattering for most individuals because when to get more one cooler side, at times it can wash certain people out. Warmer palettes I feel tend to have a better grow out because you do not need to maintain and tone as soon as you would for an ashier blonde to cancel out brassy tones, such as the yellow and orange undertones found when you lighten hair.
Overall, this cut and color can be flattering on a variety of individuals and the simplicity and dimension would make anyone stand out in a crowd.
Dark Brown with Caramel Brown Highlights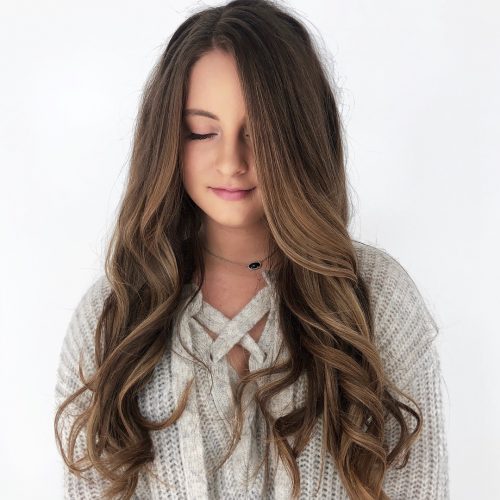 @deardarlinghair
Q&A with style creator, Hunter Raineri
Hairstylist @ Love Salons in Nashville, TN
---
How would you describe this look?
These caramel brown highlights is a natural, sun-kissed balayage. The loveliest thing about this look is that it is amazing for anyone who has never tried color and wants to give it a shot without gambling too much! It is also perfect for the client who wants minimal upkeep! This client, for example, will get her color touched up about twice a year!
Any advice for someone considering it?
This client has a lot of hair! You can have any length, texture, or thickness. In fact, someone with fine hair might find that a color like this can give them depth and dimension! Some key points here is to make sure your stylist has been trained in balayage! Take a peek at their Instagram or the salon's website and then trust your stylist. Ask them about a heat protectant if you aren't already using one (and use a good one), as this will keep your ends healthy and your color bright!
Peek-a-Boo Caramel Brown Color
@roxxaayyyhair
Q&A with style creator, Roxy Austin
Color / Extension Specialist @ Salons by JC Forum in Selma, TX
---
How would you describe this look?
This is a dark brunette lob (aka long bob) with a splash and blends of nutmeg and caramel brown tones. This is a very classy but edgy haircut with lots of movement, volume, and texture. The best about this particular style is that it isn't just your regular bob, it's shorter in the back with longer layered pieces in the front. It can be worn down straightened, curled, waved, or even up in a "half up half down" pony or messy bun – a very popular style for today's younger women!
Any advice for someone considering it?
If you're a young chick with edgy style or even just a mom that doesn't want a lot of hair to deal with while the kiddos are running around or even just love short hairstyles on yourself, this is the style for you!
But keep in mind since it is a shorter style, it does require some styling in the morning, especially in the back where the hair is shorter around the nape. So if your hair is more on the tighter curly side, this style probably wouldn't be the best for you if you're looking for a low maintenance hairstyle.
Also remember while straightening or even wanding your hair, make sure you're using a heat protectant to protect your ends so they stay fresh and healthy. Texturizing powder in the root area will also give you that volume to really make your lob stand out!
Head-Turning Caramel Brown Highlights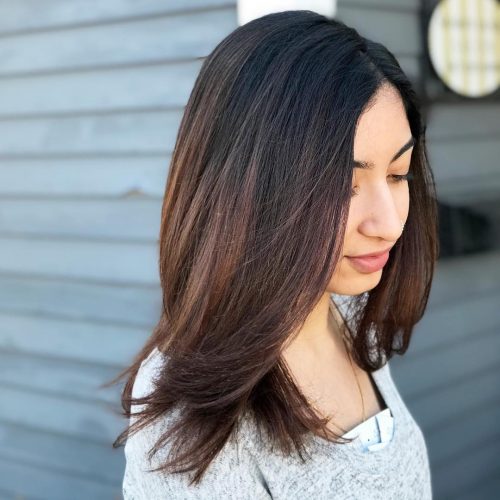 @mirandadoesmyhair_sds
Q&A with style creator, Miranda Blancas
Senior Stylist @ Sharon Daniel Salon in Schaumburg, IL
---
How would you describe this look?
This is a long layered bob in dark brown color with a caramel brown balayage. My favorite thing is the way the lighter pieces of the balayage make the face-framing layers and shorter layers pop.
Any advice for someone considering it?
For this client, she needs to use a color safe shampoo and conditioner and a protein building product. My personal favorite product is Alterna Caviar Infinite Color Hold Shampoo & Conditioner.
As a leave-in product to rebuild the hair after lightening, I always recommend either at home Olaplex #3 or Alterna Caviar Instant Recovery Protein Cream. It depends on your styling needs or something to bring the layers to life would be great. We used Alterna Perfect Texture Spray as a finishing Spray for some touchable movement here.
For the color, I suggest not going too close to your skin color because it will wash you out. So for this particular client, we kept it darker with a deeper gold tone than originally wanted but added a few brighter pieces away from the face for dimension.
Personally, I always like balayage for a low maintenance look. This is for the college students and busy moms who don't like the harsh highlight outgrowth lines and don't have the time to be in the salon every 6-8 weeks getting a big service done but can stop in for a quick toner at 6-8weeks to keep the ends fresh!
Neck Length Hair Caramel Brown and Ashy Silver Tones
@styledbynelly
Q&A with style creator, Nelly Cardenas
Stylist @ Topstyles Hair Salon in Oakwood, GA
---
How would you describe this look?
This look reminds me of warmth meets cool. I love how it goes from this light brown color to this really bright white/silver blonde hair color. Not too many people combine caramel brown hair with silver tones but this hairstyle looks awesome.
The contrast of caramel brown hues and ashy silver works perfectly with each other. It gives the hair a lot of dimensions because there's a mix of different shades, it kind of just adds more texture to the hair. This color is also a style that you don't see too often so it makes you stand out and that's the best part about it!
Any advice for someone considering it?
My advice is just to go for it! We can all rock this type of style with the right shade to go with your skin tone.
This does require a little maintenance. We all know ashy shades fade out a little faster so if you want it to stay looking ashy you do have to come back at least every 4-6 weeks to tone it back to the beautiful shade you desire.
Getting your hair done is an investment, so please use the products your stylist suggests for you to use. We suggest this to get you more bang for your buck. Remember color takes time and patience especially for those really bright ends, so please be patient with your stylist.
You build on different levels of lightness over time but it's achievable and that the end result will turn out AMAZING!
Beautiful Long Loose Caramel Brown Curls
@thedysfunctionalredhead
Q&A with style creator, Claire Goodwin
Hair Artist @ Diva Salon Spa in Calgary, AB
---
How would you describe this look?
This is a more subtle sun-kissed look. I like that it's very natural and it just looks like you've been out in the sun for a bit!
Any advice for someone considering it?
This rich brown color is great for someone who is new to hair coloring. It is a balayage so it is lower maintenance. The nice thing about this is you won't have to come in to touch up your new hair growth as often.
I would definitely recommend a color conserving shampoo to prevent the color from fading quickly. This is good for darker hair types who are looking to add a little bit of dimension to their hair.
Long Caramel Brown Wavy Hair
@meraki_hairdesign
Q&A with style creator, Mylena Vittori
Hairstylist / Co-owner @ Meraki Hairdesign in Winterthur, Switzerland
---
How would you describe this look?
This is a perfect look for this Spring season. The highlights add a fresh nuance to the warm caramel brown tint. The colors tangle smoothly and shine with curly as well as straight hair.
Any advice for someone considering it?
I recommend it for brunettes with long hair, it keeps them at the top of their game despite not refreshing the color monthly. The warm brown tint gives the look a unique intensity. Since the different shades flatter every color types, people of any complexion can dare this color adventure to be ready for Spring.
Natural Tone on Tone Light and Dark Caramel Brown
@kdmlabbeaute
Q&A with style creator, Krystel Waite
Hairdresser / Makeup Artist / Owner @ KDM & Cie. Lab beauté in Sherbrooke, QC
---
How would you describe this look?
I would describe this look as a natural, tone on tone color that was inspired by rich brown materials like leather and copper. With the textured set, we can feel all the different colors!
Any advice for someone considering it?
This look is perfect for people who don't want to go to the salon very often. They can easily keep this color beautiful by using good shampoo and conditioner.
A 1 1/2-inch curling iron is needed to create the curls and, of course, a good thermal protection product is a must!
Caramel Brown Cream Dimensional Balayage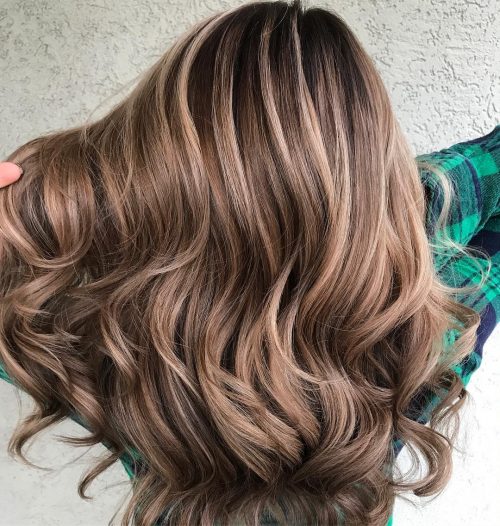 @jessicascotthair
Q&A with style creator, Jessica Scott
Manager / Master Stylist @ Tangles Salon and Spa in Easton, PA
---
How would you describe this look?
This is a caramel brown hair color with creamy dimensional balayage!
My favorite thing about this balayage is that she was transitioned from a brassy, heavy highlight into a seamless, dimensional balayage. This look is nice for a lot of people, especially those who cannot make it to the salon every six weeks, because you will not get the growout line that a tradition foil highlight will make. The growout is seamless and will blend right into the natural color.
Another thing I love about this look is that you have the depth of the natural color near the roots, but a nice blonde at the ends. You have the best of both worlds, which is especially appealing to those who change their hair from dark to light often!
Ask your stylist about using Olaplex with your color service! This bond builder will help protect the hair and repair the bonds of the hair as your hair is being colored. It will make your hair feel like butter, I promise!
Any advice for someone considering it?
The maintenance on this balayage can range anywhere from four to seven months, depending on the look you are going for. Anyone can achieve this look and it is a great option for moms, busy working women, and anyone who travels!
Anyone who colors their hair also needs to use good products recommended by their stylist. Why spend the money to get your hair done, but not invest in products to keep it maintained? I recommend using a sulfate -free shampoo and good conditioner, a leave-in conditioner (which is like your daily vitamin for your body, but for your hair), and great styling products like an oil, a smoothing product, or a volume cream!
Subtle Caramel and Brown
@arisa_hair
Q&A with style creator, Arisa
Stylist @ Muse Hair & Beauty Salon in Vancouver, BC
---
How would you describe this look?
I describe this look as subtle, wearable, and healthy. One of my favorite things about this look is that it gives a natural and bubbly look to the client. There is a rich, sleek brown color that combines well with straight hair.
Any advice for someone considering it?
I recommend this look for anyone who has a busy lifestyle and is always on the go. This color is manageable and low maintenance, but still fun looking! The rich caramel brown hair matches best with fair skin tones.
I also recommend using L'Oreal's Smart Bond Hair Treatment for all hair coloring services as it helps strengthen and gives the hair more resistance after any hair coloring process.
Chocolate Brown Lob with Highlights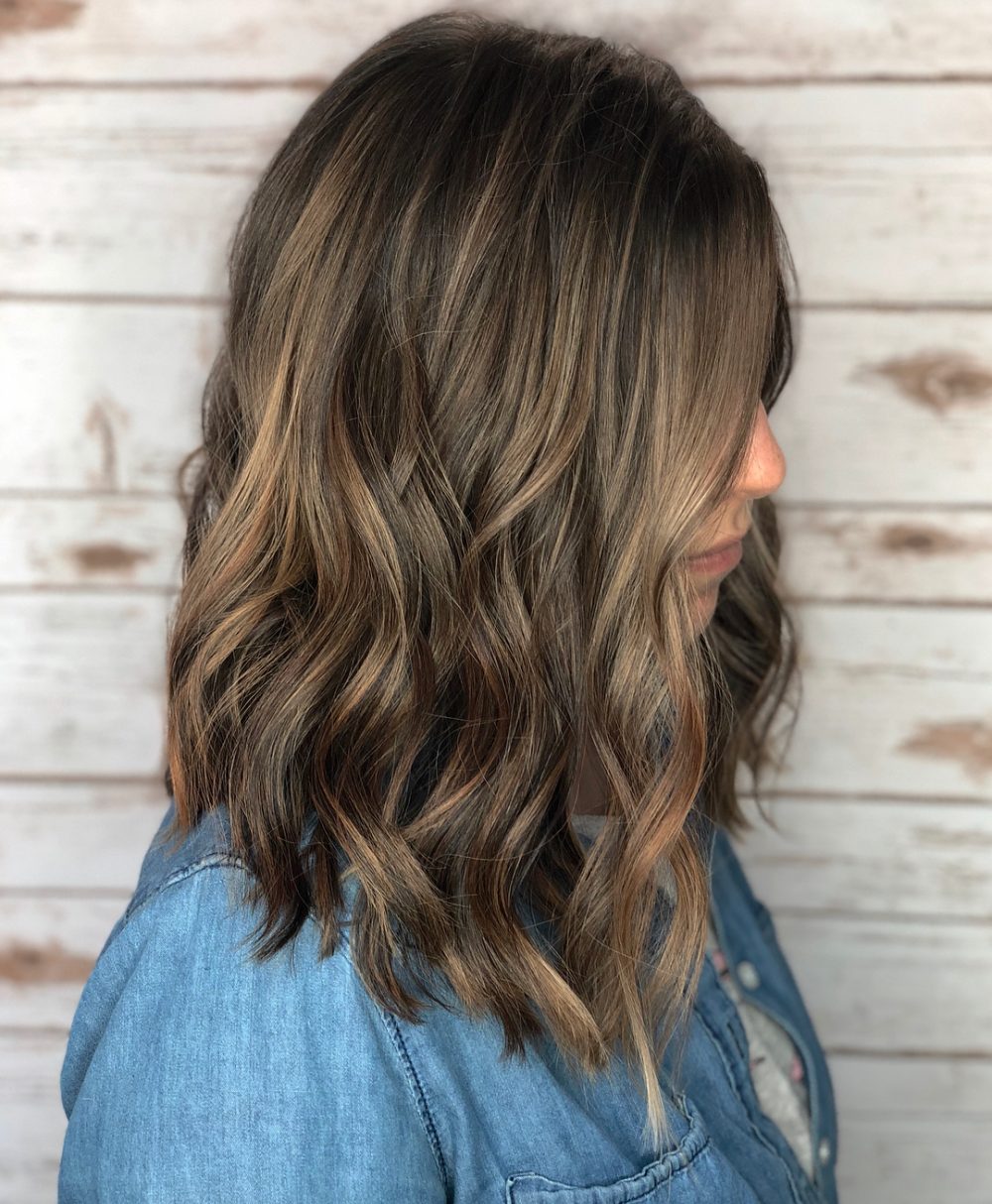 @colorbycoco
Q&A with style creator, Coleen Figiel
Balayage & Blonde Specialist / Owner @ Thairapy Hair Salon in Tannersville, NY
---
How would you describe this look?
I would describe this look as a rooty chocolate brown lob with caramel brown highlights.
Any advice for someone considering it?
This is a great look for someone who is naturally brunette and wants something low maintenance. Since the highlights are teased up before being colored, it allows for a more natural, rooty look that will grow out seamlessly and doesn't require much upkeep (maybe a refresh every four to six months). The lob is also a great cut for this brown color because it will also grow out very nicely along with the highlights, meaning you only have to get it re-shaped when you go in to touch up your color.
It's a great cut for someone who doesn't like to have to do their hair every day because even if you just wash and go, it still looks like you have a "style". You would want to wash your hair with good quality shampoo and conditioner made for color treated hair and if you don't feel like doing much else just, throw in some texturizing balm to show off those highlights and the piece-y ends of your textured lob.
Chocolate Balayage Hair
@hairbygagz
Q&A with style creator, Alex Gagliardi
Master Color Expert @ Hair By Gagz in Roselle, IL
---
How would you describe this look?
This is a chocolate caramel balayage. It reminds me of a Carmello candy bar.
My favorite part about it is the way it blends and the rich colors. Also, I've always hated to Balayage in a foil, but I've recently found a new way that works for me and I used it here!
Any advice for someone considering it?
I suggest this brown color for anyone who has warmth in their skin or anyone who is more narrow in their chin and jawline (triangle or heart-shaped face) or has a wide or square forehead (square rectangle or round face shape). The darkness at the top can diminish the width or length and the ends being lighter can give the look of a less narrow chin, creating the illusion of the perfect face shape which is oval.
I also think it's worth mentioning that although it will look good both ways, it will look different straight. It's great for someone who wants low maintenance because the balayage grows out softly. It is a good option for people with dark hair who want a change but don't want to be too light!
Balayage and beach waves, in general, are just super trendy right now. You see the combo everywhere! It's also fun for us colorists because it's not as uniform and gives us such freedom. The possibilities are endless.
Soft Golden Caramel Brown
@meganrodinohair
Here's the shade of your dreams! No doubt, this soft golden caramel brown is a piece of artwork, looking best on mid-length hair. Protect its fullness and richness by using a purple shampoo.
Q&A with style creator, Megan Bertheola
Balayage Specialist @ Priscilla's Salon in Santa Clarita, CA
---
How would you describe this look?
Caramel highlights are definitely one of my favorite looks. It gives the hair a warm glow with depth and contrast. My client wanted a hair cut/style that's easy, something low maintenance as a busy working mom A long layered cut is perfect for her, as it gives her movement and texture but also makes it easy for the lifestyle she has.
This color complements her skin tone. It has the dimensions of highs and lows for a warm and bold look.
Any advice for someone considering it?
Being a brunette is just as fun as being a blonde. Caramel colors go perfectly well with any hair types. A brown base frames the caramel shades, making it a sort of an active lowlight that accentuates the brown hair.
Long-haired and short-haired girls should try caramel highlights on brown hair or a caramel hair color in general, at least once. The results will exceed all expectations.
Dark Caramel Brown
@_hairby_heatherb_
When you're blessed with a natural black base, a little balayage will be great! With teasylights and babylights of a dark caramel brown hue, the result is so stylish. Spread the right amount of hair oil on your long, wavy locks to secure a glossy finish.
Lush Dark Brown with Light Caramel
@colleen_clark_hair
Chocolate-y goodness now infused into your favorite cut. Get glitz and glam with light caramel brown highlights for brunettes partnered with a soft cut that makes you look fresh!
Caramel Accent in Light Brown Hair
@tatiana_ultarockford
Get tangled into sporting golden brown and caramel locks as lighter accents get paired with your blonde-brunette main! You are sure to leave everyone breathless with stunning results.
Lightly Caramelized
@shaylalynnhair
If going for a relaxed and more calming vibe for your new look, this mid-length hairstyle will do the trick! Locks are lightly caramelized to create a balayage finish that's an actual trendsetter. Complete the look with subtle waves, and let your innate texture add flair to it.
Warm Caramel Brown
@hairbypeytonk
The search for a brighter and golden trend is on! Paint shades of warm caramel brown to your lengthy locks, and see the stunning result. Spruce up your everyday look with its sun-kissed tone that works well with curls and waves.
Caramel Brown Highlights
@jmichaelsspasalon
It's overflowing with stylishness, for sure! Fine streaks of caramel brown highlights grant your mane a subtle brightness. And, trust me—these will do superb to enhance the fullness of your dark, mid-length hair.
Caramel Brown Highlights on Short Hair
@hairbycarissacallaway
Pull off a dimensional look that fits your natural brunette locks! Amp up your presence by wearing these caramel brown highlights on short hair. Layers plus your innate waves and texture will work well, giving you the best volume for your look.
Light Caramel Brown
@mooshhairstudio
It's so stunning to see a light caramel brown balayage on soft but voluminous waves. To maintain its beauty, keeping your long and dense hair healthy is essential.
Ash Caramel Brown
@sarahsailsaway
Who's obsessed with this lovely ash caramel brown, too? The highlights and babylights made by balayage create a gorgeous dimension, for sure. Though you have a straight and long layered mane, the ash brown tones secure your look and extra texture.
Caramel Brown and Buttery Blonde
@hairmeroar
What could be more eye-catching than a shoulder-grazing bob with a chic balayage? Pretty in lob, these are the stunning shades of caramel brown and buttery blonde. Give an extra pop to your look by styling it with classy waves.
Deep Caramel Brown
@hairbyiidau
The secret to a delicious-looking shade of a deep caramel brown relies on its richness. This is the kind of balayage that works great with oil to add shine to your long, wavy hairstyle.
Q&A with style creator, Iida Uusitalo
Hair Stylist @ Long Lasting Beauty Salon in Helsinki, FI
---
How would you describe this look?
The idea of this style was to get warm natural-looking hair. I wanted to play with shadows and lights, so I ended up doing balayage with dark roots. I wanted to get the color to really "show", so I cut a lot of layers to the hair but without losing the thickness at the ends. The thing I love about this look the most is how this really plays with the different kinds of lights.
Any advice for someone considering it?
I would recommend this style to customers who already have a bit wavy or curly hair or who are ready to style their hair in the morning. Quick waves are the easiest way to style this. You should blow-dry the hair with styling mousse or some gel type product, and always use the iron spray when you use styling tools. I think that this kind of style is best if you have a bit round shape, diamond, or heart-shaped face.
Caramel Brown Ombre
@bbridgetta
The subtle effect of the color melt is what makes this trend breathtaking. Medium-length tresses have never been this superb, thanks to the caramel brown ombre! Pair this balayage with soft waves to create more body and a softer touch to your appearance.
Q&A with style creator, Bridget Holmgren
Stylist @ Salon du Sud in Baton Rouge, LA
---
How would you describe this look?
My favorite thing is the color – it's perfect. It's that easy, lived-in lightness that makes a girl glow. It really gives her that natural look without trying too hard. It's easy to maintain and, with the length of the cut, keeps a curl for much longer.
Any advice for someone considering it?
Keeping up with the tone and layers for this style is going to be key. The toner is going to keep the color fresh and healthy, and the layers are going to keep the body and movement in the hair. Always get trims and treatments with lightening as well – it's so important!
Caramel Brown Hair with Honey Highlights
@hairbykerrisullivan
These are the striking caramel brown hair with honey highlights. Looking best on your medium wavy locks, this trend makes a statement piece. With a shadow root, you'll love how easy to maintain this balayage is.
Q&A with style creator, Kerri Sullivan
Hair Stylist @ Hair To Dye For in Easton, PA
---
How would you describe this look?
This look is on my beautiful client Cheri. We started with a heavy balayage to lighten her up, then I went back in after the balayage and added a shadow root. I then toned the rest of her hair to give it the finished caramel color.
My favorite thing about this look is the color dimension. It's a very natural melted look. It has a lot of rich tones and shine using our favorite line Goldwell!
I gave her some long, texturize layers to add some volume to her hair. I always use my favorite Paul Mitchell hot-off-the-press heat protection spray. I finished this look off with some soft beach waves.
Any advice for someone considering it?
I feel like this is a pretty easy look and color for most clients. It's not much maintenance after the first initial service. A simple touch upon your regrowth/and or just a refresh on your toner to give it shine. Every 4-6 weeks is recommended.
This haircut is very easy to work with for almost any hair type. Long layers give your hair a nice shape but also leave your hair feeling full (for medium to thick hair).
At Hair To Dye For, we always have our first-time color clients come in for a free consultation! That way, you are sure to get the perfect results – something that will be manageable for you and your lifestyle. 🖤