22 Best Honey Brown Hair Color Ideas for Light or Dark Hair
Dark Honey Brown Hair with a Face-Framing Middle Part
@rikamorim
The dark brown with lighter honey brown hair highlights along the bangs are gorgeous. Mimic this stunning honey-colored look by pairing a long, layered bob with a middle part for an extra modern look and face-framing edge.
Reddish Brown to Honey Brown Ombre with Loose Curls
@hairbyamydelong
This shade of auburn brown with highlights offers a mixture of honey and golden brown colors to show off its warm undertones that complement tan skin well. This golden ombre color-melt will make you an outdoor woman because you'll be wanting to show off its fiery-ness under the sun.
Medium-Length Honey Brown Butterscotch
@whitneyrain_makes.pretty
Naturally dark to medium hair would achieve this sweet honey brown hair inspired butterscotch beautifully. A medium-length haircut is just enough to show off this smooth transition if you don't want the upkeep that long hair needs.
Cinnamon Red with Streaks of Honey Brown
@salonhairhaven
You can take your tresses to the next level when you mix the right hair colors together especially the top three trendiest ones of all time—brown, blonde, and red. Play with the many dimensions and styling ways you can do with this hairstyle on honey-toned red hair.
Honey Brown Toffee on Wavy Hair
@hair.by_kara
A marvelous way of getting lightened for the summer – a warm beautiful, multi-tonal honey brown hair balayage. It's super effective if you wanna keep your darker, long hair yet have the illusion of a light one. A honey-hued tone plus golden-hued tones are summer's best friend.
Mocha with Honey Brown
@jeaneane_moreno_hairstylist
A subtle way to punch up your pretty medium brown hair is by getting honey brown streaks. These honey brown waves give you that effortless dimension and depth that your natural hair needs.
Caramel Honey Brown with Naturally Curly Hair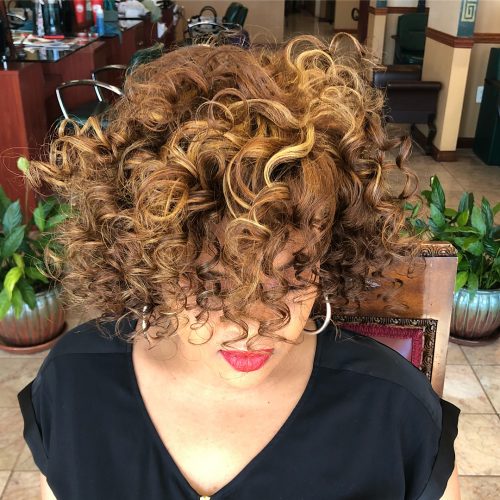 @salonchristol
Honey brown curls are super desirable when you're craving dimension and texture at the same time. Don't forget to always moisturize your highlighted natural curls. These honey-colored curls can dry your hair out if not properly taken care of.
Natural Light Honey Hair Color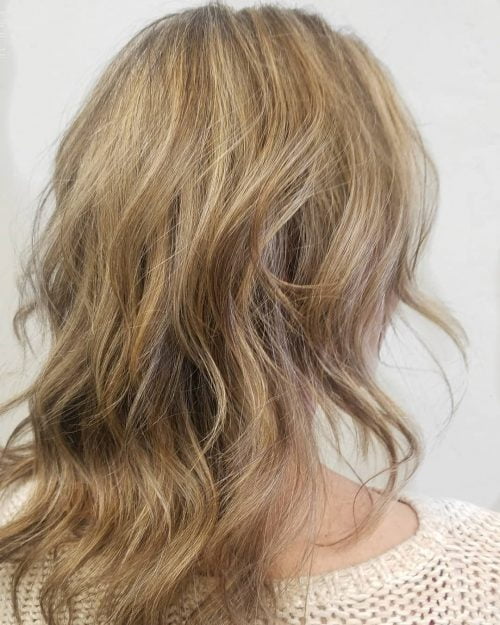 @lisalovelylocks
Mesmerize everyone with this natural-looking hair with subtle light honey brown hair highlights! Wearing a light honey hue is a proven way to make medium thin hair look dimensional and full of volume.
Long Hair with Hazelnut Honey Highlights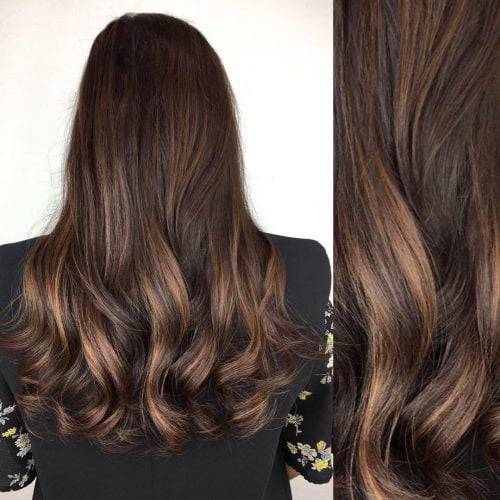 @bellgoh1267
It's such a super pretty hairstyle if you have long chocolate-colored hair with accents of honey! Add some waves and delicate honey highlights on brown hair at the end to add softness and give you a more dramatic look.
Straight Hair with Ashy Honey Brown Highlights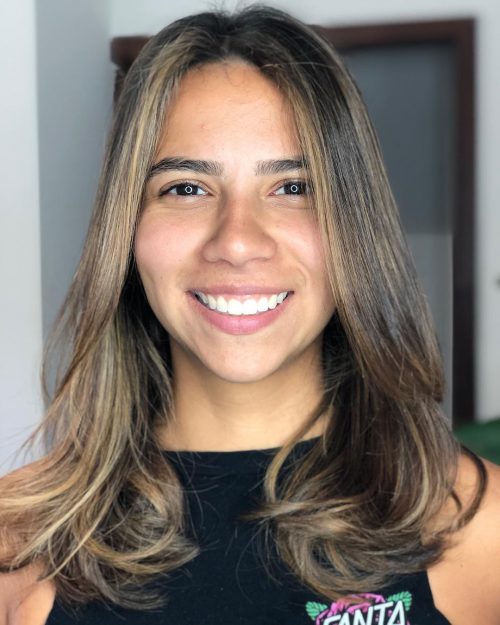 @brazilianbeautystudiowa
These adorable ashy honey brown hair highlights painted on straight black hair make the whole hairstyle pop out with the dimension it offers. Style these honey-colored locks with a center part that is perfect for faces with symmetrical sides.
Short Hair with Golden Honey Brown
@hair.by.niki
"This is a very natural, golden honey brown hair color with natural highlights that's great for warm, golden skin. If you have very thick hair, keep the sides and nape area very short," says hairstylist Niki Germain of Texas.
If you want this honey hair color, Germain says you really need the personality and lifestyle for this color and haircut to make you feel good.
Soft Brown with Honey Balayage
@anavaldez.hairstylist
This honey balayage brown is a free hand-painted dimensional and textured balayage. "It creates movement with color placement," says stylist Anais Valdez of Temecula, CA.
Valdez explains, "the platinum blonde and chocolate brown were hand-painted next to each other to make the lightness from the blonde pop and give it a nice honey brown hair color. When the hair moves the dark accentuates the blonde and creates that beautifully textured movement."
"The reason why balayage and freehand hair painting have become very popular is that it gives women the ability to have low-maintenance blonde hair," she notes. "Since the roots of the hair are left on its natural tone, it gives you the ability to wait several weeks before getting a touch-up."
Gorgeous Copper Honey Brown Hue
@hairbynatalian
This dimensional honey brown color transitions from a darker copper at the roots to a lighter copper through the ends, emphasizing the long layered cut for a soft and a natural effect. "In sunlight, the color almost looks golden blonde," says master stylist Natalia Nugent of Florida.
"This luscious hue works with most hair types and goes well with light and clear skin tones that have a golden or peach undertone," she notes.
For women who consider going with copper and honey shades, Nugent says it's important to use a shampoo that is gentle on the color treated hair and protects it against fading.
Deep Brown with Honey Caramel Highlights
@mizzj_at_play
"This is a rich and warm bronde balayage just like Jennifer Lopez's honey highlights on dark brown hair," explains senior stylist Jamie Pierce-Elwell of Santa Monica, CA.
She goes on to tell us, "the combination of cool and warm tones gives it so much dimension. We love color and balayage that still has some natural deeper tones towards the mid-length and ends.  The grow out on that can be harder to maintain and it's a lot harder on the hair's health."
When you look at this you can picture milk chocolate, mixed with suede and caramel to bring out a nice light brown tone as well as streaks of bright blonde color.
These shades, or one with similar placement, are great for a woman who wants dimension in their hair. Because some depth was maintained, Pierce-Elwell says the grow-out is softer. "You'll only need to get highlights 2-4 times a year, but you'll need your base color every 5 weeks."
These honey brown highlights work on every kind of face shape. The stylist just needs to consider that placing lighter pieces next to the widest parts of a face can make that area seem wider, so pay attention to where the brightness falls.
Chestnut Brown with Honey Balayage Highlights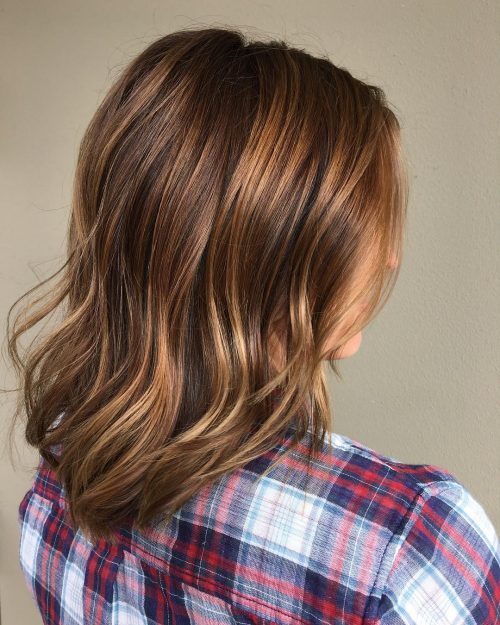 @michelledaly_hair
This chestnut and honey-colored hair has the perfect tone for a brunette looking to go a little lighter but still want to keep it natural. It was created by hairstylist Michelle Daly of Wayne, PA.
"A full head of balayage highlights was done to create this color of fresh honey," she describes. "Balayage is an easy way to achieve warmer honey brown highlights on a darker base."
Also, the grow-out is so soft that you only retouch the balayage 3 times a year! Daly recommends you do a glaze toner a couple of times in between. "This golden brunette is about as low-maintenance as it gets and budget-friendly!"
Buy professional hair care products. If you're spending $200 on your color services, spend a little more on shampoo to maintain that beautiful color!
Warm Honey-Colored Blunt Bob Cut
@maria.maii
This honey-colored hair was created by colorist and stylist Maria Ioannou of Preston, VIC.
"If you love a warm latte, then these honey brown tones are for you," she states. "As you can see in the photo, this cut and color appear simple but has so much going on in it. There's dimension in the tones, and the cut is bold."
Dark Brown to Honey Brown Ombre
@oliviahyska
This low-maintenance honey brown ombre look was created by hairstylist Olivia Hyska of Sturgis, MI. "The honey brown strands and caramel tones flow so nicely with a natural base color. This color has lots of options for hairstyles, but the best is a soft wave," she notes.
For women who are considering this kind of hair color, Hyska wants you to know you won't get that harsh demarcation line, so you'll only need a few color appointments.
"This is a good introduction if you are looking to go lighter, especially for brunettes," she adds. "A glaze is a great in-between service to freshen up the color."
Use a color-safe hydrating shampoo and conditioner. Heat protection is also very important for those lightened ends.
Honey Brown Highlights on Dark Hair
@hair_by_amber_young
These are honey blonde highlights on dark brown hair. You get the elements of being blonde through highlights and balayage while still playing off of the natural color.
"The beauty of this color is its ability to be low-maintenance, which makes it work for almost anyone," says stylist Amber Young of Encinitas, CA.
Young believes the most ideal woman for this dark honey brown hair would want to keep her natural level 4-6 base color and enhance it with some highlighting. It's important to start with strong, healthy hair that can withstand the lightening process.
"Dark hair with honey-brown hair color does require some TLC at home because of the lightning," says Young. "You should be using salon-grade products at home to maintain the integrity of the hair. A Sulfate-free shampoo, a moisturizing conditioner, a heat protectant spray, and a nourishing oil are all staples for a look like this. Washing only two to three times per week is also crucial to maintaining the health and vibrancy."
Golden Brown Shoulder-Length Hair
@thedapperedge
"This honey balayage on brown hair really shows off how pretty and wearable a warm blonde highlight can be after a medium brunette start," says hairstylist Luis Moreno of Boston, MA. "No need to worry about looking brassy when you use colors that work together to create an overall nice and natural-looking honey golden brown hair color."
"A balayage hand painting technique was used to create this sun-kissed, natural highlighted brunette shade," notes Moreno.
As far as products, Moreno says that "as long as you use a good moisturizing conditioner, a color-safe shampoo, and maybe some conditioning treatments to maintain the health and shine of your hair, you should be ok. Try JBeverlyHills color and styling products because they're amazing for keeping honey-colored hair vibrant."
Lob with Honey Brown Highlights
@caitlinforhair
This is a lob with copper/honey brown hair highlights, and it was created by stylist and color specialist Caitlin Boehm of San Francisco, CA. "The dimension of the color has a melted effect from top to bottom," she describes.
A honey-colored hue is a nice option for women with medium to dark brown hair that want the dimension that highlights give but don't want mega blonde hair. Highlights can go from bright blonde to platinum blonde depending on the base color.
"Ask your colorist to focus on coloring the mid-lengths and ends so you can go months and months without having to keep up with it," says Boehm. "It's always important to use color-safe shampoo recommended by your stylist to maintain brown hair with honey highlights."
Honey Brown Almond Highlights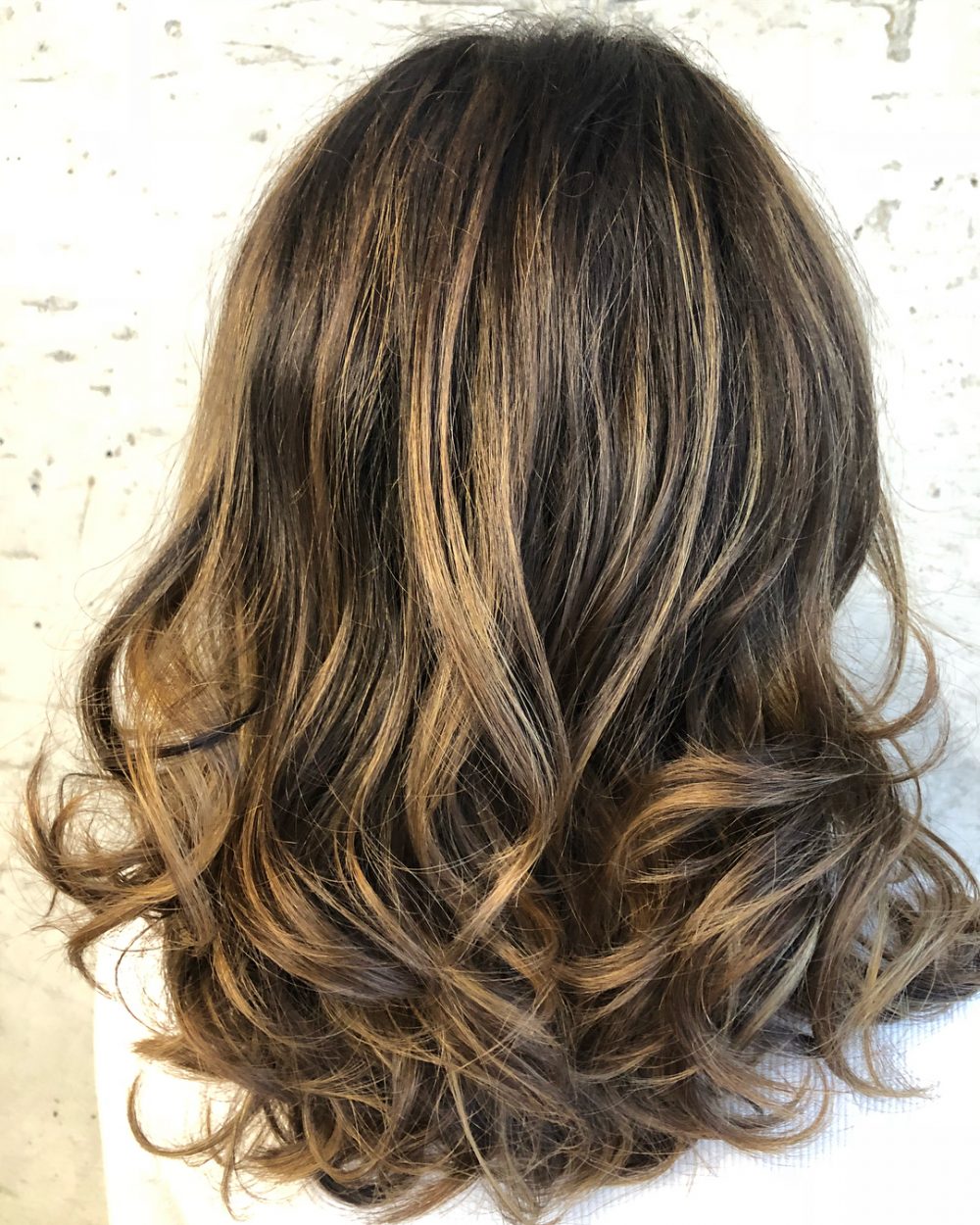 @meraki_hairdesign
"These honey highlights don't turn your hair color upside down, but instead, adds just enough extra color to make it a unique color. There's a natural complexion combined with the highlights, making it able to enhance any skin tone," explains hairstylist and salon owner Mylena Vittori of Switzerland.
Vittori believes this honey-brown hair dye is perfect for women with naturally brown hair. There is not a lot of change in the hair color, but it still exudes a little bit of glamour.
"It also suits anyone with a warm color type," she notes. "Should these colors wash out after a while, refresh it with a shiny tint."
Balayage Honey Brown Hair
@hairbyash912
This is balayage honey brown hair was created by stylist Ashley Keippel of Vernon Hills, IL. She says, "it goes from subtle honey to super light ends. Don't you love the transition of the hair?"
The products Keippel recommends to maintain this light honey hue would be Redken color-safe shampoo and conditioner and an at-home conditioner.
"Balayage is ideal for women who want little upkeep. Anyone can wear this because it can be a subtle service and transition. This particular color looks best on a pink skin tone," she adds.
A lot of younger women want this color simply because they don't want to always have their hair colored. Visit the salon at least six to eight weeks after the service for a glaze because it is a semi-permanent color.