25 Most Popular Balayage Brown Hair Colors Right Now
Red Brown Balayage
@xcellenthairsquare
Rock a red-brown balayage hair color with curls and achieve that "awesome, trendy girl" vibe! This hair color is one of the easiest ways to pull off edgy locks. It demands lower maintenance compared to a solid red color. Though it may offer a rebellious-looking finish, it still looks chic on long, wavy tresses.
Chocolate Brown Balayage
@maryxwhite
A chocolate brown balayage is an effortless low-maintenance hair hue for women who wants to see subtle dimensions in their pre-existing dark hair. It can also create the illusion of having a shape to the overall appearance.
Brown with Platinum Blonde Highlights
@ryleeheyzahair
Brown hair with platinum blonde highlights is a beautiful way to brighten up darker hair. Keeping a natural base while adding in money piece highlights toward the face helps create a low-maintenance look that only needs to be retouched every 10-12 weeks.
Bronzed Balayage for Brown Hair
@kharmasalons
Bronzed balayage for brown hair is natural and subtle but gives stunning results. If your brunette hair feels dull and needs some spice, ask your hairstylist for a bronze-toned glaze over your balayage for your next appointment. Bronze tones range from golden hues to caramel swirls, full of warmth that adds much richness and shine to your hair color.
Blended Balayage with Brown and Blonde Tones
@hair_bymarissarose
A blended balayage with brown and blonde tones is absolutely stunning and very versatile and can be customized to fit your skin tone. A shadow root allows for better growth maintenance, while the highlights and lowlights create dimension.
Brown and Burgundy Balayage
@hairbypiyush96
This brown and burgundy balayage style does a great job with a fuller mane. The depth from the roots to the mid-lengths complements the density of thicker hair. It looks soft yet dramatic when styled with subtle volume. If looking for a low-maintenance hair color that offers edginess, go for this balayage on brown hair.
Sun-Kissed Brown Balayage
@nkc_hair
This is a natural sun-kissed balayage brown color for ladies who don't want to settle with the classic brown or blonde hair. It was created by balayage specialist Nicole Cournoyer of Hudson, MA.
"The golden/neutral tones create a dirty blonde effect and are a great accent to a natural color with a seamless lightening effect," explains Cournoyer. "Balayage hair painting allows for long-lasting results and a seamless blend. The long layered cut helps assist the color with its movement."
Cournoyer goes on to say, "the best part about brown balayage hair color ideas is they're very customizable for each woman. Even with the same technique done on all ladies, it will look unique to your hair. This is because of how the hair lightens with the painting technique. Most women nowadays want a low-maintenance color to last for months."
Rose Gold and Chestnut Balayage
@jillpaintsdenver
This is a cool tone of rose gold and chestnut balayage on long hair with loose waves. "The rose gold toner was mixed with a violet toner," explains balayage specialist Jill-Ann Bauer of Denver, CO.
"This balayage look is beautiful, however, pastel colors always fade fast. It's unavoidable," states Bauer. "The positive side to that is it's a commitment-free hair color as it fades to a beautiful pastel cool blonde."
Brown Copper Balayage
@prissyhippiebeautyshop
This copper-brown balayage is for bombshells! It takes away the dull, boring element from black hair. It adds a softer blend of tones, and it even gives a youthful finish. The best thing about this copper balayage trend is it demands minimal upkeep. Thanks to the balayage, it enables a more natural grow out.
Auburn and Medium Brown Balayage
@ohlucyy
An auburn and medium brown balayage creates a fiery yet feminine dimension. For natural brunettes, this gem is low-maintenance. The streaks of brown are sure to add shine to a dark mane. To give it a softer finish, add subtle waves.
Honey Blonde Balayage on Brown Locks
@shawnalynne.thebeautician
The honey blonde balayage on brown locks allows you to enjoy trendy, brighter tones. It's a low-maintenance color created by stylist Shawna Swanfeldt of Derry, NH.
"This entire look was achieved with a mix of babylights, traditional highlights, and open-air balayage," Swanfeldt points out. She finished it off with a glaze and a root tap to provide a smoother transition.
To prolong the color, Swanfeldt suggests using salon-grade products. A good home care routine is also encouraged.
Blonde and Dark Brown Balayage on Natural Brunette Hair
@blondedbyfaith
This blonde and dark brown balayage is a total gem! Pair it with soft waves to give your tresses a nice upgrade. It's ideal for dark brown hair with a thin density that requires more texture and dimension. The depth of the natural brunette hair is guaranteed to enhance the shine of the added blonde hue.
"These blonde balayage highlights for brown hair are achieved using a freehand painted technique," explains colorist and hairstylist Alyssa Morrison of Clarion, PA. "I went in with diagonal slices on the sides to the crown and then I went with 3 teased foils down the middle part. This created the face frame, followed by 5 weave teased foils."
Morrison believes this shade is ideal for most women. "Face shape can be adjusted with the painted sections. Maintenance for this balayage is 10-12 weeks with proper at-home color care products," she adds.
Toffee and Espresso Balayage Ombre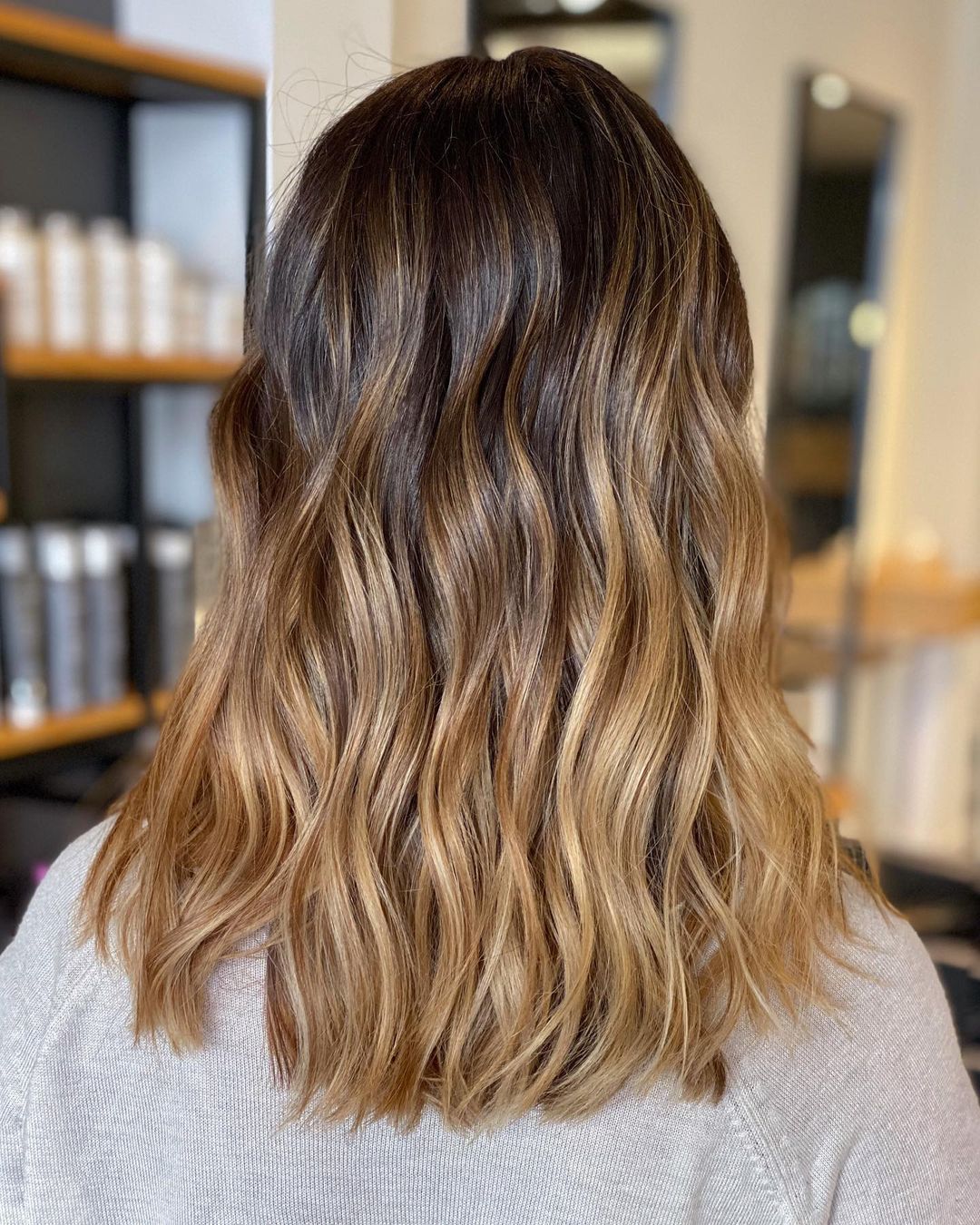 @_jorgegaray_
A toffee and espresso balayage with a lighter shade on ends provide a soft, flawless color melt effect. The dark brown roots have the depth that makes the bronde tones accentuate the hair.
Turning hair from dark to light requires a wash using purple shampoo. A weekly hydrating mask and conditioning treatments for aftercare are necessary, as well. These are the secrets to keep the brown ombre hue vibrant.
Light and Dark Chocolate Brown Balayage
@olivia_larissalakeandco
Go for a light and dark chocolate balayage for that beautiful, rich hair color. This is how to fire up a typical black mane. The result looks soft but does a great job of giving the hair a few lighter pieces for a subtle dimension. This very dark brown balayage turns out to make a stunning pairing with a textured cut and beachy waves.
Mushroom Brown Balayage
@preston.sg
"Dark hair with a mushroom brown balayage is very popular right now. Some women who like grey colors feel grey makes them look older. So ask your stylist for a full head backcomb bleaching, then tone with the color," states hairstylist Preston Tan of Tan Quee Lan St, SG.
For shades like this one, Tan says it's best to use purple, grey ash shampoo like Olaplex. "Don't forget to blow dry hair after every shower," he adds.
Honey Balayage for Brown Hair
@soph.hair.styles
Paint your hair with honey brown balayage and you'll look cute without trying! If you're looking for the least damaging coloring technique for your hair, this honey balayage is the one. It's low-maintenance and keeps the warm tones in the honey brown hue, too. To add more dimension, style your hair with waves.
Milk Chocolate Balayage
@beautybyalaura
Ever heard of a milk chocolate balayage? It's a brunette hair color with a cooler tone. The hints of caramel hue add creaminess to the mane. Adding volume and texture won't hurt the appearance. In fact, balayage and beach go well together.
Cool-Toned Ash Brown Balayage
@judy.mai.hair
This ash brown balayagecolor was created by ombre and balayage specialist Judy Mai of Vancouver, BC.
"It features black roots blending to ash brown in the middle, then blending to silver at the bottom," explains Mai. "This color is a cool tone with a shadow brown balayage. Typically, 90% of women want a brown shadow look for winter, then go lighter for summer."
Chocolate Brown and Honey Caramel Balayage on Short Hair
@hairbyac_alcorn
A caramel balayage for brown hair has high contrast and depth when you add honey caramel highlights. This particular color was created by Goldwell Artist Ana Grisi of Buffalo, NY.
"A chocolate brown balayage on short hair gives so much more healthy reflection, having gold pigments in your color mixture," states Grisi.
"When women ask me for a balayage, I make sure to first figure out what they are willing to do at home to create the whole look of their inspo," she adds. "If you aren't willing to put forth some wave work, don't expect to get this result more than just the day you left the stylist chair. The color maintenance and final look are low, but ultimately the styling to get there is not."
Mocha and Light Brown Balayage
@tatisantoswt
Wear a mocha and light brown balayage to grant hair a whole new life! This balayage is the perfect hair trend for ladies trying to channel their inner diva. The aesthetic beauty it offers is incomparable.
Light brown hair with balayage creates movement and depth. It has a combination of tones that works great with wavy, long hair.
Mahogany and Caramel Brown Balayage
@vivek_shyam_bhatia
This mahogany and caramel brown balayage is a low-maintenance color for natural brunettes. The subtle reddish and brassy tones result in a vibrant finish. To protect the tones, wash the hair with a shampoo that has turmeric and saffron. That's how you make its shinier finish stay for a while.
"It's a union of toffee brown hair with brunette balayage pieces, faded well from the roots," says salon owner and stylist Vivek Shyam Bhatia of Mumbai, IN. "This mahogany and caramel brown balayage is for brunettes."
Balayage Butterscotch Brown
@jessicascotthair
This is a nice dark brown to light brown balayage enhanced with butterscotch hues. It was created by master stylist Jessica Scott of Easton, PA.
"It has nice subtle pops of brightness that helps pull all the warm-colored tones together," she notes.
Scott adds, "This balayage for dark brown hair is great for having a nice rich color, but still having a nice soft dimension with a little pop of brightness! This is great if you are low-maintenance and can't get to the salon often!"
Golden Brown Balayage
@ulisescastillo87
A golden brown balayage features warm and rich tones that look great on straight, wavy and curly styles. It flatters olive skin complexions the best. If you're searching for vibrant hair color, this balayage on brown hair is one to consider.
Coffee and Cinnamon Brown Balayage
@hairby.clarissa
This coffee and cinnamon brown balayage creates a subtle brightness. It has rich tones that make the hair appear healthier and full of life. This is perfect for both thin and thick tresses. With waves, it looks gorgeous without effort.
Sandy Brown Balayage
@hairchemist_jaz
This sandy brown balayage has a warm, sun-kissed tone. It's perfect for giving dark tresses a dimension and a long-lasting shine. It's low-maintenance, trendy, and stylish. There's no reason not to love this hair trend!