35 Fabulous Ideas for Dark Brown Hair With Highlights
Light Brown Highlights
@joshua_sajtar
Warm brown highlights can add a youthful appearance when painted on wavy dark brown hair. That magnificent contrast of subtle light brown highlights and dark-colored base can instantly transform your whole look without changing your color too much.
Sun-Kissed Highlights with Beach Waves
@samanthag_hair
Bring the summer with you wherever you go with these sweet sun-kissed highlights on dark brunette hair. Put in some texture starting from the ear-level smoothly down to the ends for an eye-catching dimension that's perfect for dark brunettes who are looking for rich shade.
These warm brunette highlights flatter a tan skin tone and accentuate brown eyes best.
Balayage Dark Brown Highlights
Credit: Pinterest
This deep brunette hair with balayage highlights are perfectly polished with soft waves. The result is indeed balayage perfection! Go for such dark hair with highlights if you have a lighter skin complexion.
Face-Framing Walnut Brown Highlights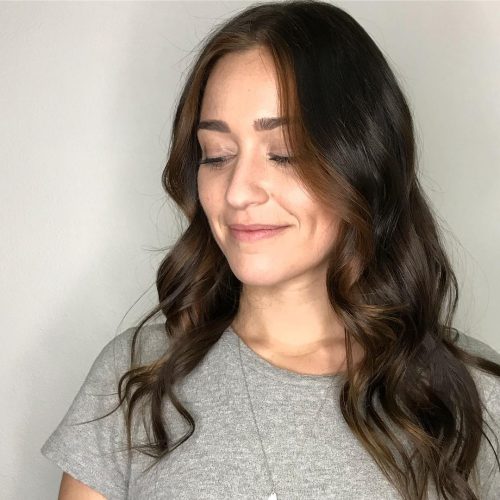 @hairbymelissapeiffer
With just a few dark brown balayaged pieces, you could have an adorable change in your look. These face-framing highlights on dark brown locks add a brightening effect without you needing to cut your hair for traditional layers.
Gold Highlights
@lisasatornhair
If you're the type who doesn't like spending too much time on your dark brown hair, these golden highlights with an effortless hairstyle plus the shoulder-length cut is perfect for you! These highlights not only give a lighter shade to dark brown roots, but they also add dimension and texture to the hair.
Cinnamon Highlights
@pattylowehair
Gorgeous dimensional hair can be achieved by the perfect combination of warm highlights and lowlights on dark brunette locks. This light brown hair balayage really lifts up the dark chocolate base and gives depth to it.
Honey Blonde Highlights
@manes.by.morgan
Add some flair to your brunette hair with these honey highlights that give amazing contrast and brightness to your dark hair.
This lived-in dark brown hair with highlights hair color is an idea by stylist Morgan Rogers of Seattle. It looks natural and will have a natural fade out, as well.
"The color fades into a rich buttery blonde. If you have time to maintain this cut and color then it's also a fun look to change up every 6-10 weeks," Rogers explains.
Dark Chocolate Highlights
@monica.tanglesofevans
These dark chocolate highlights on darker brown hair give such contrast to the base hair color. Created by Georgia-based stylist Monica Fairall, there are lighter tones that can accentuate facial features!
Fairall notes, "The highlights are gently blended into the dark hair so that they grow out easily. It doesn't require much maintenance."
Dark Brown Hair with Vivid Red Highlights
@nikkipophair
These vivid red highlights for dark brown hair were created using a foil highlight and balayage. "The hair that was left out of the foil to really give those ends vibrancy, describes stylist Nikki Popkow of Sherman Oaks, CA.
"With vibrant highlights, it's always important to keep in mind at-home care. These colors fade, and some fade fast! If you use a sulfate-free shampoo like Redken's Color Extend Magnetics, you'll notice your color will have more life because its pH is balanced to not harm the color directly," she adds.
Rose Brown Highlights
@amhrytsak
Having dark brown hair with highlights is a great way to work with old highlights while maintaining the integrity of the hair. Stylist Amanda Routly of Calagary was aiming for this rich, dimensional rose-toned brown.
To maintain the reddish-brown hue, Routly suggests visiting the salon every 5-6 weeks for a retouch and glaze for the lengths.
Champagne Highlights on Brown Bob
@hair.by.ebonyeliza
These champagne highlights on short hair are a low-maintenance color. They can even blend well with naturally gray hair.
Designed by hairdresser Ebony Hammond of Australia, the colors are great as they complement each other by both being on the warmer side. The base color gives a nice depth, and the foils create enough lightness throughout without overpowering the base.
"This hair color is partnered with a cut that's slightly concave bob with heavy texturizing throughout the layers to create a messy feathered look," Hammond explains.
Rose Gold Highlights
@beautybybrandz
Adding rose gold highlights to dark brown hair creates a dimensional look that's perfect for fall.
Brandie Rivas, a stylist from Florida says, "If you have naturally curly or extremely thick long hair, considering doing a blow dry and flat iron since the cool fall weather would not make it frizz up as warmer weather will."
Chestnut Highlights
@karllkyl
These chestnut highlights help naturally dark-haired women achieve a low-maintenance look. You can leave your roots as your natural hair color since this mixture of warm and cool highlighted tones create more dimension and movement!
Hairstylist Karl of Singapore recommends a balayage technique with Loreal Professional Blond Studio Multi Techniques Lightener for lifting and Loreal Professional DIA Richesse 5,13 (diluting it with clear) to achieve this look! "During the coloring process, I also recommend putting in smart bond to minimize any damage of the hair,' he notes.
Bright Pink Ombre Highlights
@heatherharroun.hairstylist
These bright pink highlights on dark brown hair are a wearable cute and bold color. It's a fun color that softly blends with a natural dark brown shade. Pink is a very trendy hair color right now, and having multiple tones in the hair gives a beautiful sunset appearance!
According to hairstylist Heather Harroun of Canada, having the right products is huge when it comes to maintaining fashion colors. She says, "I recommend a gentle sulfate-free shampoo and conditioner like Pureology Hydrate and Redken Color Extend Magnetics. Try to wash your hair as little as possible, and when you do, wash it in cold water to keep it from fading a lot."
Ash Blonde Highlights
@erica.merakibeauty
These are ash blonde highlights on dark chocolate brown hair that are not your traditional foil highlights, but instead are balayaged to look sun-kissed. Hairstylist Ashley Moehring of Mason City, IL created this beautiful shade.
Moehring recommends this dark brown hair with blonde highlights to women who don't like the upkeep of traditional foil highlights. "The warm tones tend to work best on those with warm skin tones, or women whose natural color is a level 4 or darker," adds Moehring.
Mocha Highlights for Dark Hair
@nataliecarmichael
Adding mocha highlights to your dark brunette hair is a great way to have the "I woke up like this" look. Stylist Natalie Carmichael of Chico, CA is proving to us why with this particular hair color.
"I recommend using a dry texture spray or wax sprays such as Unite Texturiza or Sexy Hair Play Dirty. These types of products are a must for creating an effortless, textured look that has just enough of a playful style without looking messy," Carmichael notes.
Copper Highlights
@louisesb123
If you're wanting casual and textured-looking hair, try adding copper highlights. "It creates this effortless but sassy style," says stylist Louise of England.
Louise states, "To maintain the highlights, I recommend Biolage Color Last shampoo."
The copper tones and rich mocha color complements dark brown, hazel, or green eyes, and a warm skin tone that has yellow and golden tones.
Sun-Kissed Blonde Highlights
@ashleycre8salon
Adding sun-kissed blonde highlights on dark brown hair is best done with the balayage technique, as opposed to the foilyage.
Florida-based hair artist Ashley Meyer doesn't recommend these brown and blonde hues for women who are currently box-dying their hair.
Caramel Honey Highlights
@hairbytran
The caramel honey highlights on dark brunette hair are low-maintenance. According to color specialist Tran Nguyen of New York, you don't have to come in often because there isn't a line of demarcation as it grows out. Caramel balayage and honey highlights are for the type of woman that doesn't want to come every six weeks.
"I recommend using R+Co Gemstone shampoo and conditioner. It's sulfate-free which helps maintains the color and doesn't strip the hair color or get brassy. After shampooing, I recommend R+Co High Dive for moisture, and a little of the R+Co Motorcycle flexible gel around the hairline to help smooth out natural curls during the blowdry," Nguyen suggests.
Ash Brown Highlights
@gogetpretty
If you want a soft brown ombre, then consider adding ash brown highlights to your locks.
"The color itself seamlessly transitions softly from a rich brown to kisses of a dark golden blonde. An ombre can be very drastic in its color graduation from dark to light or light to dark, while a sombre is just a few hues lighter from its deepest shade," stylist Tammi S. Ramirez of Tempe, AZ states.
Ramirez highly suggests a gloss treatment from Redken's Shades EQ Gloss line six to eight weeks after color application to keep the color looking fresh. She adds, "With rice protein and pomegranate oils, it gives your hair tons of shine while maintaining that awesome tone and strength in your hair."
Warm Bronde Highlights
@jacki.liftedsalon
This rich chocolate brown hair with warm bronde highlights was done with the balayage technique by stylist Jacki Spellman of California.
"It isn't a high-maintenance color since the contrast is at her mids and ends, blending softly into her base color," says Spellman.
This look is great for brunettes with warm skin tones. The yellow undertones in the skin help to pull off the rich golden shades throughout the hair. If you have a cooler skin tone (with pink undertones), choose beige or cooler ashy tones throughout.
Soft Sandy Blonde Highlights
@tr1zzz
These sandy blonde highlights on darker brown hair, by Massachusetts-based stylist Jordan Truong, were done using the balayage ombre technique. This technique will leave a soft, natural grow out versus highlighted to the root.
"These highlights are great for women with very busy lifestyles. The color is painted off of the root, therefore whatever color is chosen will not clash against the skin," Truong states.
Glossy Mahogany Highlights
@jasmineonajourney
You can get mahogany highlights in a multitude of different ways over many sessions to keep it fresh and budget-friendly.
Stylist Jasmine Nicole Miller from Dayton, OH says, "To maintain this look, it's a must to get color-safe products. Any rich color will fade without proper take-home products. All colors but grey and blonde have red in them, which means they will fade fast and you'll lose the rich tonal value of the hair," Miller notes.
Rooted Pink Highlights
@ashleyjoaldoeshair
These pink highlights on rooted dark brown hair are a great way to get ready for summer without doing your whole head. For these highlights, stylist Ashley Joal Hambly from Las Vegas suggests that you'll need to lighten the hair beforehand.
This is best for women that won't mind day three or four hair (an amazing dry shampoo will be your best friend!) as the color will last longer the less you wash it.
Hambly explains, "If you spend a lot of time in the sun, that is more likely to fade the color as well. I suggest wearing a hat if you plan on being in the sun for a while."
Mocha Highlights on Mid-Length Hair
@dashu_lovehair
If you're a dark brunette, then adding mocha highlights is a great option because, "this color will appear blended for a long time," says hairdresser Dashu of Russia.
Pink Strawberry Highlights
@hairbymalisaweaver
Getting pink strawberry highlights for dark brown hair is great a transition when you're bored with your blonde highlights. It's rich and trendy, but can still be office appropriate. Stylist Malisa Weaver of Ohio says that when it fades, it will turn into a beautiful pastel.
Weaver states, "I recommend a sulfate-free shampoo. My favorite is Lanza Healing Color Care shampoo and conditioner. It has plant botanicals that keep the color from fading and gives incredible softness and shine. Use a deep conditioning treatment one to two times a month, especially on pre-lightened hair."
Subtle Highlights for Dark Brown Hair
@thegrieveeffect
If you want a simple and elegant look, go for subtle highlights on your dark brown hair.
Stylist Abby Grieve of Corona, CA explains that "it's perfect for easy-going women that don't need to be flashy, they just want a small enough change to feel beautiful! It's very natural and easy to manage and, contrary to very drastic blondes, this type of color is fairly easy to transition to."
Soft Caramel Highlights
@hairbylucke
A combo of soft caramel highlights and a dark brown base is a popular hair trend. It looks stylish and dimensional, especially with beach waves. The color works on any hair length and type, too!
Dimensional Bronze Highlights
@hairbyamybee
These organic bronze highlights allow women with dark brown hair to get a beautiful brightness, without the upkeep of traditional highlights that start at the scalp. Stylist Amy Baugh from Fruita, CO suggests adding deep "v" patterns to create a ton of dimension throughout the hair.
To maintain this look, Baugh recommends Pureology Hydrate shampoo and conditioner. Then adds, "I also recommend using a purple shampoo once a week to fight away brassy tones, as well as Olaplex #3 to help keep the hair healthy and strong between chemical services."
Subtle Caramel Brown Highlights
@renauxcarterhair
You can't go wrong with a classic bob and some caramel brown highlights on really dark brown hair.
To create and maintain short dark brown hair with highlights, Michigan-based stylist Renaux Carter recommends using Oribe Straight Away Smoothing Blowout Cream. "This is my new favorite product for medium to coarse hair! It seals down the hair cuticles, leaving a beautiful sleek finish. It also reduces drying time," Carter mentions.
Rich Copper & Violet Highlights
@beautybynickigazlay
These copper and violet highlights on layered brown hair were created by color specialist Nicki Gazlay of Texas.
She explains, "The root area is more natural and the bold ribbons of color attract the eye's attention. The rich violet undertones with the dramatic copper highlights create a dynamic combo."
Beach Golden Highlights
@carliesoule_pmtsgl
Adding balayage golden highlights will really showcase the dimension color. One great example of this hair idea is made by stylist Carlie Soule from Port Huron, MI.
"It's a great color and style for women who are seeking a low-maintenance look. The added beach waves are great for women looking for a quick style that can last from day to night," Soule approves.
Soule adds, "The best part about the hand-painted balayage is that it's blended at the top, which allows it to grow out beautifully and extends the time between salon visits. The combination of the two is dynamite."
Dimensional Grey Highlights
@koryclark_artistry
These dimensional grey highlights melt from the dark to light perfectly. It's a stunning hair color made by a stylist Kory Clark of Brookfield, WI.
"I recommend either a purple or silver shampoo to keep the silver color from fading as much as possible," Clark mentions.
She adds, "This color will have a bit more maintenance if you want to keep it silvery. Visit your salon for a gloss once every month."
Smoky Silver Highlights
@kittycooboo
If you want silver highlights that pop against your dark brown hair, then this is the shade for you.
KC Benson, a hairdresser from San Jose, CA says, "You may need a lightener to help achieve your desired level, but also help with the health of the hair."
Lighter Highlights for Long-Haired Brunettes
@_douglasjack
This is a bohemian, beach-waved look with a natural and subtle color made up of lighter babylight highlights that frame the face. It's designed by color specialist Douglas Jack from Beverly Hills, CA.
"Use a sulfate and paraben-free shampoo and conditioner. I recommend OI by Davines. This brand is highly moisturizing and will keep your hair healthy while protecting your color," Jack comments.
Jack adds, "I recommend this type of highlight for most hair types – from thick to thin and curly to straight. It works with many different textures which is great. It's very subtle, but can be customized for women who like a little bit more or less of a pop."
Consultation is key to make sure everyone is on the same page and you end up with the best results for a dark brown hair color with highlights!