34 Absolutely Cute Haircuts & Hairstyles to Ogle Right Now
It's fun being a girl! We get to put on makeup, cute outfits, fragrances and new hairstyles. When it comes to cute haircuts, it can be stressful at times trying to figure out which one to get. Let alone what to wear with it! Sometimes, we just need to take a deep breathe and enjoy the fact that we get to do all of this!
So before your next hair appointment, check out these photos of cute haircuts!
Cute Hairstyles: The Icy Blunt Bob
@hairbyaspyn
This is an icy blonde bleach and tone on a precision blunt haircut with straight across bangs. It was created by hairstylist Aspyn Miller of Tacoma, WA. "If you are looking for a cute hairstyle with unique color, this is definitely a fine selection because it is also very flattering. The right color combination definitely can create cute hair," says Miller.
Miller also says you absolutely need to use Olaplex and be extremely careful not to leave the lightener on for too long. "I always send my client home with Matrix So Silver purple shampoo and Goldwell Rich Repair 60 Second Treatment."
"Invest in good products and be patient," she adds. "This look took us over seven months to perfect. Always use a bond builder such as Olaplex. The most important thing is to listen to your stylist. It's so important not to rush this service!"
Peek-a-Boo Bob with Vibrant Hair Color
@w2salon
For women who want a bit of an edge, try a peek-a-boo bob with a vibrant hair color with a classic blunt French bob. Consider a color to compliment skin tone and as well as adding contrast to the dominating hair color. Yellow and gray is a great combination.
Cute and Chic Asymmetrical Pixie Bob
@relooking_by_renzi
A cute and chic asymmetrical pixie bob is perfect for women over 40. The asymmetry ironically creates a soft balance and the bangs that are flattering around the face and layers create height and fullness throughout. Style with Haze by Evo.
Cute Shaggy Lob
@allenhair.design
A cute shaggy lob haircut consists of layered hair and disconnected ends, which gives a more modern look.
Fun Feathered Bob 80s Haircut
@nikitenko_elen_
Try a fun feathered bob 80's haircut for lots of short volumizing layers. Layers are cut short throughout the top of the head and around the face which is able to be blow-dried for added height. The length is slightly disconnected to maintain length through the back, keeping a soft feathery texture.
Sliced Bob Haircut with Shorter Layers
@lara_stelmashuk
Try a sliced bob haircut with shorter layers for thick hair which still loves volume. The slicing texture removes weight and creates a piecey feel to the hair, while the short layers add an extra oomph to the hair to give volume.
Sweet Bob Cut for Girls
@1creativestyles
Try a sweet bob cut for girls for an easy wash-and-go style. Bobs look super cute on girls and have a structure to them that allows the hair to sit how the cut was intended. Wash and air dry for its full potential.
Tousled Lob Haircut
@naydene.salonkiin
A tousled lob haircut is perfect for fine hair as it creates a fuller look while also keeping face-framing pieces. Tousled lobs need to incorporate strong layers and look best on heart-shaped faces.
Fun Textured Cute Medium Bob
@casio_star
This fun textured, medium length, cute bob haircut was created by stylist Casey Bailey. "My favorite thing about it is the versatility. This bob can be worn straight, curled, up or down, and always looks good! Shorter bob hairstyles are adorable on little girls to older women," says Bailey.
These type of cute haircuts and hairstyles definitely work best on the more adventurous and creative types, and those that aren't afraid of the extra attention that comes with having fun colored hair! Bailey feels that almost any face shape can pull off this bob, "but I personally like the blunter, straight-edged cut with my round face to balance it out."
Her best tip for someone considering cute hairstyles for short hair is to not be afraid of trying one, it's just hair! If you've always wanted to try it, then just go for it.
Cute Undercut Pixie Hair
@hairbytarah
The best hairstyle for cute cuts is the undercut pixie. This disconnected undercut cute pixie haircut with fashion colors by Pulp Riot was created by hairstylist Tara Howard of Richmond, VA." My favorite thing about it is the metallic purple root shadow and the fact that the sides are super short and disconnected from the long fringe," says Howard.
Howard says this cute cut with long bangs has two things that need addressing with products. "First, to maintain the color I recommend using Davine's Alchemist silver shampoo and conditioner. That will keep the blonde color that silvery lavender while conditioning the hair, maintaining the vibrant dark metallic purple root shadow, and not stripping the color. Second, this cut has a lot of texture, so I recommend a good posture to show that off as well. I like Davine's Invisible Serum to give shine and piecey texture," she explains.
Her best tip for someone considering cute hairstyles like this is to just go for it! "The hair industry is pushing the envelope farther and farther each day thanks to clients who are willing to trust their stylists to push it for them."
Modern Cute Shag
@hairbyginala
This modern shag was created by hairstylist Gina Chioccariello of Beverly Hills, CA. "My favorite thing about this shoulder length cut is that it looks good on anyone! It's a sexy, lived-in, tousled look that anyone can rock," she states.
"On straight/wavy hairstyles, I use a salt spray like Bumble and Bumble Surf Spray or R +Co Chiffon Styling Mousse. Put in the hair when it's wet, twist hair in sections, then let it air dry or dry with blow dryer on low so it creates a textured look," explains Chioccariello.
She adds, "for very wavy/curly hair, I use Bumble and Bumble Don't Blow Out. It is a little heavier cream. Twist hair in sections to create waves so that when it drys it looks messy beachy waves. Oribe Texture Spray is a MUST! I spray it in hair once it's dry to create texture."
Her best tip when wearing textured haircuts is to not over-style! You don't want this to look too "done".
Long & Sleek Cute Hair
@natalie_vladie
This is a longer, sleek style with full bangs that was created by assistant hairstylist Natalia Pryannik of Claremont, CA. "Hairstyles with bangs are on trend right now because it is a great option to frame the face and emphasize the eyes," explains Pryannik.
Pryannik says the key product for recreating this style would be a good smoothing serum to tame the strands and add extra shine.
"This style is perfect for someone with straight hair with a little weight to it. It is super easy to maintain and really versatile in regard to styling," she adds.
She also says, "you will definitely want to come into the salon every six to eight weeks for trims to keep this style looking polished and healthy."
Long Modern Shag
Jessica Woznicki / Instagram
This is a modern version of the "shag" cut for women with long hair, but with a little more shape and style. It was created by hairstylist Jessica Woznicki. "I love it because it looks edgier, but also keeps the ladies comfortable by keeping the length, and trying some sort of bangs that can be easily grown out. If anyone is considering bangs, this cut is a great intro for them. Curtain bangs and shag really go well together," explains Woznicki.
This shaggy haircut with waves is great for every hair texture and face shape!
Woznicki's tip for anyone wanting to get this look would be to stay open minded to your stylist's suggestions. "It's a customizable cut, so sometimes a stylist needs to tweak certain parts of the cut and style to make it more fitting for their specific needs."
Cute & Easy
Marcella Rizzuto / Instagram
This soft but bold style with a mature twist was handcrafted by stylist Marcella Rizzuto of Winnipeg, Manitoba. "My favorite thing about this look is how multidimensional it is. One day it can be styled more textured and fun, and the next day sleek and straight," says Rizzuto.
For this specific textured look, Rizzuto highly recommends using a salt spray. "I use Rockaway Salt Spray from R+Co hair. You don't need much of it and it gives you that beachy grit you need without going crunchy. Throw it in wet first."
"This style would work best for someone with medium to fine hair. There are no layers with this length, so it helps someone with finer hair look fuller! You can have some natural wave, but a lot of curls will take more time, so make sure you're ready for that commitment if you do have those waves. If your hair is too thick, this is going to take a lot of styling time and it will be harder to achieve that "effortless" look," she explains.
Icy Queen Braids
Jenna Herbert / Instagram
"This is a total "ice queen" look with those cute braids," says style creator and specialist Jenna Herbert.
For products, Herbert recommends Schwarzkopf Extra Power Lightener with 30 volume. "I used Fiberplex Bond Builder in my lightener, shampooed with Fanola No Yellow shampoo, toned with Schwarzkopf vibrance 9-1 and 9.5-1 with 1.9% developer, and finished with the Fiberplex #2," she explains.
Herbert always gets her bleach-out clients to come in on a four to seven week appointment schedule, depending on how fast their hair grows as well as how dark their natural color is. "If they come in too early, you risk overlapping and breakage. If they wait too long, you will likely end up with banding as the hair closest to the root will lift faster," she adds.
Chic, Cute Layered Bob
@andybateshair
This cute layered bob with a piecey fringe was created by stylist Andy Bates of Sacramento, CA. "Some of my favorite things about it are the visible texture and the way the graduation creates a feminine head shape," says Bates.
Bates thinks this cut would work best on a woman who has medium to thick hair. "Layering fine or curly hair could take out a little too much weight. The model in the picture happens to have a heart shaped face which the fringe helps balance, but I might not put a bang on women with a round face shape," she explains.
"This is definitely a statement bob with bangs," she adds. "With this cut, you're probably going to be doing some styling every day, but hair this length really takes no time and is super versatile. If you want your neck to look longer and your beautiful cheekbones to be exposed, this might be perfect for you."
Layered Shag
JoAnn LS / Instagram
This is a vintage-inspired, riot girl, grungy blonde shag with choppy ends. It was created by hairstylist JoAnn LS of Iowa City, IA.
"I worked against the growth patterns for 60% of the blow dry to neutralize growth patterns and give it extra body, then blow dried it into the end shape," explains JoAnn. "I finished with Badlands Dry Shampoo Paste to bring out the texture of the cut, and give her hair a natural bed head, lived-in texture. You could also put in a texture cream and let this air dry."
JoAnn adds that platinum hair is not for the faint of heart but works surprisingly well on a variety of hair types and complexions. Making it work largely has to do with getting the level and tonality just right, as well as having an honest and experienced hairdresser that will give you reasonable expectations and not compromise your hair's integrity. Excessively damaged hair doesn't hold color or styling well, so keeping your hair healthy, moisturized, and freshly trimmed is a must for beautiful hair.
As far as the cut goes, she says this is ideal for fine to medium hair with a wavy to straight texture because it will lay right with minimal styling, but could be modified to fit a variety of hair types. "It could also be fantastic on curlier hair if it's not too dense. This type of style is extremely low maintenance and can work on a variety of face shapes," she adds.
Perfectly Blended Asymmetrical Pixie
Ella Lavaggi / Instagram
"This is a heavily textured asymmetrical pixie with a side-swept, short-to-long fringe. The back is graduated into a "V" shape. My favorite thing about it is the texture and the fringe! I love feathered hair," explains hairstylist Ella Lavaggi.
Lavaggi loves Ruezel Grooming Tonic as a prep before blow drying. "It gives the hair grip and lift, is easy to use, and it smells fantastic.  To finish, I used a Davines Texture Dust from the crown through the top to enhance lift, and a touch of Davines Moulding Clay to define points in the texture," she explains.

Lavaggi says straight or wavy hair would work best for short haircuts like this. "If someone has curly hair, it is possible to recreate, but would require straightening daily. Medium to high density is required for this look, and a medium to light, or dimensional color will help the showcase the texture. Besides a little time styling in the morning with the right products, it would be an easy-to-manage style for anyone," she adds.
Shadow Rooted
Caleigh Giarra / Instagram
"I would describe this shadow root as a groomed beach wave," says stylist Caleigh Giarra of Nashville, TN. "It's soft and playful, yet smooth and polished. My favorite thing about it is its simplicity and versatility. It takes about ten minutes to style and is an acceptable look for the office or a night on the town."
Giarra's tip for women considering this look is to get to know your curling iron/wand/flat iron, w whatever you prefer to curl with. "Pay attention to the direction you are spinning the iron (away from the face is most flattering), and practice curling just that midsection while leaving the ends out. Lastly, don't forget to comb through those curls with your fingers and add some texture spray!"
Cute, Textured Bob
Taylor Meyers / Instagram
"This blunt bob is both edgy and versatile," says hairstylist Taylor Meyers of NYC. "My favorite thing about shorter hair like this is that it's so easy to style!"

Meyers recommends Badlands by R+Co for volume and texture when styling this messy bob.
This cut and style is definitely for women who want a little edge to their look, as well as women who are confident with short hair. "Different hair types would work with this look, it would just need to be styled differently," adds. Meyers.
If you're cutting off a lot of length, Meyers says to wait two weeks to be sure, then if you still want it, go for it!
Color Splash!
Christine Conklin / Instagram
This asymmetrical stacked a-line bob was created by hairstylist Christine Conklin of Sacramento, CA.
To manage this Conklin would recommend a blow-dry lotion like Bumble & bumble's Repair Blow Dry. "For finer hair or for those that are going the other way and trying to add volume, B&B's All Style Blow Dry will work wonders while also providing the necessary control for this look," she explains.
This cut can be done with all hair types, however, the ideal candidate would be someone with medium thickness and straight to slightly wavy texture.
Conklin also says, "make sure the cut is properly done and blended. Don't be afraid to cut the back short and go for a very dramatic angle in the front. Also, wherever you decide to put the accent color panel, be sure that it will enhance the shape of the cut and not distract from the beautiful lines. Use diagonal slices when foiling so that the colors blend together instead of laying in stripes."
Long to Short Layers
@pentagonheartdoeshair
This is a middle-parted, long layered haircut with shorter layers in the front to frame the face. It was created by hairstylist Brenda Becerra of San Fernando, CA. "My favorite thing about the haircuts for women like this is the layers in the front because they accentuate her face shape and show off her natural color and shine," says Becerra.
This middle part layered haircut and style would look best on anyone with a more round face to make their face appear longer. This cut would be perfect for people with straight hair who don't want to spend much time on their hair in the morning because they can quickly pass a flat iron or curling iron in the front face frame section to give it a quick style or just wake up and go!
What Becerra recommends for women considering this longer length haircut is to "make sure that they either have a middle part already or would be up to changing up their everyday hairstyle to a middle part. If they aren't used to having a middle part, they might have to train their hair to part down the middle."
Ash Blonde Balayage
@frances_hairartist
This is an ash blonde balayage on a neck length cut. It was handcrafted by stylist Frances Canola of Orange, CA.
Canola says that ash blonde hair colors really compliment warm skin tones. "This particular hair color placement would work on many different hair types because we left the natural base color the same. It's a very low maintenance hair color that grows out very natural."
"Keep your hair as healthy as possible and avoid too much heat styling," she adds. "This look requires a lot of highlighting that can compromise the hair. My favorite product for maintaining healthy hair is Olaplex 3 once a week. It's also a great way to strengthen the hair prior to a salon visit."
Beautiful Waves
/ @jenniferkellerhairstylist
These beautiful waves on a medium haircut with bangs was created by hairstylist Jennifer Keller of Saint Peters, MO.
"Two major components to creating this look are a bond builder additive and Pulp Riot Hair Color. To maintain this look, I'd use a professional shampoo and conditioner. I really love the Awapuhi Wild Ginger line by Paul Mitchell," explains Keller.
Such medium haircuts and styles are good for women who like low maintenance cuts.
Modern Bombshell with Textured Layers
/ @hollygirldoeshair
"I like to think of this as a modern bombshell layered cut with side bangs," says hairstylist Holly Seidel of Kirkland, WA. "This look is cut with sexy layers for volume and movement, with medium length bangs that frame the face. I love how it flatters most face shapes."
Seidel says the best products to use would be a blowout balm like Super Shine or Imperial Blow Out from Oribe for shine, hold and heat protection. "After round brushing for some curve, I ran Brilliantine from Bumble and bumble through the dry ends to break things up and piece it out a bit," she explains.
This cuts literally works on any face shape because the layers around the face can be adjusted to different lengths to flatter different face shapes. Medium to thick texture is best for this layered cut.
Cute Braid Dimensions
/ @gracedoeshair
These cute braid dimensions were created by hairstylist Grace of Whittier, CA.
To create this look, Grace recommends using a lower volume developer with your favorite bond builder/multiplier. "I used 30 volume developer with Wella Blondor lightener and b3 Brazilian Bond Builder. I did not have to tone her hair because we wanted to embrace her warmer tones."
"This look is best suited for somebody who wants a low maintenance hair color and has fair to medium light skin tones," she adds.
Lob with Cute Short Bangs
@chelsihairmakeup
The apotheosis of edginess: blunt bob on fiery orange hair. This lob haircut looks great with a micro fringe, perfect for ladies with an oval face shape.
Long Side Ponytail
@hair.bycarmen
This subtle, loose side style was created by hairstylist Carmen Tasovac of South Australia. "I think when we use the words side pony we immediately imagine the side pony, back in the 80s," says Tasovac.
These days we are all about new and improved styles, and the side pony is definitely making a slow comeback but in a much more subtle and loose way.
Tasovac's favorite thing about this style is that it's very versatile and fun! "I also love that's it's a reborn 80's style that I can recreate in a modern way!"
"I look at and feel their hair type, as this is a tricky style that may not always suit all face shapes and hair textures," she ads.
Cute Layered Pixie
@aaronscottlacy
This cute layered pixie cut was created by hair artist and stylist Aaron Scott Lacy of San Diego, CA.
"For cute hairstyles for girls, the pixie haircut is definitely a prime choice if you have the right facial features to match," says Lacy. "The fringe ties the entire look together. I cut her fringe using a freehand technique that promoted movement toward her right side by slide cutting her hair from short to long."
Lacy used the texture styling cream by the No. 4 product line. "A matte finish texture cream with a subtle hold will help create separation within the individual hair strands to create a soft, feminine finish."
"The type of woman this haircut suits best is one who wants to wear their haircut as a style rather than focus on styling tools and products (round brushes, curling irons and hairsprays) to create their look," he explains.
Long Long Layers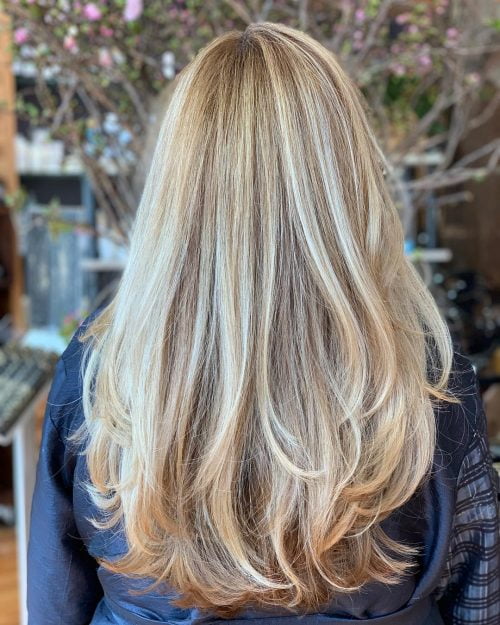 @hairbyjessicathorne
These long long layers were created by stylist Jessica Thorne of New Jersey. "This look is flirtatious and fun and for someone who loves a healthy bounce to their hair without the use of styling tools and added beach waves," says Thorne. "This voluminous cut is also for someone who can handle the attention and upkeep of having gorgeous hair."
Thorne says you have to be willing to put in the work for the outcome you want. "A lot of women want to "wake up like this" and don't want to put forth the effort in making it a reality," she adds. "If you're a wash and go kind of girl with a hectic schedule, this style might not be for you."
Consultation is key. This style is for women with fuller hair, as too many layers can make finer hair too stringy. "I like to add strength to the perimeter of people with finer hair, as it gives them a fuller look," she explains.
Boho Vibe Cute Ponytail
@sararosehair
This romantic and effortless cute ponytail was created by hairstylist Sara Rose of Norwalk, CT. "It's easy to recreate and even gives a boho vibe! I love the loose and almost undone look about it," says Rose.
For this cute haircut, Rose used and recommends some clip-in extensions. "When you have highlighted, balayaged or multi-toned hair, I recommend alternating between light and dark extension pieces to keep it looking natural and consistent throughout the braid. To prep for the extension to last all night, I'll tease and spritz on the Resin Spray from Big Sexy Hair. It works like magic to create a strong base for the clip to slip into and hold all night long," she explains.
After you put your extensions in, Rose says to lightly spritz each section with a workable hairspray. "Making sure to curl the extension with your hair to help them blend together. Then you braid and make sure to pull it apart as you go to keep the look loose. Finish by spraying all over with a good strong hold finishing spray."
If you're using extensions, make sure to build a good stop base for the clips to sit in. It makes everything so much easier knowing the hair isn't going anywhere. Also, whether you're wearing extensions or not, make sure to pull the braid apart to loosen it a little. It makes the braid look bigger, fuller and more effortless.
Sophisticated and Adorable Bob
@kelliannmason
This is a classic cute wavy bob with a sophisticated edge. It was created by owner and stylist Kelli Mason of Midland, MI. "This chin length, sweeping bob cut has a very soft, shattered undercut at the nape to collapse the hair on top. There are so many cute bobs to choose from and adding the right styling can make a huge difference."
This chin length bob is best for women who like low maintenance and lived-in texture. "It's best for oval or heart shaped face shapes because it adds strength to the jaw with the square lines," says Mason. "Easy-maintenance haircuts for women like this are so versatile that a trendy blogger could wear it with beachy waves, or a powerful businesswoman could wear is smoothed out and sleek to meetings."
Color plays an important role in taking this short bob from cute to sexy! Accent the cut with a few pops of balayage to really make it stand out
Sophisticated Unicorn Hairstyle
@davidsolis22
This sophisticated unicorn cute hairstyle was created by stylist and colorist David Solis of San Antonio, TX. "This is for the woman that wants to have a little fun with their hair without going too crazy."
Solis thinks this cut and color is versatile and can be worn by many face types and skin tones. It is definitely for the girl that likes to stand out without having to scream, look at me!"
Sweet and Classy
/ @caleighmoriahhair
This sweet and classy look was created by salon owner and stylist Caleigh Giarra of Nashville, TN. "My favorite thing about a mid length haircut like this is the bangs, of course! I also want to note is that this look is a second day hairstyle. Use your loose curls from the previous day, add a little dry shampoo and a bobby pin or two and you're done," explains Giarra.
The products she would recommend would be a dry shampoo and/or texture spray like Shu Uemura's Dry Cleaner and Texture Wave.
"Bangs can be tricky and high maintenance! But if you're up for the challenge, they can really compliment and tie a look together so beautifully. Bangs are perfect if you like to have face framing, want to add some soft wispiness to your look, or even some edge," she adds.
Giarra recommends using a blow dryer with bangs like these. "Sometimes I will let them air dry first, and then hit them quickly with the blow dryer just to add some movement. I don't always use a round brush, but if you're needing to manipulate your bangs to go in a certain direction (or away from a certain direction), you might need to try one."