31 Best Long Bob Hairstyles and Haircuts
Sharp Long Angled Bob
Source: Pinterest
This sharply angled long bob hair is high drama and high style. It's definitely a popular cut right now. Cutting long bobs at angles creates unique dimensions and movement.
Air-Dried Lob with Curtain Bangs
@tianaconda_hs
An air-dried lob with curtain bangs looks classic and effortless. When your hair is cut to suit its texture, it allows you to spend less time styling. With this style, don't be afraid to let your hair dry naturally. If you like a little flick on the bangs, give it a twist when wet and leave to set.
Naturally Long Curly Bob
@timpatrickhair
This is a fab and easy long curly bob cut that will allow you to be proud of your innate curls and texture! It needs totally low upkeep and less styling.
The curly shaggy bob is an excellent style for the free of spirit and the true wash and wear. It was created by haircutting specialist Tim Patrick of Los Angeles, CA. "I find a lot of curly and wavy haired girls who have a similar issue – curlier underneath, straighter on top. Adding some methodically softened shorter layers to a shaggy lob will help the volume stack organically," states Patrick.
Curly hair has a few moving parts, so having an understanding of it is crucial before attempting this style. "I usually cut a soft one length perimeter and then layer the crown with concave layering to accentuate the new length. Avoid a graduated look as it will "date" the look and feel to 1980s to early 2000s," he adds.
Layered Long Bob
@chelsea3po
"This long bob style is purposefully undone or lived in," states hairstylist Chelsea Teasley of Dayton, OH. "It was cut shoulder length in the back and collarbone length in the front."
Teasley thinks hair textures are the biggest thing to consider for lobs. If your hair is fine and limp, this textured style will look different.
"My go-to products for long bob hairstyles like this are Paul Mitchell Neon Sugar Spray dried into damp hair and Neon Sugar Confection for hold. I gave my guest a blowout and curled her hair with a flat iron. You could also use a barrel iron, but I prefer a flat iron for a collarbone lob like this," she explains.
Adorable Asymmetrical Lob
@sydni_renee
This is a textured asymmetrical lob hairstyle styled with a sexy tousled beach wave. It was created by hairstylist Sydni Williamson of Aiea, HI.
Long bob styles like this are for girls who are a bit edgy but still want something that is a little more on the low maintenance side.
"It can be styled in a multitude of ways and with it not being too heavy of an asymmetrical cut. It can be worn to look edgy or conservative. Everyone loves a look that gives versatility and a little bit of sass in every hair flip," says Williamson.
Lob Haircut with Front Bangs
@hairbyjenna_l
This lob haircut with front bangs was cretaed by hairstylist Jenna Lehman of Toronto, ON. "I think my favorite part about this lengthy bob is the bangs," she says. "She's always had a pretty heavy side fringe, but we wanted to switch things up with full straight bangs." A long bobs with bangs is definitely a great combination like peanut butter and jelly.
Lehman recommends using proper homecare products for keeping up this bob. Use hair masks and a smart bond treatment shampoos twice a week with cold water. Then get a haircut with every service. It also takes about at least 5 hours for the entire service.
"Be comfortable with the idea of regular haircuts, routine upkeep, and extensive home care. Make sure you know what you're getting into, considering the maintenance and the cost," adds Lehman.
Sleek Long Bob with Side-Swept Bangs
@cool_gio
"I definitely love that this long bob with side bangs is totally customized," says hairstylist and style creator Giordano Porfiro of Rio Grande do Sul, Brazil.  "This lengthy bob cut gives her versatility in style, a professional and modern look. That's why we used the side parting with a very illuminated fringe, as well as for the entire contour of her face using the hair contour technique," he adds.
Porfiro goes on to explain, "I chose to add texture to the ends of her hair, as it creates an overall softness and increases movement, especially on her thick hair. Avoiding a heavy perimeter (the visual contour line of the hair), we also decided to leave the ends disconnected to create more lightness and movement."
Long bob haircuts are super versatile and fun to use. By keeping length towards the front, you can avoid feeling that "hairless" sensation as much, making it easier to get used to the new style.
When styling a side-swept lob, you can choose between blow-drying and using a more deconstructed look, or simply brushing for a more elegant approach. You can also finish with a styling oil or wax to add shine, and even dry shampoo to enhance the deconstructed effect.
Long Layered Bob for Thick Hair
@ericadepaulaestudio
This long layered bob for thick hair was created by hairstylist Erica de Paula of Sao Paulo, Brazil.  "For this bob, I used razor wire scissors to cut the tips and give them volume and movement. I left the front part longer to bring modernity to the cut. I then finished with a thermal protector and a corrugated brush giving a natural look to the bob," Erica says.
This hair is ideal for stylish and modern women who like to innovate and vary the style. Smoothening the hair with a brush and make it wavy using Babyliss. It can be used by those who have straight or wavy hair. Use a mousse and hairspray to preserve the smoothness.
"Rectangular faces should avoid this cut because it can lengthen the face further," she adds.
Beachy Waves Long Bob
Kit Doughty / Instagram
"Lob hairstyles are my favorite to do," says stylist and style creator Kit Doughty of Broomall, PA. "It's styled with a 1-inch wand to create conservative beach waves. Everything about this bob catches my attention!"
This bob is good for anyone willing to come into the salon to maintain and keep up with the haircut. It is an easy look for both experienced women or inexperienced women.
"My best tip for this bob to maintain it with regular salon appointments to keep it nice and graduated. Take good care of your hair and use thermal sprays," she adds.
Lob with Lived-in Layers
Shauna Belli / Instagram
This is a lob style that has shattered, lived-in layers to create movement. It was created by stylist Shauna Belli of Virginia Beach, VA. "Lived-in styles are a huge trend right now because they look effortless, but are still so stylish. That's my favorite thing about it! I love haircuts that have lived-in texture. They look fresh, but not brand new," she says.
To create this bob, Belli explains, "I applied Arrojo Defrizz Serum (or any smoothing serum will work) and Arrojo Cream Whip (or any volumizing product like a light mousse) before the blow dry. I then used a rounded edge flat iron (my favorite is a Sultra Seductress) to create a lived-in wave. Once your waves have cooled, run your fingers through them."
This hairstyle works well for a lot of women. This bob is short enough to be stylish, but also long enough to be put into a ponytail, braided, or styled into an updo.
Classic Blunt Lob Haircut
Nikki Jackson / Instagram
Independent stylist Nikki Jackson of West Yorkshire, U.K. created this classic blunt lob cut with a center part. "My favorite thing about this bob is its versatility. It's a strong and classic shape, but it can also have more texture for a more relaxed/bohemian look. Lobs give an extra length for styling that shorter haircuts don't afford," claims Jackson.
A Versatile Long Blonde Bob
Chloe Loesch / Instagram
This long blonde bob style is beautiful and versatile. It was created by stylist Chloe Loesch of Minneapolis, MN. "It is easy to style like a bob, but you're still able to ponytail it when you need it out of your way!"
"These bouncy beach waves can be achieved with any flat iron between one and two inches wide," says Loesch. "Prep the hair with a heat protectant and mousse with light hold, then dry hair completely before using your flat iron. Once hair is dry, work your way around the head, curling in small sections with your flat iron. The pieces around the front hairline should be curled away from the face, but everywhere else you should alternate toward and away from the face to achieve this tousled beachy long bob."
Lob cuts are great for women who are tired of dealing with really lengthy hair, but aren't quite sure if they want to go all the way down to a short bob. It is also especially good for straight or wavy-haired gals with fine hair that gets wispy on the ends when it grows too much and is layered. The lob keeps these hair types looking healthy and full!
Sun Kissed Deep Side Part Long Bob
/ @emmathehairdresser
This textured side part lob has quite a "lived in" beachy style. It was created by hairstylist Emma Gottwald of Sydney, Australia. "One of the best things about this bob is that you can spend 30 minutes styling this or spray some sea salt in and spend 30 seconds. It's very playful and usually, you can get a couple days out of the look if you don't have oily hair," explains Gottwald.
If you want this style, Gottwald says to stay stocked up on sea salt spray as it's quite versatile. "You can spray and scrunch it in when the hair is damp for a more natural beachy look, or spray it in dry hair before curling and it will help to hold your curl in and create the texture which makes this bob. With all the drying products that would be used as well, I also recommend using a hydrating masque every second to third wash. Heat protection is key as well!"
If you have a long haircut right now and are looking at cutting it shorter, make sure you are 100% confident in your decision. At the same time, hair is fun and yes it does grow back, so why not live a little?
Long Side Parted Bob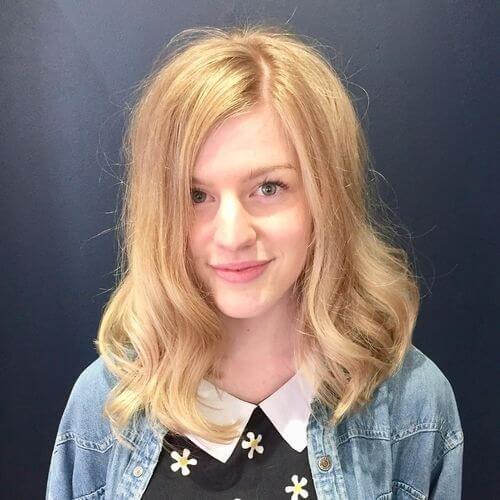 / @aaron.kameron.hair
This long side parted bob was created by hairstylist Aaron Josen of Bedfordshire. "The best part about creating this style is that when the hair is pulled behind the face from the back, the hair is one length. When brought forward, the hair from the front has been cut at a subtle angle, allowing the hair to have many dimensions from any angle the hair is looked at," he explains.
For styling, Josen says, "Sea salt spray all the way! I used Maria Nila products which are 100% vegan. It sounds almost decades old, but mousse is amazing to add into wet hair because it adds more volume to the root area."
"I would avoid this one length lob hairstyle if your hair does not agree with humidity. If you still want the look, you can get a treatment that fights against humidity like Kerastraight which eliminates frizz from the hair," he adds.
Layered Lob Cut with Honey Highlights
@brennahansenhair
This sun kissed brunette with honey tones on a long layered bob haircut was created by hairstylist Brenna Hansen of St. George, UT. "You can brighten and freshen up a bob by adding just a little dimension. Less is almost always more. I love that the wispy layers give it a breezy, natural look that really compliments the color," she explains.
Hansen recommends a lightweight blow-dry cream to smooth and tame frizz like Pureology Antisplit Blow Dry Cream. "I also like something for a little bounce like Redken Velvet Gelatin. Lastly, a heat protectant spray with a light hold, like Redken Iron Shape, is a must when smoothing or waving," she adds.
This haircut is very versatile for many face shapes. You can add a large bang/fringe to help soften a short forehead or hide a wide forehead. It hits shoulder length so it draws attention downward, really helping to elongate a round face.
Long Textured Bob with a Middle Part
/ @hairbyginala
This textured bob was created by Gina Chioccariello, a hairstylist in Beverly Hills, CA. "I love it because it's for the girl that wants a cool current look but doesn't want to get the shortest haircut. It is a versatile mid-length so you don't have to chop off all your hair to achieve it!"
"First, I always put in a leave-in conditioner on wet hair like L'anza Leave-In or Unite 75 Seconds leave in spray," she states. "Put it all over the hair and ends and let it air dry into this look or blow it out with a paddle brush. Then, use a curling iron or flat iron to put in some loose waves and finish off the bob with a texture spray like Oribe Texturizing Spray. To hold the look, I love Redken 12 versatile hairspray. It provides great hold without being overly strong or sticky!"
No matter how you dry this look (air dry or blow dry), you have to finish it off with 1-1 1/2-inch curling iron or flat iron to create these waves. Leave the ends out as you curl to create this sexy, lived-in lob.
Angled Long Bob Balayage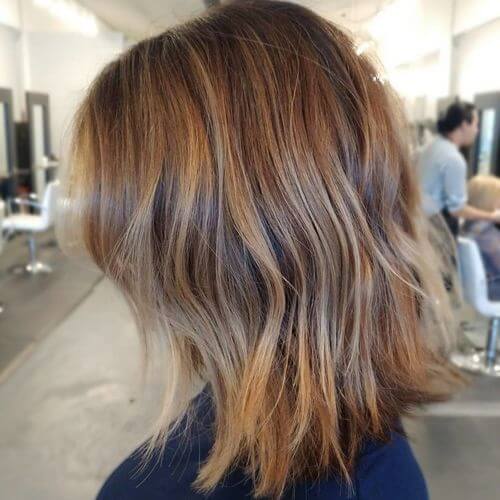 / @hairwithmelissa_
This is a textured, angled lob haircut with a combination of foils and balayage to create soft dimension with a natural grow outline. It was created by hairstylist Melissa Carlson of Kirkland, WA.
For styling, Carlson explains, "I like to use Oribe Grandiose Mousse on the roots when hair is damp. After the blow dry and curl, I use Oribe Dry Texture spray to break up the curls with my fingers to create volume and a beachy lob. I finish this look off with Oribe Supershine to take away frizz and bring together the finished look."
"My biggest tip for someone considering lob styles would be that it does need to be styled, blown out straight or curled or even just air dried and curled. Do not overthink it when curling. Always be prepared to buy a few products and the right size curling iron to make this lob come together," she states.
Piecey Long Length Bob
@hairbyjennorris
This piecey, lived-in lob haircut was created by master stylist Jennifer Norris of St. Petersburg, FL. I love that it's so versatile and has so much movement to it because of the soft layering throughout the ends.
"If you have a more round or square face shape, you don't want to have any of the layers cut too close to your jawline. This lob does have longer layers throughout to keep it soft in the ends, so nothing cut shorter than mid-neck is best," she explains.
Norris adds, "this length has so many styling options, even though it's not considered long. Just make sure you schedule your cuts every 8-10 weeks to maintain that beautiful line and keep the ends from bulking out."
Perfect Long Bob for Fine Hair
@malorie_talley23
"This bob is sophisticated. I love bobs for anyone," says style creator Malorie Talley of Northport, AL. "Creating the length in the front helps elongate the face and shows off the neck. I love this haircut because I feel everyone is able to wear it. It is just simply a classic bob. You can switch the part to middle or side to create a whole different lob."
"This type of lob would look great on anyone," explains Talley. "I love to use this haircut on women who have fine, thin hair because we cut a blunt, hard line and no layers which make the appearance of the hair seem thicker and fuller. On people with thick hair, I cut layers to create movement in the hair and also help the hair lay better. I also love to add in a swoop bang. It gives it an asymmetrical look without really cutting it asymmetrically. This haircut is easy and could be worn tousled or styled for any event."
"Try some men's grooming paste. I prefer a matte paste and just run it through the tips of the hair creating points and texture," she adds.
Textured & Blunt Messy Long Bob
@miyataylor___
This textured, blunt, collarbone-length bob was created by senior hair designer Miya Taylor of Laguna Niguel, CA." My favorite thing about this is that it makes a woman feel fabulous by bringing the oh so sexy collarbone to the main stage. This messy long bob haircut can be styled in a light beach wave or straight for more sophistication."
Taylor recommends a mousse or blow dry cream to help bulk up the texture. "Once the hair is dry, apply a light styling spray, curling mist or lightweight hairspray (nonflammable) to help ensure a nice curl. After your beach waves are in, you would then spray a next-day or texture spray product right at the root. Tousle strands from the scalp and apply a shine cream or light paste to the blunt ends for separation and texture," she explains.
Fresh Lob with Metallic Undertones
@lorietherrien
"This lob is young and fresh! I love the metallic undertones of this smokey blue. It's so interesting and different," says style creator and senior stylist Lorie Therrien of Winnipeg, Manitoba, Canada.
To style a lob like this, start with a great base product and use something that gives a little extra hold like Kevin Murphy Anti Gravity cream. It is a volumizing blowout cream that has just enough tack to hold your heat styling. Finish with a light hold paste and mess things up to bring out that texture!
"When considering this lob, go for the length," says Therrien. "I find my clients are more inclined to put in the extra effort to style their hair. It's quick and easy but there is still enough hair for a ponytail."
Copper Red Bob with Curls
@atelieravedaanna
"This spicy hot chili pepper hair in a curly lob is not for the faint of heart," claims hairstylist Anna Johnson of San Jose, CA. "A cut like this is universally flattering and looks great straight or curly."
This cut is a fantastically easy and modern update. There is no awkward grow in, so there are no downsides to taking the plunge! "I love beveling the ends under with a straight iron to fake doing a full blowout," she adds.
Long Lived-In Bob with a Middle Part
/ @hair.by.leoluna
This dimensional, lived-in blonde hair on a lob was created by independent hairstylist Leo Luna of Fairy Meadow, NSW, Australia.
Luna recommends Fashionwaves 07 (sea salt mist) and Fashionwork 12 (light hold hairspray) to piece it out. "Make friends with a bit of sea salt spray and a dry shampoo to achieve this look at home, and try not to be too perfect when styling," he adds.
Super Straight Brown Mid-Length Bob
@hair_by_morgan
This brown mid-length bob. was created by hairstylist Morgan Duncan of Ventura, CA. "The angle was created with scissors from the back of the haircut to the front creates a dramatic look that I absolutely love," says Duncan.
For styling at home, Duncan recommends getting Paul Mitchell Super Skinny Serum. "Use this product when hair is damp and then blow dry for a smooth and shiny finish."
"Anyone can rock this dark hairstyle! I have so many clients that are concerned about a bob making their face look too round. As a stylist, it is so important to analyze the client's hair and customize the cut for her in regard to texturizing, length, etc.," she states.
Long Razor Cut Bob
@rachelrha
This is an angled, one-length, razor cut long bob. It was created by hairstylist Rachel Rha of Valencia, CA. "My favorite thing about this look is how it can still be considered a classic bob even though it has a more modern look to it."
"I prepped her hair with some Oribe Supershine Light Moisturizing Creme just on her ends before blow drying and used a flat brush to smooth her hair straight," says Rha. "After blow-drying, I gave her some loose curls. I used Oribe dry texturizing spray to give the hair some texture and volume and finished with Rockaway from R+Co. This is a sea salt spray that I simply ran through her hair with my fingers to break up the curls and give it a more textured look."
"I think this lob can look great on anyone! This bob is easy to maintain and grows out very nicely so it fits almost any lifestyle. You can adjust the length/shape of this haircut depending on the face shape, but other than that I believe this cut looks perfect on all face shapes and hair types and is one of my favorites," she adds.
Long A Line Bob with Long Layers
/ @s_marie5
This is a stacked, long A-line bob with lots of layers that give texture. It was created by master designer Sheila Dunlap of South Bend, IN. "My favorite thing about it is that it is easy to style and helpful when you have fine thin hair to add much-needed volume."
The products Dunlap used for this style are Pure Abundance Style Prep Spray for added texture, then Light Elements Defining Whip to piece it out a bit. "I finished the look with Control Force Hairspray. (All Aveda products)."
"I would recommend this long a line lob for a woman who needs a modern, yet trendy and easy to manage style. It is a great option for someone who struggles to get volume in their hair," she adds.
Gorgeously Long Textured Bob
@audratonghair
Hairstylist Audra Tong of Los Angeles, CA created this textured lob haircut.
"The products you would use to maintain this look really depend on the your hair texture," says Tong. "Always start with a heat protectant before using any hot tools. My favorite is the Eimi Thermal Image spray. I also love to finish the look with Redken Wind Blown to separate the ends and show off the texture."
She adds, "I would recommend this cut for any face shape. It works well for thin hair and women who have straight hair already. If you have thick or coarse hair, I recommend doing a longer version to keep weight."
A Very Long Bob with Caramel Highlights
@hairbysarahmiller
This is a very long bob with highlights that are sunkissed, natural balayage to brighten the look. It was created by hairstylist Sarah Beukelman of Murrieta, GA. "I love this longer bob cut because it's super easy to style. Throw a few loose curls in for a beachy look, or smooth and straighten it out for a sleek lob look."
For styling, Sarah recommends using a leave-in conditioner before blow-drying, then adding a heat protectant oil before styling with heat. "Use a 1 1/4-inch curling iron to throw some quick curls in the hair, leaving the ends out of the curling iron. Finish with a flexible hold hairspray, then run your fingers through the hair to loosen up the curls," she adds.
The Perfect Long Bob Cut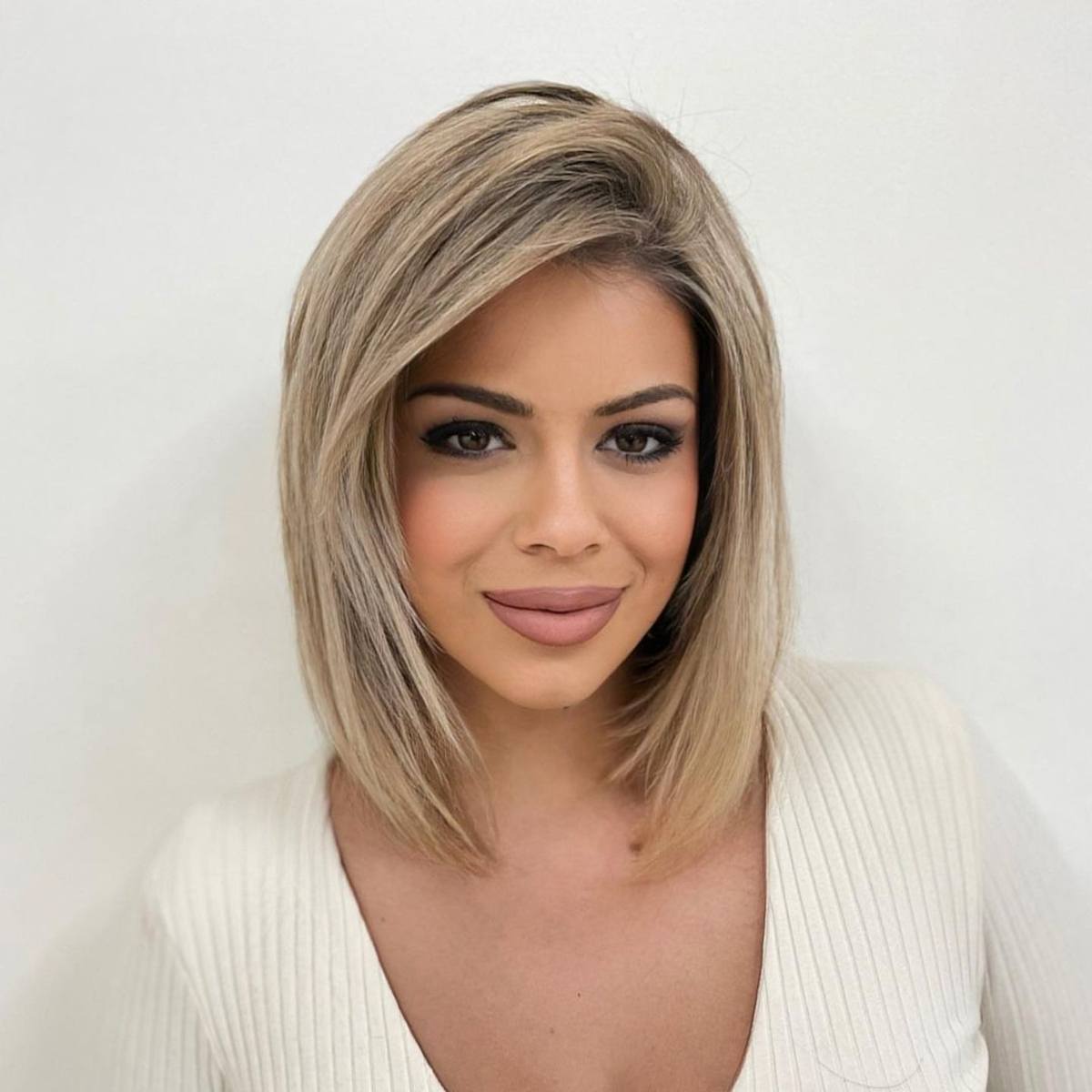 @hair_salon_by_hadis
This look is famously known as "lob" and is one of the most requested haircuts in the salon today. This long bob cut is the versatility it has in styling options. You can curl it, wear it straight, or even let your natural texture loose for an effortless look.
For long bob haircuts similar to this, I recommend Keune sea salt spray, Keune volume powder, and Keune medium hold hairspray for the ultimate textured curls."
If you are looking for something stylish but very low in maintenance, this is the perfect hairstyle for you!
Trendy Long Inverted Bob Cut
@ashleyslooks
"A long inverted bob hairstyle is super cute and trendy right now," says hairstylist Ashley Bayer of Lakeland, FL. "I think one of the most awesome things about a black inverted long bob is that you get the length in the front, yet it still feels very lightweight with the shorter length in the back. It's also super easy to throw in some big waves or straighten it out without taking a lot of time before you go to work, school, or even just out and about!"
The styling products Bayer recommends to maintain a healthy and beautiful cut would be Joico's Color Therapy shampoo and conditioner, or any other Joico shampoos and conditioners for your certain hair type. "For styling, I recommend Joico's Heat Set Blowout Perfecting Creme for a smooth blowout, Joico's Iron Clad thermal protecting spray for any thermal styling protection, and then finish off with Joico's Firm Finishing Spray for a great style that lasts all day," she says.
"I recommend this long bob cuts to women that have flat, straight hair. This style looks great on all face shapes! Your stylist can always spice it up with some side bangs, face framing, or layering as well. For an easy going style and not too much maintenance, I would say try it out," adds Bayer.
Choppy Long Lob
@misskingperth
This choppy long lob is fun, feminine and modern. It was created by stylist Lisa King of Perth, Western Australia.
"Prior to blow drying, I would use a sea salt spray. Finish off the long bob with bangs with a light wax to define the hair," explains King.
Messy long bobs like this are most suitable for fine hair. It is a great option for a woman that doesn't have a huge amount of time and needs a quick and modern look. Most face shapes will be flattered by this haircut.