18 Flattering Hairstyles for Women Over 40
Modern Chin Length Bob
@_gritandgracesalon_
Couple bold long side swept bangs with sterling silver hair color. This will definitely bring out your sexy side!
Edgy Razor Cut with Caramel Babylights
@kateshahanadams
Babylights are coming back for women over 40. They're ideal for your everyday pixie cut with a beautiful mix of brown and caramel hair color.
Over 40 Choppy Layers
@romeufelipe
The over 40's choppy layers create a gorgeous mid-length hairstyle for women over 40. This one is for those who have thick tresses. The density allows the hair to support a voluminous, fuller-looking style. Achieve this by blowing the locks dry. Enhance the movement using a flat or curling iron if need be. Thanks to the blonde highlights—they create a trendy, youthful dimension, too.
Deep Side Part Bob
@salonnuuvo
Join the rose-gold trend with enchanting rosy highlights added to a luscious caramel base. This is the perfect look for women in their 40s that will transcend time.
Blunt Bob with Side Swept Bangs
@glamby_xtina603
Showcase your wisdom; go gray! This is one of the best hairstyles for women over 40 who want to show up their natural silver hair color and roots.
The Classic Bob
@hairby_lianawaters
Brighten your aura with chocolate brown highlights to create that classy yet trendy look. Plus, add that full fringe for a youthful outlook that every 40 year old woman needs.
Long Layers with Fine Hair
@dos_by_jo
When it comes to finding the best hairstyles for thin hair over 40, this is a must-try look to add more volume to thin hair. The burgundy color creates an illusion of depth hence, adding more dimension to your look.
Long Layered Bob for Round Faces
@anidomanihair
Doesn't this soft, choppy lob for round faces look so refreshing? This cut's flattering for extremely thick to release weight from her ends and also complement her bright face.
Blunt Cut for Thick Hair
@hairbydanixo
Q&A with style creator, Dani Peterson
Hairstylist / Co-owner @ Fringe With Benefits Salon in Orange County, CA
How would you describe this look?
The look is a classic one length textured bob. I would describe it being beautifully timeless with some fun and flirty pieces to give it that modern edge.
What I love most about this look is that it requires minimal effort, but looks intentional. Which is perfect for the busy 40 year old woman.
Any advice for someone considering it?
This particular look is suitable for all face shape and doesn't require lots of styling. It is versatile. It can be worn classically sleek with a slight bevel with a round brush or flat iron or fun and flirty with some texture. On my client I decided to embrace her natural wave with some loose curls I achieved with a 1 1/4 curling iron-very minimal work and I finished it with a texture spray for some volume and hold.
Short Curly Hair
@wendycuts_hair
Q&A with style creator, Wendy Newsome
Hairstylist @ David James Salons in San Francisco, CA & Ceremony Salon in Portland, OR
---
How would you describe this look?
This short curly hair cut was inspired by a photo of artist Miranda July that the client brought with her to the appointment. It's a fun and bohemian shape with an easy shattered bang that will grow out into layers effortlessly. The rounded layers were cut with a straight razor, removing weight for added movement and to boost the curls.
Any advice for someone considering it?
This look for women 40 plus, was styled with a leave-in conditioner to help with frizz and to add moisture and also a salt spray to boost the curls and add some texture. The shape is great for any curly texture of hair and the length of the layers and bangs can be customized to suit the taste of each individual.
Mid-Length Bob Cut with Center Part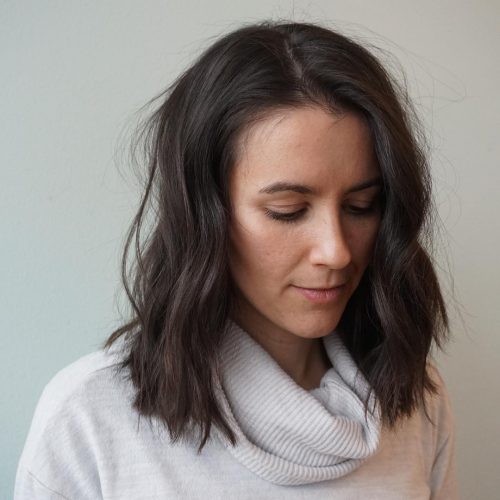 @salonphoenixhoboken
Q&A with style creator, Celeste Adams
Owner @ Salon Phoenix in Hoboken, NJ
---
How would you describe this look?
This is a very versatile mid-length bob haircut. It's a square shape (meaning it's the same length all around as opposed to a classic A-Line that is shorter in the back and longer in the front.) The layers in this haircut are very long & "barely there" – just subtly framing the face and starting just below the chin. Thanks to texturizing techniques like slicing, this haircut has lots of soft movement & feels light while still looking full and voluminous.
The loveliest thing about this haircut is how easy it is for clients to maintain at home. The subtle, long layers won't require too much fuss. Texturizing in all the right places will make air-drying your go-to style.
Any advice for someone considering it?
This haircut looks great on most face shapes but is not recommended for those with a very strong, square jaw. Clients with thin hair will achieve more volume with this look because of the mid-length that will leave enough hair to pull back into a casual ponytail but is just short enough to encourage bounce. Thick-haired clients can opt for a more generous amount of texturizing so their hair feels light even with long layers.
This look can be as effortless as you make it. Feel free to let it air-dry after applying a light oil or even encourage waves with a salt spray. When a more polished look is in order, use a heat protectant then blow-dry, and use a 1 1/4″ curling iron to create loose waves, leaving about an inch of the ends out for a more modern look. Alternating the direction of each curl creates a voluminous, tousled look. Finishing the style with a dry texture spray ensures hold without any stiffness.
Short Layered Cut
@whitney.kae
Q&A with style creator, Whitney Kae
Stylist @ Whitney Kae at StudioK in Orem, UT
---
How would you describe this look?
Sassy, sleek and spunky! I love this look because it has the edge of youthful personality partnered with the refinement that comes with wisdom and age. This look can be styled with ease and personalized to what the day has in store. This is a cut that externalizes the dynamic characteristics of you!
Any advice for someone considering it?
A bold look that says – I look good! This cut calls for attention when styled to its fullest. The short length and shattered layers allow for this style to stay fresh throughout the day. Styled with Natulique Volume Mousse and Dry Shampoo, it has structure and body that can last. A great look for many hair types, and best achieved when particularly reducing weight in the right areas. Thinning out areas on medium to thick hair types allows for the visual of fullness.
This is a suitable cut for those who don't mind taking the time to style it after freshly washed. Knowing that with a product and backcombing, the efforts will last throughout the day and be an investment into the following days until washed again, just needing to be refreshed in the morning!
This style likes some grit for ladies over 40! The dramatic A-Line brings flattering balance to more round face shapes and frames all face shapes emphasizing feminine features. The choice of a bang or not can be incorporated to personalized to preference and individual features.
Curly Bob for Medium to Short Hair
@curly_hair_london
Q&A with style creator, Stephanie Nikolova
Curly Hair Specialist / Founder @ Curly Hair London in London, UK
---
How would you describe this look?
This is an example of medium length hairstyles for women over 40 with curly hair. The shape is unique with the addition of bangs, and it suits many different face shapes and body types.
Curly hairstyles with bangs can look incredible with flirty pieces over the eyes and free, bouncy curls around the face.
Any advice for someone considering it?
There's nothing better than a medium length bob that looks stylish and youthful. It frames the face and adds definition to specific facial features. Bangs is a nice touch to finish the look. Using her natural hair color is the best way to keep the hair healthy.
Curly hair doesn't always need to be long. It could look amazing in medium and short lengths.
There is a belief that bangs are not suitable for curly hair so the front hair always has to be long. I would like to promote that bangs are absolutely beautiful on curly hair.
Product-wise, I would suggest using sulfates and silicone free shampoos. The sulfates strip the natural oils and the hair gets dry. Some silicones are non-water-soluble and that is making product build up and cause the hair to break.
Short Choppy Cut with Thin Hair
@pozasalon
Q&A with style creator, Zahava
Stylist @ Poza Salon in Charlotte, NC
---
How would you describe this look?
This short haircut for women over 40 is is a lose, shaggy pixie.
Any advice for someone considering it?
This is an ideal style on someone going from a short pixie to a medium length haircut or even someone who is too afraid to embrace a true pixie. This short choppy haircut is carefree and super easy to style! We used Kevin Murphy's anti-gravity spray for light volume and finished up with Bedroom Hair, a dry texture spray by Kevin Murphy. This look is perfect for a low maintenance girl!
Beachy Wavy Long Hair
@devadoll10
Q&A with style creator, Lynne DaSilva
Deva Certified Curl Specialist / Deva Curl Educator @ Acappella Salon in Temecula, CA
---
How would you describe this look?
This is a classic Devacurl waterfall cut. What I love about this cut is that it provides lift at the crown and a balanced volume throughout the style, releasing weight while not comprising the fullness at the length. It's one of the great long hairstyles for women over 40 with thick and heavy hair. The layers cascade seamlessly like a "waterfall."
Any advice for someone considering it?
The Devacurl waterfall cut suits women over 40 with all face shapes, hair types, and lifestyles. It also has the flexibility for the consumer's favorite products. The possibilities are endless.
Medium Choppy Cut
@beautybytiera
Q&A with style creator, Tiera Agar
Hair Colorist @ Rebel Femme Salon in Mission Viejo, CA
---
How would you describe this look?
This is a "shag" cut that's very reminiscent of the 1970s, Joan Jett, or even Lydia Deetz from Beetlejuice. When my client first came to me, she had been box coloring her hair black for years and wanted to transition to a medium brown color without compromising the integrity of her hair. It was a slow, gentle process, but we were able to reach her ideal color and give her a fun, sassy cut to go with!
Any advice for someone considering it?
This choppy cut is great for almost anyone with a round, square-shaped, or smaller face. The length of the cut elongates the face, while the choppy face framing complements the natural structure of the face. It is especially ideal for finer haired clients who are looking for something fun and different with tons of volume!
Cute Messy Cut with Wispy Bangs
@delilah_hair_studio
Q&A with style creator, Delilah
Owner @ Delilah Hair Studio in Brunswick East, Melbourne
---
How would you describe this look?
This look is on my awesome hairdresser friend, Claire. We do a lot of dry-haircutting in the salon and this is a highly textured creation of mine that sits as a bob with a fantastic textured semi curtain bang. I used my scissors to create lots of different movements to bring out the natural curl and diffuse dried her hair.
Any advice for someone considering it?
Get ready for texture, baby! If you are a woman over 60 and are considering this hairstyle be ready to become 100% more awesome! I am a fan of bringing out people's personalities through their hair, so there is nothing we can't do for people to enhance their rockstar beauty inside and out!
Cute Pixie Cut
@hairvvitch
At this point, everything must come easy in your 40s, right? That's why this short cut is a convenient way to amp up your style with all the maximum comfort.