29 New Feed In Braids To Check Out
Feed In Braids Cuffs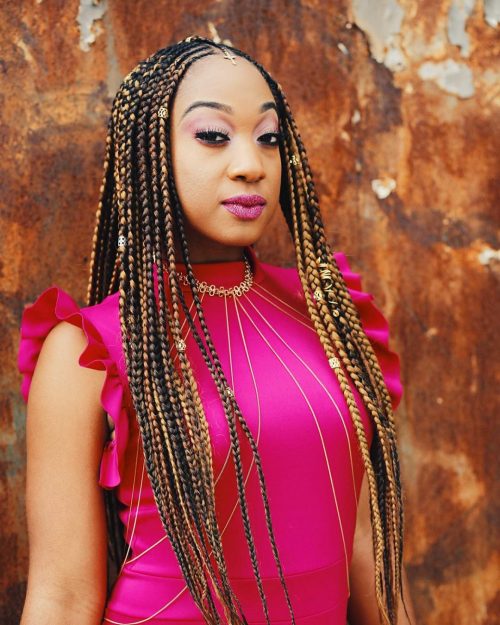 @adannalewa
Anyone can recreate this exquisite goddess look and add some unique spin to it with gorgeous braid cuffs like these. Accessories are a fun way to show your stylish personality.
Big Feed In Braids
@larabelle_makeover
How low can these low maintenance protective styles get? If you want an easy get-up-and-go lifestyle, these simple yet fabulous jumbo feed in braids can definitely change your life. Add some colorful strings for a fun style.
Small Feed In Braids
@touchedbytb_
Have the confidence to strut like Queen B when you try these excellent thin feed-ins on! Create a center part using a single braid then follow with neatly done even braids on both sides for a unique and beautiful pattern.
Feed In Ghana Braids
@erica_letstalkhair
Everyone's gonna want to have your hair when you wear this impeccable feed in braid style! Make your ponytail pop up by starting your braids with golden braid cuffs and jumbo cornrows.
Ponytail Feed In Braids
@val_can_braid
When you're getting bored of loose hair, this protective feed in braided style in a high ponytail will absolutely add fun to your look. Style it with some beads and start with a flawless cornrow to make you look fresh and breezy all day long!
6 Strand Feed In Braids
@demistyles__
Show your unique fiery personality with these super awesome ombre feed in braids! You'll absolutely turn heads with these stunning colors and accessories!
Goddess Feed In Braid Beads
@divynedavyna_hairstyles
Get inspired with this super amazing feed in braid hairstyle that anyone can wear! From the diamond patterns and the half up style to those funky beaded braids, this look is surely one of a kind!
Jumbo Feed In Braids
@hairbyniy.ahc_
This popular feed in hairstyle braid does all the work for those who want a low maintenance lifestyle. You can style it easily by putting on some fun accessories and simply letting these funky braids down.
Feed In Fishbone Braids
@hairbytorieleese
One of the best ways to rock feed-ins is trying these super pretty intricate design on your braided feed in that will give you the ease of waking up with a ready-to-go hairstyle!
Feed In Cornrow Braids
@tossedtresses
Add a new variation to the regular old style by trying these alternate patterns on your side feed in braids. You'll feel fresh and elegant for sure when these cornrows are done properly.
Feed In Lemonade Braids
@mynaturalsistas
Feel like royalty when you put on these feed in side braids starting from your most flattering side and ending elegantly down your body.
Side Part Feed In Small Braids
@stylzbytrudy
When you have small thin feed in braids, you can do more with them like doing a side part to make your style more intricate and hip. Add funky accessories and mix different shades of brown together for an envy-inducing look!
Side Feed In Braids
@__daikeara
A simple take on crown braids is to pattern them neatly on the side of your head and let your facial features and jaw line do the flattering!
Thin Feed In Braids
@braidedroots
Get inspired when you realize how countless the styles you can try are with these thin cute feed ins. Keep them effortlessly black and put on some strings and braid cuffs to show your trendy creativity.
Feed In Braids with Blue Color
@jdivastyles
Show off these intricate feed in braided look when you pop in some cool hues! You can confidently use any fashion color that complements your natural jet black hair.
Twist Feed In Braids Updo
@klassicshair
A fresh way to rock these feed in braids and own a one-of-a-kind look is when you twist those pieces into a glamorous updo like hers. Noteworthy for all types of occasions and outfits!
Feed In Braids Bun
@stylesbydeelah
Feel like a queen with this exquisite braided feed in bun! Let down some of those trendy pieces and you're on your way to standing out in any season!
Thick Feed In Braids
@braidedbyraee_
These super stylish jumbo feed in braids allow you to arrange them in so many amazing ways! Just take a look how beautifully these braids were patterned on the side and fall neatly giving her an edgy glam.
African Side Feed In Braids
@braidsbyjmarie
The classic feed in braids is the high street fashion you need. The pattern created makes for a very great visual aside from just being a protective hairstyle.
Q&A with style creator, Jalisia Marie
Braider @ BraidsByJMarie in Decatur, GA
How would you describe this look?
Feed-in braids are the perfect protective style for women and men who want something that is quick, yet stylish, and also protects their hair from daily damage which is my favorite part about the braids. This style is called straight-back feed-in braids, as the braids go from the beginning of the client's hairline straight back to the end of the client's nape.
Any advice for someone considering it?
This style is so uniquely neat that it becomes a statement hairstyle that is perfect for any outfit. It has been seen on power moguls such as Beyonce, Traci Ellis Ross, and Kim Kardashian. This style can easily be dressed up using a bold lip color or dress down with a T-shirt and jeans. Regardless of the look, anyone rocking these straight-back feed-in braids will turn heads.
2 Feed In Braids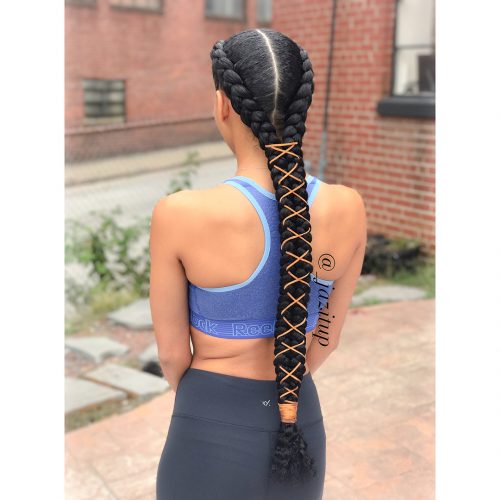 @_jazitup
This dainty feed in hairstyle starts with two thick braids on each side and ends together wrapped with fashionable strings. This symmetric hairstyle is so clean that it'll leave you looking classy and trendsetting at the same time.
Q&A with style creator, Jazmin Davidson
Hairstylist @ Cut Creators Salon Suites in Atlanta, GA
---
How would you describe this look?
This is youthful yet fun. What I love about it is that from the front it gives simplicity and the back gives drama. You can dress the back up with hair accessories any way you'd like, and that's the fun part!
Any advice for someone considering it?
It's for all hair types, easy maintenance, and it lasts about two weeks. If you like your hair off of your face then consider this style!
Feed In Fulani Braids
@e._k.a.h.l.e.r
Q&A with style creator, Emma Kahler
Master Cosmetologist @ Hi Texture Hair Salon in Lawrenceville, GA
---
How would you describe this look?
This hairstyle is a tribal-inspired feed in braid. Fulani is a tribe solely from West Africa and the Sahil area. This is a hairstyle that the Fula tribal women would normally create on themselves and incorporate it with beads and jewels.
What I love about this look is the simplicity of incorporating the Fulani braid style with a modern twist just by minimizing the jewels that a normal Fulani would add in it.
Shockingly when I got done with the feed-in cornrows, I asked the model if she was Fula given the fact that I am from West Africa and is familiar with the tribe. She said no, people asked her that question all the time because she has the feature of a Fula woman. The braids tied in perfectly with her features.
Any advice for someone considering it?
Make sure you have strong healthy hair, especially at your frontal. If you don't and you must, make sure it's not braided straight back but slanted away from your frontal (like the picture) to preserve your frontal hair, and cornrows should not pass your shoulders due to weight.
Before going into a protective style, perform a hydration treatment and a protein treatment to keep hair moisturize and strengthen hair while it is away. I suggest the Devacurl Melt In Moisture for hydration mask and Devacurl Deep Sea Repair for the protein treatment.
This style of braids can be done on any hair type. For curl type 2A to 3C blowout hair with cool temperature because you want a little texture to the hair and you don't want it too straight for easy grip. For curl type 3C-4C you can blow it out with regular heat. Do not leave cornrows in more than 3 weeks.
This hairstyle will be perfect and ideal for busy moms, athletes, those who are always in the gym, and also perfect for a vacation on the beach.
The products I used are:
X-PRESSION HAIR: 2 packs (Your choice of color)
INFLUENCE: Stimulating Scalp Oil – Apply on scalp and massage thoroughly the scalp
INFLUENCE: Firm Hold Foam – When you are done braiding apply foam all over the braids to lay fly away down for a smooth finish. Tie a hair net and sit under a hooded dryer for 10-15 minutes.
INFLUENCE: Growth Cream (it's a daily moisturizer) – Use a quarter size, focus application on the ends and massage it throughout your hair. It keeps hair moisturize while it's away.
DESIGN ESSENTIALS: Sleek Max Edge Control – Apply it on each subsection of your parts of hair before braiding to create a clean and neat cornrows
DESIGN ESSENTIALS: Reflection Spray – Spray to finish loom with a shine.
For home maintenance, tie your braids down with a silk scarf before going to bed.
4 Feed In Braids
@rapunzelme_au
Q&A with style creator, Hayley
Owner @ Rapunzel Me in Greystane, NSW
---
How would you describe this look?
I feel this feed in style has a festival vibe to it! It's fun and unique! My clients always leave with so much confidence with this hairstyle!
I like that it's super functional. It stays put in almost any weather condition! It will survive gym workouts, restless nights in bed, and of course festivals where you are dancing your heart out! The string wrapped around the plait also ensures it stays well in place. You are certain to avoid bad hair days for at least one week!
Any advice for someone considering it?
This style is quite versatile. It works well with any hair texture or thickness, but it usually looks best with hair that is at least shoulder length.
The product used is named Stylin Dredz Mouldin Gel Wax. I love to braid with this as it doubles the longevity of my braids by keeping the baby hairs and fly-away hairs down.
I usually advise not to overuse hairspray because the build-up looks terrible! If you wet your fingertips and smooth down the hair, it re-activates the gel again so there is no need to put layers of hairspray.
Feed In Braids for Naturally Curly Hair
@tamedbyty
Give your hair a stylish update without losing your natural gorgeous style by mixing a combination of thick and thin braids fed in like cornrows and styling it for that unique personal touch! You can let your locks down without them being too overpowering on your face.
Q&A with style creator, Tyesha Calhoun
Hairstylist @ New Millennium Salon in Shaker Heights, OH
---
How would you describe this look?
This is a versatile day or night look. It's simple yet it's just enough for any occasion.
I love how you can dress it up or down. This style works for any event.
Any advice for someone considering it?
Make sure you use flexi rods overnight to keep the curl nice and tight. Also, I'd say you don't need much product. A light mist of a leave-in conditioner on your curls should be fine.
This style is perfect for someone who is always on the go because it's not high maintenance at all.
Long Feed In Braids
@thehairartisttt
Be fashionably creative by adding accessories to those stunning length feed in braids! You can never run out of options to beautify and style these stylish pieces.
Q&A with style creator, Brianna Clegg
Hair Artist in Richmond, VA
---
How would you describe this look?
This specific look is very trendy and versatile. It can be done on any hair texture. There are many ways to wear this style – straight down as pictured, into a bun, a high ponytail, and even two ponytails or buns.
I love that it lasts for a very long time. I would recommend this style to anyone who wants that "wake up and go" look, women who are always on the run and are really busy, or women with children that don't have a lot of time to get themselves ready in the mornings.
Any advice for someone considering it?
Completely cleanse and moisturize your scalp before getting this style to achieve the best results possible, as well as protecting your hair. Be yourself, and be creative. There's jewelry that can be added to the braids and different colors of Kanakelon hair to use to express yourself.
Feed In Braids to The Side
@getbraids_
Drop-dead gorgeous is the only thing I see when someone is rocking out these large braids. With the ends on one side, you don't have to worry about hair getting in your way.
5 Feed In Braids
@reginaelishell
From its own title, this feed in braid has five distinct locks but not lacking in ways you can fashion and create intricate patterns with.
Feed In Small Braids
@jenniferwhite_hair
The little braids created by stylist Jennifer takes more time compared to other braids. Yet, because of the details, it is worth all the time and patience needed on the chair.
 3 Feed In Braids
@braidsbymer_
If you're feeling iffy of what braid style you can do, try this three feed in braid that would take you no time to do. You can make variations with it using different braiding styles and some accessories.
6 Feed In Braids
@hairbytyresha
The appeal of these feed in braids are really high because of the easy functionality that comes in with the swag.