27 Easy DIY Date Night Hairstyles
Night Out Curls
@hair_by_jenessa
Try this beguiling hairstyle for long hair that will surely get you asked for a second date! It's super sexy and at the same time gets the hair out of your face while your hair is still down.
Braided Pony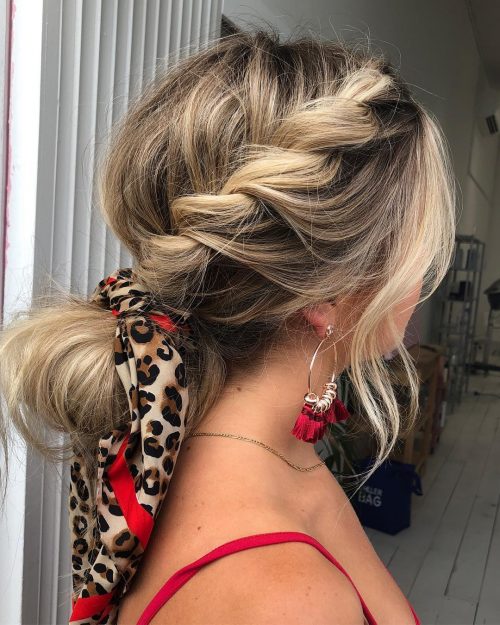 @hairbygabby_vivalablonde
Channel romance with this sexy hairstyle that starts with a loose thick braid and ends into a bun. Leave some wavy pieces in front and wrap a pretty scarf around that cute bun, and you're good to go!
Subtle and Bold
@urnewimage_salon
Save yourself the time and effort when you wear these charming twisted buns on your date night! Start with a section of hair on each side, twist it reaches the back of your head, then finish into a low bun. It's that simple!
Lovely and Warm
@marymadisonhair
Q&A with style creator, Mary Madison
Hairstylist / Owner @ Metal Salon in Acworth, GA
How would you describe this look?
This is a soft, easy style that transitions seamlessly from shopping with girlfriends to date night.
The swept off the face look is functional and accentuates the face shape. It can be moved higher or lower on the head based on the individual's features.
I love that it shows the nuances of her hair color and it's lived-in and not overdone. Who doesn't love a boho braid?
Any advice for someone considering it?
This style is versatile and suitable for many different hair types and textures. A young professional on the weekend looks on trend and evokes major hair envy.
She's not afraid to embrace fashion on her terms. She has an active lifestyle and travels for work and play.
Her hair was prepped before blow-drying with L'Oreal Professionnel's Volume Envy Extra for long-lasting fullness and style memory.
Once dry, her hair was set on a 1 1/4 inch size barrel Babyliss Pro curling iron, misting Infinium 3 on each section before curling for heat protection and support.
After combing out the curls with my fingers, braiding and placing, the style was set with Extreme Lacquer to provide a firm hold and humidity protection.
Date Night Waves
@susanfordhair
Q&A with style creator, Susan Ford
Creative Director and Master Hair Stylist @ Asha Salon Spa in Chicago & Schaumburg, IL
---
How would you describe this look?
This is a red carpet hair, inspired by 1940's Hollywood.
My favorite thing about is that the waves are soft and touchable. This style adds instant glam to any outfit.
Any advice for someone considering it?
You must prep your hair with a smoothing cream (from Aveda's Smooth Infusion Line). Set the hair on medium sized rollers or curling iron, then allow it to cool. Use a boar or nylon mix hairbrush, such as a Mason Pearson Brush, and brush thoroughly from scalp to ends. This will give your hair a soft and glossy finish.
Boho Pull-part Braids
@kmalynnbeauty
Q&A with style creator, Kendall Greer
Hairstylist @ Ray-Clark Salon in Midland, TX
---
How would you describe this look?
I would describe this look as both feminine and romantic. I think the fact that it's pulled-apart, and the style of it is tousled, rather than tight, gives off a relaxed, yet flirty vibe. I love the fact that this look is so versatile, and could be worn in both a formal or casual setting. It's absolutely perfect for a date night, or a night out with the girls!
Any advice for someone considering it?
For anybody who may try this, I must say, products are your friend! A good texturizing spray or texturizing powder will make a world of difference, especially when pulling the braid apart, so don't be afraid to use product! In this case, I used Oribe Dry Texturizing Spray.
Keep in mind, this particular look is best suited for clients with medium to long hair (past the shoulders) and would work best with a medium hair type.
Effortless Glam
@tfosterhair
Q&A with style creator, Trey Foster
Hairstylist @ Clementine's Salon & Skincare in Aurora, CO
---
How would you describe this look?
I would describe this look as effortless glam.
This is an easy and quick look that can be done on dirty hair. Very basic styling skills can give you this high impact look to help you go from work to date night in just a few minutes.
Any advice for someone considering it?
The products I recommend are all by Bumble and bumble: Gentle & Super Rich, Prep, and All Style. I also love their Pret a Powder for dirty hair.
For the waves, curl the hair in small sections but different directions as you go. If your hair doesn't hold a curl well, wait until the entire head is curled before you shake out.
Add a simple three-strand braid from your part to one side, then pin it under the top layer of waves to hide the hair tie. Finish with Bumble and bumble's Hairdresser's Invisible Oil Spray for added shine and UV protection.
Romantic & Versatile
@amaliaberglund
Q&A with style creator, Amalia Berglund
Freelance Colorist & Hairstylist @ in Sweden
---
How would you describe this look?
I would like to describe this look as so many things. It is perfect for someone that wants that romantic, bohemian, beachy, flirty, and messy, not too put together look.
I love that it is so versatile and you can wear it for any occasion.
Any advice for someone considering it?
The one thing I tell all of my clients is to not overdo it. Everyone (even me) tries too hard to get that perfect look and it ends up looking overdone or you just get bored halfway through!
Step away from the mirror, braid the hair, and THEN take a look at your creation. Don't forget to pinch and pull the hair. So many people are scared to touch/pull the hair (even curls) as they think that the hair will get destroyed. I think it only makes the hairstyle look extra soft, pretty, and romantic.
No matter what the hair type, the use of styling products is significantly important with braids and hairstyles like this. I love to use Windblown from Redken or Texturizing Volume Spray from Balmain for looks like this. I would probably put in some dry shampoo as well! If you're in a rush and don't have any of these products, my advice is to use anything that will give the hair some dry texture and body. And don't be afraid to use a whole lot!
I live for hairstyles like this because they fit any lifestyle. If you're a mum that didn't have time to wash your hair, just add some dry shampoo and the hair will be really easy to work with.
If you just cleaned the hair, and especially if you have really soft flat/heavy hair, make sure that you dry it properly and then drench it with dry hair products!
But most of all, have fun with it. Hair is supposed to be fun! If it turns out a bit too messy, just put a bow on it and be that queen that you were born to be!
Whimsical with a Boho Twist
@hairbyleahnoel
Q&A with style creator, Leah Kooistra
Hairstylist @ Hair by Leah Noel in Lynden, WA
---
How would you describe this look?
I would describe this look as whimsical with a boho twist. My favorite thing about it is that it looks very intricate, but is actually very easy to achieve!
Any advice for someone considering it?
This style will work on almost any hair type as long as your hair can fit into a small ponytail in the back. Try using small clear elastics instead of regular ponytail holders when tying off the ponytails and fishtail braid.
This is great for a quick style that keeps your hair pulled out of your face and can be achieved with straight or curly hair. I suggest finishing the look off with your favorite hairspray to ensure it stays in place.
Bohemian Bloused Braid
@hair.heroine
Q&A with style creator, Caitlin Eyk
Master Hairstylist & Colorist @ Avantgarde Salon in Grand Rapids, MI
---
How would you describe this look?
The bohemian bloused braid is a side-swept braid that is pulled through the crown and finished with a fishtail braid through the ends. My favorite thing about this look is the effortless, tousled texture.
Any advice for someone considering it?
This look is best for medium to long hair lengths with long or no layers.
Set the style by using Moroccanoil's signature Texture Blowout. Use Moroccanoil Dry Texture Spray to expand your waves and Moroccanoil Molding Cream to control and blouse the braid.
Soft Romantic Waves
@elizabethtorma
Q&A with style creator, Elizabeth Torma
Hairstylist / Owner @ Salon E in Salons by JC in Buford, GA
---
How would you describe this look?
I would describe this look as soft, romantic waves. It is voluminous without being overly "done".
For this client, we do balayage highlights and layers. I think the style accentuates the different colors and layers in her hair.
Any advice for someone considering it?
My advice for this look is to start with blow drying hair using the Kenra Blow Dry Spray and a round brush. The blow dry spray provides heat protection and the round brush helps smooth hair and give volume. For the curls, use a 1-inch curling iron and start from the bottom, dropping out one-inch sections at a time clipping up rest of hair. I curled all hair in the same direction away from the face.
Once all curled, put a small amount of Kenra Daily Defense Oil and run it through the hair while breaking up curls. Set the hair with Kenra #13 Medium Hold Hairspray.
This hairstyle is versatile enough for everyday wear or a special event. My client was attending a wedding and wanted a look that was a little more special than her everyday style. She sent me a picture before and after the event and her hair still looked great!
Twisted Side-Swept Style
@shannonmariestyling
Q&A with style creator, Shannon Marie
Hairstylist @ Shannon Marie Styling in Peoria, AZ
---
How would you describe this look?
This is a twisted, side-swept style. I love this style for how soft and romantic it is.
Any advice for someone considering it?
I think this look would be perfect for a special romantic night out or a wedding! It can be dressed up by adding in a nice broach clip where the twists meet on the side of the head. The curls can be changed to loose waves or tighter curls, depending on the style desired.
This hairstyle can be created with any hair type and is best with shoulder-length or longer hair.
Boho Chic Style
@jessicashylyn_hairstyles
Q&A with style creator, Jessica Peterson
Cosmetologist @ Wild Hare Junction in Burley, ID
---
How would you describe this look?
When I created this look, I started out not quite knowing what the end result was going to be. All I knew was that my overall goal was to create a boho chic style. The braid helped me accomplish that. This style gives off a fun bohemian vibe, yet it still has a chic and elegant look to it.
Any advice for someone considering it?
This style is so fun and flexible that it can be worn in a casual setting or in a formal environment. The things I love about this look is that it can be created at home with all different hair types. The secret ingredient to getting this look is volume in the braid.
Curling the hair creates volume, but if you are like me with fine/straight hair, you might need a little more help. I find my help in volumizing powders. My favorites are Powder Play by Sexyhair and Puff Me by Designme Hair. I recommend topping it off with some Big Sexy Hair hairspray.
Faux Braid
@hairbybrittanyr
Q&A with style creator, Brittany Ramsey
Hairstylist Assistant @ Tease Salon in Costa Mesa, CA
---
How would you describe this look and what is your favorite thing about it?
My favorite thing about this look is how the faux braid takes a simple curled hairstyle and turns it into a fun hairstyle!
Clients are always telling me how they can't braid and the best part about this style is how easy this faux braid is. Anyone can do it!
What tips or products do you recommend to recreate this look?
To recreate this look, I recommend using a texture spray (my favorite is the UNITE texture spray), a 1 1/4-inch curling iron, hairspray, and little rubber bands that are the color of your hair.
My tip for curling is to always curl away from your face. If you're going for a more messy look, leave the last inch or two of your ends out of the curling iron and use lots of texture spray! This look can be worn in so many ways so don't be afraid to make it messy!
What type of client would you recommend this look for?
I definitely recommend this style for medium to long hair. Whether it is thin or thick, this style will work for you!
My gorgeous model is also wearing four rows of beaded weft extensions so if you wear extensions, don't worry this style will still work! Just be sure to maneuver the faux braid around them.
Softs Curls With a Twist
@manesbymillie
Q&A with style creator, Millie Esler
Master Stylist @ De Jolie Salon and Spa in Macomb, MI
---
How would you describe this look and what is your favorite thing about it?
I would describe this look as a half up look that is twisted into soft curls. My favorite thing about it is its softness and versatility. This could be worn for a casual date or a more formal occasion. Either way, you're going to look great and feel appropriate!
What tips or products do you recommend to recreate this look?
To create this look, I used Kerastase Incredible Blowdry, Kerastase Mousse Bouffante, Kerastase VIP, and L'Oréal Professional Extreme Lacquer hairspray. Before I do an event style, I love to really load up the mousse and heat protectant on dry hair and round brush it in. This creates a ton of volume and helps smooth the hair.
After prepping and blow drying, I went through and curled the hair, spraying each section before I curled it. After it was all curled, I took a 2-inch round brush and softly brushed the curls out to soften them. I then sprayed VIP at the roots and backcombed the crown area. VIP is amazing to help support backcombing!
Starting in the front, I took small sections, twisting them back and pinning them, and then overlapping with the next section. I did this on both sides until they met in the back.
What type of client would you recommend this look for?
This type of style would really be great for anyone! This client had a ton of hair, so she still has a ton of thickness on the bottom.
This style would look great on long or short hair, and can also be done on finer hair, just know that you won't have quite as much fullness.
Boho Romance
@blowoutsbyabbe
Q&A with style creator, Abbe Kierstein
Owner @ Blowouts by Abbe in Glastonbury, CT
---
How would you describe this look and what is your favorite thing about it?
I would describe this look as boho romance. I love all the dimension with her hair color. It adds to the beauty and especially the volume! Who doesn't love volume?
What tips or products do you recommend to recreate this look?
I added extensions that match some of her existing highlights. Puff Me by Design.ME Hair was used for added grip. The dry texture spray from Amika was used to add some hold to the curls and add volume.
A gentle backcomb at the crown helps add volume and ensures your style will last. I used my Babyliss Pro 1 1/4-inch curling iron and left some of the ends out for a beachy boho look. This look is on trend and very current.
What type of client would you recommend this look for?
This look is perfect for someone who has a sense of style and is looking for a sexy style. This is perfect holiday hair! Add some clip-in extensions for some fun and to change up your everyday look! It's FUN and FLIRTY!
1. A Simple, Sleek High Bun
A classic bun at the top of the head screams high fashion and if perfect for fancy dates, says celebrity hairstylist Claudio Lazo, owner of C The Salon in Studio City, CA. "Carry a small can of hairspray in your bag, and always, always, always have a few hairpins handy for touchups throughout the night." Hey, you never know when disaster might strike or a sudden gust of wind could totally mess up your mane! It's best to be prepared.
2. The Whimsical Side Chignon
According to Claudio, a chignon can be worn on every type of date. It all depends on how you rock it, however. For example, if you're going with the whimsical side chignon (one of our favorite looks!), he suggests trying it out for a casual summer date night. "Not that much work is needed, and it's a hairdo that turns any woman into a chicer version of herself, whether she knows how to control her hair or not."
3. Boho Beach Waves
Boho beach waves are another fabulous low-key date night hairstyle idea. They're effortless and give off that free-spirited, cool girl vibe. To score the messy look, Claudio recommends flash drying hair from the bottom up, about 80% of the way. Then, split it down the center and braid it. Spritz with a little hairspray, blow dry the rest and undo the braid for beautiful beach waves.
4. The Power Pony
Headed to drinks with your date after work? Sport the power pony! "The volume in this hairstyle makes it great for the transition from day to night," notes Donet Dee Eiwasian, a stylist at Assembly Salon in LA. First, blow dry your hair to achieve sleek looking locks. Take sections at the crown next (as shown in the photo), and tease your hair at the root. Secure the "pouf" with bobby pins in a criss cross pattern right below your crown. Now, take the rest of your hair and put it up into a ponytail. Grab the end of the teased and secured section and wrap this around the base of your pony to hide the hair elastic. Secure with bobby pins, and you're ready to roll.
5. The Runway Blowout
This look works in practically any setting, especially on a fancy shmancy dinner date, points out Donet. "Roughly blow dry your hair or use your round brush to get strands extra sleek. Wrap sections around a large 1.5-inch curling iron, and don't brush out the curl. Let your hair completely cool before repeating on your entire head." Once it's cooled the second time around, brush out and voila: you have a beautiful, salon-worthy blowout!
6. A Super Quick & Wavy Side Pony
In a rush, but still want your hair to look hot? Don't worry! You can cheat and recreate this style in minutes by only curling the hair in your ponytail, says seasoned hairstylist Sherri Jessee. "Start by brushing your hair over to one side, and tie it off with a covered elastic band.
Take a small section of hair next, and wrap it around to conceal the band. Secure it in place with a few bobby pins. Then, curl the rest of your hair with a one-inch curling iron." Your date won't be able to take his eyes off you!
7. A Chignon With Serious Flower Power
There's nothing more romantic than accessorizing with a flower! "Using your fingers to amp up texture, rake your hair back into a low ponytail," advises Jessee. "Loosely twist the ends, and pin them to form an asymmetrical chignon.
Treat yourself to a beautiful bouquet of fresh spring flowers, and secure one of them in your hair for the perfect accent." You can also find flirty, clip-on faux flowers at your local drugstore or beauty supply store.
8. Voluminous Soft Waves
Soft waves are sure to win his heart every time, says Jessee. And we totally agree! To achieve this look at home, she recommends applying a volumizing mousse to freshly shampooed hair, then blow dry it. "Roll hair on medium sized electric rollers. For longer lasting curls, allow the set to cool completely before removing. Now, turn your head upside down, and brush hair with a soft bristle brush. Gently smooth it into place, and spray with a touchable hairspray like Pravana Super Shape."
9. Effortless Sex Kitten Hair
Wow your date with effortless come-hither hair! "On towel dried locks, apply a cocktail of styling cream and Obliphica Professional Treatment Serum; distribute evenly, and spritz a volumizing spray on your roots," instructs celebrity hairstylist and creative director of Obliphica Professional, John Blaine.
"For maximum volume, blow dry your hair with a large, round, boar bristle brush. Use large velcro rollers next, and leave them in while you do your makeup and get dressed." When you're ready to go, take them out, and run one pump of Treatment Serum throughout your strands. "This will give you that dreamy summer night's hair. Plus, the smell will drive him wild!"
10. Vintage Hollywood Waves
According to John, the vintage Hollywood look is always in. He suggests spraying damp hair with volumizer to start, then mix styling cream with Treatment Serum and distribute evenly. "Create a razor straight side part (it must be straight!), and blow dry your hair with a roller brush. Set waves with hot rollers all going downward and toward your face. Let cool before brushing out and into shape." To help mold the shape, he advises using a comb and your fingers. Finally, spritz with some hairspray and get ready to blow your date away!
11. An Artistic Textured Updo
A lot of women only associate long hair as sexy, but John believes hair pulled up is even more seductive because you can see the neck of the woman. To fashion this style, he says to apply Obliphica Professional Multi Task Styling Cream to damp hair and distribute evenly. "Blow dry your hair upside down, and begin grabbing sections of hair starting in the lower back; pin these with bobby pins. Work your way up to the front, letting your creativity flow by sculpting and molding the shape you want. Remember, it's all about that texture!"