23 Sassy Pixie Cuts for Black Women of All Ages and Hair Textures
Short Pixie Hairstyle

@hrhjwigs
A short pixie hairstyle with frayed side bangs leaves the face delicate and smooth. A pixie for black women is easy to care for daily and provides a variety of styling opportunities.
Pixie Cut for Black Ladies

@styleqhair
A pixie cut for black ladies is modish in a platinum hair hue. Try a pixie cut for women of color since it's an excellent choice for showing even more beauty, enhancing the eyes and the rest of your features.
Simple Pixie Haircut for Black Women

@styleqhair
A simple pixie haircut for black women looks beautiful with highlights in warm tones. This pixie style requires cutting every 40 days to maintain the shape.
Natural Pixie with Bangs

@twinsunisexsalontheglambar
A natural pixie with bangs is chic and requires minimal styling maintenance. Short layers all around give great texture while leaving the sideburns longer and wispier, making the cut more feminine-looking. Wispy bangs cut short add an extra oomph factor to these pixie cut hairstyles. A styling paste is a go-to product for styling this cut.
Spiky Pixie for Textured Black Hair

@pixiesonpixies
A spiky pixie for textured black hair is a great way to showcase natural thick hair while removing bulk by creating short layers. Keeping the sides cut short and smooth works best for African-American pixies as it smooths the sides down.
? See more short natural hairstyles for black women.
Beautiful Asymmetrical Pixie Cut for Black Women

@shaes_hair_studio
Choose a beautiful asymmetrical pixie cut for black women – you will not regret it! A side part with a long front is complimentary on all face shapes and age groups. The asymmetry adds interest to your short haircut. You should know some women choose to wear a frontal lace wig to achieve this style. Cutting the frontal part and adding makeup to the hairline creates a seamless finish.
Low-Maintenance Pixie Hairstyle

@katrisharose
A low-maintenance pixie hairstyle gives a sexy finish. You'll want to let your hair air-dry with gel or mousse. Women with curly hair don't need a trim too often. Trimming the hair every 3-6 months will do. Keep in mind that a sign you need hair shaping might be excessive knotting or dry ends. Don't forget to moisturize your hair to maintain your hair health.
Pixie with Long Side-Swept Bangs

@touchbytonya_salon
Try a pixie with long side-swept bangs and receive tons of compliments from people around you. The long top can be left straight or natural, and the short sides look awesome curled with a small iron. The mix in texture is beautiful. A pixie cut hairstyle flatters all face shapes and requires low upkeep.
Layered Pixie with a Blonde Hair Color

@theofficialrazorchic
A layered pixie with blonde hair color is beautiful, but it will take some maintenance. Keep in mind not all black hair types can sustain the bleaching process. Black women with pixie cuts and colored hair will need extensive hair treatments to keep their hair in good health. Talk to your stylist to see if this blonde pixie cut and color is suitable for you.
Pixie Cut for Black Females

@bailey_aesthetics
A pixie cut for black females is a super easy-care hairstyle that looks classy. Ask your stylist to cut the sides and back short and leave the top longer to achieve a superb shape. This wash-and-go hair will make your morning routine a snap. A black woman with a pixie can conquer the world with this cut on her tresses.
Pixie Haircut for Curly Hair

@thechocolatehairfactory
A pixie haircut for curly hair is achievable using a dry-cutting technique. Curly hair shrinks up, and this will ensure you get the shape you desire. Moisturizing is a must to keep your locks looking gorgeous. Defuse curly pixie cut haircuts with conditioner and oil to get a soft and beautiful shape.
Long Pixie for Naturally Textured Hair

@nikki_h_stylist
Ask your stylist for a long pixie for naturally textured hair. A relaxer or silk press is applied to relax your curl. Finger waves on the short sides are done with a toothbrush. The longer pieces are curled with small flat iron or curling iron and look fabulous paired with a mohawk shape. Pixie styles are chic and look great on young women.
? See more natural hairstyles for black women.
Pixie Cut for Black Women Over 50

@deanna_thecurldoula
Consider a pixie cut for black women over 50. Evenly cut layers all around the head shape make this simple to maintain. A pixie style shape can be worn on the forehead or pushed back, making it suitable for any face shape, especially on 50-year-old black women to keep them looking younger. Dry shampoo is perfect for keeping your hair looking and feeling fresh and lengthening the longevity of your blowout.
Very Short Pixie for 4C Curls

@taliaxkaylee
You'll want to try a very short pixie for 4C curls if you are a woman constantly on the go. The best way to style your short pixie hairstyles is to let them air-dry. Apply a leave-in conditioner and a scrunching gel to damp hair. It's best to leave your short hair alone while it's drying. Touching it will make it frizz.
Long Pixie Cut for Black Women

@ladinahair
A long pixie cut for black women is a great style choice. Straightening the soft layers with a flat iron or a comb is a great technique to follow. A heat protectant is a must to protect the integrity of your hair. When dealing with pixies for black women, hair oils are vital in promoting hair shine. Pixie-style wigs are available for use to have that instant style change.
Short Pixie Cut for Black Girls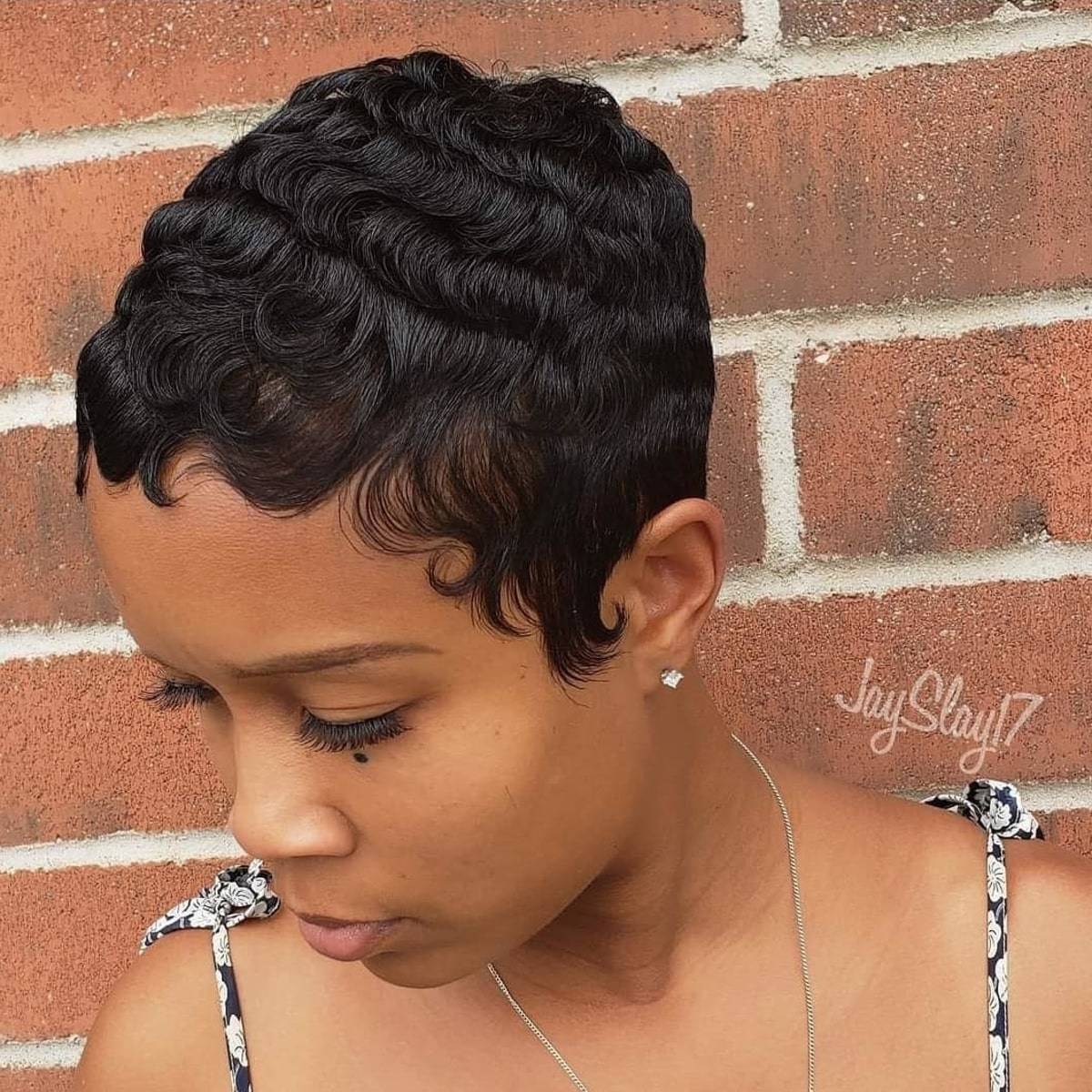 @jayslay17
A short pixie cut for black girls requires a product specially developed for moisturizing and heat damage protection. An African-American pixie cut can be smoothed by blow-drying but can become curly again after washing and drying them upwards.
Pixie for Natural Hair

@unknownhair
A pixie for natural hair can be a great option if you have straightened hair and want to get back to your natural hair texture. Pixie cuts for black women facilitate day-to-day care and offers endless sophistication.
Longer Pixie for Straight Hair

@haircolorkilla
A longer pixie for straight hair is a good alternative, as well as the shredded one, which always rejuvenates your overall appearance. In addition, black women with pixies can bet on warmer hair tones to illuminate their skin color.
Pixie Haircut for Black Women Over 60

@indinstrands
A pixie haircut for black women over 60 values its attributes and gives it that modern and edgy touch. 60-year-old black women can bet on choosing more modern, black hairstyles that are messy with irregular cuts.
Super Short Pixie

@contactevie
A super short pixie gives power to the overall aura of women. Look for a professional who knows how to make this type of pixie cut haircut so that you can adopt the cut without any hesitations.
Pixie with Finger Waves – Short Hairstyle

@jaemajette
A pixie with finger waves is for the black girl who has a lot of personality. The best way to create this texture is by using your fingers and a comb. Apply the gel all over your hair and keep pressing hair strips to create a wavy effect.
Pixie with Layers for a Black Woman

@b_andrew_hair
A pixie with layers for a black woman highlights your face. Black women with pixie hairstyles may use this cut to flaunt their inner style. The tip is to look for a professional who knows how to cut your specific hair type.
Wavy Pixie for Older Black Women

@kaysimpsonhair
A wavy pixie for older black women is the perfect combination of style and texture. With African-American hairstyles, the stylist needs to consider the texture and density of the hair to best suit the cut to their client's hair. Long, wispy layers styled forward gives a sweet, simple style that is easy and quick to do.