21 Hottest Sew-In Hairstyles for Black Women Right Now
Short Bob with Invisible Part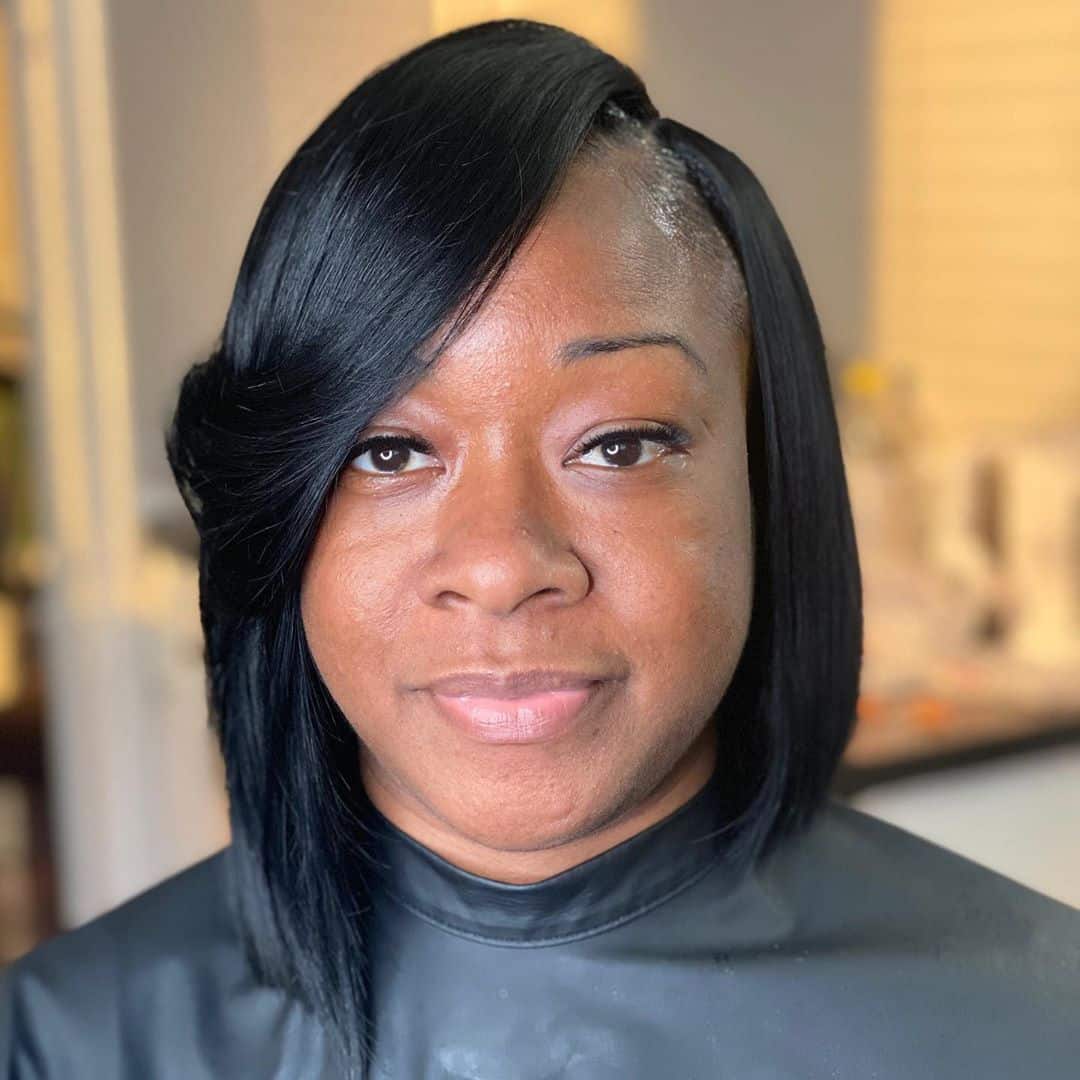 @___iamkerra___
Sport a short bob with invisible part to pull off a flawless, sleek-looking style. This sew-in hair takes only a minimal effort to jazz up. As a black beauty who wants a go-to style, you shouldn't miss it.
Q&A with style creator, Shakerra Atkinson
Licensed Beautician @ Kerra Styles Of Hair in North Little Rock, AR
How would you describe this?
This short bob with invisible part is a very chic, classy style! Creative for all gals, especially women with long hair who'd love to try a short bob.
What's your best advice?
Have fun with the sew-in bob, it's beautiful for any occasion!
The 12 Inch Weave

@thestylistqueen56
Prepping for an evening out? The 12-inch weave can give you a sleek and smooth look, perfect for your glam outfit. Its length that goes above the shoulders plus the black color both bring out a fuller look. If you want a bit of embellishment, you can attach a few sparkling hairpins on your hair.
Sew In Style with Bangs

@hair_rking
Who's ready to get a sew-in style with bangs? You'll love this if you're into playing around with a look that gives you a sweet and youthful edge. The texturized half updo creates fake layers while it flaunts more of the waves in this haircut.
Weave Style for a Round Face

@tia.did.it
Here's the ultimate weave style for African-American women with a round face! Its length is extended, and it's even parted in the middle, to bring out a slimming effect, ideal for your cheeky face. Soft waves create a subtle movement for a black hairstyle that's full of life.
No Leave Out

@komfortstyles
Black girls your hand if you need a hairstyle with no leave out. This traditional sew-in weave grants you curls that go well with long, dark locks. The side part style lets you have those wavy strands placed on the side of your face. Alluring, isn't it?
Brazilian Body Wave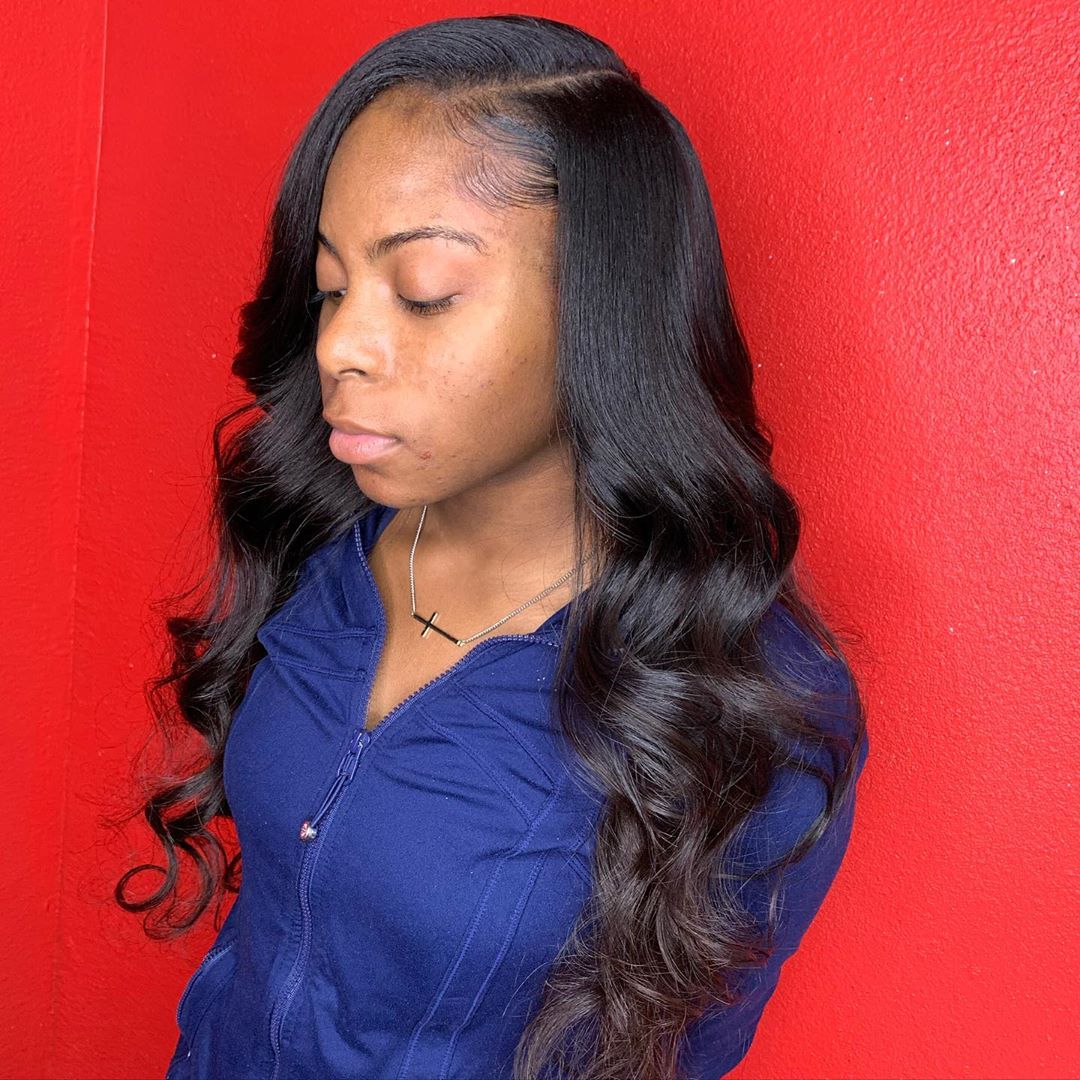 @lexisdidit_
Why pull this hairstyle off? It's long, voluminous, and above all, it's classy. Offering a natural-looking beauty, this Brazilian body wave weave is worth the shot!
Sew In Braids

@kikiornaw
Craving for a not-so-ordinary lengthy, straight hairstyle? These sew-in braids for black ladies with on fleek edges are stylish, and you should go for it. Opt for a lace frontal wig that can certainly help you achieve this look with ease.
Sew In Updo

@controlthecool
Crown yourself with this stunning sew-in updo for your black hair! The texture on braids and the curly sideburns make everything glamorous at any angle. No need for any added hair color, but a classy make-up will be charming to gaze at.
Middle Part Weave

@queenhairorangenj
Here's a middle part weave to make your wish for a long, straight hairstyle come true. Its plain and divine-looking edge will not be complete without laying down your baby hair.
Wet and Wavy

@rayvensboutiquecom
If you believe that volume is everything, you have to check this one out. This wet and wavy long hairstyle on black hair will turn out aesthetically pleasing on you. Install a black sew-in weave because that's how you get both flawless and dramatic payoff.
Loose Deep Wave

@azzystyles.nyc
Yet another dashing sew-in hairstyle is when you incorporate loose, deep waves in it. Pay attention to the way that the voluminous curls make this black mane so pleasant to stare at. In no time, you'll realize that a lengthy, side-parted hair like this has to be unveiled to the world.
Black Hair Weave

@taylorluxhair
A long, straight mane that follows your moves means you got a natural-looking black hair weave. It may seem minimal and straightforward, but its stylishness is way noticeable.
Side Parted Sew Ins

@taylorbobbihairstudio
If you've been having a natural black or curly hairstyle all your life, give it a break. You can still slay like a diva with side-parted sew-ins of considerable length. Mind you, that perfect baby hair adds an extra point in carrying out the weave's effortless flair.
Sew In with Closure

@all.about.slay
This sew-in with closure appears genuine in all fairness. The middle-parted style and on fleek edges complement one another to spice things up a bit.
Blonde Weave

@stylesbykay_
Trying out a new hair color is always exciting, but seeing that it fits you is much more electrifying! Opt for this blonde weave to let you expose your shoulders, giving you the utter bombshell aura. If you live for all bob haircuts, this is a neck-length cut that you'll be flattered to pull off.
The 10 Inch Weave

@divastyles_eleganthair
The 10-inch weave is your best option when you want to achieve a classy look. Here's the chin-length sew-in bob cut to help you gear up for any sort of occasion.
Long Sew In

@finessehair4queens
A traditional long sew-in hair will never fade its beauty. It's as versatile as your mood that you can style it in an updo today or leave as it is for the next day. It'll also be one sweet change for you, switching from a natural black hairstyle to using a weave.
Lace Frontal Style

@hairvendor_qingdao
Pull off some soft but voluminous curls in a snap with this stunning sew-in for black women! This lace frontal style can offer you that polished finish, and it's very easy on the eyes. It'll protect your natural kinks, and at the same time, will let you have one gorgeous long hairstyle. Who doesn't want that?
Cute Curly Sew-Ins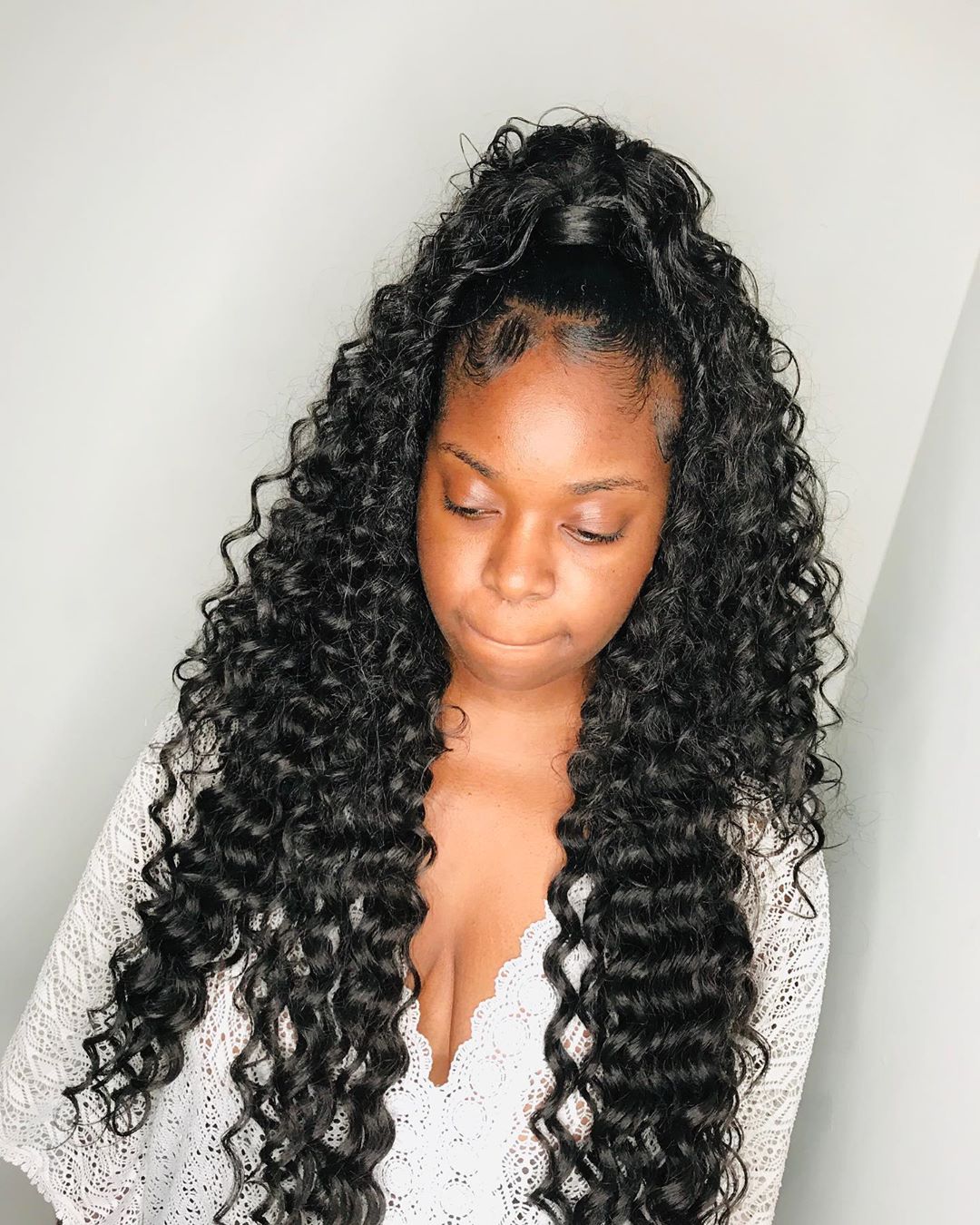 @crescentstyles
These cute curly sew-ins are so defined, and you should go for this ASAP! This half updo, plus those on fleek edges, gives a sense of sophistication to your long, dark tresses.
Sew In Pony

@pegasus_hair_official
Everything about this sew-in pony are exquisite. Black tresses look so fine in this long, wavy updo. Notice how the curtain bangs can frame your face. That, beyond any doubt, is what you need to emphasize your best facial features.
Straight Sew In

@tiffaniforever
It's impossible not to have the right amount of poise when you wear this long, straight sew-in style. There's always a soft spot in every lady's heart for a middle-parted trend, too. It frames the face without having to chop off some curtain bangs or paint a money piece.
Q&A with style creator, Tiffani Marie
Hair Care Specialist @ Hair by Tiffani in Casselberry, FL
How would you describe this look?
This style is a lace closure sew-in. It is considered a protective hairstyle, meaning that the client's real hair is shampooed, conditioned, blow-dried, and braided down underneath the weave. None of her real hair is left out, giving her real hair a break from daily exposure and other hazards from brushing, combing, friction from sleeping on pillows, etc.
Any advice for someone considering it?
It is very low maintenance, so there is not much that you would have to do to it besides brushing it with a paddle brush daily. You can curl it and style it how you like. You can exercise and do activities without worrying about messing up your real hair. This hair can be shampooed while installing. I recommend a moisture shampoo and conditioner followed by a leave-in conditioner. That is basically it. This style lasts up to 2 months with proper care and maintenance.