28 Easy and Stylish Short Bobs With Bangs for Women Over 60
Textured Shaggy Bob with Piece-y Layers
@hairbyhannahri
Textured shaggy bob with piece-y layers creates a messy, lived-in finish. To recreate this style, use Redken's Curvaceous Full Swirl with a curling wand and a texturizing Spray Like IGK's Beach Club. Bob with bangs haircuts incorporates a youthful silhouette to the overall style.
Tousled Layered Hairstyle on Women's Short Silver Hair
@frank_zarcone_hair
Tousled layered hairstyle on women's short silver hair is a fun way to embrace your natural hair texture while controlling the varying texture silver hair tends to sprout. Styling with a moisturizing product like cream layered with a gel or a hybrid of the two will keep your styling routine quick and easy while providing hydration and lasting hold. When hair is dry, use a 3/4 to 1-inch curling wand to create a tousled finish.
Tousled Razor Cut Bob with Glasses
@j.castillohair
Try a tousled razor-cut bob if you wear glasses. With soft layers around the face and a longer wispy fringe, a shag bob with bangs is a good option for a rounded face shape or any other shape that wears frames because of its face-framing effect.
See more bob hairstyles for women over 60 with round faces.
Wavy Inverted Bob with a Side Fringe
@chelseybrackhair
A wavy inverted bob with a side fringe is a great way to get tons of volume on a flat, fine hair texture. As you age, hair tends to grow thinner and finer. Opting for a beautiful stacked inverted bob gives the much-needed depth and thickness to your tresses.
Shaggy Salt-and-Pepper Bob with Bangs
@sylviasilverstyle
Shaggy salt-and-pepper bob with bangs is a sassy cut that showcases the natural hues of your hair. Bob with bangs hairstyles cover wrinkles found in the forehead. It also tones down a large forehead.
Short Pixie Bob with Feathered Bangs
@cabelosfhabioribeiro
A short pixie bob with feathered bangs creates volume toward the crown area. Feathering and thinning the hair when thick and coarse is essential to creating an effortless flow of movement.
Short Bob with Swoopy Bangs for Women Aged 60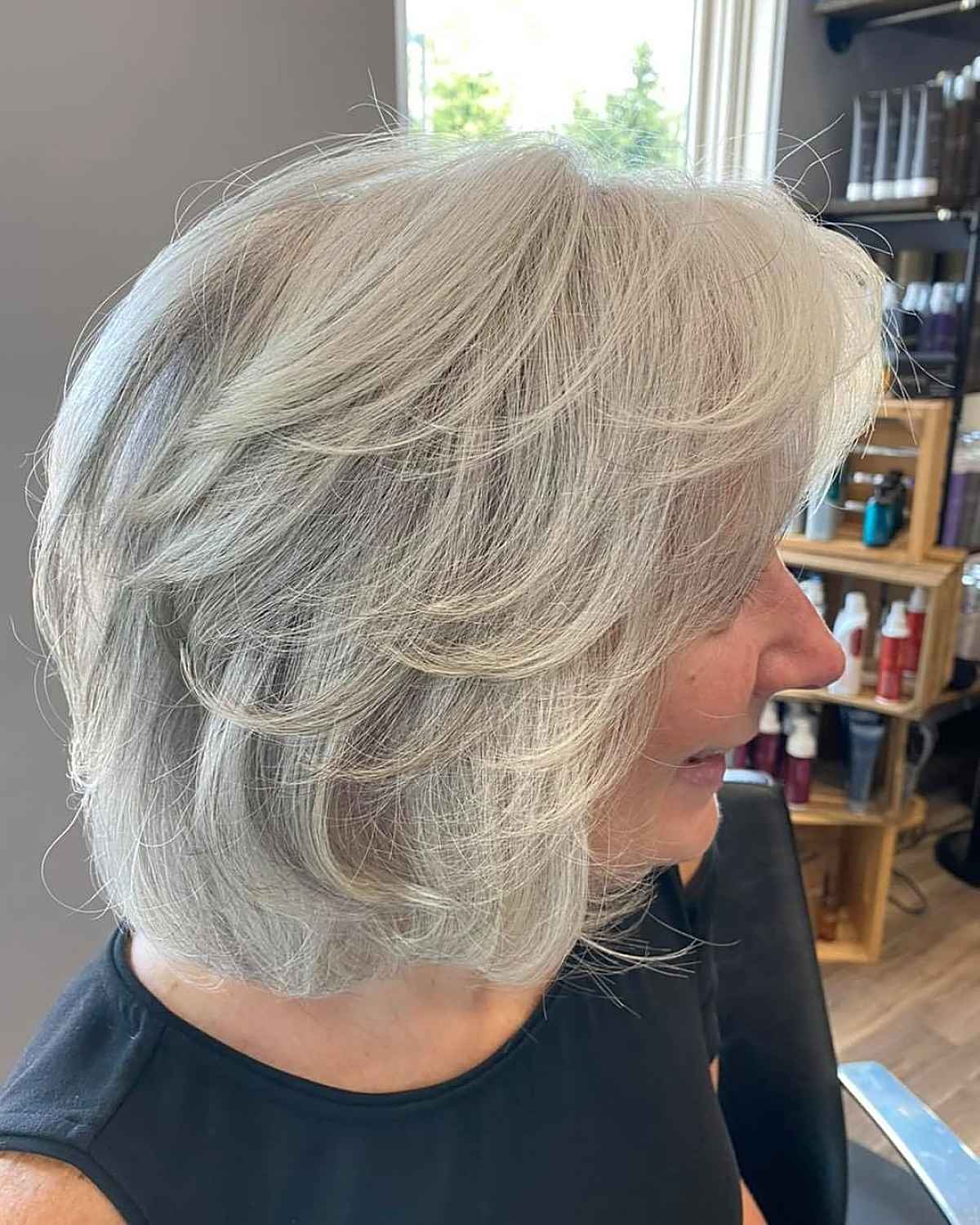 @abetterwayatanas
A short bob with swoopy bangs for women aged 60 is the perfect cut for a grandma trying to keep her length while wanting a mature hairstyle. Adding soft, shaggy layers creates a beautiful shape and helps the hair fall perfectly into place.
Chin-Length Blonde Bob for Older Women
@hair_by_rae.m
A chin-length blonde bob for older women is a timeless and easy hairstyle to maintain that helps slim down the face. Adding in blonde highlights helps to blend in the gray hair and makes for an easy grow-out.
Feathered Bob with Side-Swept Bangs
@nellcarmo
Consider a feathered bob with side-swept bangs if you have thick, luscious hair to create an extra feminine touch. It's best when styled with a large round brush or 2″ curling iron. Add a soothing gel to the hair while damp to help control the frizz and flyaways for that smooth finish when dry.
Wash-and-Wear Textured Bob
@alissanicolehair
Try a wash-and-wear textured bob for the minimum styling it offers. A long layered stacked bob looks great when cut correctly. It's good air-dried or round brushed but can be taken to the next level when styled with a wand or curling iron for a little extra drama for a night out.
Classic Bob for Fine Hair
@frankys.girl.hair.etc
Play around with a classic bob with bangs for fine hair. Angled and cut just on the jawline with a graduated 90° layers for added weight, teamed up with a straight fringe. It can be blow-dried straight with a slight curl just at the ends. It's a perfect option for a round brush, blow-dry, and go kind of style.
Check out more voluminous hairstyles for 60-year-old women with fine hair.
Very Short Bob for Straight Hair
@andrea.esalonhair
The infamous Vidal Sassoon-inspired bob consists of a very short bob for straight hair. It's a precision haircut that offers sharp angles to flatter the jawline, elongate the neck, and create a timeless feminine profile. It is a perfect option to accentuate petite features or for 60-year-old women with naturally thick, straight hair.
Sassy A-Line Bob with Wispy Bangs
@sashacreatifhair
Try a sassy A-line bob with wispy bangs; it's perfect for women over 60 with fine hair. Invest in hair products that add volume and bounce like a hair mousse for stunning results.
Youthful Pixie Bob with Bangs and Feathered Layers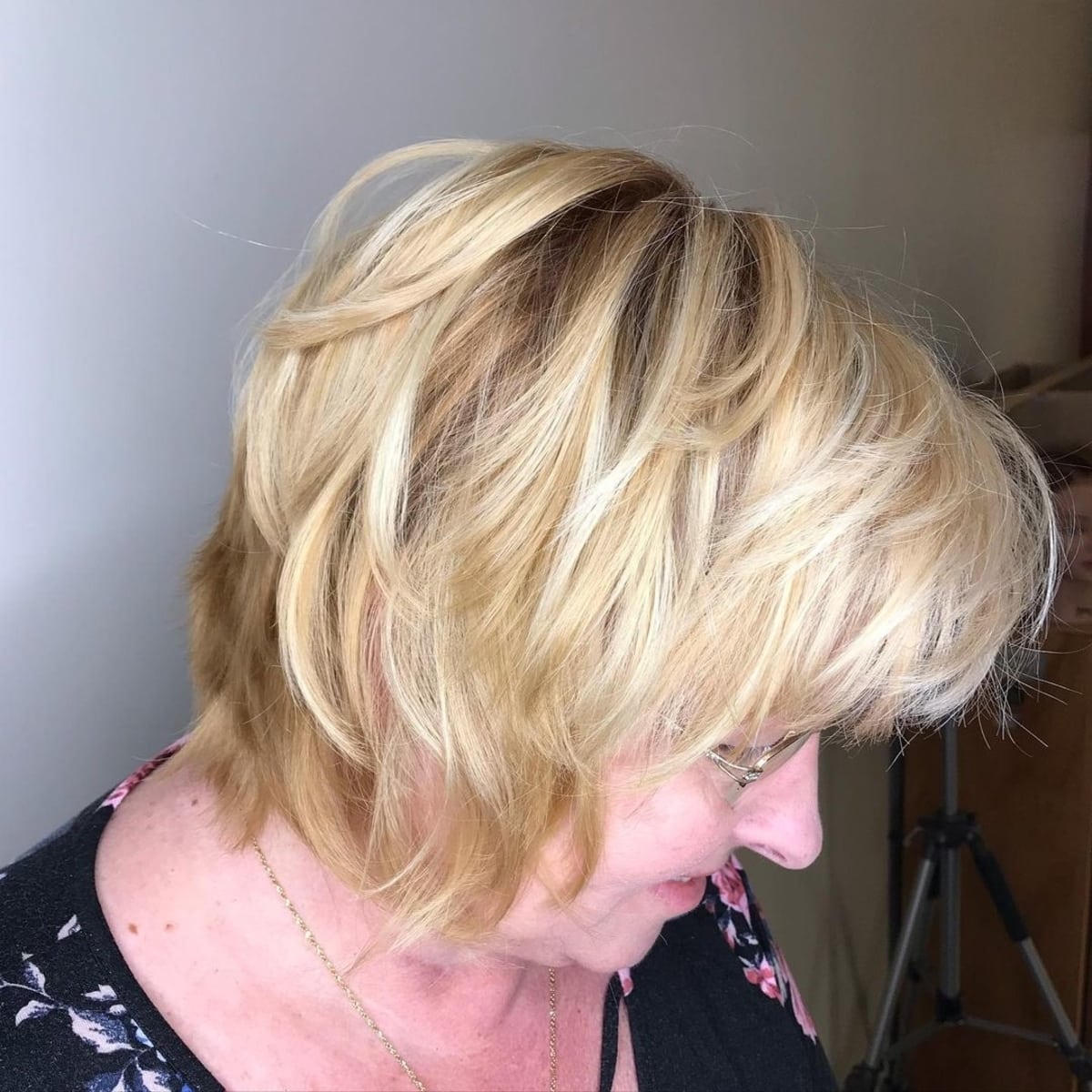 @livingxart
A youthful and feathered pixie bob with bangs and glasses is a good option for senior women with fine hair. The length must be longer than the usual pixie haircut, so you can style it a little messy with added volume, definition, and bounce. This way, you'll look 10 years younger instantly!
? See more pixie cuts for women over 60
Flattering Angled Bob for Grey Hair with Full Bangs
@hairdesignsbyluis
A younger-looking angled bob for grey hair with full bangs smoothes out all the harsh facial lines. The idea is to enjoy and wear this bob with bangs haircut gracefully as a longer bob with wispy layering.
? See more hairstyles for women over 60 with grey hair.
Low-Maintenance Choppy Bob for Fine Hair
@isabellehaircreative
A low-maintenance choppy bob for fine hair is ideal for disguising the shape of your face. Add a fringe to get that youthful-looking glow, and to hide any forehead wrinkles or crows feet you want to disguise, too.
Short to Medium Reverse Bob
@ashleyswaincreative
A short to medium reverse short bob with bangs is beautifully angled to the front with a few layers, tapered back leading to a stacked cut with added texture. Another plus is that reverse bobs flatter all face shapes.
Wash-and-Go Blunt Bob with Choppy Bangs on Gray Hair
@fgeccleshall
A wash-and-go blunt bob with choppy bangs has a short length and fits well with collars and coats. This bob with bangs cut needs periodic maintenance of 2 to 3 months maximum to maintain its length, unless you want to grow it out into a long bob. It sure looks effortless on older ladies with natural gray hair.
Wavy Bob Hairstyle for Thin Hair with Soft Bangs
@moxiesalonatx
A wavy bob for thin hair with soft bangs and a nice blonde hair color creates a modern look. Blunt bobs manage to suit a classic, cool, modern woman with a round face. It combines several styles creating a luxe finish.
Curly Bob and Bangs for White Hair
@salonestique
A curly bob for white hair is a good choice for creating texture. So, it's worth investing in a more shredded cut and using curl definers like several leave-in products.
Messy Stacked Bob with Short Bangs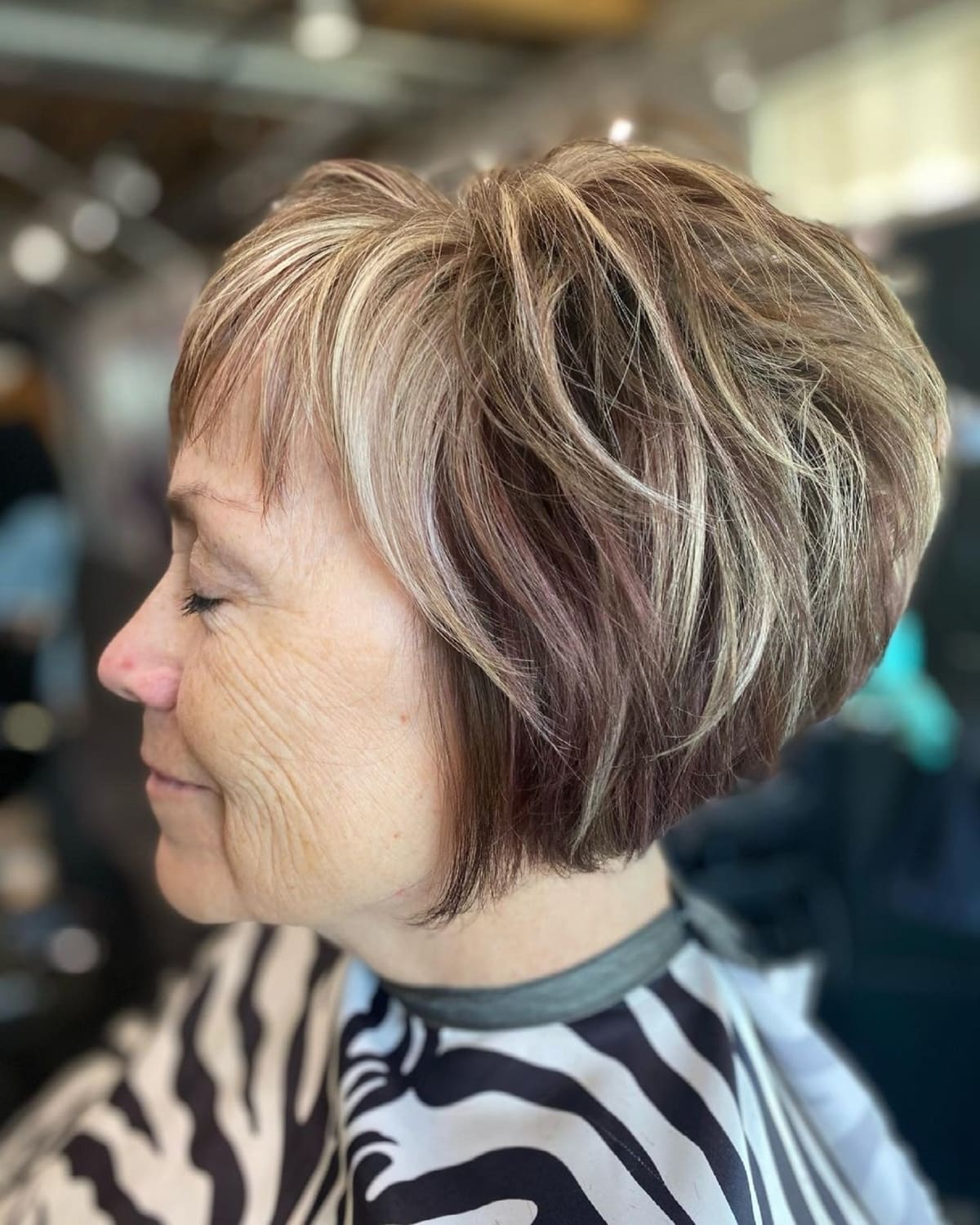 @jonathansaulellorin
A messy stacked bob with short bangs can elongate the face, disguising round-shaped faces. For this short bob hairstyle, the cut should be made at chin height or a little below. Then, create a partition on the side.
Timeless Inverted Bob on Mature Ladies with Short Hair
@jessicavividsalon
The timeless bangs on a short bob that's inverted gets romantic with the help of a fringe. The inverted bob cut is great for humid weather. It has a beautiful fit and is even more practical to put away when going out. With the added shorter layers that remove bulk, it benefits 60-year-old women with thick hair to create an illusion of lighter tresses.
Ear-Length Layered Bob on a Copper Brown Hair Color
@vbhairdressing_
An ear-length layered bob is a versatile haircut for older women. This layered hairstyle manages to bring a more serious look to mature ladies when done straight or a more laid-back look with frayed ends.
Jaw-Length French Bob for Older Women
@hair.bybear
A jaw-length French bob is an artistic approach to a unique look that's classic in Europe and has been spread all over fashion globally. It's for mature women with fine, wispy hair because the short layers can be pumped up with MoroccanOil Volumizing mist and enjoy 72 hours of volume! Short hair like this can be worn smoothly for casual days in the garden.
See more younger-looking short hairstyles for women over 60.
Edgy Shaggy Bob with Long Bangs
@raquel_eileen_sd
An edgy shaggy bob with long bangs is a wispy-torn look that's achieved by your stylist cutting with a razor. Ask your stylist if it's right for you. A shaggy bob with razored layers is best for you if you have fine hair. A texturizing paste by Moroccan Oil will bring out more details in your layered hair, so ask your stylist how to apply, and you'll love the results.
Not sure about this edgy cut? See more edgy hairstyles for 60-year-old women.
Chin-Length Graduated Bob with Glasses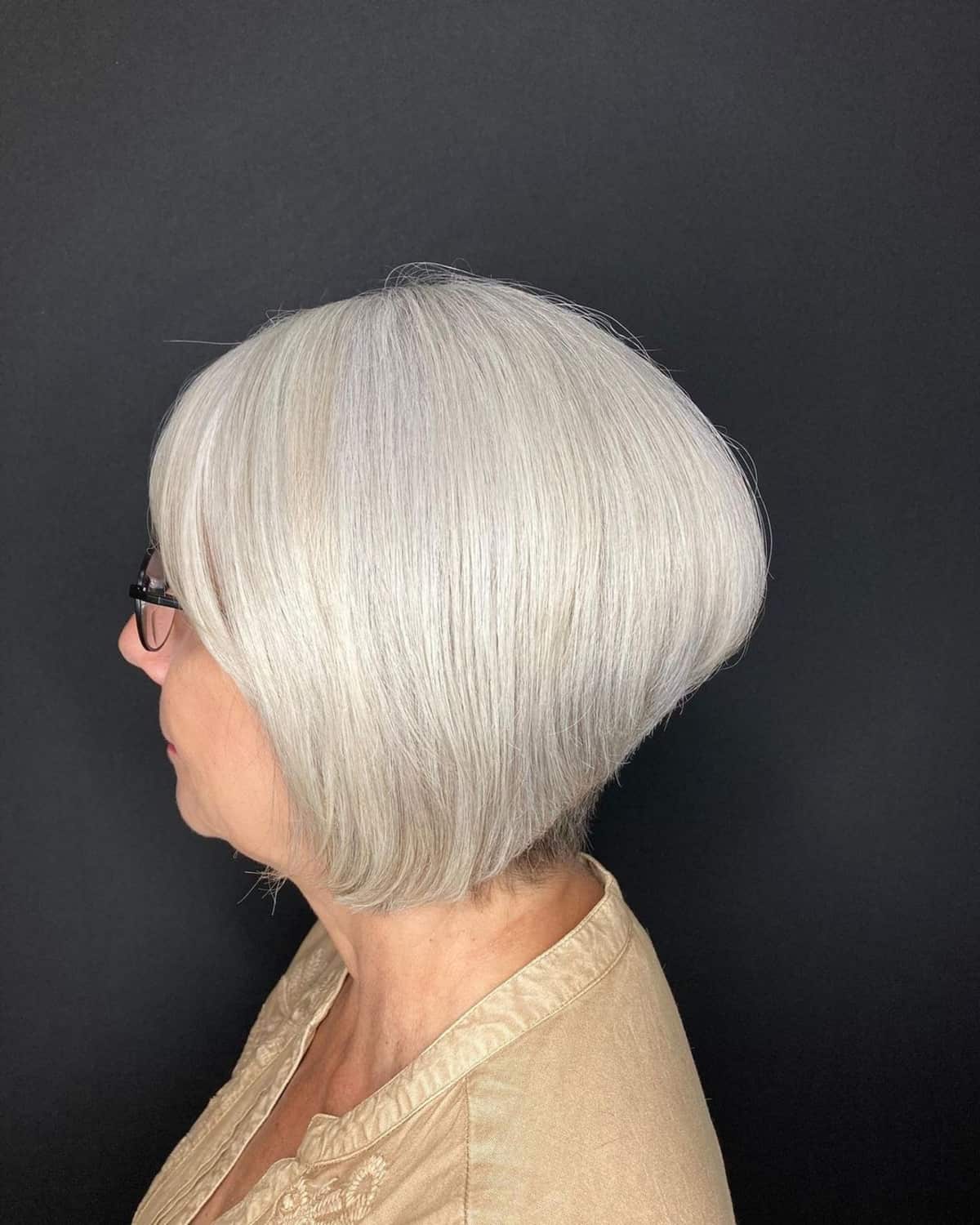 @cassandcompanysalon
A chin-length graduated bob with glasses is sure to draw out your jawline. The length also balances the placement of your favorite eyewear to make your entire style pop. The graduated bob haircut is a simple but perfect fit for old ladies who want to feel perky and look stylish.
? Check out these flattering short cuts for ladies in their 60's who wear glasses
Classy Asymmetrical Bob Hairdo
@_shawna_leigh_hair
The classy asymmetrical bob hairdo for a 60-year-old woman gives a polished finish that is timeless and classic. Try using CHI Iron Guard 44 for heat protection that helps when you use your high heat flat iron.
? See more asymmetrical haircuts for 60-year-old women.
Neck-Length Natural Bob for Black Women
@deanna_thecurldoula
Creating a neck-length natural bob for black women over 60 with kinky curls involves cutting on dry hair. It allows the curls to be cut in their natural state without stretching and pulling on them. Doing this allows for a better overall shape within your bob with bangs hairstyle.
Related: See more bob hairstyles for ladies over 60.