21 Most Flattering Pixie Cuts for Older Ladies with Glasses
Undercut Pixie Cut for Older Ladies with Glasses
@abetterwayatanas
An undercut pixie cut is great for older ladies wearing glasses. This cut is done by cutting half the amount of hair, making it easy to style. If you have thick hair, this cut will take a lot of bulk out of the hair from underneath. If you have fine hair, you can get more lift and extra volume through the crown.
Pixie for Older Women with a Round Face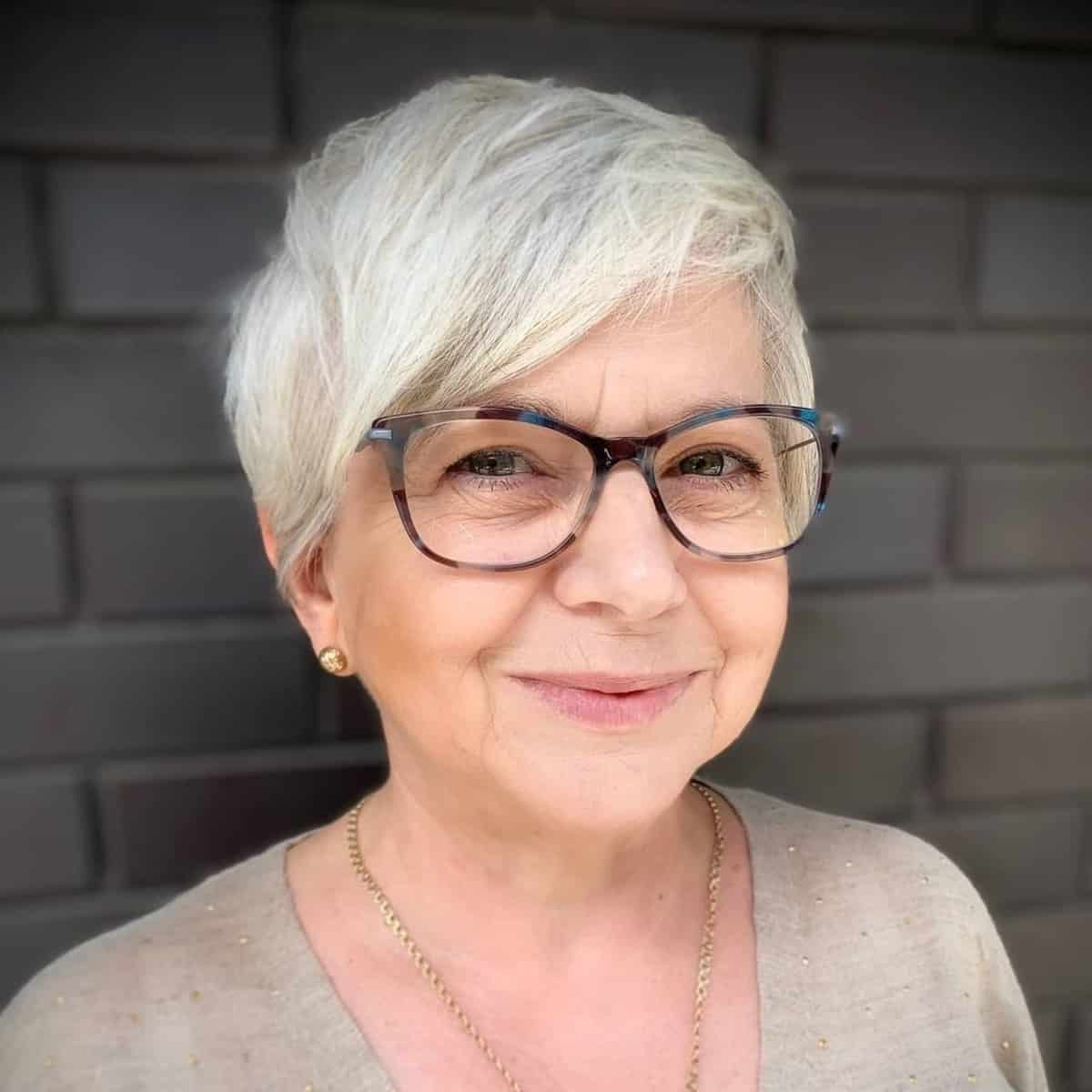 @viruczeszehery
A pixie for older women with a round face is a great way to add fullness to the top of the hair, giving the illusion of an elongated face. Adding a thick side-swept bang also helps thin out a rounder face. Styling a pixie forward and with volume is the best way to accentuate features. A soft-hold hairspray to hold the tresses in place is an essential product to use.
Pixie with Choppy Layers
@hairnerdsalon
Try a pixie with choppy layers to instantly upgrade your style! The textured layers moving forward softens the facial lines. Achieve the choppy look effortlessly with styling wax. Choppy pixie cuts for older ladies with glasses are your go-to, especially if you're looking for ease and a haircut that compliments your facial features quite well.
Very Short Pixie for an Old Lady with Glasses
@caroladietrich5
A very short pixie for an old lady with glasses is a classy and stylish haircut. A pixie cut takes minutes to style and makes fine hair look thicker. It's a great option to try for busy women who got no time for styling. The only drawback of this cut is the frequent cutting necessary to keep it looking its best.
Sassy Spiky Pixie Cut
@jacklynhannah_hair
A sassy spiky pixie cut is styled forward for a fun, edgy finish. Blow-dry forward with your fingers with some sculpting gel. Consider spiky pixie cuts for older ladies with glasses with oval face shapes.
Silver Pixie for Older Women with Large Eyewear
@zen_hair_designs
Silver pixie for older women with large eyewear creates a modern look and is a great option to try for those who like practicality with their hair. To keep the shape and hue, you'll need a haircut every two months.
Flattering Pixie with Asymmetrical Bangs
@soubecas
Flattering pixie with asymmetrical bangs is a versatile cut for older ladies with glasses. Asymmetrical pixies have longer fringes with one side shorter and many choppy layers to create height and body.
Curly Pixie Cut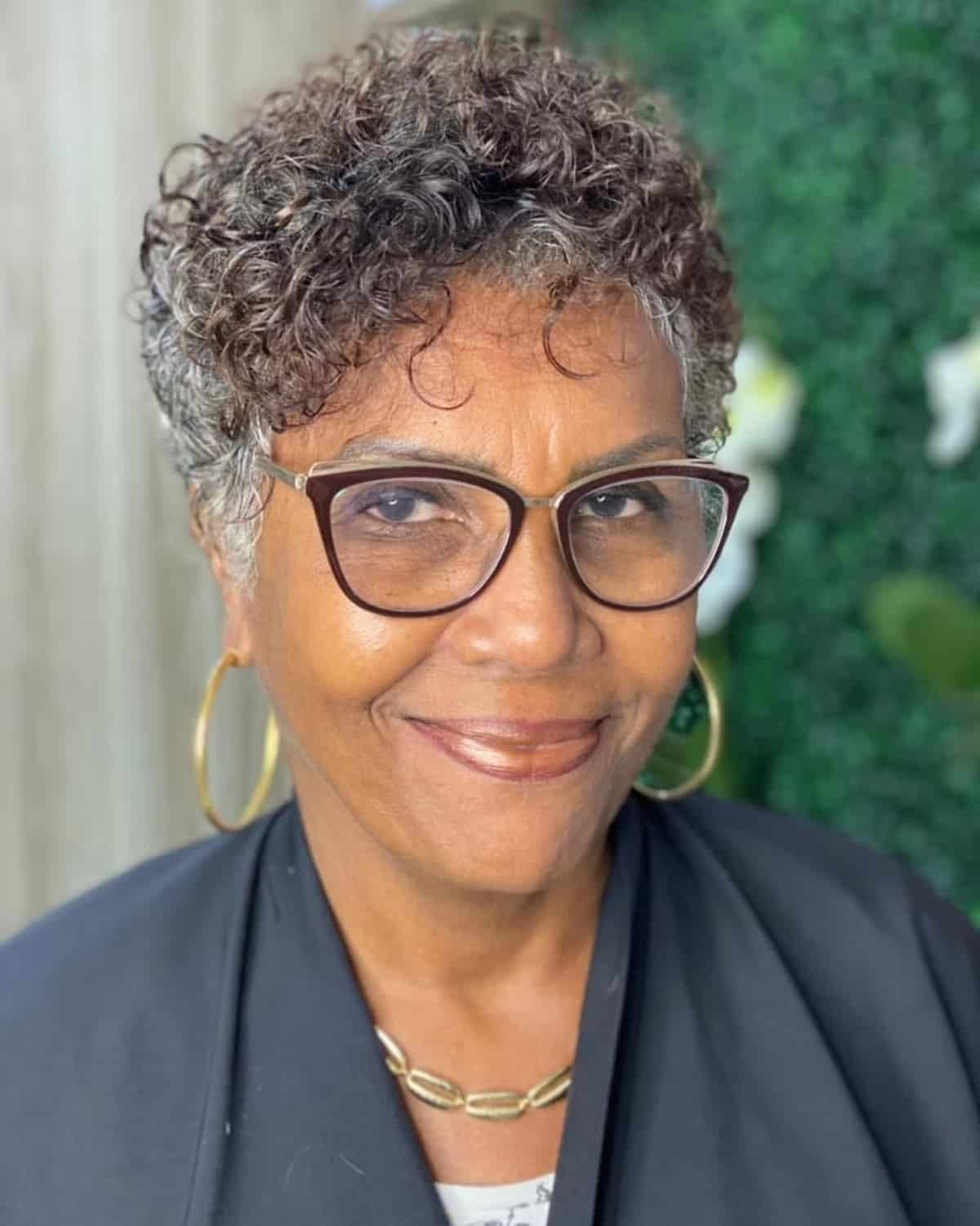 @analudolfoficial
A curly pixie cut is the ultimate low-maintenance style for senior women with gray hair color. Wash-and-go with a little curly defining cream or apply a diffuser to dry, and voila, you're ready to go! It's a great hair style for all face shapes. By adding some bangs to frame the face, it works with with most eyewear. You can pull off a short pixie with longer face shapes as well.
The Low-Maintenance Short Pixie
@saxarna.malin
The low-maintenance short pixie is a great style for women who want a quick fix with minimal effort. Low-maintenance pixie cuts for older ladies with glasses can be done in under 10 minutes using a root boost product, a blow-dryer, and a 1-inch round or flat brush. In-salon maintenance happens every 4 to 8 weeks.
Tapered Pixie for Older Women
@pinup_barber_studio
A tapered pixie for older women with bold eye frames is a classic style that looks great on a heart and square-faced shapes. The tapered edges give the pixie hairstyle a clean look while giving you extra time to grow the hair out. To keep it clean, you will need to have it cut every 4 weeks. You may also allow the style to grow out into natural wispy edges and stretch it to 6-8 weeks. If you're a mature woman with thinning hair or hair loss, ask your stylist about the tapered pixie.
Short Pixie for Women Over 50 with Glasses
@mixd.salon
A short pixie for women over 50 with glasses is a fabulous choice. If you would like a wash and wear hairdo this is the one for you. Pomade can be used for shine and dimension, but even that isn't necessary with such short layers. Extremely low-maintenance at home, this simple shape still needs a cut every 3-4 weeks to look its best.
? See more hairstyles for women over 50 who wear glasses.
Pixie with Bangs
@trichosalon_boca
A pixie with bangs is the best cut for older ladies with glasses. It's great for highlighting the eyes and can help you look 10 years younger. Also, it's a great option for older women with thin hair since it gives an extra layer of volume to help it look thicker.
Pixie for Women Over 70 with Glasses
@orriginalhairstudio
A pixie cut for women over 70 with glasses is a great way to show off your frames with hair that's full of life. Pixie cuts are known for their volume-boosting properties. A choppy layered texture makes it easy to wash and style daily. Opt for a fringe above the eyeglass frames to avoid your hair from getting into your eyes.
Shaggy Pixie Cut
@hairby.sara.k
Consider a shaggy pixie cut for older ladies because it's very popular, stylish, easy to maintain, and creates a fuller look. Shaggy pixies have multiple blended and chopped layers all throughout and can hide the side frames of your eyeglasses. Adding texture is always a good idea for extra fullness, especially when you're getting older.
Choppy Pixie Cut for Older Ladies with Glasses
@silverknitteranne
A salt-and-pepper choppy pixie cut can be a great style for older ladies who wear glasses. Pixies give you lots of texture and style. Add some soft feathered pieces around the ears and detail the nape area with longer pieces if desired. There's some styling versatility with short hair in those little details. To piece it out, try a dry texture clay and some root powder for volume.
Pixie for Women Over 60 with Glasses
@orriginalhairstudio
Choose a pixie for women over 60 with glasses to modernize your style. This cut works fabulously on fine straight hair. A small flat iron can be used on the short layers to create texture. Style with a wax or texture putty to achieve a funky look.
? See more of the best pixie cuts for women over 60.
Pixie Bob
@georgie.s.lavitahairdressing
A pixie bob is a chic look and very versatile. Tuck it behind your ear for a shorter shape or wear it forward for more of a bob style. This shape also benefits from a high crown area. To achieve this, blow-dry the crown with a metal barrel round brush backward with some volumizing spray. Ask your stylist for longer bangs to hide your forehead and to soften wrinkles for a younger look.
Long Pixie Cut
@christylargent
A long pixie cut is a classy hairstyle that flatters graying hair and any pair of glasses. The layers on the top are longer, creating a smoother and softer, youthful appearance. Blow-dry away from the face with mousse to create fullness for oval face shapes. This cut works well with a medium hair texture.
Asymmetrical Pixie
@cutnj
The asymmetrical pixie is ideal for older ladies with straight hair—whether it's thick or thin. Stylist Danielle Hardy of New Jersey describes this as an edgy look that needs minimal styling.
"This youthful haircut was done with a straight edge razor using precision razor-cutting method. It's a great technique to provide optimal movement and texture. There's also a slight undercut on the sides and back to remove weight and bring out a soft, round shape," Hardy states. Pixie cuts for older ladies with glasses are ideal, but adding an asymmetric shape to them enhances facial features.
Textured Pixie for Thin Hair
@stephatthehairco
A textured pixie for thin hair is a short chop that offers a lot of volume and movement. If you wear eyeglasses and have salt and pepper hair, consider getting matching spectacles for a fun, blended look. Created by stylist Stephanie Kruse from Kansas, she says this works on ladies with any face shape.
"This was cut with both shears and a razor. I cut the nape of the neck with my shears, and it's very tapered in. I built volume, then used my razor to create a rounded silhouette, and to texturize the top and bang areas," Kruse explains.
The Layered Pixie Haircut
@sit_n_mychair
The layered pixie is an ear-length cut that's easy to style and always makes a statement. Furthermore, it's one of the most ideal short hairstyles if you wear eyeglasses. Designed by stylist Sarah Massey of Florida, it looks way better with a messy, textured finish.
Massey suggests, "Anyone can have short hair, but the shape and style are what matters." If you have a long and slender face, opt for this short-length cut as it doesn't accentuate the length of the face.