25 Stylish Wedge Haircuts for Women Over 60
Grey Wedge with a Side Part
@marysalonbrooklyn
Try a grey wedge with a side part and amp up your style. Many ladies over 60 have let their permanent color grow out, so why not add a cool style to make your natural hair look fresh? A wedge is so versatile and can be worn backward, tucked behind the ear, and forward as well. Curl it with an iron or blow-dry it smooth. It all works on a wedge. Just remember, haircuts for women over 60  with grey hair don't have to be boring!
Very Short Wedge
@ravenhairstudio
A very short wedge makes the most of your hair. Graduation at the nape and longer layers create a thicker shape. A shorter haircut will boost volume and lift up sagging facial features. Wedge haircuts look great on most face shapes and need to be cut about every five weeks.
Voluminous Wedge
@thelifeof_bren
A voluminous wedge is a great choice for most hair textures. Try using a volumizing mousse and a round brush for fullness and shine. A key point is the thicker your hair the rounder your shape will be. Just be aware that thinner hair textures will lay flatter and not as round. Styles for women over 60 can sharpen your image and make you feel fantastic.
70s-Inspired Wedge
@miamaliabeauty
Consider a 70's inspired wedge for your next hairstyle. A stacked back and medium layers can add something interesting to your hairstyle. Reminiscent of the Dorothy Hamill, this classic can be made more trendy by leaving the front longer than the back. Add more body by curling the long layers to create some messy texture. A wedge is versatile and feminine and a great choice to update yourself.
Flattering with Glasses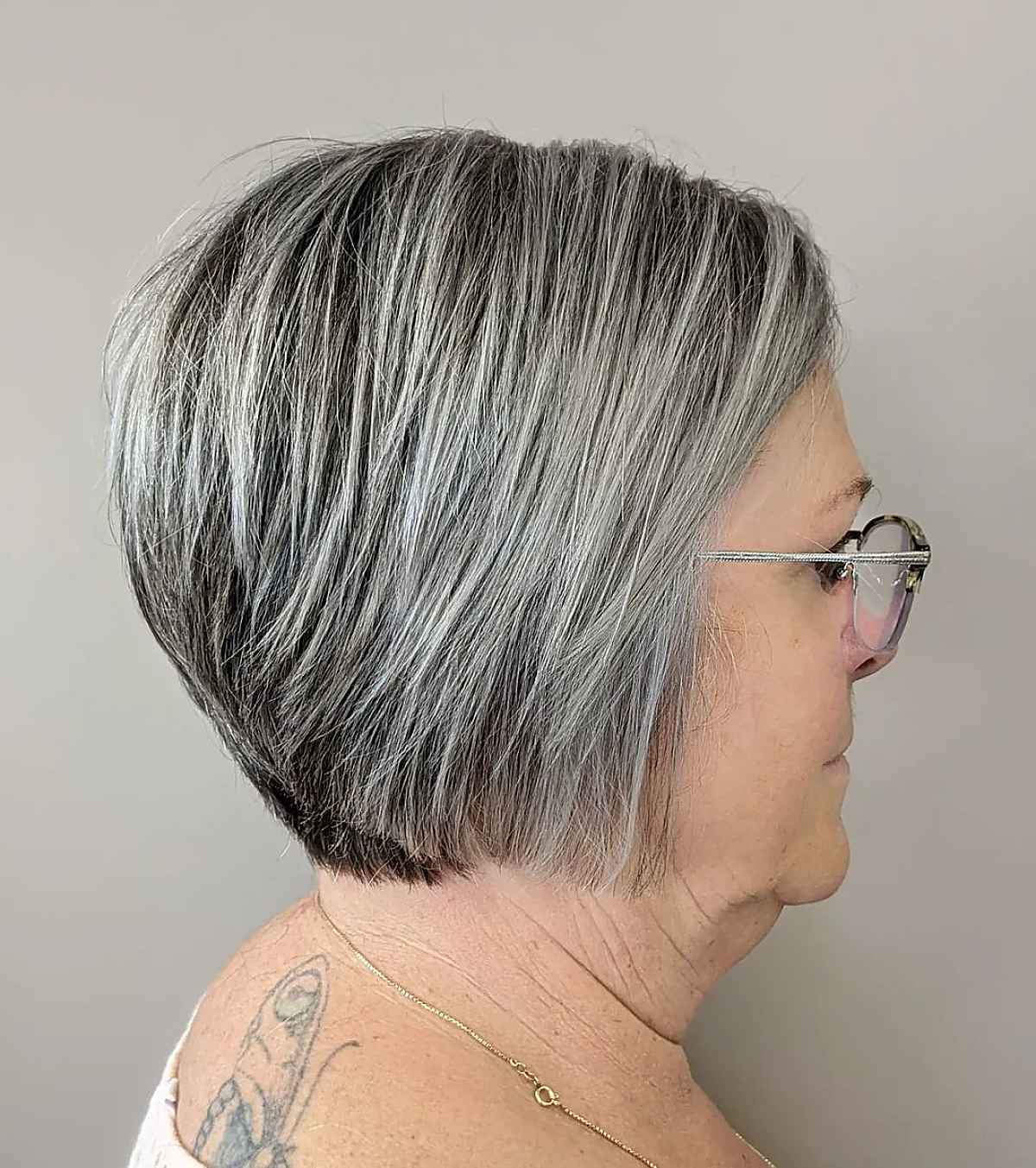 @haleydoeshighlights
If you're looking for a style that is flattering with glasses, wedge cuts accommodate eyewear well. You can push this style off the face and make room for your glasses. Wedge cuts for 60-year-olds also look great on most face shapes, and I recommend adding more volume for thinner faces. Wearing eyeglasses doesn't have to limit your hair choices. A great hairstyle can complement your spectacles.
The Wash-and-Wear
@hair.by.sks
If you're 60-years-old and looking for a wash-and-wear hairstyle, shorter hair is the way to go. Longer layers on a short cut are also a good choice because the weight helps hold the hair into place. Try adding product such as a mousse with a light hold, to towel-dried hair, and comb into place. A light conditioner will also help unruly locks. You can let the hair air dry, however, a little heat from a blow dryer does go a long way.
The Edgy Wedge with Bangs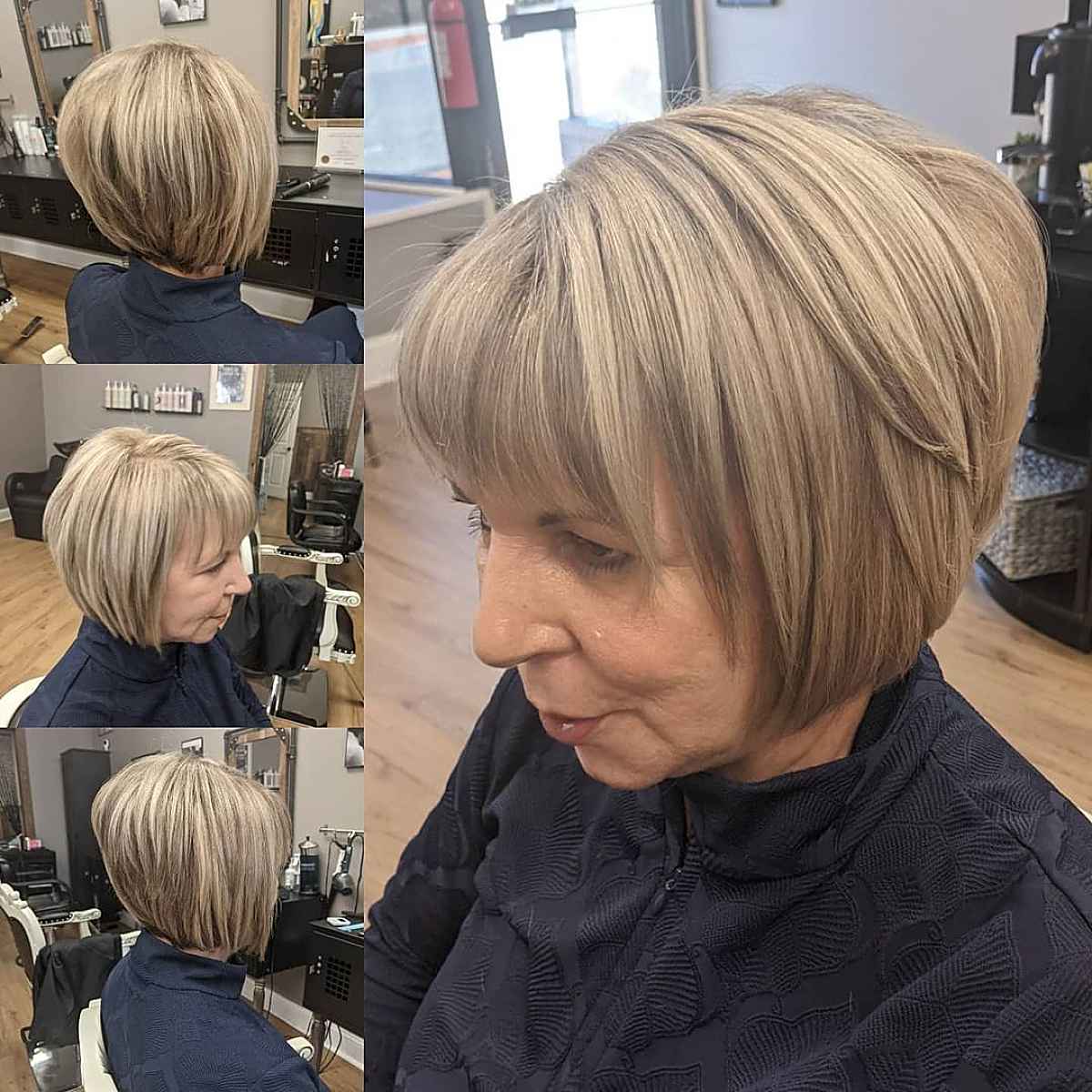 @frescoartistrythehairgallery
The edgy wedge with bangs is a great choice for round face shapes. Hair surrounds your face and balances out facial features. You'll want to style this straight and flatter for the most dramatic finish. Avoid round brushing the ends under. Instead, blow-dry the ends straight down to achieve the edgy finish. Mature women, this style can make you look trendy and current.
Related: See more edgy hairstyles for women over sixty.
Retro-Style Wedge
@hannahwalshhair
Consider a retro-style wedge as your next cut. The slightly graduated sides and nape create the visual impact of this cut. If you have straight hair and want a fuss-free shape, look no further. A quick and easy blow dry will suffice. Curly-haired ladies can achieve the smoothness but will have to use some muscle in the blowout.
Youthful Pixie Wedge Haircut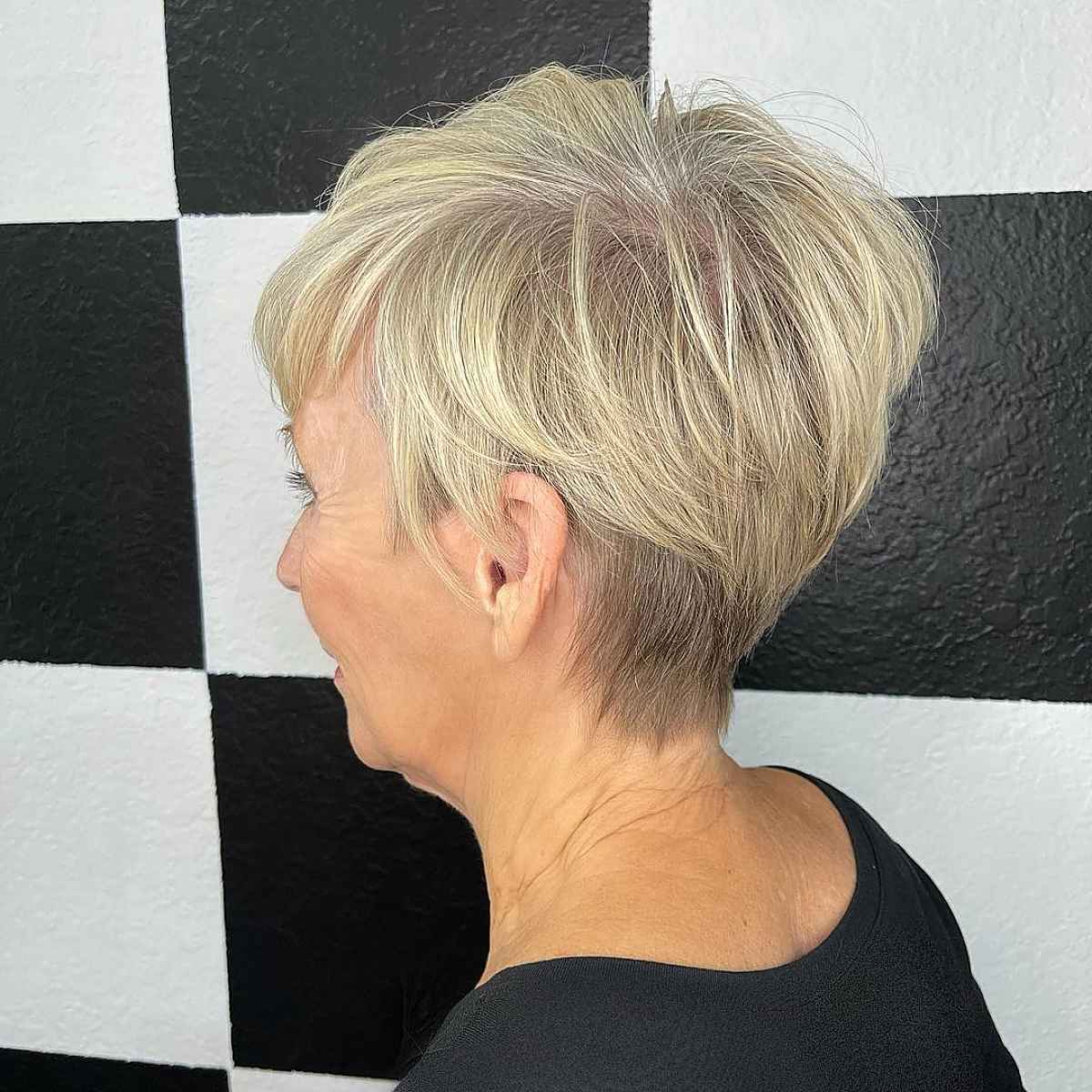 @mallari.cuts.you.up
Try a youthful pixie wedge haircut and look 10 years younger. Ask your stylist to add a slight undercut to your wedge to give it a piecey and more modern style. Texturing or point cutting is recommended for a better shape and also adds longevity to your cut. Put down your curling iron, because this style looks more current styled straight and tousled.
Low-Maintenance Wedge Hairstyle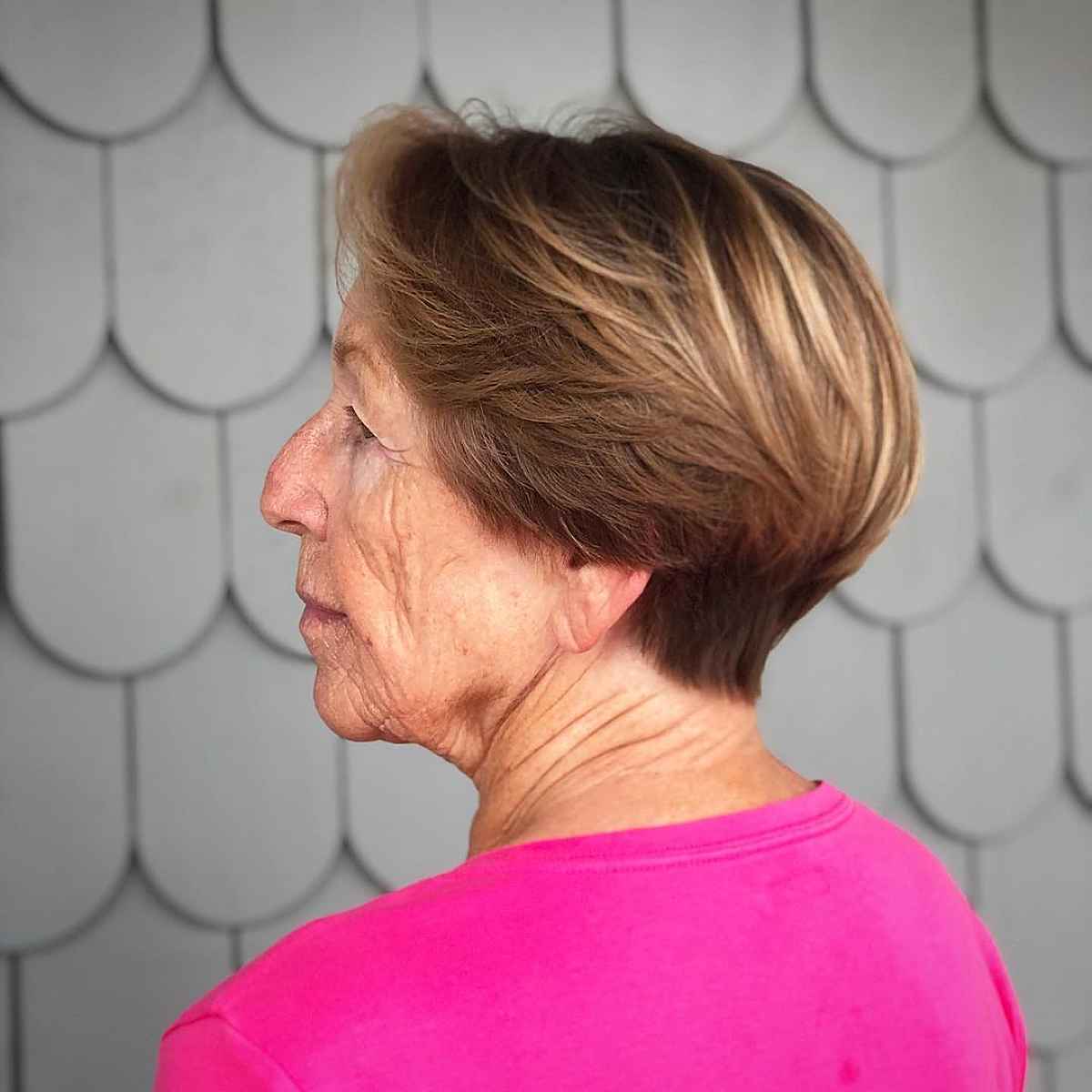 @kimwagnerhair
A low-maintenance wedge hairstyle may be just the cut you are searching for. Longer layers in the crown make for an easy, smooth finish without much fuss. You'll want to blow dry with a round brush or your fingers backward of the face. Leaving the ears covered allows for a less visible grow-out and a longer time between cuts. Don't let getting older keep you from being stylish!
Wedged with an Undercut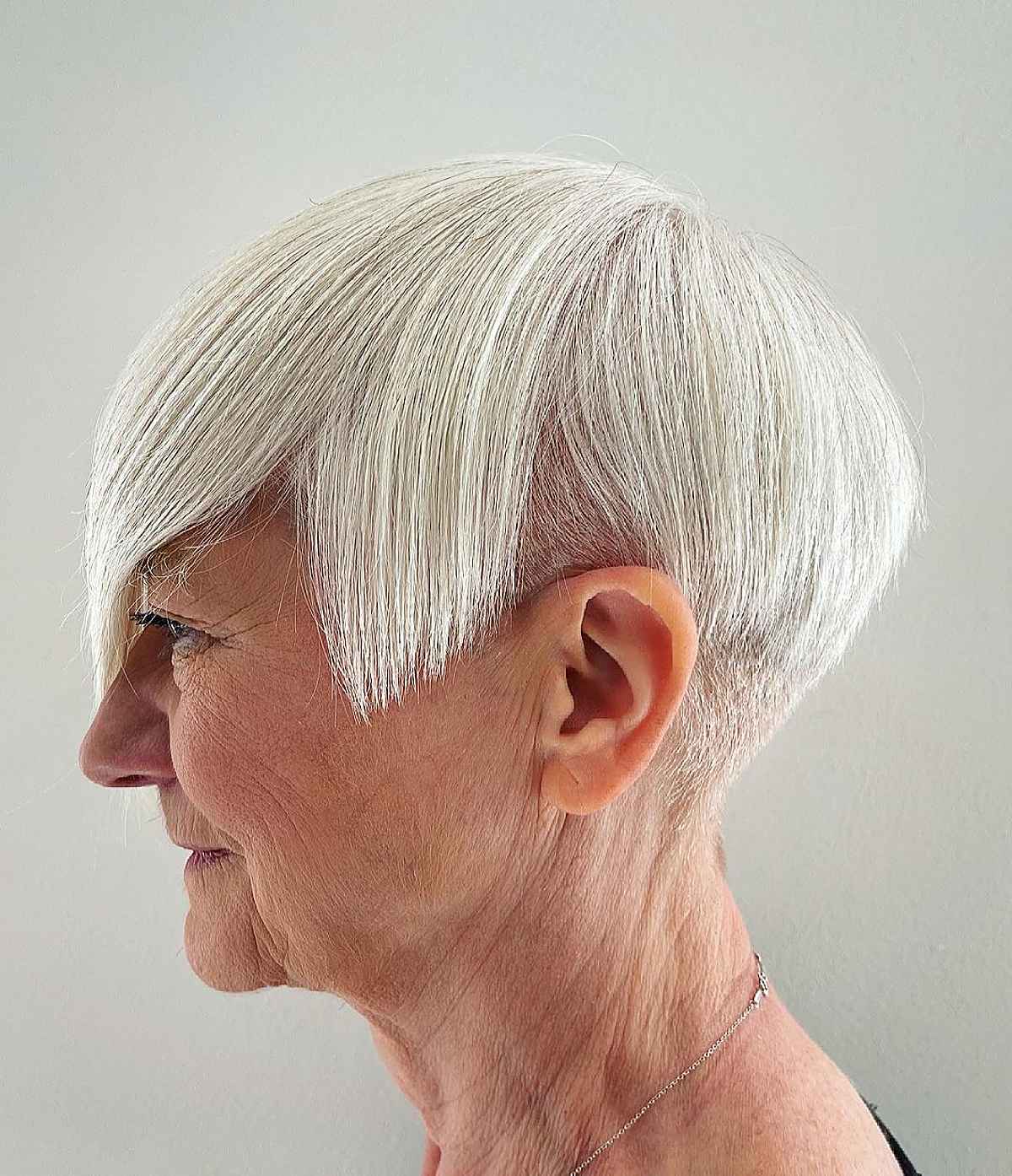 @mo_safi_
Opt for a wedge with an undercut because it's a great way to modernize your short haircut. An undercut softens the weight line and makes your hair lay flatter and less round, giving it a more modern appearance. As we are growing older, updating your hairstyle can make you appear younger.
Related: See more short haircuts for women in their 60s.
Flattering for Curly Hair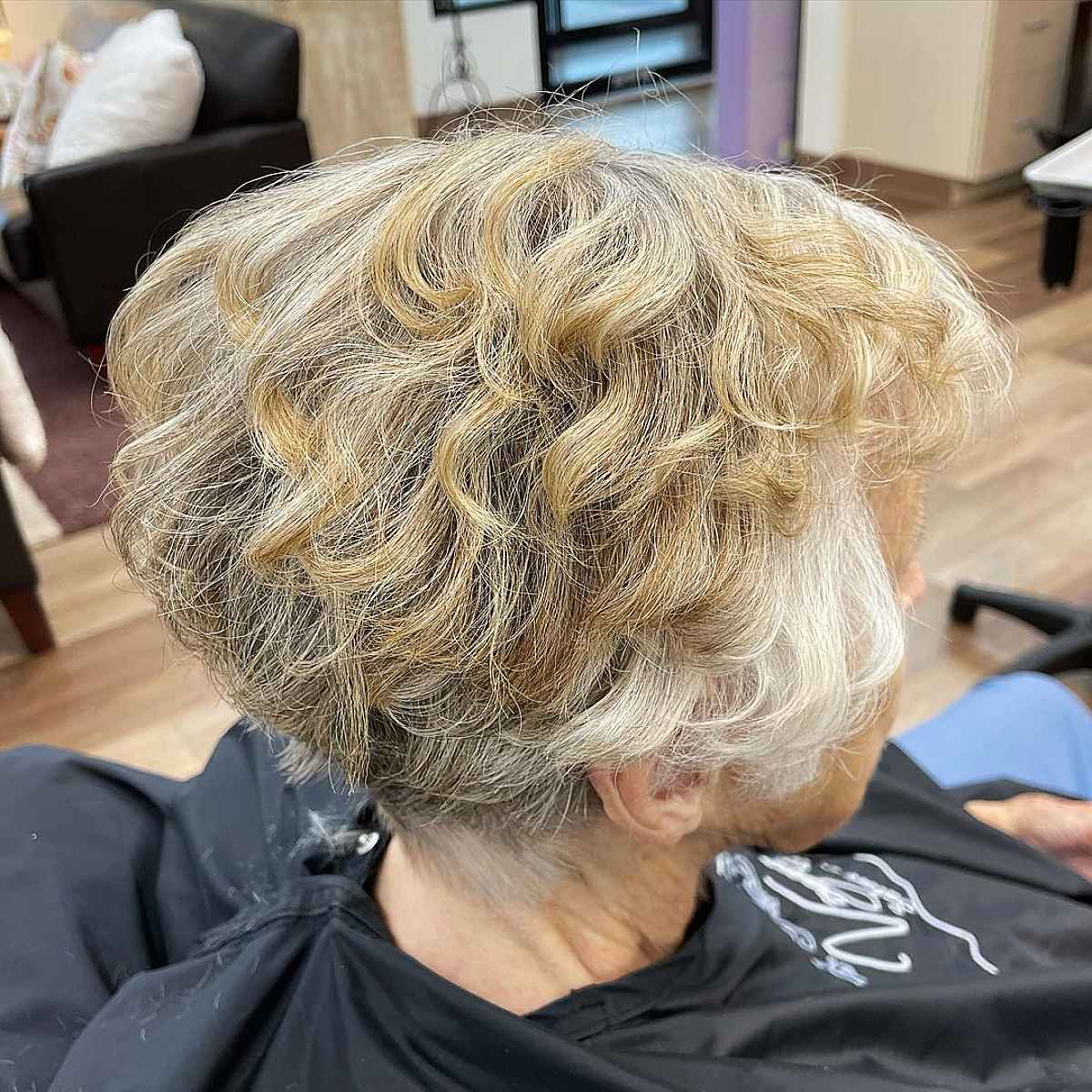 @beauty_by_alexisk
If you are looking for styles that are flattering for curly hair, try some light layering and graduation. A bit of layering can enhance the texture and movement of your natural curls. A stacked back adds interest and fullness to hair that's over 60. If you want an even more voluminous shape make sure to add a curl amplifier to your hair before drying. Diffusing or air-drying in place are the best methods to finish curly hair.
The Short Wedge Bob
@sarahthehairmage
Choose the short wedge bob for its style and its softness. A chin-length cut is appropriate for most face shapes, but add some layers to create a more tousled shape. I recommend leaving this one messier when styled for a soft finish. If you're a grandma, don't worry, this cut will look good on you.
Stunning on Salt and Pepper Hair
@styledbycorrin
A great haircut can be stunning on salt and pepper hair. Leaving your layers long can accentuate the pretty shades of your natural color by giving you a bigger canvas. You'll want to try some oil spray like Shine Flash by Redken to really make your hair sparkle. Seniors, try a new haircut and set your salt and pepper hair apart from the rest.
The Modified Wedge
@kristashairartistry
The modified wedge has a stacked back, created from the longer lengths in the top reaching down to the nape to achieve fullness. Keep in mind, while this cut is beautiful it will take a bit of blow drying to fabricate the fullness of the shape. Volumizing products and blow-drying section by section, starting underneath, will get you the most volume. Old age tends to rob us of our robust hair so make the most of what you got with the longer layers of a wedge.
Dorothy Hamill-Inspired Wedge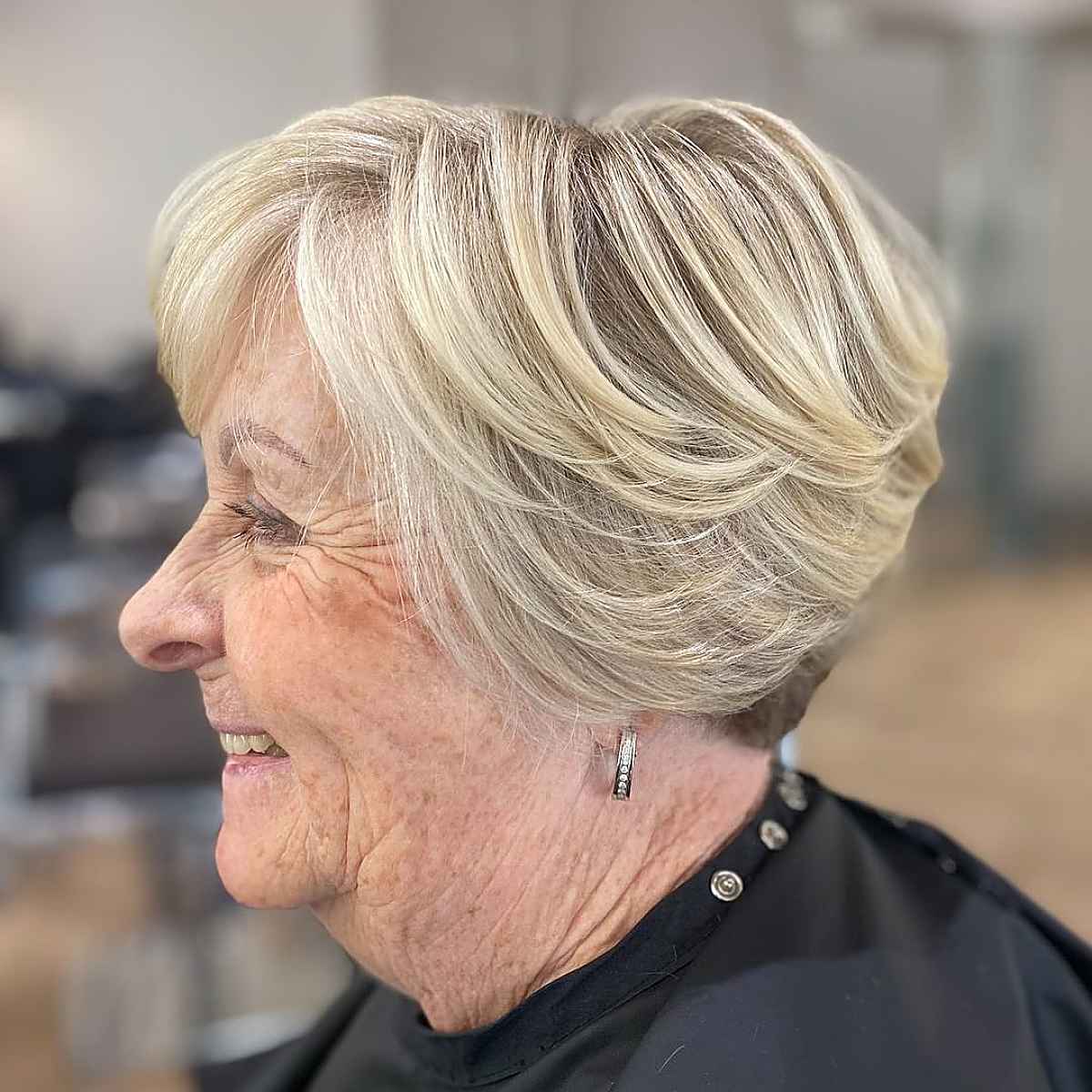 @thebeautydistrictnaples
A Dorothy Hamill-inspired wedge is certainly a classic shape with the sides brushing backward. This shape definitely perks up sagging facial features and is great for long or oval face shapes. You might want to add some highlights for more dimension and fullness. As we age, a shorter haircut is a better choice to keep you looking your best.
Younger-Looking Wedge Style
@_tieladoeshair
You'll want a younger-looking wedge style to upgrade your shape. The sides can be adapted to your choice of length, depending on your face shape. Narrow-shaped faces should choose a shorter length, while rounder shapes look the best longer. Either way, this cut is beautiful with its stacked nape. Great hairstyles for women over 60 can take years off your appearance.
The Sassy Wedge
@manhattan_hair
The sassy wedge can be worn forward or backward depending on your mood. Ask your stylist for some layers for a shaggier shape. Blow-dry with a medium round brush and some gel for a messy finish. Embrace a change and get a new style.
Textured for Fine Hair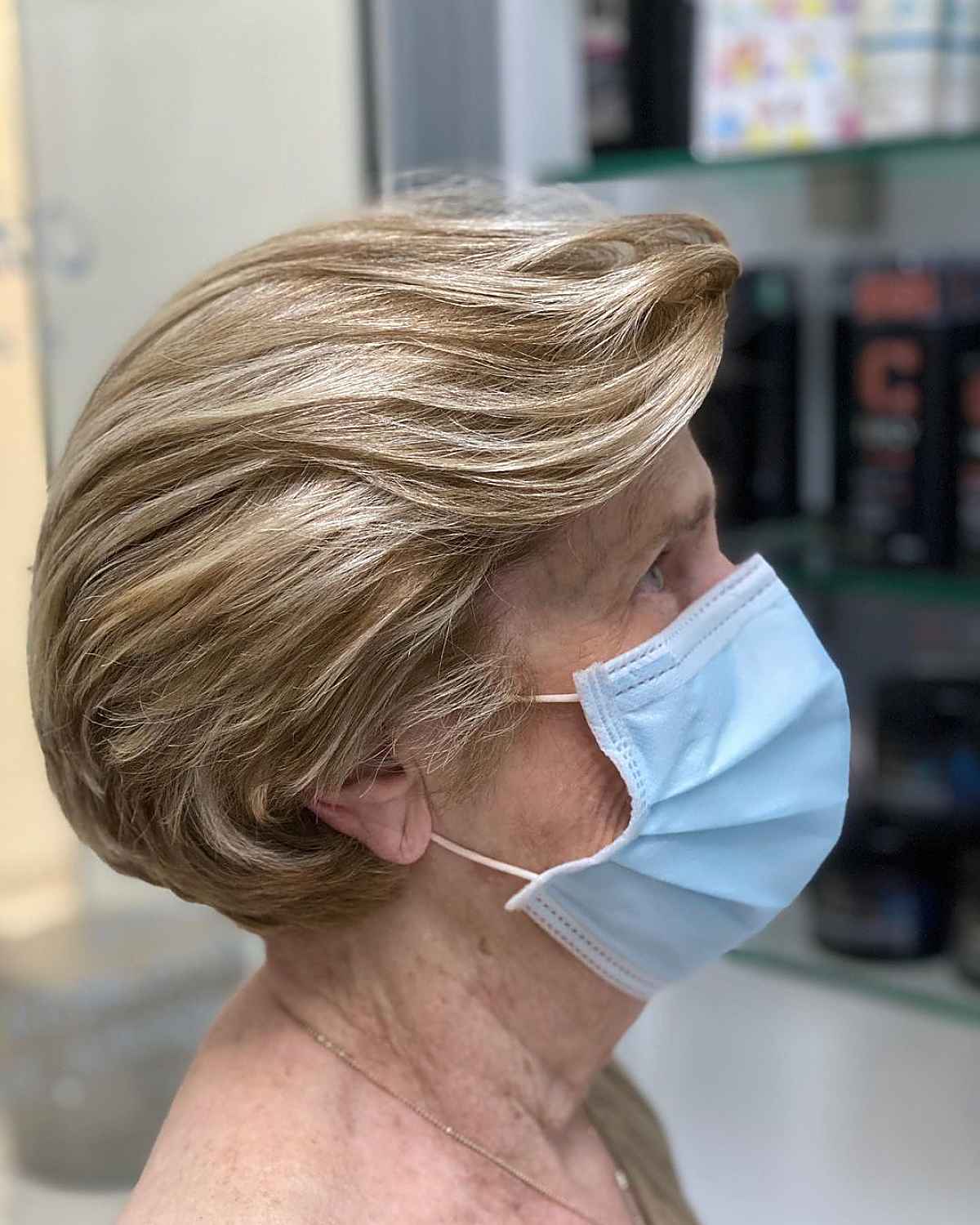 @anagloria_beautymall
When textured for fine hair, you'll give your hair some boost. Point cutting into your hair adds movement and body. Asking your stylist to add texture to your layers also helps your cut retain its shape longer. Another option is getting some highlights which adds volume and camouflages hair loss. Getting a fresh cut can perk up wrinkles and make you feel fantastic.
Related: See more hairstyles for women over 60 with fine hair.
Cropped Wedge Haircut
@jesswanghair
Consider a cropped wedge haircut and revamp your short hair. Ask your stylist to undercut the sides and back and leave the top long to the tip of the ear. This will modernize short hair for women 60 and up. Keep in mind if your hair is super fine the undercut shouldn't be too close, or you will see scalp thru it. Styling a cropped wedge flat on top is the way to go if you want your hair to look thicker.
Back View of a Wedge Cut
@kit_0914
The back view of a wedge cut is where the action is. Wedge styles have short napes and a weight line around the occipital bone, making them fairly easy to style. Blow-dry with a medium round brush and some volume-enhancing mousse backward away from the face. Make sure you brush the back into the center for a beautiful finish, leaving the nape alone.
Layered Cut for Thick Hair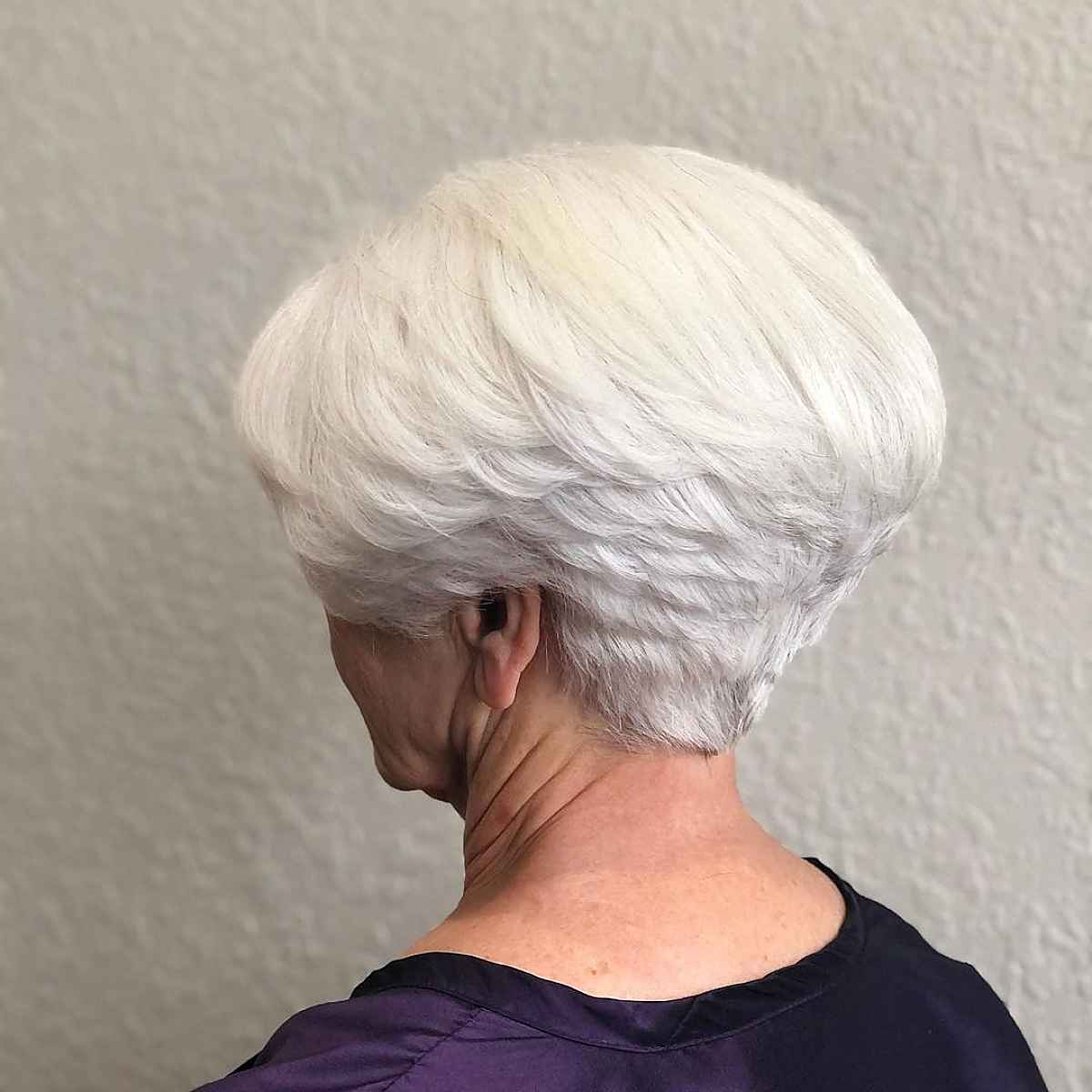 @hairbysandi_k
Try a layered cut for thick hair and you'll receive tons of compliments. Leaving the layers long on top and graduating the sides and back gives you a phenomenal shape. This cut works particularly well on thick hair because it maximizes the wedge and you can really appreciate all the layers in the graduation. Keep in mind this style should be cut often, every 4 weeks to keep it looking great. Youthful hairstyles can really make you feel fabulous about yourself.
The Short Wedge
@maxhairstudio_
The short wedge will always be a classy choice. Wedge hairstyles are shorter than a bob and longer than a pixie, making it a great transitional cut. Ask your stylist to graduate the nape area to the occipital bone. This will give you a beautiful round shape. The sides can be cheek-to-chin length, giving you great options. The wedge works on all hair textures, just be prepared to blow it out to achieve a smooth finish.
Nicely Inverted Stacked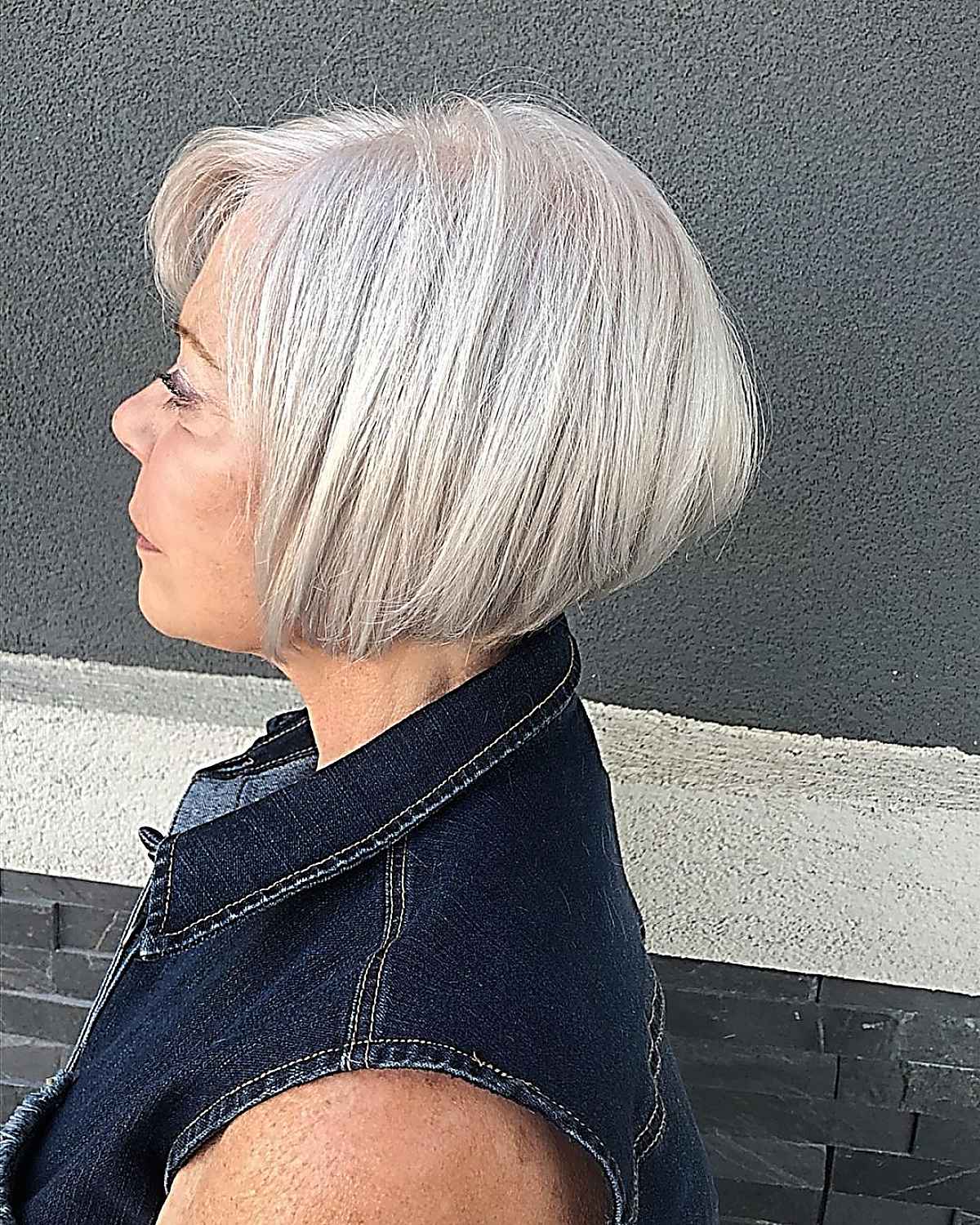 @33jmc
A nicely inverted stacked cut adds interest to a bob style. Also, this shape gives the illusion of a longer neck. You should know a stacked cut works well on straight or curly hair and is very versatile. Blow-dry straight with a medium round brush or air dry or diffuse into messy curls. Modernize your cut with a stacked shape now.
Wedge Cut for Thin Hair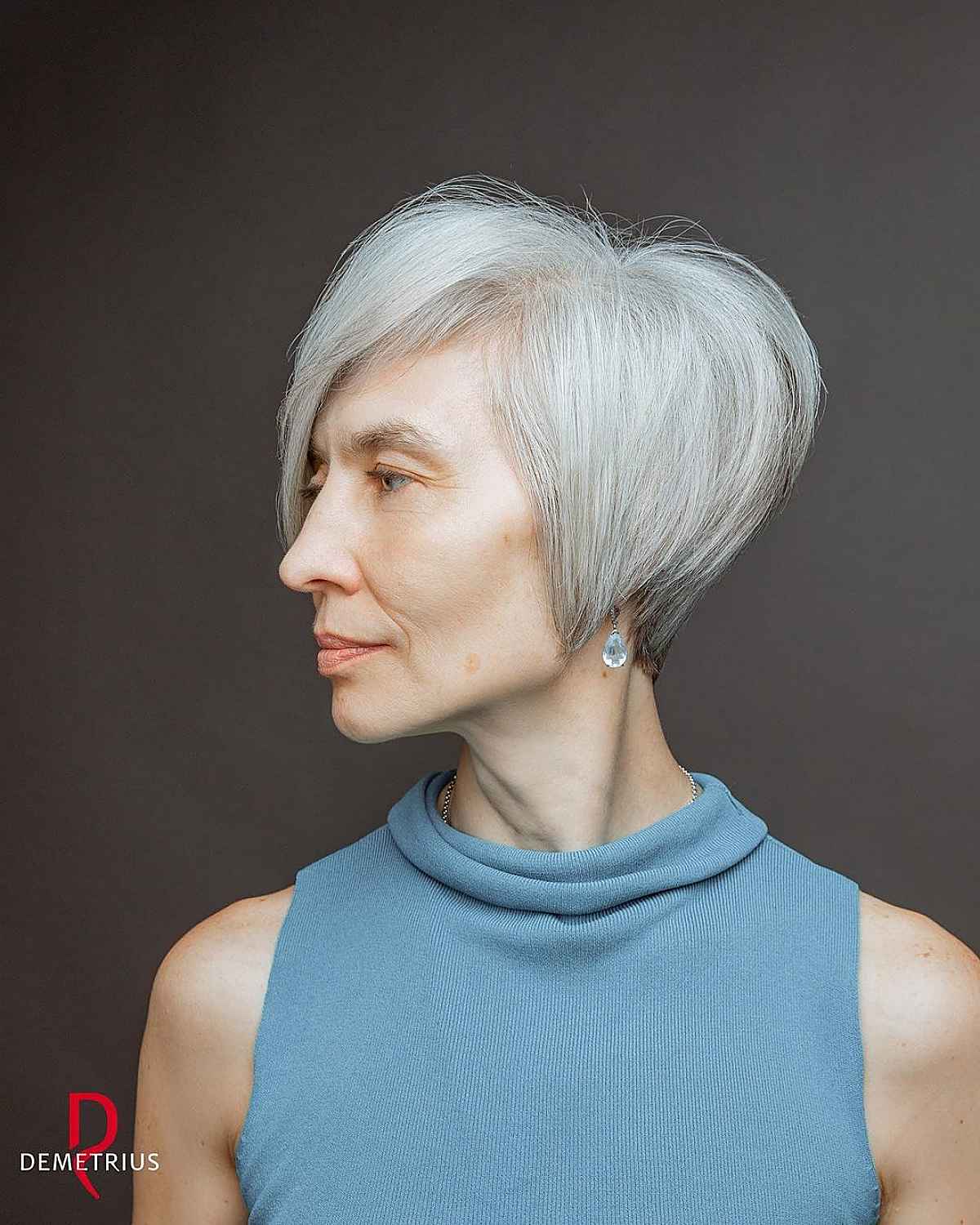 @demetriusschool
Try a wedge cut for thin hair if you're looking for a style to make your hair appear thicker. Out of all of the cuts for women over 60, this cut is the most striking. Frequent visits to the salon are vital to keeping the style. It may be a bit of a hassle, but when you're hair looks this gorgeous, who cares?