26 Most Volumizing Pixie Cuts for Thin Hair
Flattering Pixie Cut for Thin-Haired Women
26 Most Volumizing Pixie Cuts for Thin Hair
@demetriusschool
If you're looking for a flattering pixie cut for thin-haired women, look no further! With a mixture of blunt lines and soft textured layers, it will offer you all the feels you're looking for in your next pixie haircut. Don't forget to add a little root boost spray for a little extra lift when blow-drying.
Voluminous Pixie Bob Cut
@mila_kryshchykhina
A voluminous pixie bob cut with a "v" hair detail on the nape of the head is a beautiful precision haircut. Adding texturizing cream when the hair is wet and blow-drying thereafter helps create the illusion of added volume. Ask your stylist if this cut suits you.
Short Pixie for Women with Glasses
@missb_punkt
A short pixie for women with glasses helps soften your facial features when the bangs are trimmed at the area right above the level of the eyewear. Use dry shampoo instead of washing daily to achieve the ultimate second-day hairstyle.
Salt-and-Pepper Short Pixie Cut for Thinner Hair
@maricruzsauer
A salt-and-pepper short pixie cut for thinner hair has a wide array of styling options. A pixie cut for really thin hair can be left wet and crunchy with a wave or by adding a texturizing cream and blow-dry thereafter for a fuller look.
Classic Pixie for Thin, Fine Hair
@johana.v.d
A classic pixie for thin, fine hair is perfect for giving the illusion of thicker tresses. When styling pixie hairstyles for thin hair, use a small amount of texturizing cream to create volume without weighing the hair down.
Long Pixie Haircut for Thinning Hair
@courtneyxcentrichair
A long pixie haircut for thinning hair creates the illusion of fuller-looking tresses. To add extra volume on pixie haircuts for thin hair, create long-length layers on the top and side.
Shorter Pixie for Women Over 50
@pilates_pixie
A shorter pixie for women over 50 has become one of the most popular short hair styles in the last decade. A pixie for thinning hair is a wash-and-go cut that offers an illusion of fuller-looking tresses.
Asymmetrical Pixie for Women with Thin Hair
@zinoveva_elena
An asymmetrical pixie for women with thin hair is a sassy haircut that creates the illusion of fuller-looking tresses. In styling this cut, use a flat iron on your pixie styles for thin hair to frame the longer side of the face while tucking the shorter side behind the ear.
Short, Wavy Pixie Cut for Thin Hair
@diegomarcsant
A short, wavy pixie cut for thin hair is a perfect wash-and-go haircut. Adding volume to a pixie cut for very thin hair is done by applying texturizing cream or a curl mousse on wet hair, molding the waves into place.
Curly Pixie for Thin, Short Hair
@rootssaloncookeville
A curly pixie for thin, short hair is a timeless piece. A pixie style for thin hair with a wavy, curly texture elaborates the intricacy of each curl, creating the illusion of fuller tresses.
Pixie Bob for Women Over 30 with Thin Hair
@demetriusschool
A pixie bob for women over 30 with thin, straight hair creates an avenue in making the hair look more fuller. Pixies for thinning hair suit any face shape. Whether straight or curled, this cut remains a classic look for women over 30.
Youthful Spiky Pixie Cut for Women Over 60
@danica.bodahairboutique
A youthful spiky pixie cut for women over 60 can help thinner tresses appear fuller. When styling a pixie for thinning hair, apply a texturizing cream and blow-dry the hair upwards. It offers added volume and the medium-hold it needs to keep the style.
Related: See more pixies for women over 60.
Feminine Pixie Cut for Thin Hair
@mila_kryshchykhina
Feminine pixie cuts for thin hair are perfect for women with round-shaped faces. A pixie haircut for thin hair can be made thicker by styling the cut with high-quality hair products like volumizing mousse.
Blonde Pixie for Women Over 40 with Thin Hair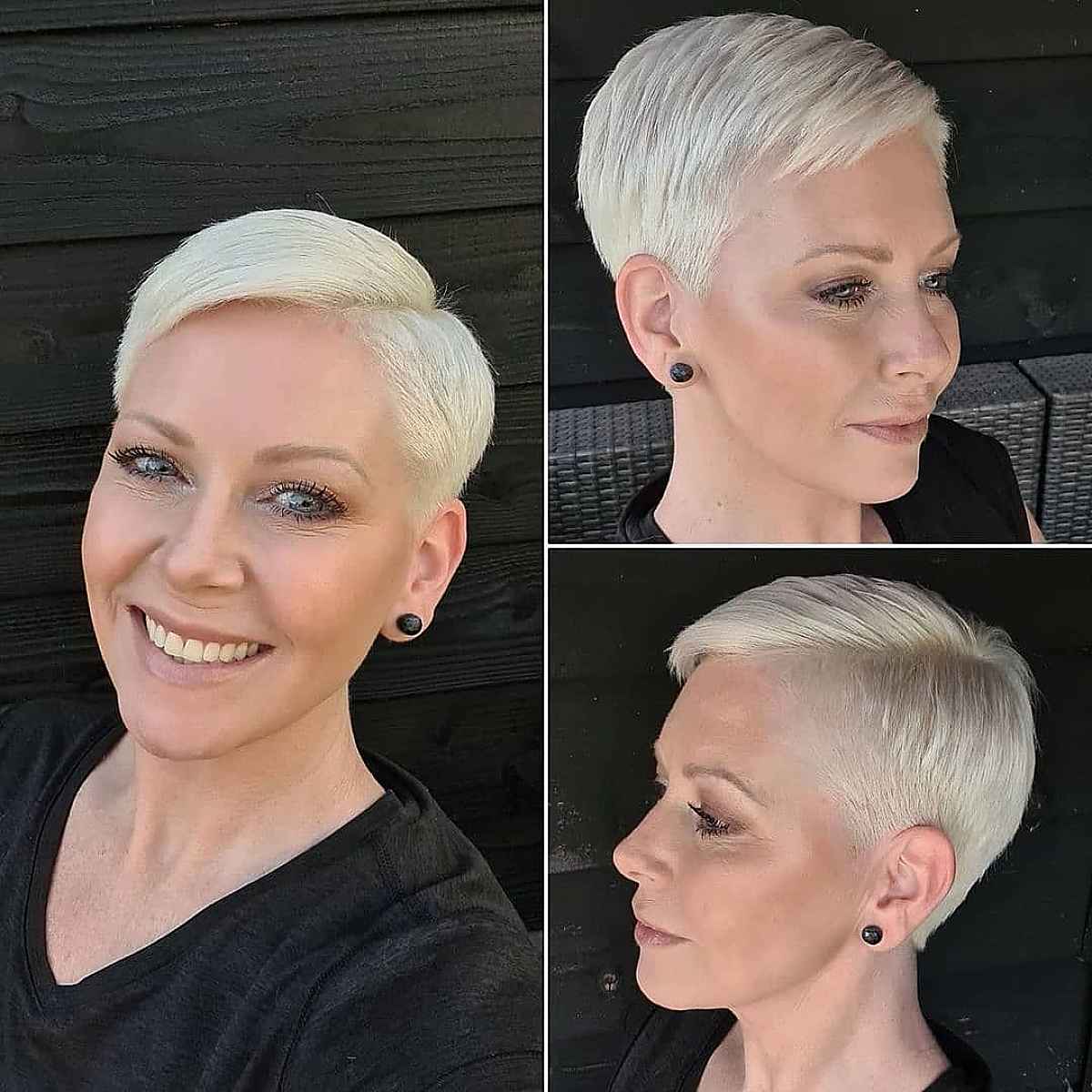 @kapsalon.pikis
A blonde pixie for women over 40 with thin hair creates added volume, texture, and dimension. Adding volume to pixies for thinner hair is achievable by using a volumizing mousse before blow-drying the hair.
Edgy Short Pixie for Women with Glasses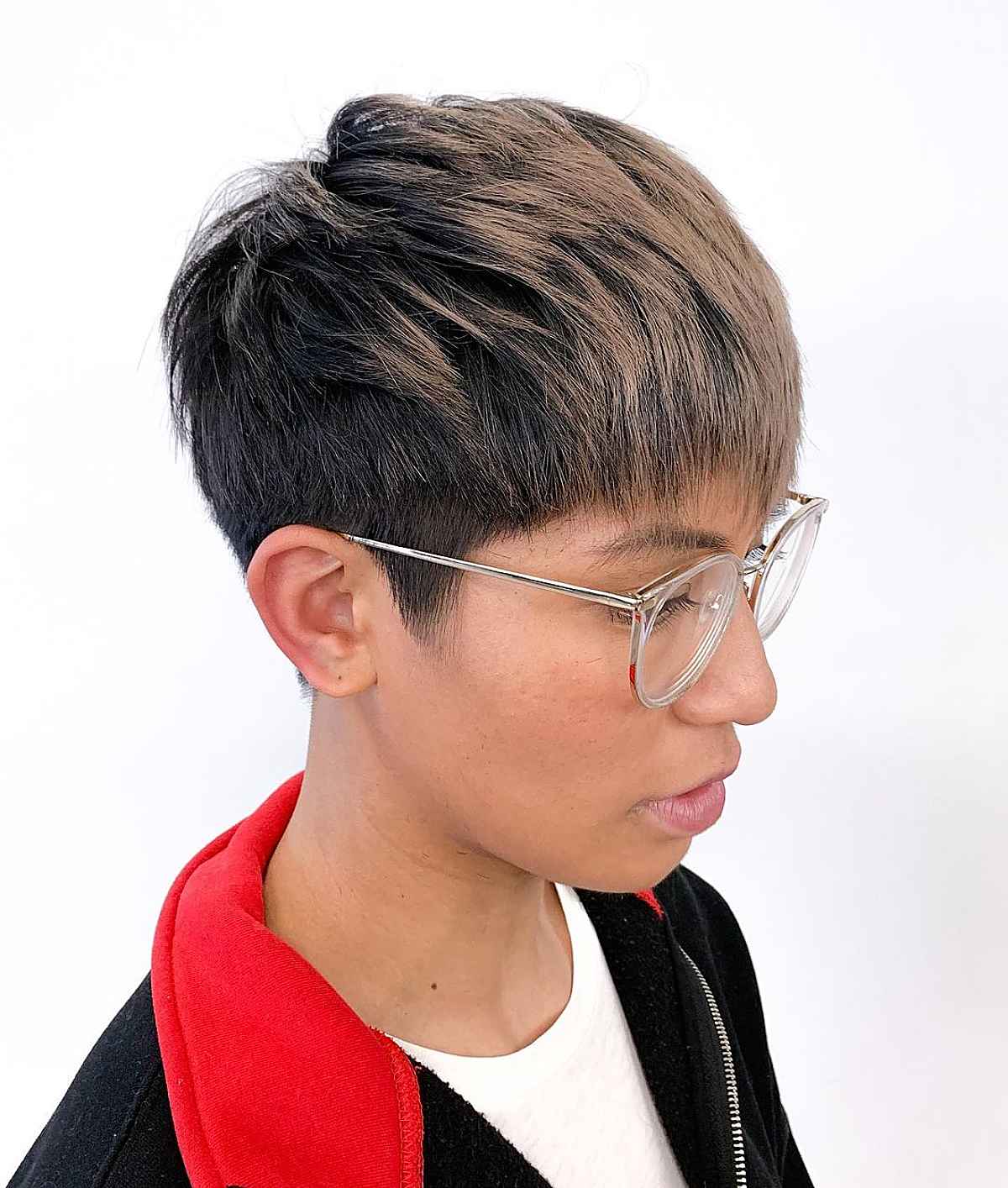 @nicolee.hair
An edgy short pixie for women with glasses is a great choice to keep the hair out of the way when wearing eyeglasses. When cutting a pixie with glasses, it's vital to cut the hair both with and without the glasses. This is to make sure none of the hair is getting caught on any part of the eyewear.
Edgy Short Pixie for Round Face Shapes
@olgalebedeva_stylist
An edgy short pixie for round face shapes helps build lift toward the crown area, elongating the face. Pixie cuts for fine hair are a great option to try for the hair texture it brings, as well as the styling options it offers, creating the illusion of added volume and density. A longer side fringe also helps slim a rounder face shape.
Low-Maintenance Undercut Pixie Hairstyle
@nikitenko_elen_
A low-maintenance undercut pixie hairstyle is super edgy and can easily be customized. A pixie cut for thin hair can give the illusion of thicker hair and can offer more styling options to women with thin hair.
Shaggy Pixie for Short, Thin Hair
@tevelyn79
A shaggy pixie for short thin hair is a timeless pixie hairstyle for thin hair. With a mixture of wispy concave and convex layering, a shaggy pixie gives the hair body with soft edges. Ask for a razor cut for added softness to this messy style. Use a soft sea salt beach spray or texturizing spray to create that fun tousled texture.
Related: See more hairstyles for short, thin hair.
Younger-Looking Pixie for Women Over 70 with Thin Hair
@jennstransformations
Try a younger-looking pixie for women over 70 with thin hair. Look 10 years younger with a straight line edge up and opting for a solid hair color like blonde instead of grey to your pixie haircut for a more youthful appearance. Avoid adding too much product to this style if your hair is fine and thin. Skip the conditioner in the shower so your hair will have a natural lift with nothing weighing it down.
Choppy Pixie Cut with Layers
@gribkovhairdresser
Rock out with a choppy pixie cut with layers! By creating different lengths in your choppy layers, your hairstylist can add a crazy amount of volume while giving you a ton of texture to play. Thinning hairstyles never have to be boring with an edgy choppy pixie.
Short Pixie Cut with Bangs
@emiliansorlea
Stand out in a short pixie cut with bangs. It's blended out for a seamless grow-out, making this haircut a perfect option for thinning haircuts. Ask your stylist to do some slide-cutting techniques in this style to create fun ribboning effects in your layers. Piece out with your favorite pomade.
Very Short Pixie with Wispy Bangs
@alexei.fedorko
Consider a very short pixie with wispy bangs to soften or enhance your facial features. A fun, disconnected, heavy, but wispy fringe with a mod pixie is the perfect option for hiding a large forehead, showing off cheekbones, or simply modernizing your pixie haircut. It lays perfectly with the shape of the head and has effortless styling, making it a popular choice of pixies for thin hair.
Trendy Pixie Hairstyle with Side-Swept Bangs
@alexei.fedorko
Try a trendy pixie hairstyle with side-swept bangs if you're looking for a more youthful pixie style. Avoid this cut if you don't have a lot of time to get ready. An asymmetrical pixie requires a little more time to style in the mornings. It may require the use of a flat iron or curling iron. Plan your day with an extra 10 minutes to get your new trendy style on point.
Thin, Short Pixie Haircut
@kristinakatsabina
Rock a thin, short pixie haircut if you're looking for a pixie cut for super thin hair. It suits an oval face shape or for that woman looking for a style that will make her eyes stand out. It's also great for women on the go with its fast wash-and-go styling.
Layered Pixie Hairstyle for Thinner Hair
@donebydayvhud
Ask your stylist for a layered pixie hairstyle for thinner hair. Want to create the illusion your hair is thicker than it is? Heavy blonding and a disconnected cut creates volume and tricks the eye that there is more depth in thinner hairstyles.
Short Pixie Hairstyle for Older Women with Thinning Hair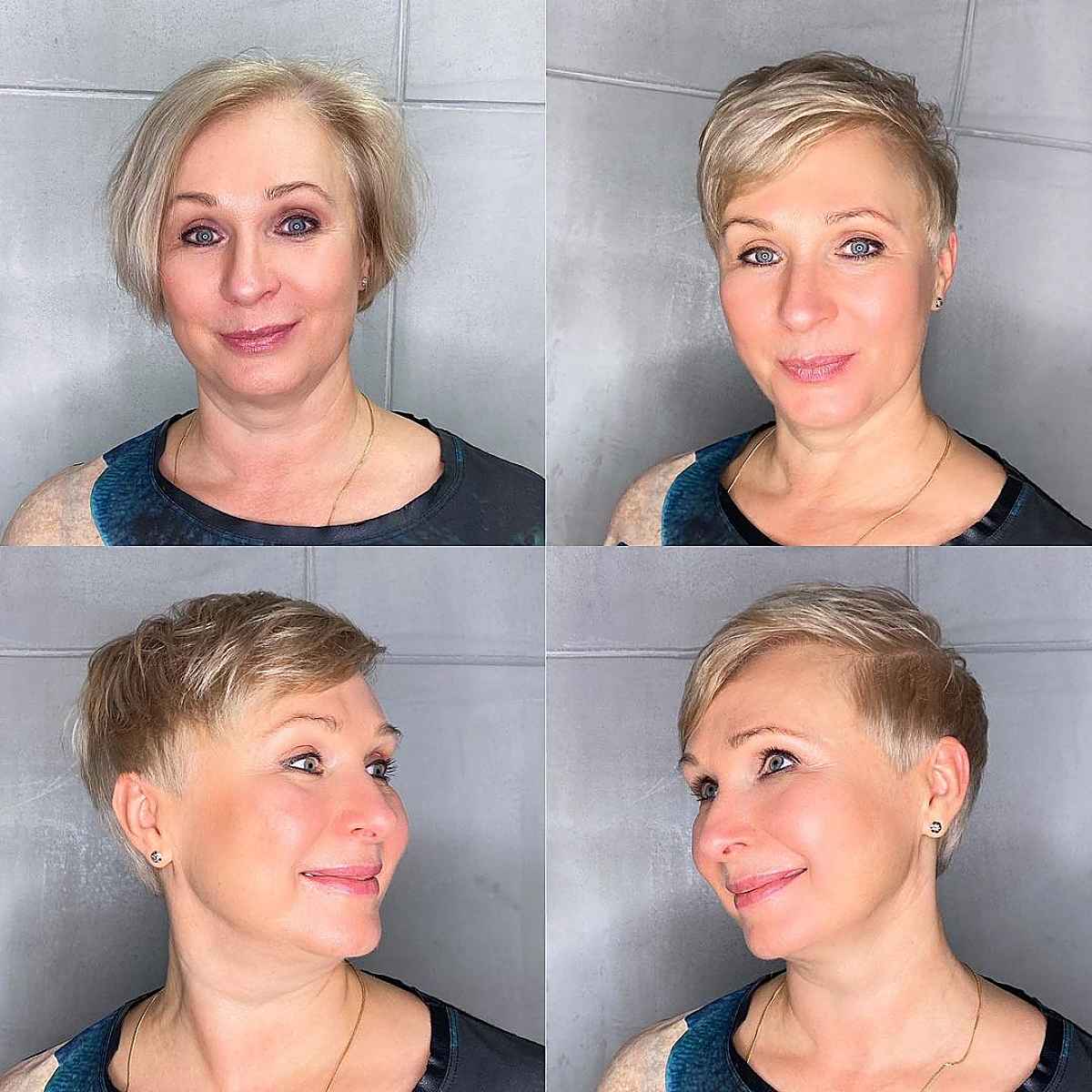 @kristinakatsabina
Consider a short pixie hairstyle for older women with thinning hair. Going with a textured pixie for thin hair is a great option when adding volume and depth to your hair. Try Paul Mitchell's Tea Tree Lemon Sage Thickening Spray for an extra lift and volume that's super lightweight and won't weigh the hair down or turn greasy.
Related: See more hairstyles for thin hair.