25 Short Shaggy Haircuts Women In Their 60s Can Totally Pull Off
Modern Shag for 60-Year-Old Women
@natashajane_beautifyyourmane
The modern shag for 60-year-old women works perfectly with those that love a short bob-length cut. Women in their sixties don't need to stick to their usual haircuts. Instead, opt for more feathered layers and texture to add shape to your hair. The undone texture suits elderly women best as the low-maintenance styling can be left to air-dried or blow-dried.
Curly Shag for Older Women with Short Hair
@wendycuts_hair
Opt for a curly shag for an older woman with short hair who want to wear their locks naturally. A shaggy cut works best with natural texture and allows those lucky enough to embrace this short haircut for extra volume and shape. Add some Texture Tonic from Aveda to wet or dry hair to give a just off the beach feel to your shag.
Textured Shag Cut for 60-Year-Olds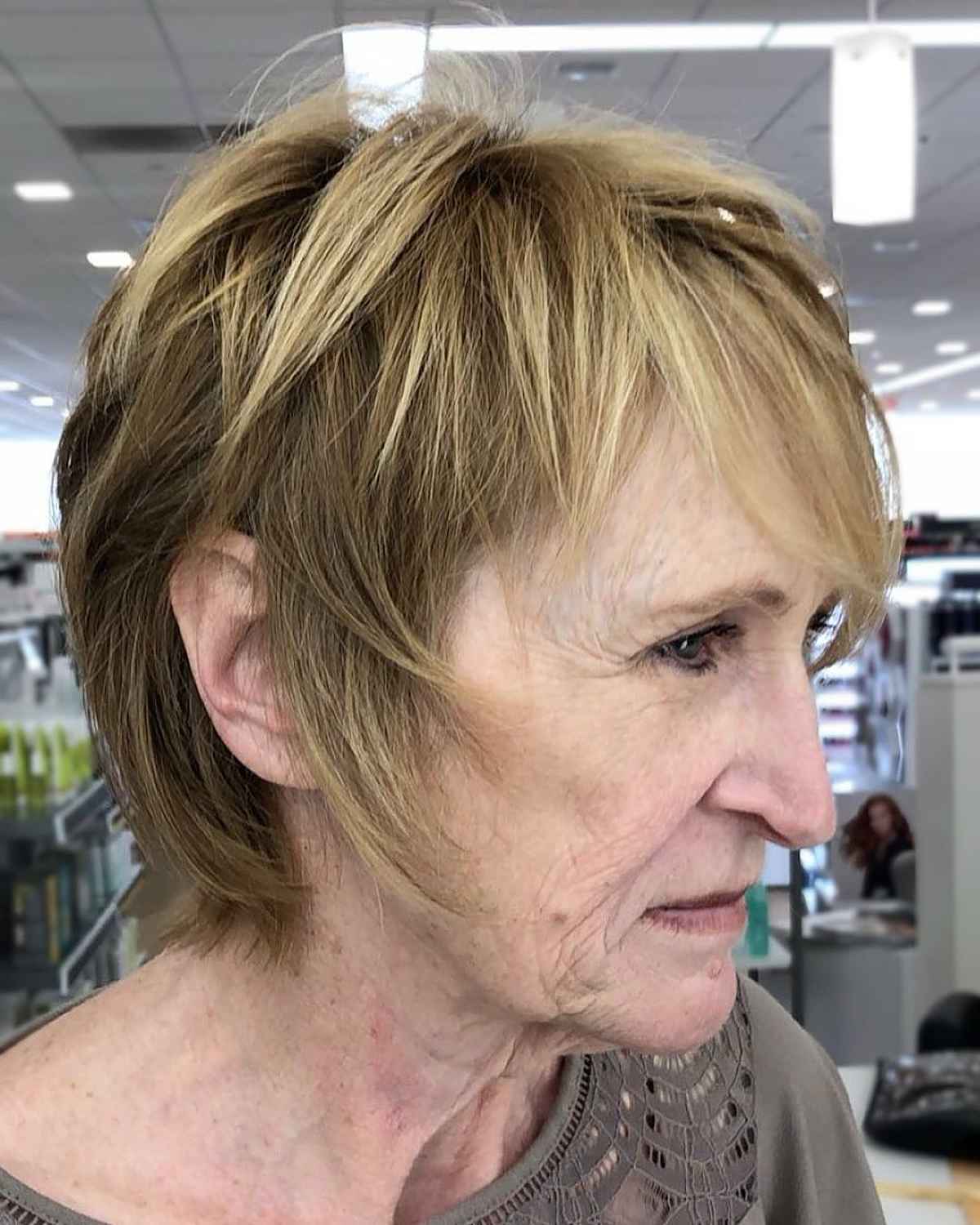 @bgqbeauty
Try a flattering textured shag cut for 60-year-olds with fine hair textures to bring in extra dimension and bounce. Haircuts for short shaggy hair involve lots of texture that creates a fuller look. Try styling with Aveda's defining whip to add a light textured hold to your shag style.
Short Shaggy Pixie for Women Over 60
@clairereyenga
Go for a short shaggy pixie for women over 60 to keep the softness of your coarse hair. Going short with thicker hair tends to look bulky. Ask your hairstylist for a softer approach to the modern pixie haircut with a layered shaggy shape. Women over the age of 60 will love this shape as it keeps length around the face for some softness and security.
Short Shaggy Hairstyle for Older Women
@carolinerramirezhair
Have a short shaggy hairstyle for older women with straight hair. Shaggy styles work best on wavier hair types, but clever layering techniques and lighter layers add movement you never knew you had. The over sixty, mature women will love the free-flowing shape it gives.
Low-Maintenance Shaggy Bob for Women Over 60
@thegaphairdesign
The low-maintenance shaggy bob for women over 60 gives lots of flicky texture, perfect for those looking to add extra width to their hair. It can instantly make you look 10 years younger. The shaggy feel to the hair doesn't require a lot of styling. Scrunching the hair will enhance the disheveled feel, creating a thickening effect on the hair.
Short Shag Haircut with Bangs
@thegaphairdesign
Elevate your look with a short shag haircut with bangs to achieve effortlessly stylish hair. Women 60 and up prefer shorter-length hair. This bob cut with bangs has low upkeep and requires easy hair styling. Add Aveda's Phomollient while the hair is wet and leave to dry.
Ear-Length Shaggy Pixie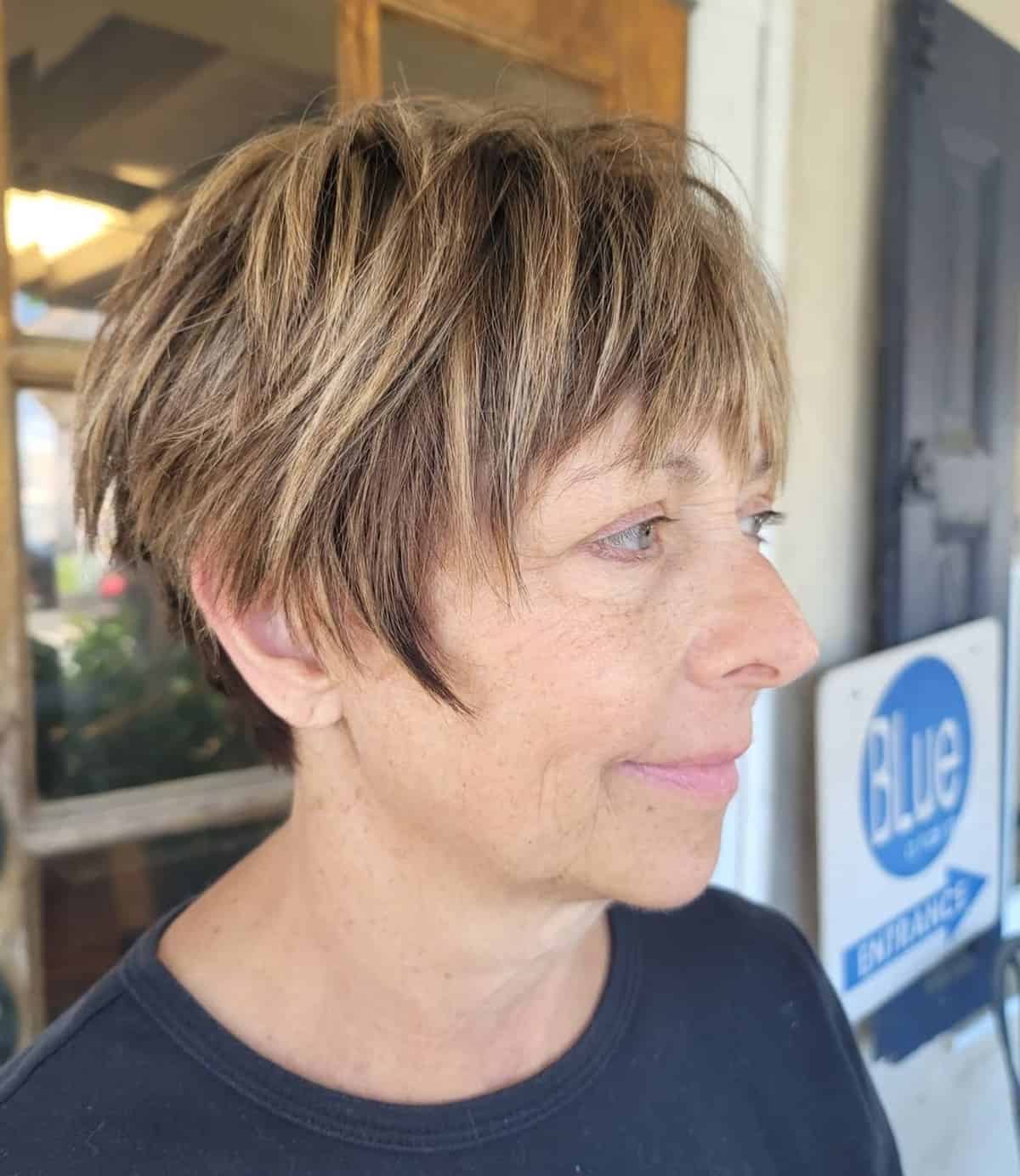 @lauren_g.hair
Rock an ear-length shaggy pixie if your thick hair tends to get too bulky when cut short. The ear length allows a little extra length to hold down fuller hair types. The beauty of short shaggy hairstyles is the techniques used to cut this style also help remove weight from the hair, as long as your hair isn't prone to too much frizzing.
Silver Shaggy Pixie with Layers
@stemolly
A silver shaggy pixie with layers softens any masculinity of a short haircut. The layered shape follows the femininity of the head shape, while the short shaggy cut keeps the outlines light and feathery. This style of pixie works great on finer hair types that prefer minimal volume.
Youthful Shaggy Pixie Cut for Women Over 60
@sunshineandcosalon
Get a youthful shaggy pixie cut for women over 60 to embrace a softer vibe to short hair. A pixie haircut with a shaggy edge gives a younger-looking finish as the curtain bangs frame the edges of a round face, creating a modern touch. Scrunch in some of Aveda's texture tonic to enhance the shaggy feel to hair.
? See more hairstyles for women over 60 with round faces.
Shaggy Cut for Grey-Haired Women
@byedyebye
Try a shaggy cut for grey-haired women to emphasize the texture in your silver hair. Shaggy cuts create bounce and softness with the layers added, making your gray hair stand out even more.
Short Shaggy Cut with Feathered Ends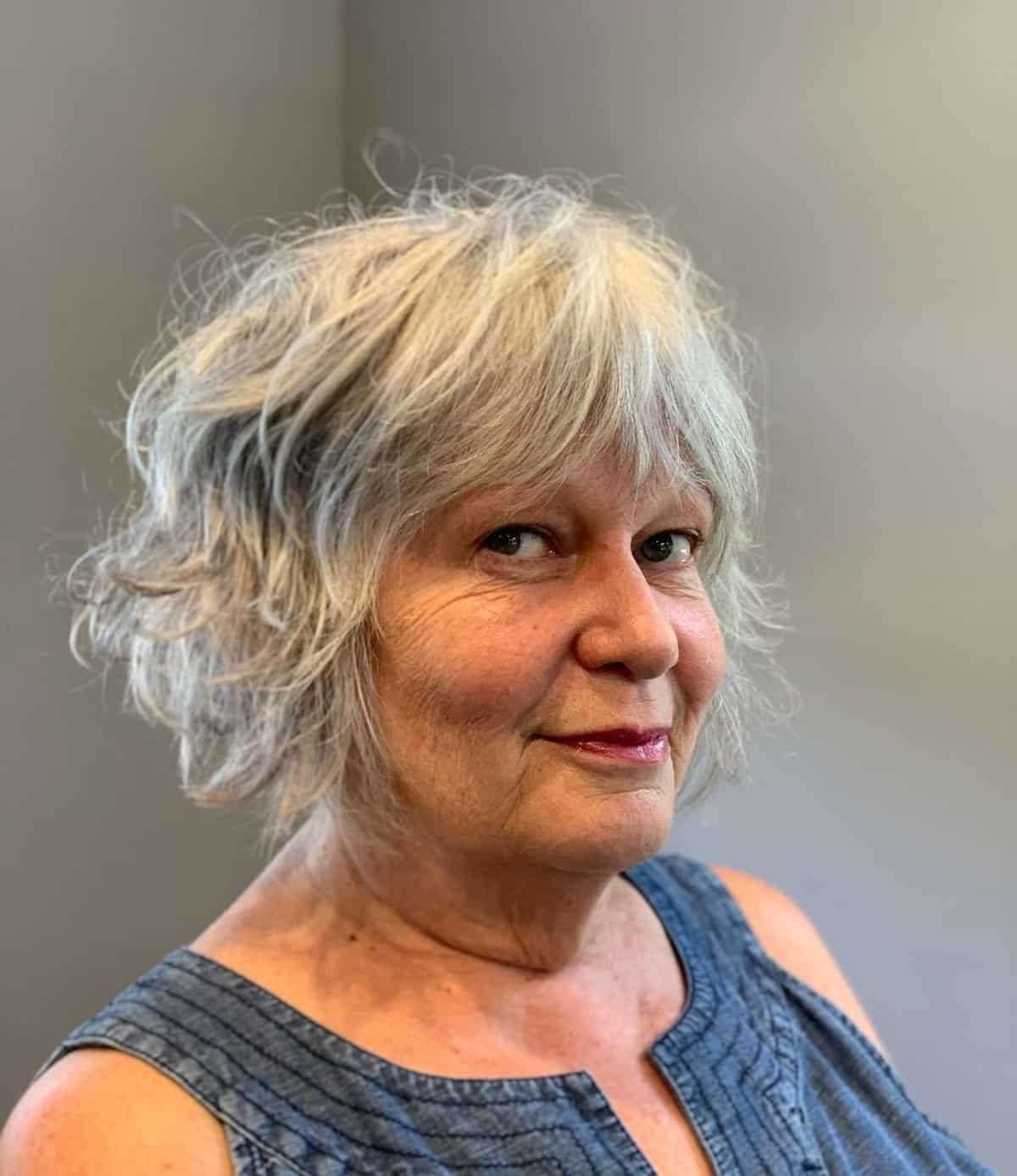 @moorelarkspurhair
Opt for a short shaggy cut with feathered ends if you have naturally wavy hair. The shaggy haircut looks lighter when the ends are feathered, as it removes bluntness from the ends, enhancing them to flip out, adding volume to your shaggy haircut. Consider adding feathered bangs to frame the face, which creates a softening effect on women over 60.
Short Shag with Razored Layers for Older Women
@hair_do_tracey
Get an edgy youthful-looking short shag with razored layers for older women to add some funk to your style. The razored cut creates a wispier look to the hair, tapering the edge of each layer that works perfectly for a shag-style haircut. While the haircut is best worn in its natural texture, try adding a salt spray like Aveda texture tonic for effortless bounce and extra hold.
? See more edgy hairstyles for 60-year-old women.
Shaggy Short Cut for Thick Hair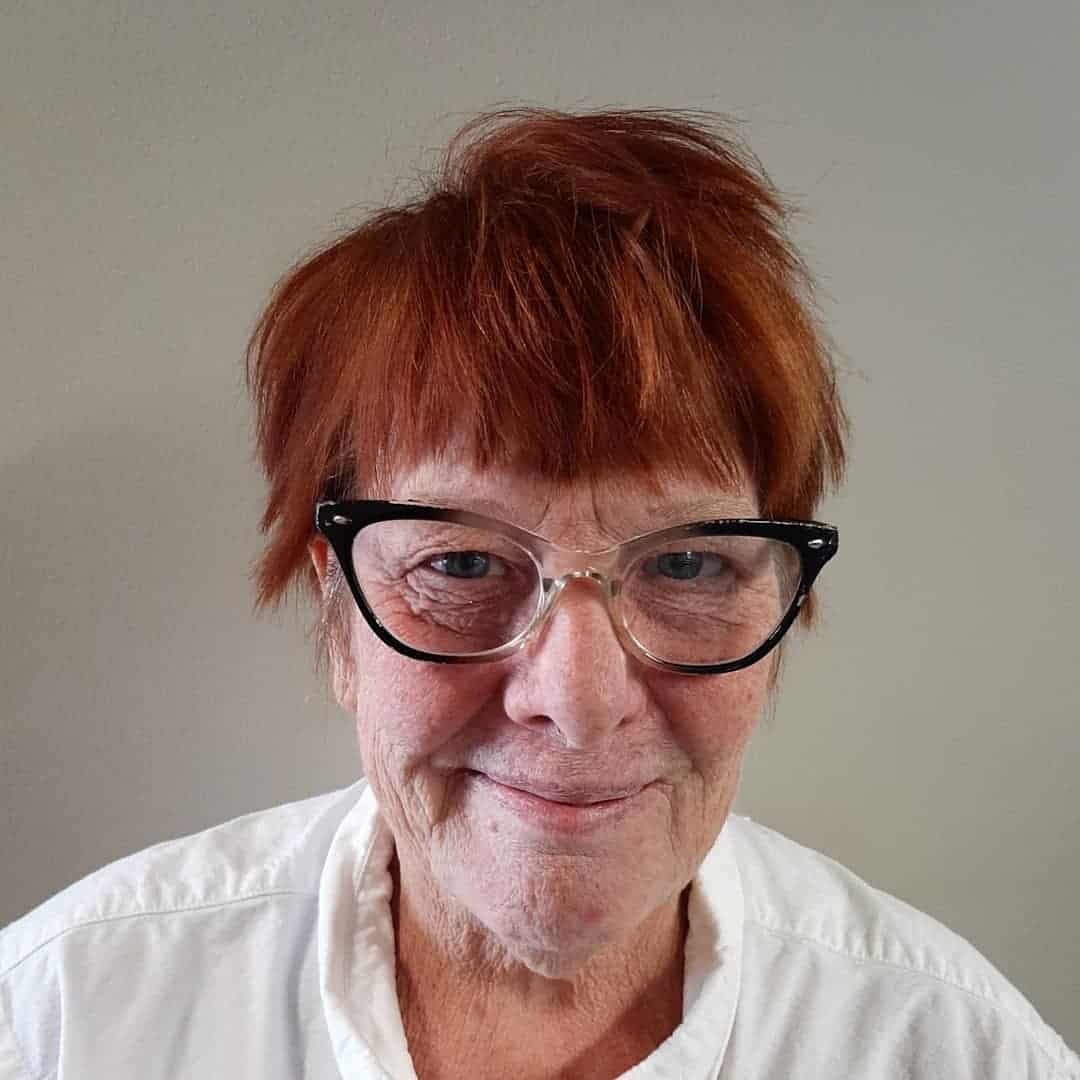 @cosmetologymilk
Go for a shaggy short cut for thick hair to help soften the heaviness of your tresses. It's cut with a lot of texture and is a good style for women past their 60s as it has a lighter feel compared to the sharper shapes. Talk with your hairstylist on ways to compliment your face shape and hair growth pattern with this cut.
? Check out our fall hair colors for women over sixty.
Short Shag with Beach Waves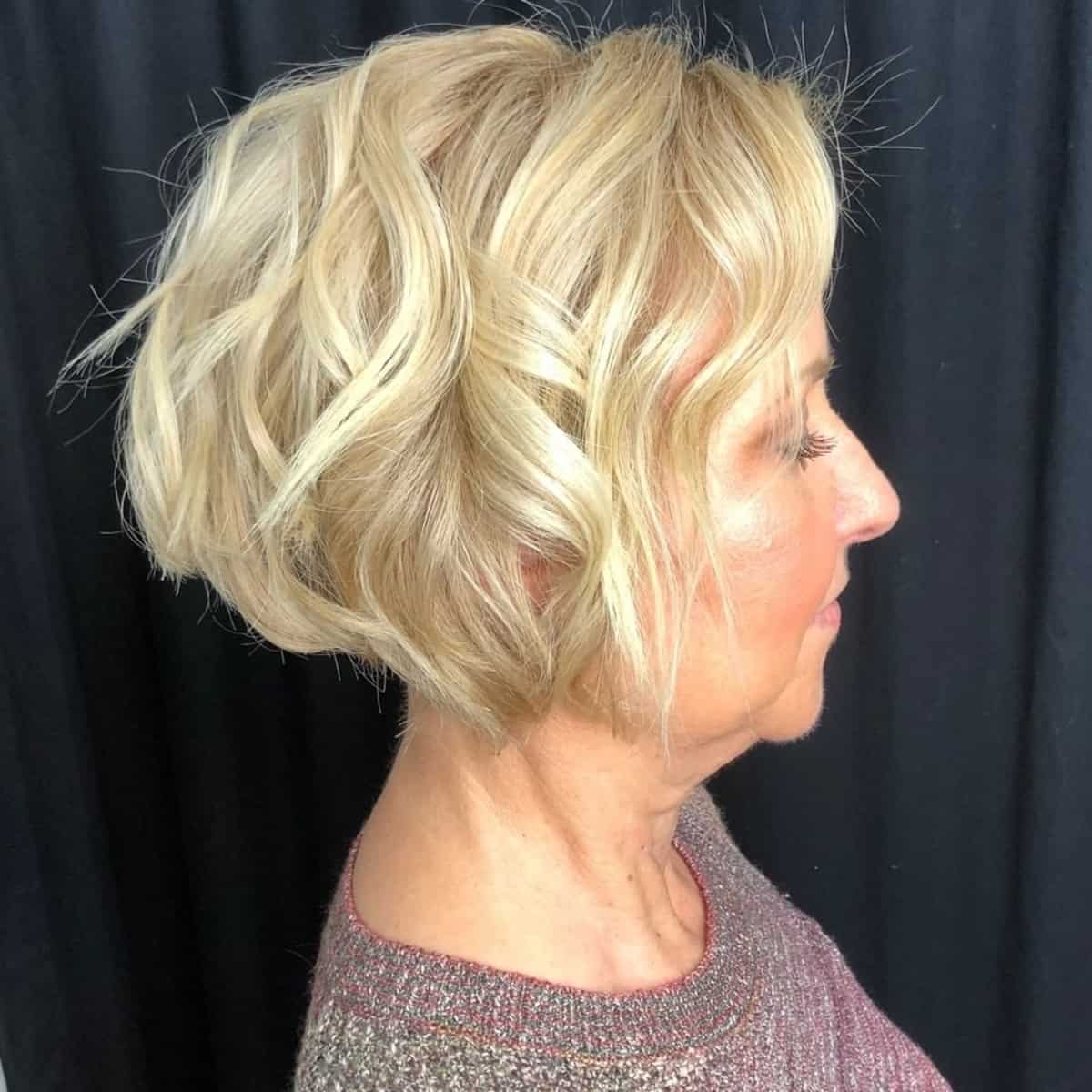 @personaltouchsalonsatx
Go with a short shag with beach waves if you have fine, thin hair or when dealing with hair loss for the illusion of added thickness and volume. Ask for long-angled stacked layers when getting this cut. Style it with a volumizing mousse and a 1 1/4″ curling iron to create that beach waves hair.
Short Shaggy Bob with Curtain Bangs
@jikaiahstylist
Try a classy short shaggy bob with curtain bangs if you have natural curl and texture or love beachy styles. This modern shag for short hair gives off body and movement. It's a fresh take on the classic style.
When styling natural hair texture, use a lightweight curl cream or a beach texturizing spray and twist scrunch the hair into small sections. If using an iron, curl the hair in different directions and run your fingers through with a whipped pomade to break up the uniformity.
Layered Shaggy Bob
@dolledbydaws
When looking at hairstyles for short shaggy hair, try a layered shaggy bob. If you're looking for a cut that helps lay down thick, bulky hair, a vertically layered bob with diagonal back face-framing layers will offer you the solution. Use a blow-dry smoothing cream and dry the hair down and back to avoid adding extra volume at the roots.
Shaggy Bob for Senior Women
@pictotalsalon
When looking for a shaggy bob for senior women, try short layers for added volume. It's great for adding height on fine hair and removing bulk on thick hair. A fully layered bob is one of those short hairstyles that is timeless and a fantastic option for everyone over 60.
Classic Shag for 60-Year-Old Women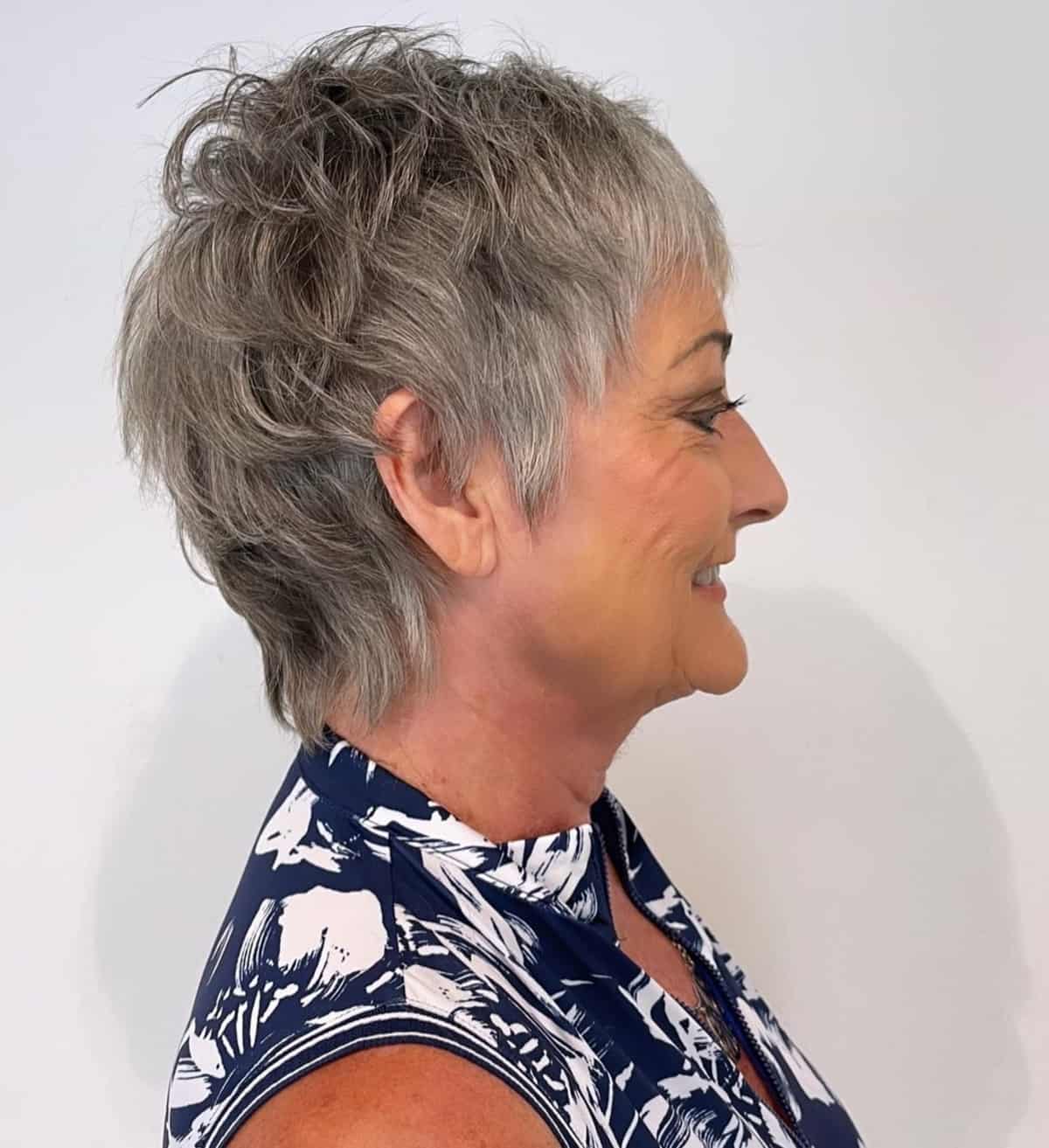 @ciaradidit
Not your average grandma haircut, a classic shaggy for 60-year-old women, has a bit more flair! With soft razored edges and a tousled layered look, this shaggy hair is for the sassy and unconventional lady out there!
Middle-Parted Shaggy Bob for Short Hair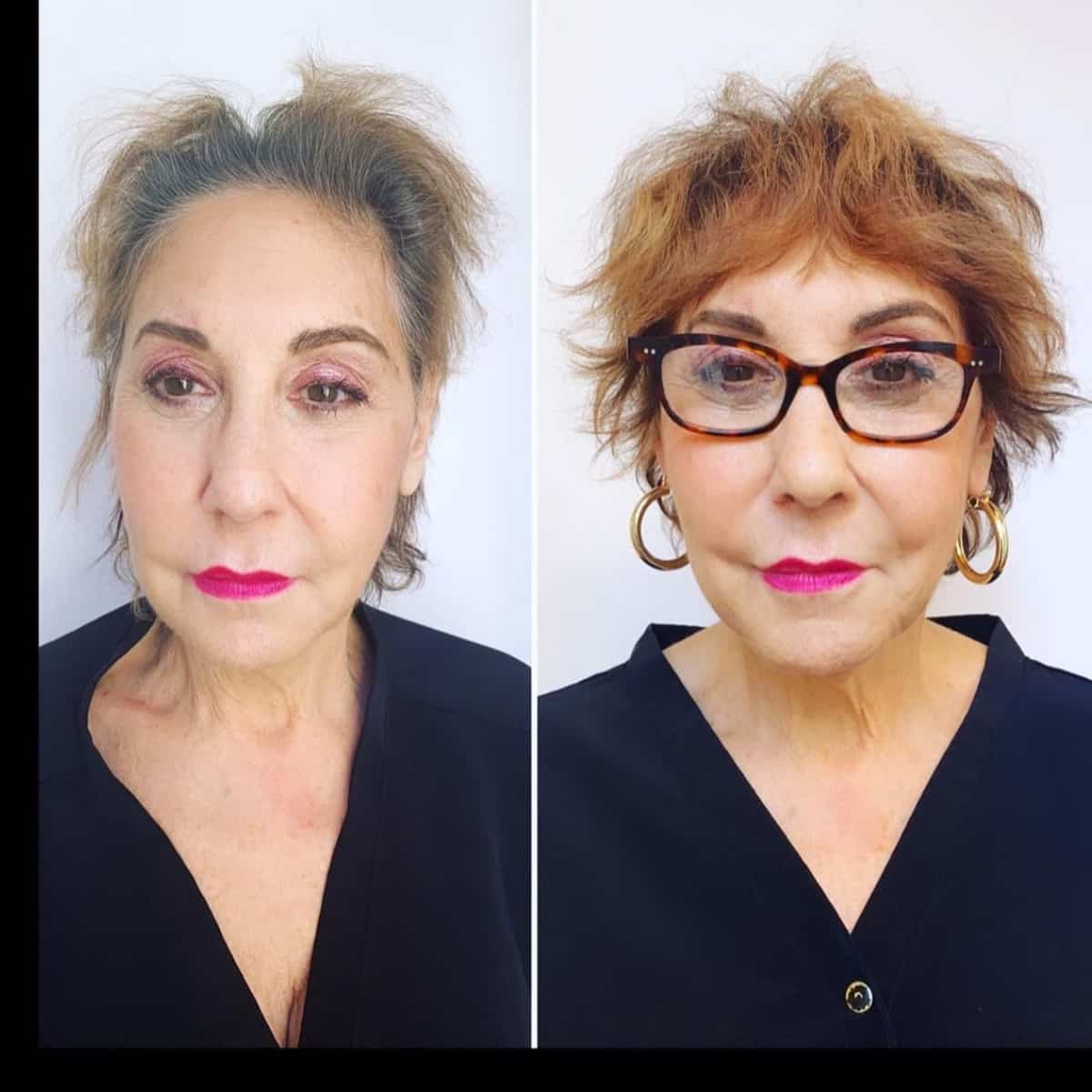 @jikaiahstylist
Rock a middle-parted shaggy bob for short hair if you're looking for something a little different. Shags on razor-cut styled up and away from the face, provide a natural face-lift, softening any fine lines and wrinkles.
Neck-Length Shag for Older Ladies
@laruela_life
A neck-length shag for older ladies is stylish and timeless. If you have natural curls or waves, you should consider exploring some shaggy haircuts. A shorter fringe will make your eyes pop! Ask your stylist if this haircut will suit you.
Chin-Length Shaggy Haircut
@meesha_hair
Chin-length shaggy haircuts are flirty and fun. Spritz in a Verb volumizing spray and blow-dry upside down. You'll see your shaggy cut come to life! Finish with hairspray, and you're all set.
Salt and Pepper Shag for Women Over 60 with Glasses
@hairdesignbyfaitheufora
A salt and pepper shag haircut for women over 60 with glasses is great for someone with thick, unruly hair. Layers and texture are added to create movement. A shaggy short hairstyle always pairs well with your favorite spectacles. A quick blow-dry and some texture paste will make your style last all day long.
Super Short Shaggy Bob for Fine Hair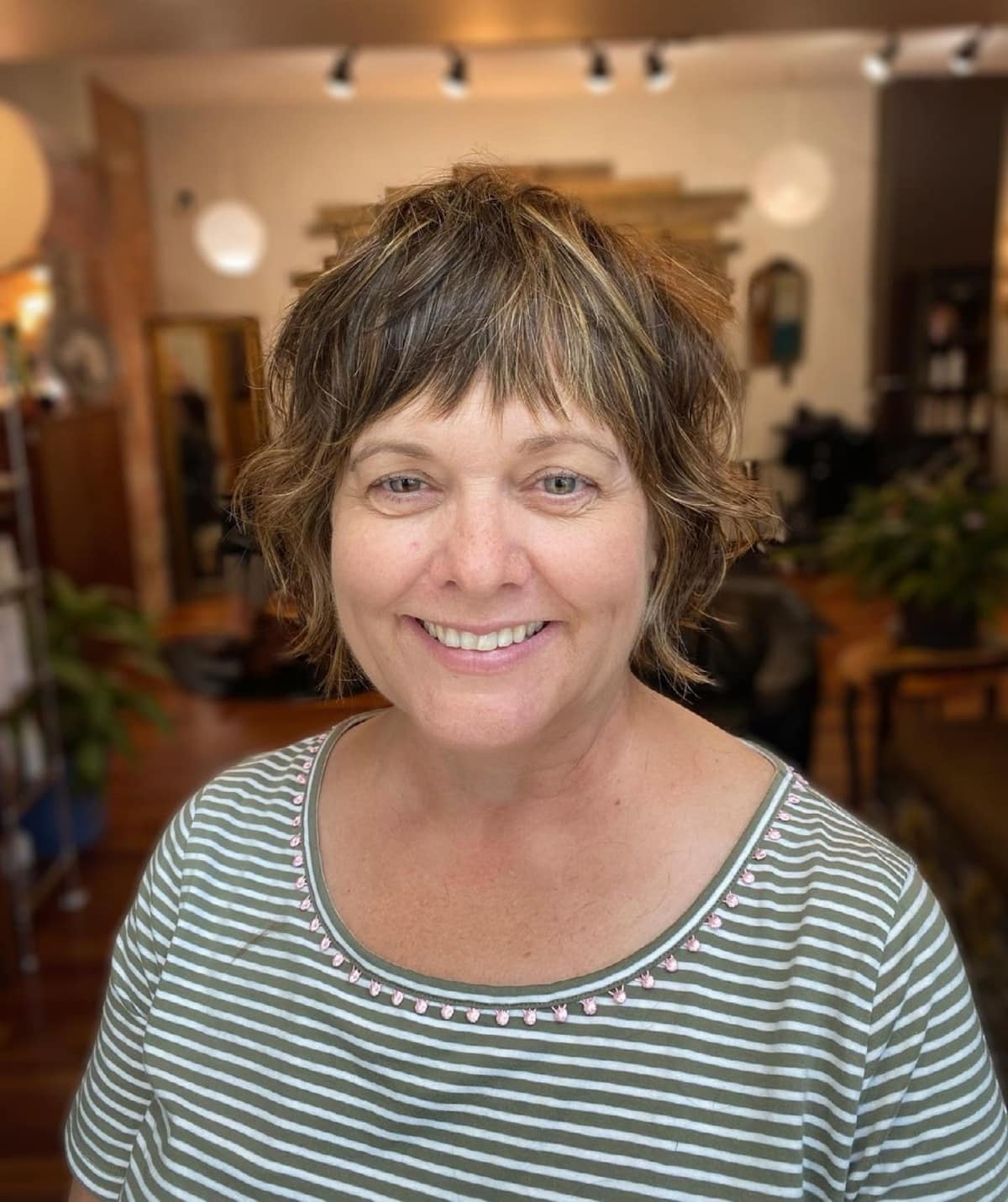 @_jpgartistry_
Try a super short shaggy bob for fine hair! Notice the heavy texturizing of the fringe and short layers. Women in their 60s can be just as bold with their hair as their younger counterparts, and this type of cut is proof. It's easy to style for all hair types. Blow-dry forward from the crown and add a light styling cream to show off the texture and dimension.
Short Shaggy Haircut with Bangs
@josedacruzhair
A short shaggy haircut with bangs is a creative choice to add volume and draw attention to the eyes. Short haircuts are customizable to different hair types. They implement various hair cutting techniques to remove weight, add texture, or strengthen lines. Enhance a facial feature and create some fun when rocking this haircut!
? See more hairstyles for women over 60!