17 Stylish & Low-Maintenance Long Haircuts for Ladies with Long Hair
Gorgeous Waist-Length Hair
@themostflorya
Don't we all want gorgeous, waist-length hair? Uber long locks are all the rage right now. If the goal is to wear low-maintenance haircuts for long wavy hair, make sure you're utilizing the proper hair care regiment. Always go low to no sulfates, look for a balance of moisture and protein in your products, use a heat protectant, and avoid heat styling when you can.
Curly Hair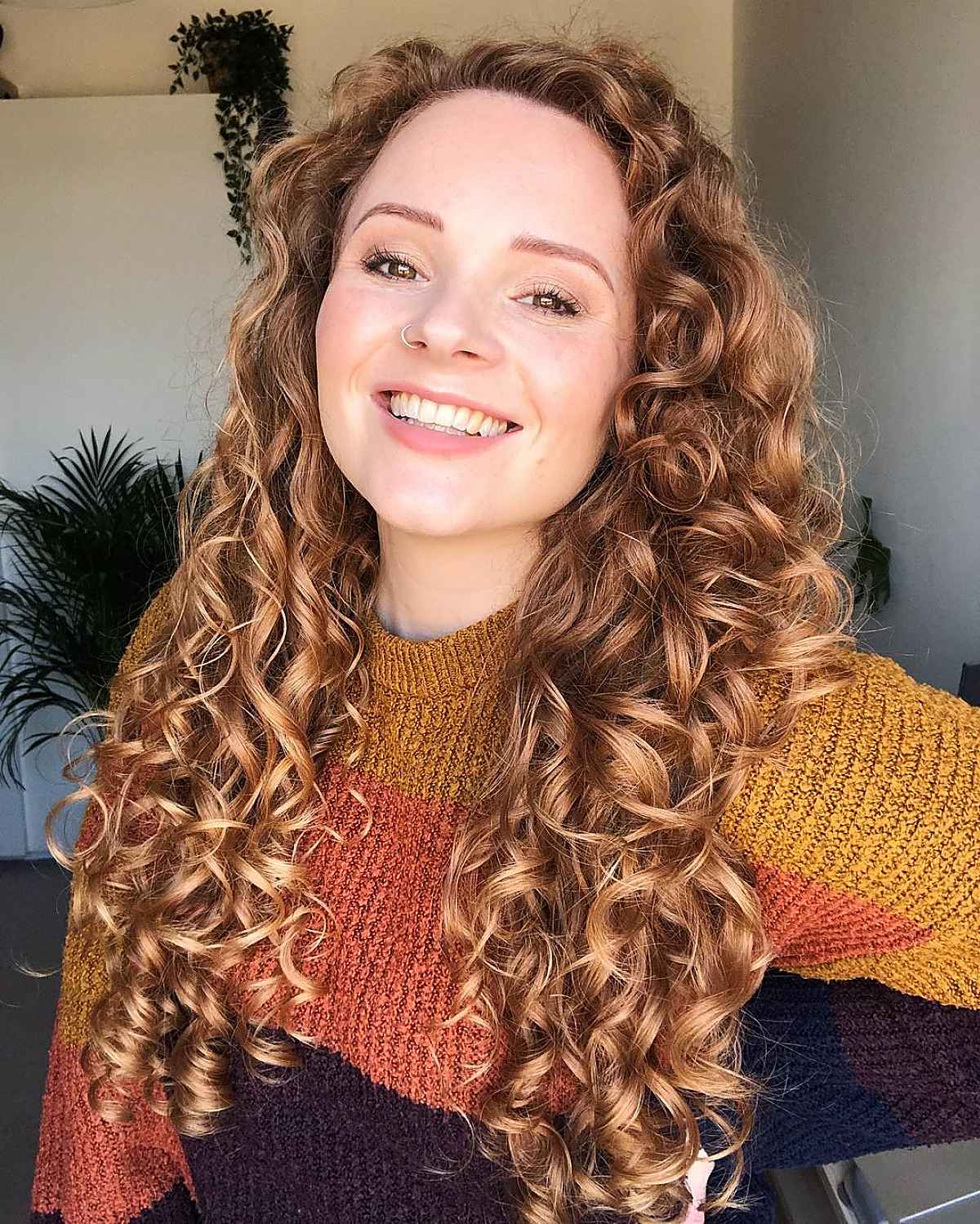 @hanzcurls
Curly hair requires special care and cutting techniques in order to enhance your natural curl pattern. If you have a curly hair texture and desire low-maintenance long hairstyles, stay away from heat and find the right balance of moisturizing and protein products to help your hair stay healthy as it grows.
Since curly hair shrinks more than straight hair as it dries, it's best to cut the hair curly if that's how you plan to wear it. Then your stylist can shape the perimeter of your cut and the layers to release weight where needed and flow the curl families together.
Undemanding Blunt Cut for Fine Hair
@stone.thestudio
There are two simple ways to flatter fine hair: go bright and go blunt. This bright blonde tone on low-maintenance haircuts for long fine hair makes locks look thicker due to the way light reflects off each individual strand. The brighter the hair, the brighter light will reflect, causing the illusion of fullness. Additionally, utilizing a layering technique for a blunt cut will make your ends look denser and less wispy.
Simple Long Hair with Curtain Bangs
@candiepaynt
It's simple to stay on trend with long hair and curtain bangs. This classic style is a match for any face shape and it's super easy to maintain with straighter hair types. Even the bangs grow out easily! This cut is a must for any woman looking for a longer, timeless style for their thin hair.
Low-Key Cut for Very Long Hair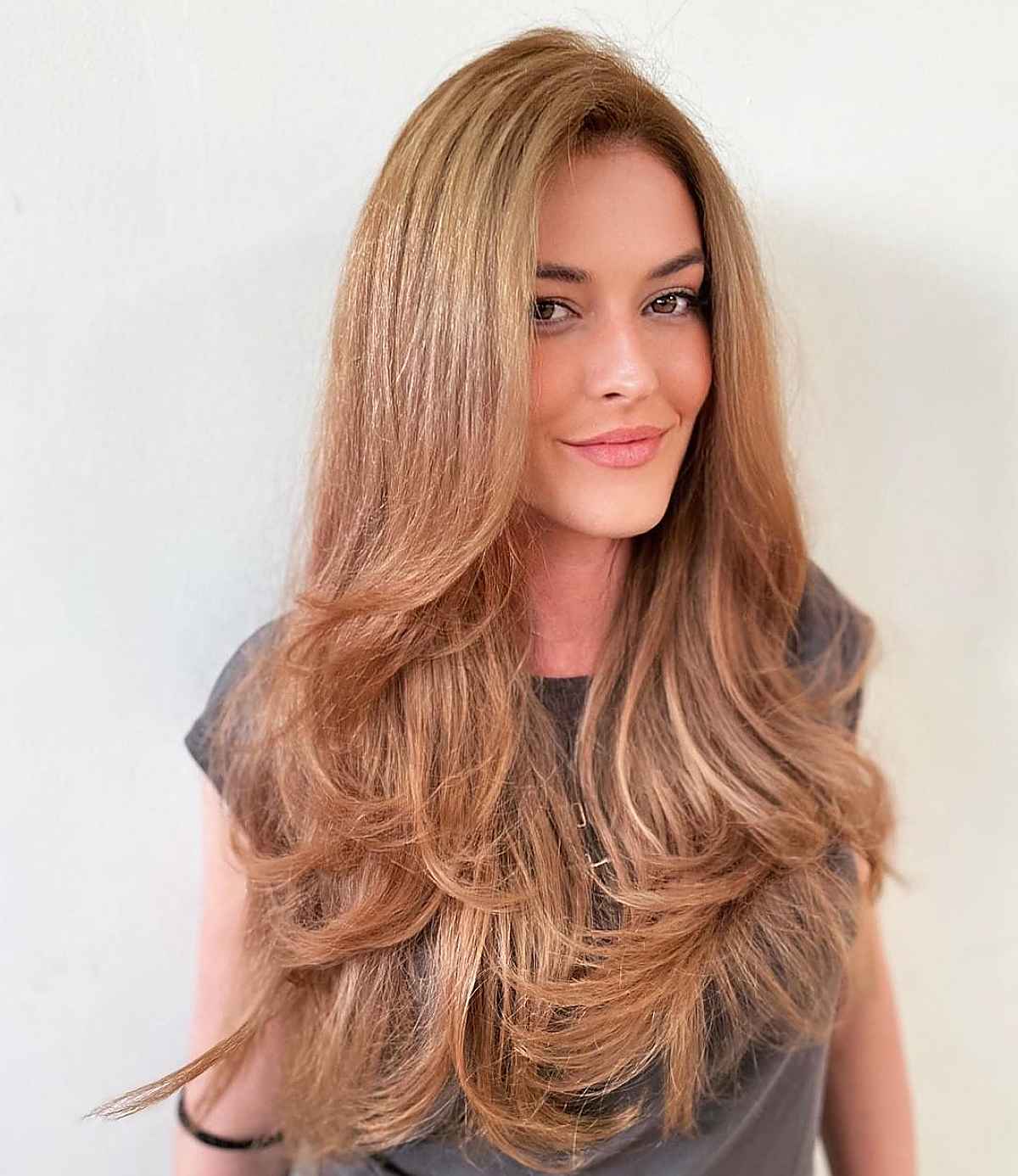 @hair_salon_by_hadis
When low maintenance is the goal, it's generally best to opt for very long hair. Longer lengths allow for more time between trims and allow for more style options. Wear it down, pull it back, curl it, tease it, straighten it – you can do it all with these low-maintenance haircuts for long thick hair! Or you can use your natural waves to create an effortless, voluminous style.
Long Shag for Women Over 40
@sarahdixon_hair
Women over 40 sometimes find that their mane isn't what it used to be. Sometimes hair gets wiry and thicker, sometimes hair thins and begins to shed. Either way, a low-upkeep, long shag is a cure-all for any hair ailment.
This cut has the ability to thin out hair when it's too thick and coarse, as well as texturize and volumize thinner, finer tresses. The added choppy bangs are sure to flatter a chubby face shape, too.
Trouble-Free Long Shaggy Hair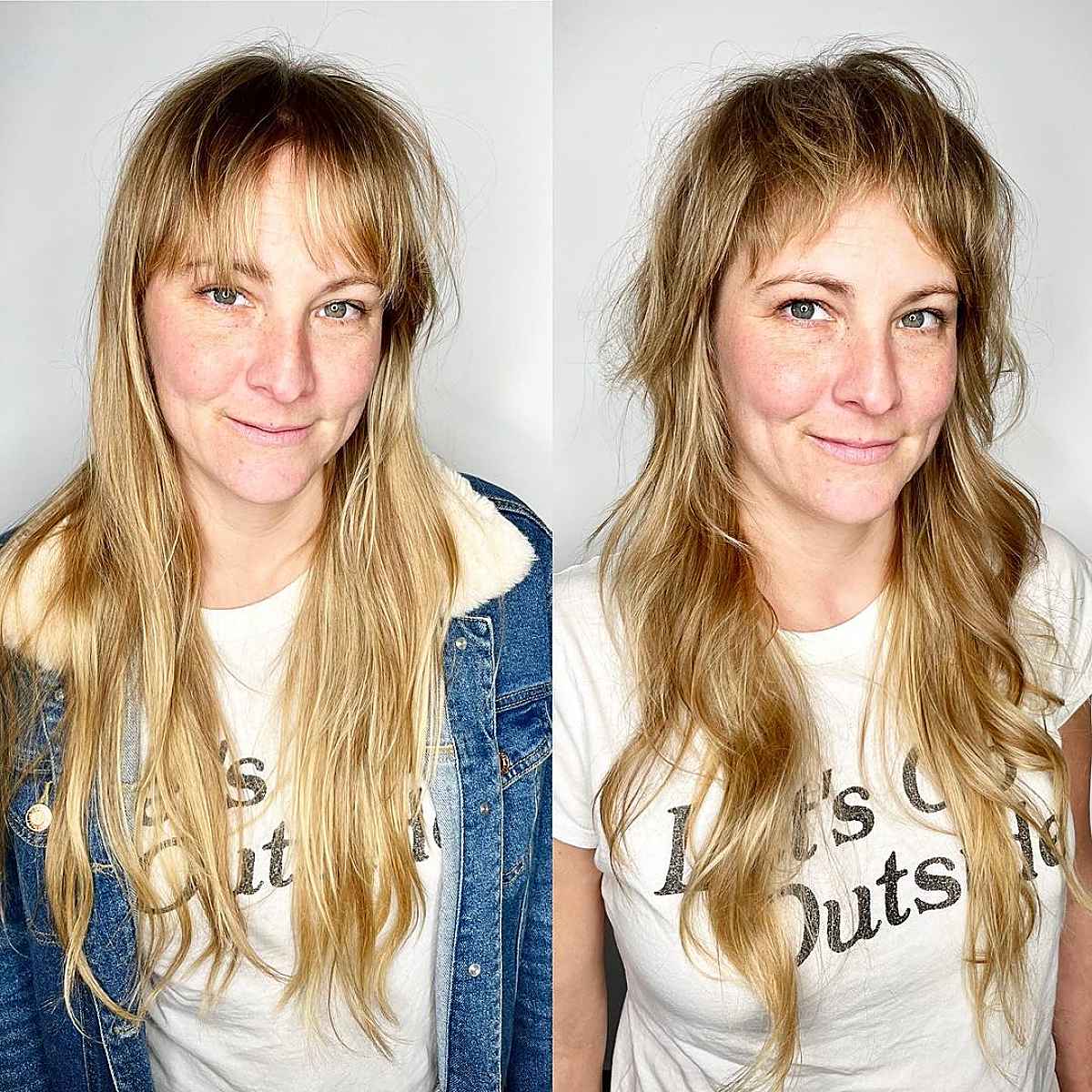 @jenpattonhair
A great way to preserve your low-maintenance style while keeping it long is to add shaggy layers and a fringe to your haircut. This type of chop will boost your hair's natural texture and complement an oval face shape. You'll notice more volume, body, and movement with minimal effort.
Long Layers for Women Over 50
@sharhair_ffh_mon.at
Long layers make for a low-maintenance haircut, which many women over 50 are looking for. With such low-maintenance long layered haircuts, you only need to maintain the shape every few months. So, you can spend more time doing the things you love instead of sitting in a salon chair.
Easy-Care Long Textured Cut
@hirohair
A long textured cut, styled with beachy waves, is an amazing compliment to a low-maintenance lifestyle. The ends are shattered instead of blunt so the haircut remains looking "lived in." Since it has a mid-back length, it allows you to go longer between appointments.
Manageable Face-Framing Layers
@hair_salon_by_hadis
Face-Framing layers provide an excellent addition to anyone wanting to change up their longer hair style without doing anything drastic. The face-framing layers can even be touched up between full haircut appointments to keep you feeling fresh and shapely.
Flattering for a Round Face Shape
@fabmoodbeauty
Long, layered locks are the most flattering choice for a round face shape. The center part, face framing, and "money pieces" contribute to this perfect combination. This cut and color technique draw attention away from a round face shape by pointing out and highlighting the eyes and highest points of the cheekbones.
Long Straight Hair with Layers
@hair_salon_by_hadis
There are many options when it comes to low-maintenance hairstyles for long straight hair. For straighter locks, some good options are to have no layers, only face-framing layers, or a subtle combination of long layers with face-framing layers. Minimizing differences in lengths within the haircut will create the lowest amount of maintenance.
Layering and Bangs for Thick Hair
@randa.rivera
Low-maintenance haircuts for thick hair tend to look their best with lots of layers. Long locks need multiple layers causing breaks and adding interest to the style. Bangs or short face-framing pieces are a great addition to thicker hair, highlighting different facial features.
Easy Texture for Women Over 60
@whitehairwisdom
Keeping a simple shape is the key to the best low-maintenance long haircuts. Not adding too many layers or too much texture will be the most flattering on women over 60. A smooth style will complement those with sleek-straight hair. The subtle layers around the face can conceal a sharp jawline.
Care-free Wavy Hair
@romeufelipe
Thick wavy hair is a great way to achieve an effortless yet glamorous style. A few easy ways to get wavy hair are with a 2-inch curling iron, hot rollers, or even a favorite "no-heat method" such as braids or a towel halo could work perfectly. Less is more when creating this style. If you have highlights, waves are also a great option to enhance the hair's dimension.
Simple Blunt Cut for Women Over 70
@andreacroskeyhair
Long, blunt haircuts are often the best choice for women over 70, especially with these icy white lengths! This ultra-long look shines a light on the beautiful hues of aging hair while keeping maintenance low. A long haircut with blunt bangs like this one typically requires a trim every 6-8 weeks.
The Low-Maintenance Long Ponytail
@hair.so.boho
A long pony tail is another great low-maintenance style option. It's easy enough to do at home, but nice enough to wear to an event! The best way to take this style from "every day" to "special occasion" is a simple combination: start with a few soft curls then wrap and tuck a piece of hair around your pony tail elastic. This will give your ponytail a fully finished look and cover all the details.