26 Eye-Catching Blonde Pixie Cut Ideas to Show Your Stylist
Short Layered Blonde Pixie
@marya.lavishdistrict
A short layered blonde pixie is an edgy yet feminine cut perfect for women looking for a bold haircut. Short blonde pixies consist of several layers that create texture, dimension, and volume. To achieve this cut, ask your hairstylist for a razor cut with soft layers.
Short Undercut Pixie with Blonde Highlights
@lynnmpalmer
A short undercut pixie with blonde highlights will no doubt pull out anyone's inner rockstar energy. Short haircuts are fun, sexy, playful, and bold. Although a short undercut minimizes daily styling time it requires more frequent appointments to keep that exact style in place. Your stylist may recommend keeping your pixie cut maintained every 3-5 weeks, while adding your blonde to the mix every other to every third appointment.
Dirty Blonde Pixie Cut
@tamara_modahairstudio
If you're looking to go short, consider a dirty blonde pixie cut. This short blonde pixie style can help thin hair look fuller as the darker root allows the blonde to pop, bringing the focus to the color dimension. Blow-dry hair forward from the crown and use a thickening serum to give fine hair a bit of bounce. Finish with a light molding wax to keep strands in place.
Short Pixie with Blonde Balayage
@thehairgoddess_
Try a short pixie with blonde balayage for an easy, on-the-go style. This style is ideal for women with medium hair texture. Keeping the cut short at the nape allows more focus around the face as the hair falls softly at the brow. A short hair style is versatile and can be worn all year round.
Short Pixie for Women Over 50
@hair_musz
Consider a short pixie for women over 50 if you're ready to chop off some length. It's perfect for evert hair type when blown out with a small round brush. Lighter blonde hair colors are an option for a younger-looking appearance as light hair can blur out a harsh line of demarcation, mainly when covering grey hair. Finish this style with a bit of pomade and light hairspray.
Champagne Blonde Pixie
@kassiabarbo
A champagne blonde pixie with an undercut is super sleek. There are a variety of ways that you can style short blonde pixie hairstyles. It may range from spiky and edgy to slick and subdued. Don't be afraid to experiment with your hair. Use a blow-dry serum and a shine spray for a polished finish.
Low-Maintenance Pixie with Blonde Ombre
@angelicagrechkina
A low-maintenance pixie with blonde ombre is the perfect combination of edginess and simplicity. Short hairstyles require more visits to the salon, as appointments should be about 4-5 weeks apart to ensure the shape stays. A blonde ombre is a great choice to pair with short hair, as it requires less maintenance, prolonging salon visits.
Short Curly Pixie for Curly Girls
@_blondieandco_
A short curly pixie for curly hair is a good option for ladies interested in a big chop. It gets rid of all the dead ends and gives you fresh, new locks to style. A short pixie with a blonde hair color offers an alluring and youthful-looking glow. It's best on a round or oval face shape.
Trendy Pixie Cut for Short Hair
@studiopudra
A trendy pixie cut for short hair has multiple choppy layers. A blonde and short pixie is often longer in the front than the back to have a wider variety of styling options. Added texture and grit are very helpful to get that edgy look a choppy pixie provides.
Edgy Pixie for Blondes
@shmoakin_hair
An edgy pixie for blondes is a very modern, trendy style. A blonde short pixie cut is versatile. The shade of blonde and cut are changeable to suit your complexion and facial features. If you're bold enough, have one side or section shaved for a jaw-dropping transformation.
Short Pixie for Platinum Hair
@kassiabarbo
A short pixie for platinum hair is a timeless and edgy piece to wear on your tresses. A platinum tone is one of the must-try blonde hair color ideas to explore. Purple shampoo is vital in maintaining the vibrance of this hue. Remember that 4-5 week toning sessions are a must to keep it from looking brassy.
Blonde Short Pixie Cut for Fine Hair
@tjlathamhairdressing
A blonde short pixie cut for fine hair creates more fullness and gives the illusion of thick hair. Blonde short pixie cuts are suitable for most hair types and textures but discuss the look you are trying to achieve with your stylist to make sure it's practical for your hair. Styling pixie hair in a jagged, messy way creates volume, definition, and texture.
Blonde Pixie for Straight Hair
@inspirations_coloriste
A blonde pixie for straight hair adds movement and texture to naturally straight hair. A short and blonde pixie has smooth layers that help maintain the shape of otherwise flat hair. Adding an undercut and a longer side bang in the front gives an illusion of thicker and texturized tresses.
Short Blonde Pixie for Natural Hair
@moonkingmoments
Switch up your black hair and opt for a short blonde pixie. African-American hair dyed blonde is a beautiful way to showcase your natural curls. Blonde short pixie haircuts are great as you can take them extremely short, making the grow-out flawless. Style your natural curls with oil and styling cream to maintain their shape.
Wavy Blonde Pixie for Short Hair
@marlena._k_
A wavy blonde pixie for short hair is a way to play up natural curls or add in some curling iron waves. When considering a blonde short pixie haircut, think of ways you wish to style the hair and help determine the length you want to keep on top. Fun pompadour styles are also great for longer-haired pixie cuts.
Related: See more pixies for wavy hair.
Choppy Blonde Pixie Haircut
@lara_stelmashuk
A choppy blonde pixie haircut is ideal for women with thick tresses. Styling the hair forward with a round brush creates fullness and added density. Short, choppy layers stacked in the back are some perfect attributes that short blonde pixie styles have.
Very Short Pixie for Blonde Women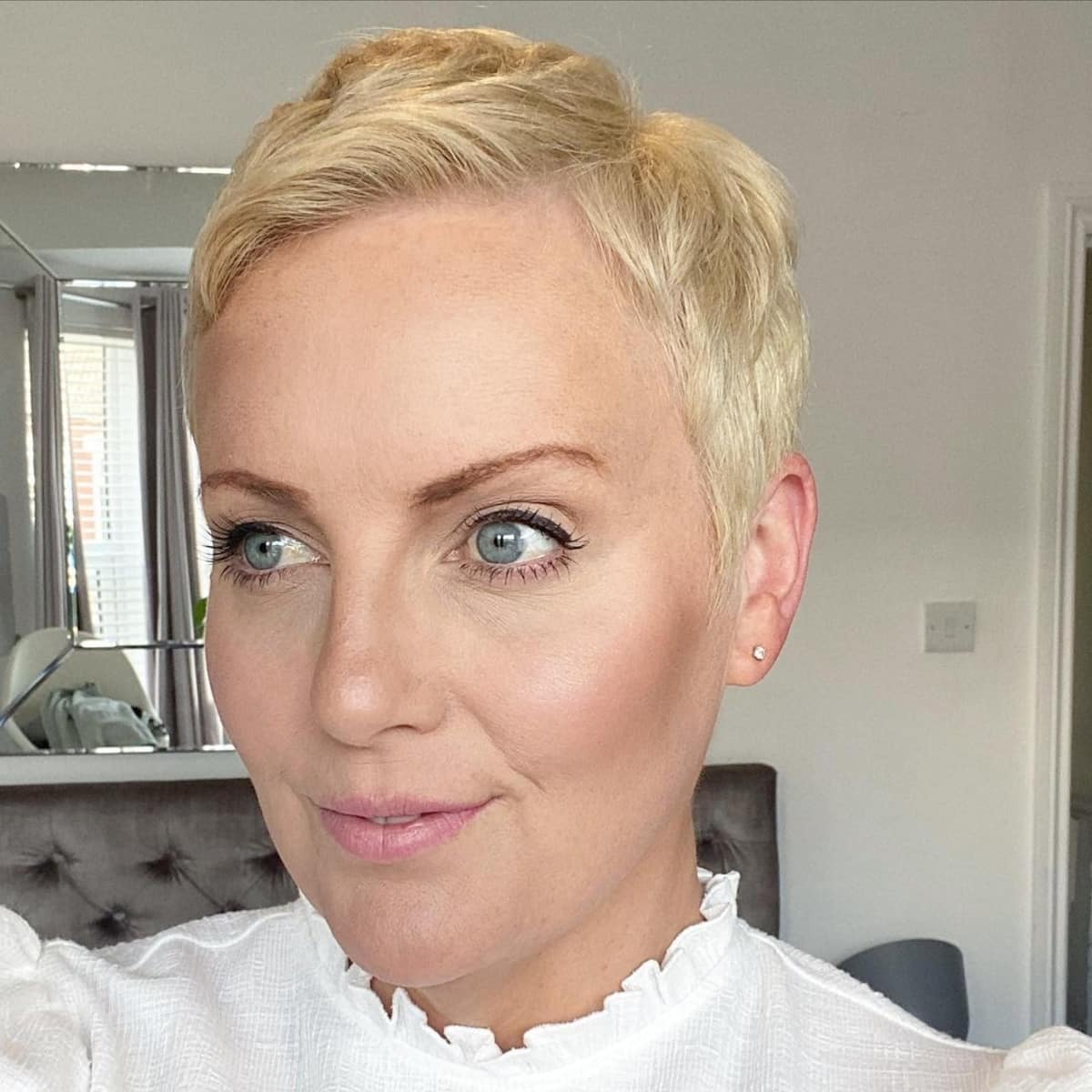 @shorthairforlife
A very short pixie for blonde women is super chic with low-maintenance styling. To achieve a bright blonde hue, women may need more than one session to get the desired hair hue. With blonde short pixies, make sure to schedule an appointment every 4-5 weeks to ensure the length and color are well-maintained.
Blonde Short Pixie for Women Over 60
@courts.hairchair
A blonde short pixie for women over 60 is a great style to look 10 years younger than your current age. Soft, feathery layers paired with an icy blonde hue make for a sassy, youthful-looking hairdo for older women. Styling is minimal with a super short haircut. Rough dry with a blow-dryer or even letting the hair air-dry are practical options to try.
Dark Blonde Pixie
@stylhairniort
A dark blonde pixie with sharp angles gives a chic vibe to any woman. Short blonde pixie haircuts are ideal for women who want little to no effort when styling hair. A dark blonde tone creates a more natural finish, while jagged, short layers create edginess and boldness to the cut.
Long Pixie for Blonde, Short Hair
@uberbeleza
A long pixie cut for blonde, short hair is a good transition piece to a short hairstyle while maintaining adequate length. A bob-like pixie cut is an ideal length for styling, as it has the length needed when tucking behind the ear or pinning back. A blonde short pixie hairstyle maintains fullness throughout the hair by creating a rounded perimeter with shorter layers. If you're interested in this cut, ask your stylist for a pixie bob.
Blonde Pixie + Short Hairstyle
@kosmetolog_newmoscow
Blonde pixie + short hairstyle is a perfect combination. You'll never go wrong with a shaved undercut and long choppy layers on a short haircut. Pixie cut haircuts suit many face shapes as they can be modified to fit your frame.
Short Shaggy Blonde Pixie Cut
@bareeminimum
A short shaggy blonde pixie cut is a great haircut if you have thinner hair and want to create the illusion of a fuller look. A short blonde pixie haircut has several layers and textures to bring out more movement in your tresses.
Related: See more shaggy pixie cut ideas.
Platinum Blonde Pixie Cut
@courtneyxcentrichair
Platinum blonde pixie cuts are breathtaking. Blonde short pixie hairstyles are fun and playful. Ask your stylist for short and long choppy layers. With a shaved undercut, this creates a more bold and daring look. Women of all ages can pull off a platinum pixie cut.
Short Pixie for Older Women
@bakki_house
A short pixie for older women should be easy maintenance, fuller-looking, and playful. A pixie with blonde hair coloring is a concoction for a youthful-looking glow.
Spiky Short Pixie for Blonde Hair
@hairpinsandmargaritas
A spiky short pixie for blonde hair is a unique style. Extra texture and several choppy layers help your mane build the needed dimension and appear effortless. Short blonde pixie ideas are hairstyles that never go out of style, daring, fun, and playful all at the same time!
Light Blonde Pixie with Bangs
@vitosatalino_official
Women who have a light blonde pixie with bangs know how to have fun. A short blonde pixie hairstyle is a playful way to balance out a heart-shaped face. A long side-swept fringe with slightly graduated length in the back comes together, softening the angles, accentuating the cheekbones and eyes, creating harmony to the face. Bright and ashy blond hues create a beautiful mix when done with a shadow root giving the color an added glow. Be sure to ask your stylist which shampoos to use to keep the hue from fading between hair appointments.