15 Best Ways to Rock a Low-Maintenance Shaggy Haircut with Bangs
Low-Maintenance Shag with Curtain Bangs
@hairpainters
A low-maintenance shag with curtain bangs is very trendy right now. This shaggy style looks current and fashionable without being overly complicated. The fringe and layering work on a variety of textures and can be customized to suit any woman's individual needs. Consult with your stylist about which options would work best for you.
Choppy Shag with Razored Layers
@yukistylist
Consider a choppy shag with razored layers. These low-maintenance shaggy haircuts are great for thick-haired women who want a lot of choppy texture and movement. The razor cutting makes for a seamless grow-out and effortless styling.
Mid-Length Shaggy Chop with Bangs
@joeltorresstyle
A mid-length shaggy chop with choppy bangs is very trendy right now. Shaggy haircuts are fun and low-maintenance styles that look great on all types of hair textures. Talk to your stylist and have them customize the perfect shag for you.
The Rachel Hairstyle
@rosa_lennon
If you are inspired by the resurgence of the 90's-inspired fashion hair trends, try the Rachel hairstyle. Jennifer Aniston made this low-maintenance hairstyle famous, but it looks great on a variety of face shapes and hair textures. Blow-dry with a set spray and a round brush for a coiffed look, or air dry with some texture cream for a lived-in look.
Feathered Shaggy Cut with Fringe
@studionstage_
If you are looking for low-maintenance haircuts, consider a feathered shaggy cut with fringe. Shags work well on all types of textures and require very minimal styling. These cuts also grow out well so fewer salon visits are required if budget is a concern.
Low-Maintenance Shag with Asymmetrical Bangs
Try a low-maintenance shag with asymmetrical bangs. Low-maintenance cuts are perfect for those with little to no styling time. Just use a little styling cream or mousse, and then air dry or diffuse. This blonde shag cut is great for a variety of lengths and textures so ask your stylist what version is right for you.
Wash-and-Wear Shag with Bangs for Women Over 60
@coralinemeireles
A wash-and-wear shag with bangs for women over 60 is perfect. A shag cut is youthful and trendy, but is also suitable for women of all ages, as it can be customized to everyone's individual hair texture and needs. Minimal styling is required for this gray hair, and the salon maintenance is low as well if budget is a concern.
Medium Shag with Layers and Bangs
@andyalakarp
Consider a medium shag with layers and bangs for thick, fine hair. Layering is a great way to remove weight and create texture in fine, straight hair. These low-maintenance shaggy hairstyles are perfect for women wanting to look great with minimal effort.
Short Shag with Bangs for Older Women
@caipal_hair
Consider a short shag with bangs for older women. A shag haircut is ideal for a more mature woman. The long bangs help conceal hairline recession and the layering makes for effortless styling in a changing texture. Style with a texture cream and airdry or diffuse for an easy and effortlessly chic look.
Long Layered Shag with Fringe
@lindsey.brodeur.hair
A long layered shag with fringe is beautiful, especially on brown hair. Shag hairstyles are flattering and virtually effortless. These shapes are perfect for thick-haired women wanting more movement and texture. Shampoo less often and style with dry shampoo for the perfect lived-in look.
Lower-Maintenance Shag Haircut with Bangs
@rachelwstylist
If you're short on time, consider a lower-maintenance shag haircut with bangs. These low-maintenance hairstyles are perfect for busy moms or girls on the go. Air dry or diffuse with a mousse or texture cream and you are ready for your day with the perfect effortless style.
Short Textured Bob with Fringe
@hair.helga
Consider a short-textured, shaggy bob with a fringe. Short shaggy cuts are perfect for ladies wanting a minimal styling routine. These styles also require fewer salon visits as they grow out seamlessly. If your budget is a concern, a cut like this might be the perfect one for you.
Longer Shag for Women Over 50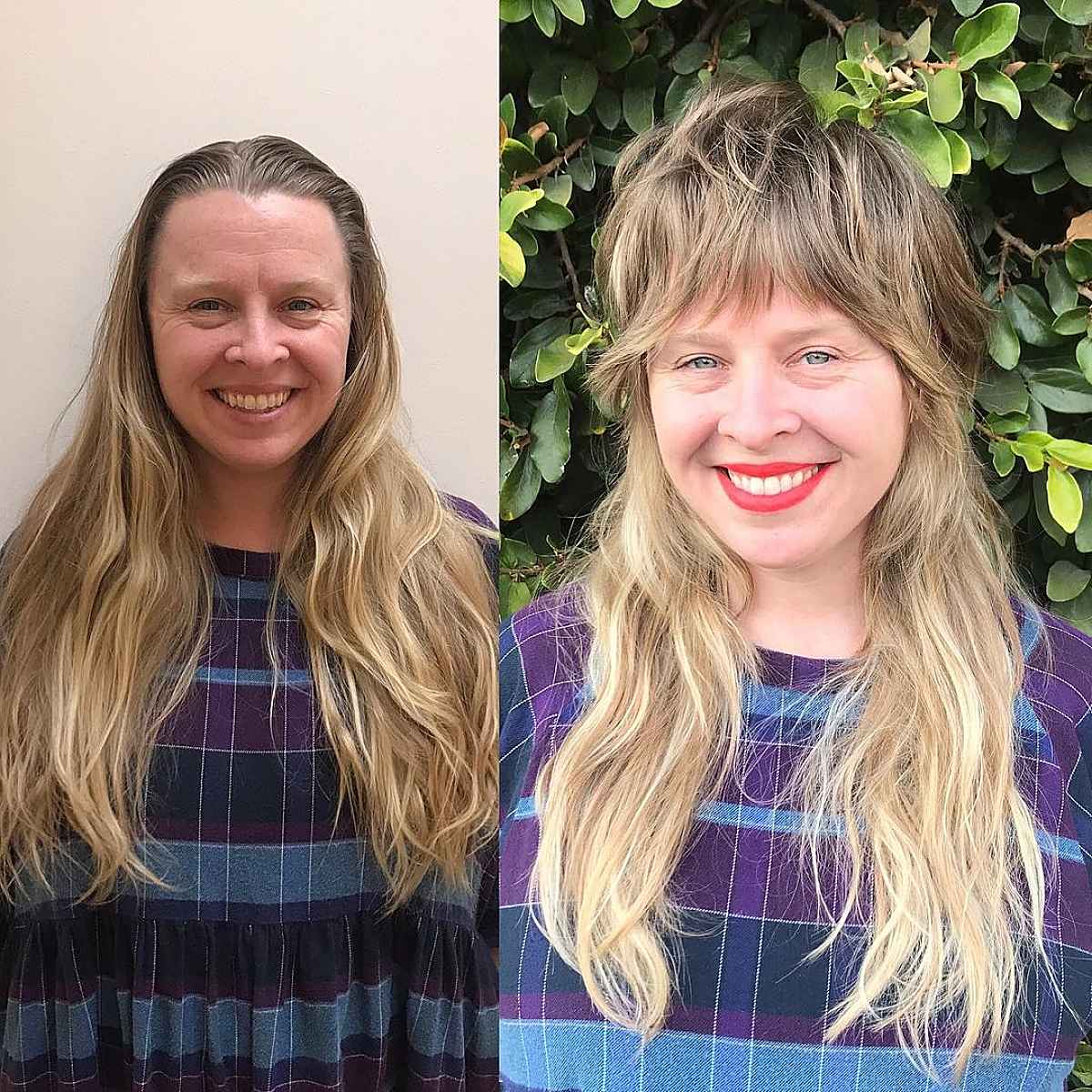 @teddy.baker.beauty
Consider a longer shag for women over 50. A shag hairstyle is versatile, low-maintenance, and youthful. Layering around the face and fringe are flattering for a more mature woman as they conceal receding hairlines, a large forehead, fine lines, and lift the facial features. You don't need to sacrifice length as this style can be customized for each individual and their needs.
Easy Shaggy Pixie with Bangs for Women Over 70
@whistlestopsalon
An easy shaggy pixie with bangs for women over 70 is an ideal cut. The shag style helps create volume and height on fine or thinning hair. Style with a round brush, or curling iron, and a workable hairspray.
Curly Shag with Curly Bangs
@bareeminimum
Try a curly shag with curly bangs. Shaggy hairstyles are great for creating an illusion of volume on curly hair. The interior layering removes weight eliminating the bottom-heavy triangle-shaped cut. Curls spring back to life in this flattering, low-maintenance style.
Related: See more low-maintenance shaggy cuts with bangs.