26 Youthful & Stylish Short Haircuts for Women in Their 70s
French Bob with Bangs
@the.mindful.barber
26 Youthful & Stylish Short Haircuts for Women in Their 70s
A French bob with bangs is the perfect haircut for women over 70 to add some pep in their step. This razor cut French bobbed hair with a youthful bang is the opposite of a grandma cut in every way. Use a spray wax on dry hair to define the texture and create a light hold.
Bob Cut with Bangs
@belrene1225
A bob cut with bangs can create a beautiful full style on fine and medium hair textures. Consult with your stylist about the best length in bangs for your face shape and to highlight your eyes. Short haircuts for ladies over 70 give the ultimate fullness when the edges are blunt.
If your hair is on the thicker side, request for more texture and weight removal from the ends. Go for shoulder-length hairstyles if you wish for more versatility. For a short haircut, you're looking at getting into your stylist every 4-8 weeks to maintain the style.
Feathered Pixie Cut
@jessica.salonoriana
A feathered pixie cut really softens the face and creates an interesting short layered style. With flicks of hair around the ears, this is the best hairstyle for a 70-year-old woman that makes your eyes pop. Keep in mind the texture of your hair, all textures are customizable, but pixie haircuts for older women work best with fine and medium textures.
Very Short Pixie for Thinning Hair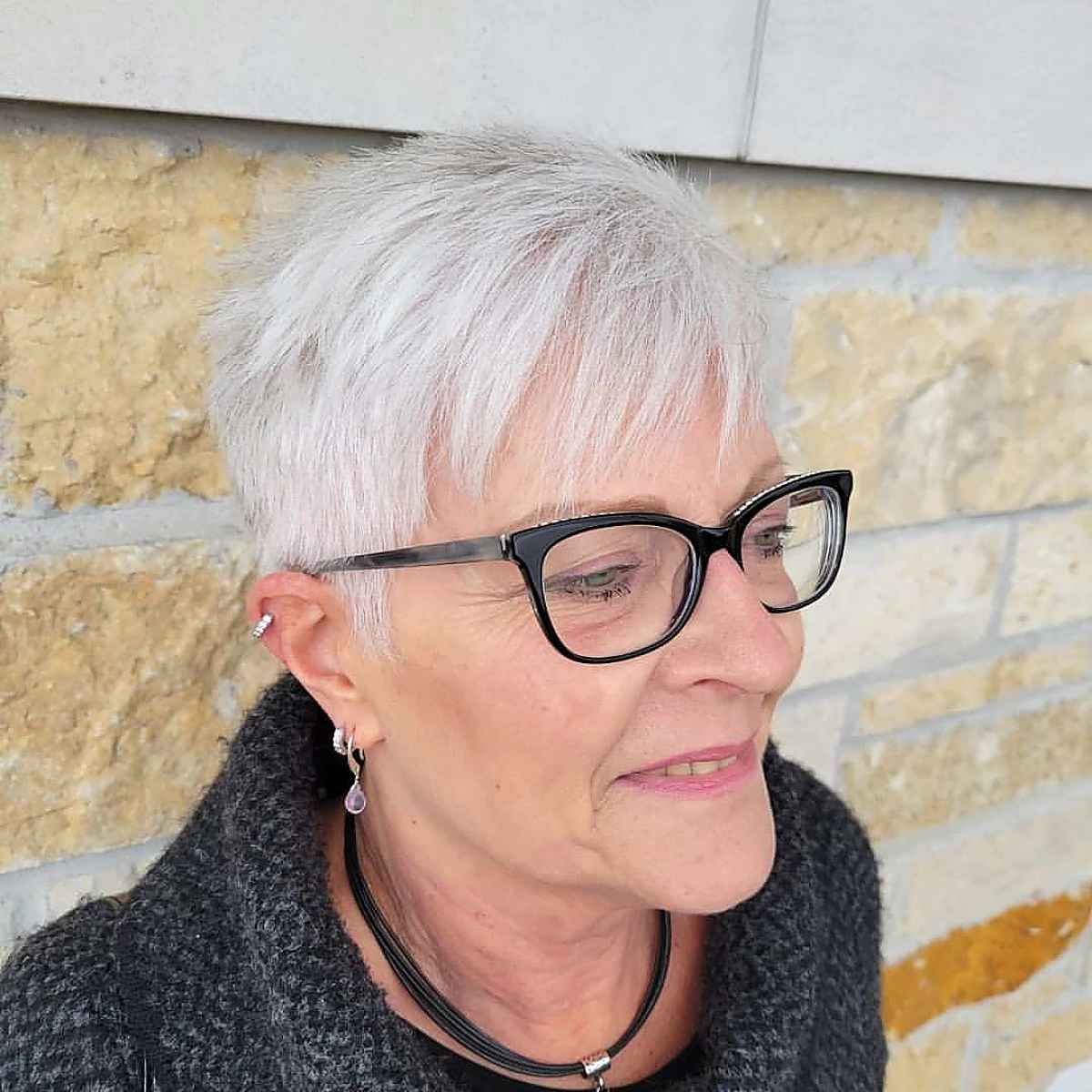 @sagedoeshairmke
Opt for a very short pixie for thinning hair if you need inspiring ideas of very short hairstyles for over 70 women. A lady in her 70's may be experiencing thinning hair and going short will help create volume and a lot of style. This is one of those ideal ladies' hairstyles for over 70 with glasses as minimal effort is required to style daily.
Keep in mind that to maintain short pixie hairstyles, you will need a cut every 4-6 weeks.
Face-Framing Layers
@southrnstylist
Face-framing layers make youthful, short hairstyles for a 70-year-old woman with glasses. Adding sassy wispy texture around the eyes and cheeks helps to soften the face and fine lines.
This makes the best hairstyle for over 70 with fine, straight textures to add body in the crown area. Easy to style with a little blow drying, back combing in the crown and finishing with a light hairspray.
Short Choppy Hairstyle for Senior Women
@srhair
Short choppy hairstyles for over 70 women will offer you all the texture you can dream of. 70-year-olds with a thicker texture and naturally wavy hair will benefit from choppy layers, as you can remove weight and create movement.
Ask your stylist for a textured crop that has movement. Keep in mind that for short old lady haircuts, although easy to style, they need more frequent haircuts, about every 4-6 weeks to maintain.
Short Stacked Bob with Glasses
@andravanrecum
A short stacked bob with glasses looks great on a senior citizen with medium to very fine hair. Carving out a soft fringe to match bob hairstyles will make wearing glasses easy and will frame your face perfectly to match with a short stack. Styling short wedge haircuts for over 70 won't be too difficult, a blow-dry with a flat brush or quick flat iron to smooth the hair.
See more flattering haircuts for ladies in their seventies with glasses
Youthful Short Shag
@dulcevidasalon
A youthful short shag is a timeless cut with soft textured layers throughout the crown and middle of the head. Short hairstyles for women bring out youthfulness in your face by framing the eyes and cheekbones and drawing attention up. Shag hairstyles for seniors with thin hair create volume but if with thick textures, they remove weight. Talk to your stylist about how you can highlight and shadow your facial features.
See more shag hairdos for older ladies
Soft Curls for Short Hair
@sylviesimonhair
If you like chic and messy hairstyles, these soft curls for short hair are the ultimate easy style to wear. You can wash-and-go or diffuse with a little curl gel/cream. Don't forget to consider curl shrinkage when deciding how short to go, natural curls shrink and you want to consider going a little longer with the length to make up for that.
Bobbed Cut with Fringe
@signedbybex
A bobbed cut with fringe is one of these classic short hairstyles for fine hair over 70. Consider the length of the cut and discuss with your stylist and how to best extenuate your face shape. Depending on the texture of hair, you can wash and go or blow out smooth and straight. These short hairstyles for older women with fine hair can provide quick easy styling for women.
Gray Bob with Layers and Bangs
@laurensbarberandbeautylounge
A gray bob with layers and bangs helps to shape and brighten up the face. Avoid long lengths around the face that can draw attention down and make fine lines more noticeable. Ask the stylist to carve out the gray hair around the face to highlight your eyes and draw attention upwards.
Short Hair with Side-Swept Bangs
@celestialstylist
Short hair with side-swept bangs helps shape faces. It's a great cut for long face shapes, highlighting your eyes, and hiding fine lines to look 10 years younger. An easy way to style side-swept bangs is to use a medium-sized round brush and blowout in the opposite direction in which you want them to fall. They will fall into place really nicely with minimal effort and spray with a light hairspray.
Short and Silver Haircut for Curly Hair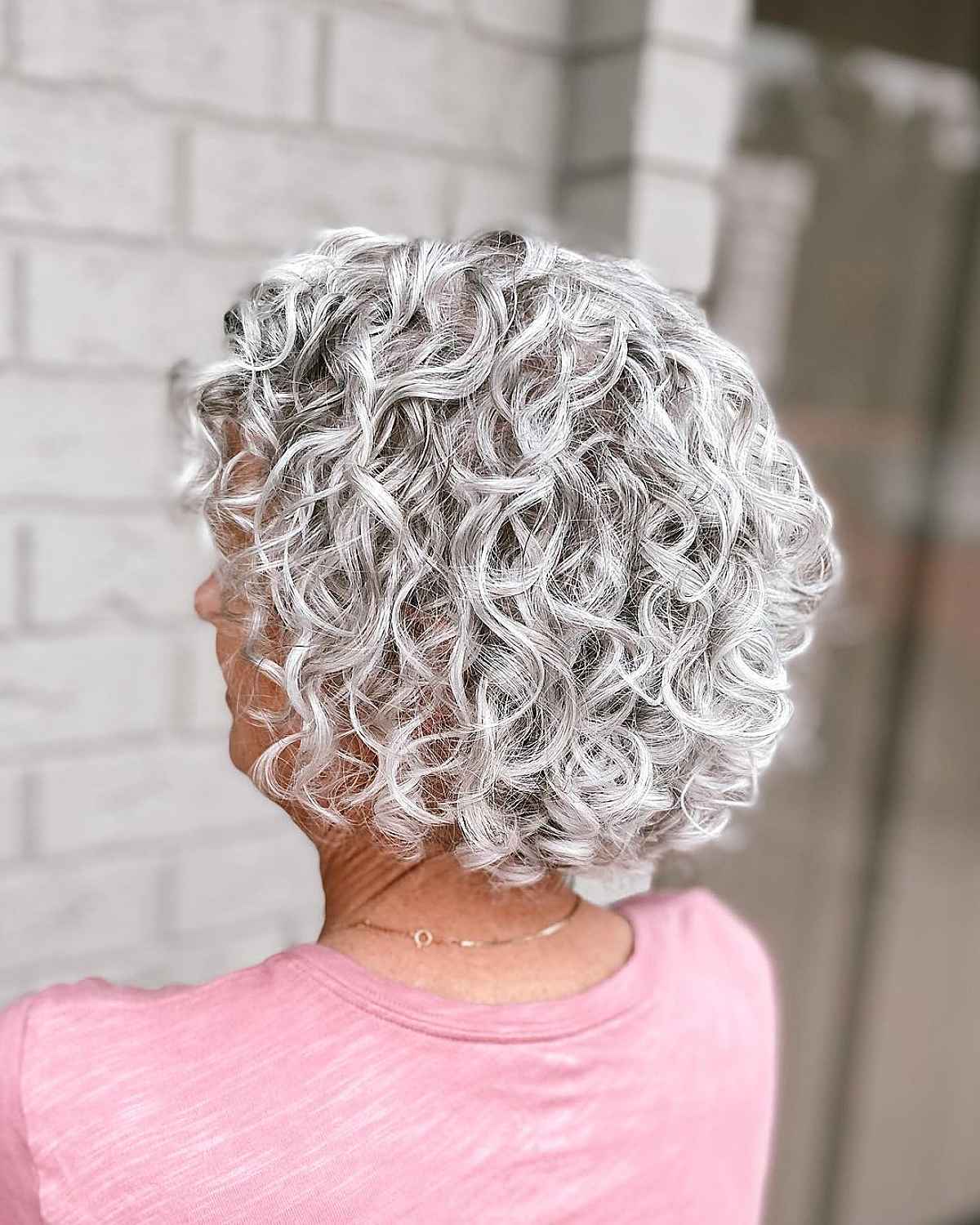 @locksbyalaina
Try a short and silver haircut for curly hair as a stunning option to embrace the au natural for women 70 and over. The jaw-grazing length and layers allow the natural curl to bounce. Maintain the sparking silver hair color with once a week usage of purple shampoo and mask combo from Amika, Bust Your Brass.
Bob with Highlights
@thebeautydistrictnaples
Go for a bob with highlights to give your thick hair dimension and a chic style. A graduated bob on women over seventy with a side-swept fringe, adds a youthful touch and brings focus to your eyes. If you're considering this beautiful cut and color combo, be sure to schedule regular maintenance appointments to keep your look fresh.
See more bobs for ladies in their 70s
Younger-Looking Pixie Bob
@rlj.hair.nails
Try a younger-looking pixie bob, and embrace your inner flair! This beauty incorporates an adorable piece-y curtain bang that is not only on-trend but extremely flattering for ladies in their seventies. If you prefer a more piece-y pixie bob style, separate and pinch thin sections of your locks and apply a fiber paste or mousse for styling.
Enhance your natural hair color with some soft pink highlights to pull the look together.
Sassy Shag with Balayage
@lotus.salon.studio
If you're looking to change things up, try this hairdo—a sassy shag with balayage. This low-maintenance haircut exudes sophistication for women over 70, with a touch of rock 'n roll. Try adding some dimensional balayage to accent the texture of your strands and blend silver or white hair.
Short Crop with Fringe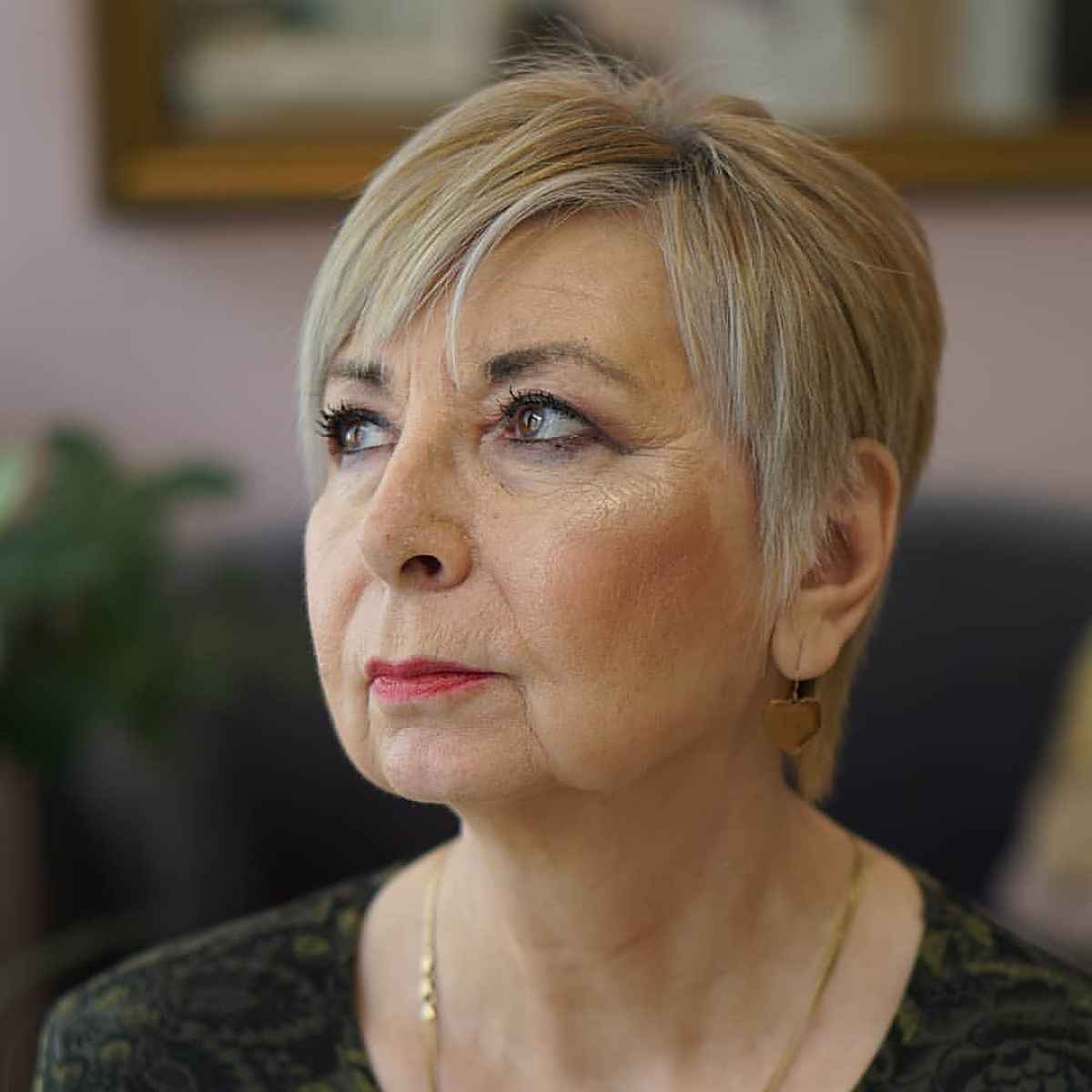 @tacolourga
A short crop with fringe and a side part is the perfect cut for women with fine, straight hair looking for a change. Wispy pieces frame the forehead, temples, and neckline delivering a flattering haircut for any 70-year-old lady. Products including spray wax, texturizing spray, and workable hairspray are must-haves for styling pixie cuts.
Edgy Spiky Pixie
@servulo
Women in their 70s can absolutely rock a sassy short hairstyle such as this edgy spiky pixie. The sides are shaved close, and the top is disconnected and texturized for a piece-y look. If you reduce more lengths from the top area, you get one of those classy buzz cuts for older ladies.
These pixie haircuts for women over 70 are fun to wear in a mohawk style using Living Proof Amp2 Instant Texture Volumizer.
Low-Maintenance Short Grey Hair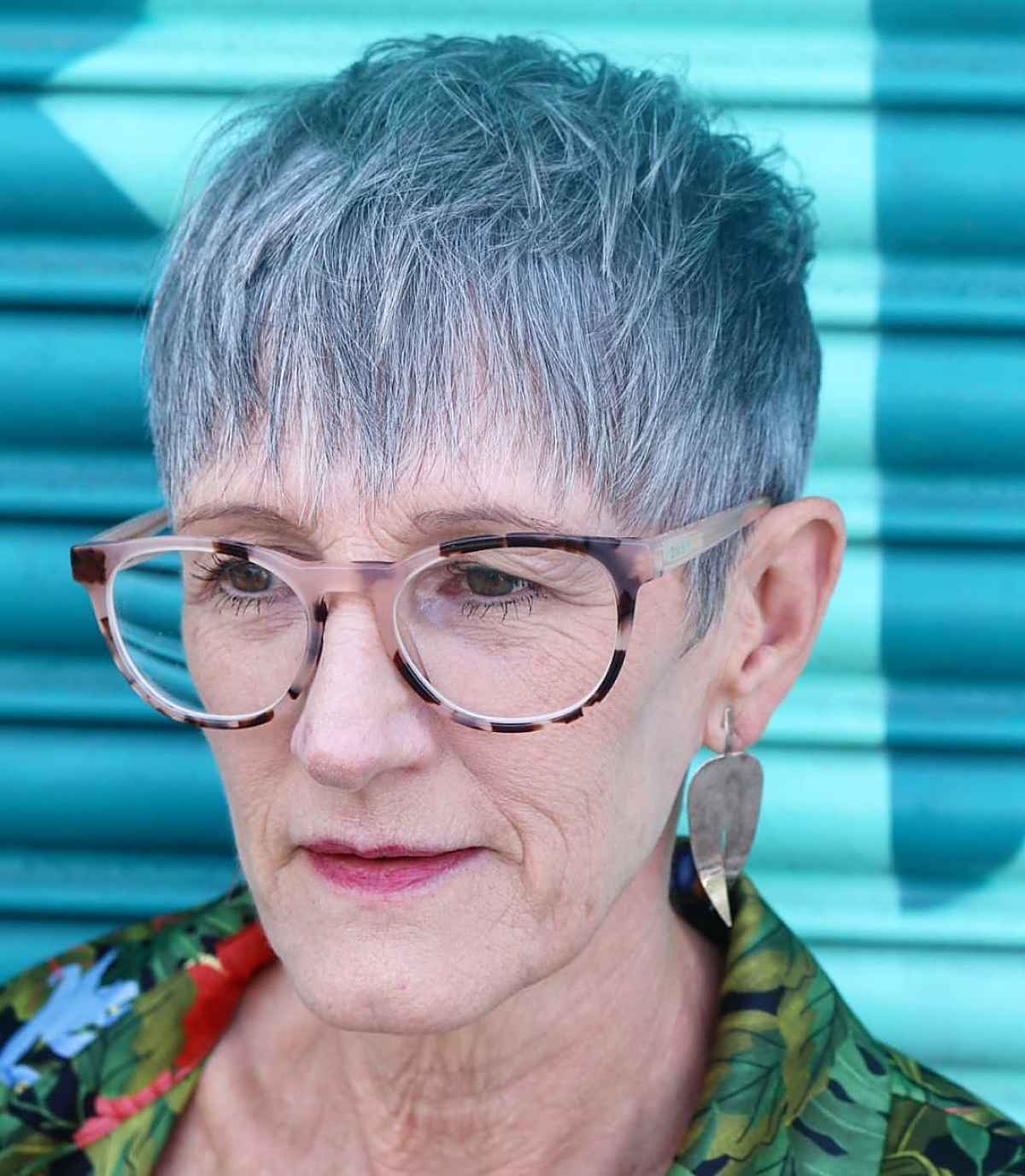 @cameronstananought
Time to say goodbye to the lengthy styling routines, and opt for low-maintenance short grey hair instead. This pixie with choppy bangs is cropped super close to the head blending into a few inches of textured tresses at the top. This easy-breezy wash-and-go style makes the perfect grey short hairstyles for over 70 with glasses who are looking for a big change that suits their sassy personality.
See more pixies for older ladies
Salt-and-Pepper Graduated Bob
@lauren_bickerton_hair
A salt-and-pepper graduated bob is by far one of the most chic haircuts worn by 70-year-old women. The low graduation bob haircut allows for just the right amount of volume at the crown, while seamlessly blending the back to front. This jaw-dropping salt and pepper hair color naturally reflects the beautiful highlights and lowlights throughout the cut.
Wash-and-Wear Pixie
@salonnova
A wash-and-wear pixie with baby bangs is a must-have haircut for women in their seventies. Low-maintenance and wash-and-wear haircuts for over 70 like this pixie is universally flattering, it that can be dressed up or down with accessories and hair products. Mist with sea salt spray on damp hair or apply a dry texturizer on day two to play up the volume.
Short Pixie Cut with Bangs
@lny_wigboutique_westpalmbeach
Try a short pixie cut with bangs to compliment a round face shape. Such short haircuts for senior women with a swoopy bang bring positive attention to the eyes and highlight the cheekbones. This stunning platinum color enhances the beautiful texture throughout the haircut.
Asymmetrical Pixie Cut
@mikerovstyle
Try a funky asymmetrical pixie cut to shake things up a bit. This texturized short hairstyle for women is tapered around the back and sides with an elongated side-swept bang. Finish with AG Dry Lift, Texture, and Volume Paste.
Layered Short Hair
@hairdressed_by_steph
Layered short hair is a beautiful haircut that gives you volume as well as movement. A short layered bob for older ladies can make a long face appear shorter or a round face longer. Schedule maintenance cuts every 6-8 weeks to keep your bob on point.
Extra Short Bob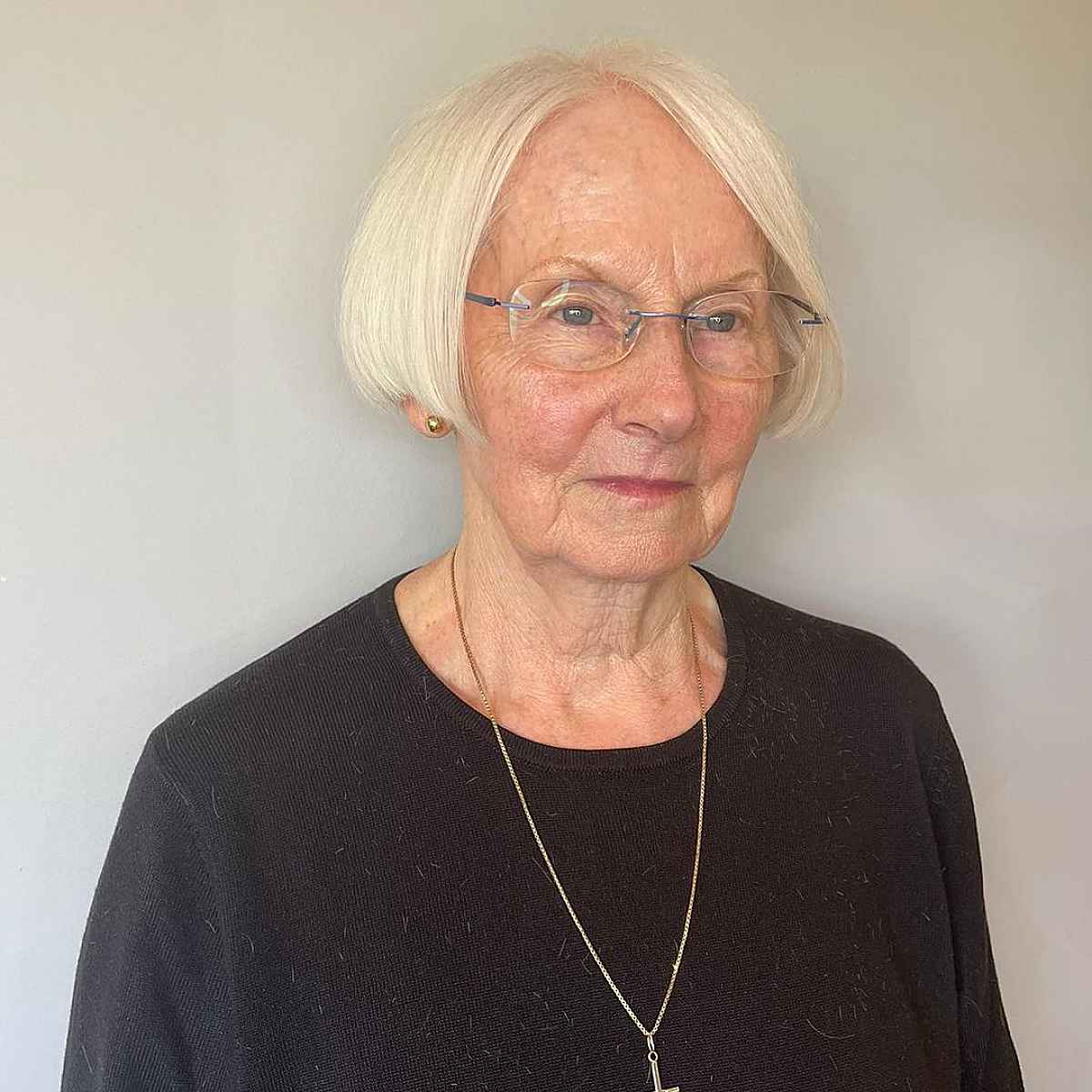 @laurahuttonshair
An extra short bob looks stunning on ladies 70 and over. A slight undercut keeps the neckline clean and removes weight, showing off a sleek perimeter line. Shampoo weekly with REF Cool Silver Shampoo to fight any yellow tones.
Short Shaggy Bob
@joannatruminohair
A short shaggy bob on curly hair goes hand in hand. The layers work effortlessly with the curls on this short style to create a ton of movement throughout the cut. Try adding a curtain bang to camouflage forehead wrinkles or a fun pop of purple for that extra pizzaz.