21 Best Ways to Get Curtain Bangs for Curly Hair Right Now
Big Shaggy Curls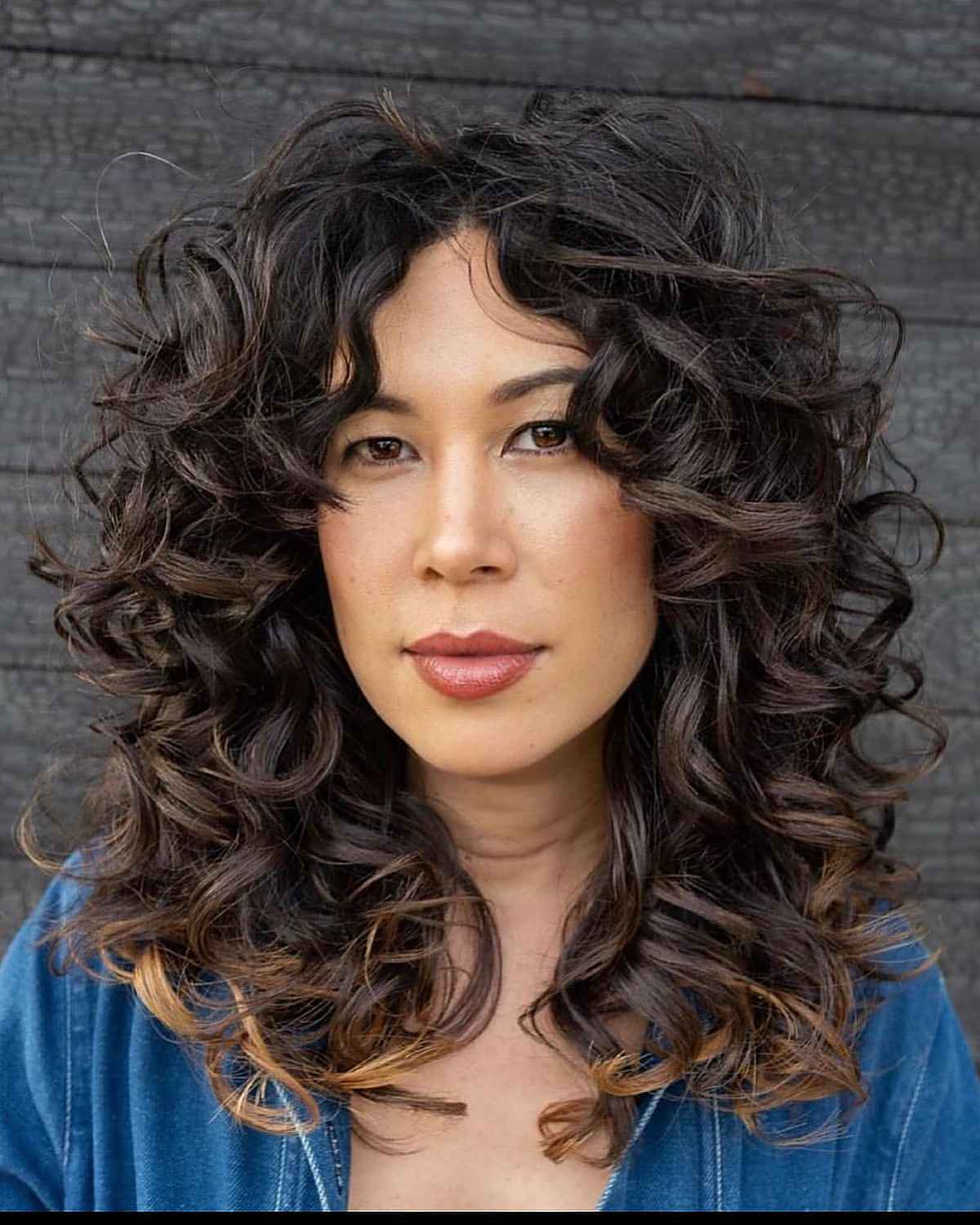 @arcscissors
Raise your hand if you're a fan of big shaggy curls! These perfectly blended va va voom curls accentuate long face shapes, but certainly don't discriminate. The long curtain bangs blends perfectly into these customized dry cut curls. Try adding some sun-kissed balayage to your curly hair for a pop of color.
Curly Shag with Curtain Fringe
@lcs.hairdesign
Elevate long, naturally curly hair with a curly shag with curtain fringe. Removing excess weight and length allows curly hair with curtain bangs to take on a whole new shape. A full curtain bang is a great option to add volume to the top of the head. Style with a diffuser, applying a light curl cream to wet hair, and finishing with a sea salt spray for extra texture.
Coiled Curls with Curtain Bangs
@dandoeshair_toniandguysthyarra
Rock some coiled curls with curtain bangs to add dimension to kinky hair. Black girls know its all about versatility when it comes to flattering their texture. The addition of a blended curtain bang can completely transform curly hair, without creating the need for a high maintenance style routine.
70s Inspired Curly Curtain Bangs
@buzzkilllstudio
Nothing says funky like 70s inspired curly curtain bangs. No matter if you wear them feathered, round brushed, or in a natural curl pattern, curtain bangs for curly hair is all the rage. Consult with your stylist to find the perfect length curtain bang to highlight your best features.
Messy Mid-Length Shaggy Curls
@oh_mandy_jo
Go for a messy mid-length with shaggy curls if you're looking for a low-maintenance haircut to pair with your curtain bangs. A mid-length cut on women with curly hair is super versatile, because it suits all face shapes and most curl patterns. Removing weight internally allows the top curls to flow freely without making them too short, thus creating harmonious bouncy ringlets.
Curly Shag with Soft Curtain Bangs
@hair_by_skylae
Try a curly shag with soft curtain bangs to play up the texture and movement in your hair. This cut works well on semi curly hair because the shaggy layers help define the curls. A perfectly shaped curtain bangs helps to open your face and highlight cheekbones. Schedule maintenance cuts every 6-8 weeks to keep this cut looking fresh.
Tight Curls with Short Curtain Bangs
@beautyxsyd
If you're a curly haired girl and have been thinking of going short, but aren't ready to commit, then keep the length and go for tight curls with short curtain bangs. Trimmed up tresses with a short curtain bang is the perfect cut if you're looking for a change but want to play it safe. Enhance this haircut with subtle sun-kissed balayage to play up the rich brunette tones.
Curly Waves with Straight Bangs
@hairbyrachael.xoxo
Try enhancing limp waves with collarbone grazing curly waves with straight bangs. Sometimes the fringe area can be straighter than the rest of the curled hair, no worries, just blow dry with a round brush to give your curtain bang a smooth yet voluminous shape. Add a copper gloss for maximum shine and vibrancy.
Flipped Out Loose Curls
@madison.n.williams
If you're looking to shake things up, try a fun vintage inspired look with flipped out loose curls with curtain bangs. This style can easily be achieved with the right layered curly cut. Try styling with a thin flat iron and turning the iron as you reach the ends of each section. Always remember to use a heat protectant, like the shield anti-humidity spray by Amika, which has heat protection as well as anti-humidity benefits.
Medium-Length Curly Cut
@thenicoapproach
A medium-length curly cut with long shaggy layers, is a versatile style that looks amazing with long curtain bangs. The uniformity of the medium-length balanced with curly bangs is the perfect everyday hairstyle. Depending on your hair texture there are different pre-styling and styling products to keep your curls on point. Consult with your stylist to find a styling routine customized to your natural curl pattern.
Long Layers with Loose Curls
@madison.n.williams
Try some long layers with loose curls if you're looking to keep your length but want to incorporate some movement. Adding curtain bangs on curly hair is a great way to frame your face and add symmetry to your haircut. Some favorite styling products for looser curls are Cult + King Set Spray, and Cult + King Style.
Elongated Curls for Thick Hair
@jayne_edosalon
Opt for a razor cut on elongated curls for thick hair to reduce bulk while maintaining flow throughout the cut. Use a razor to carve out the thick curly hair on top, thus exposing the beautiful curls that live in the interior. Consult with your stylist on the best length curtain bang to suit your face shape and haircut.
Short Coiled Curls
@tiffmccoll
What better time than now to try short coiled curls. Short curly hair looks amazing cut in a rounded shape with a layered curtain fringe to tie the look together. Make sure your stylist has experience cutting short curly hair with bangs, and keep in mind that hydration is key when styling curly hair coils.
Curly Long Bob
@alchemyxhair
Try a curly long bob if you have finer hair and want to bring some bounce back to your curls. Natural texture can take on new life by giving it the right shape and styling products. Add textured curtain bangs to create framing around the cheekbones and add a seamless curl flow around the head.
Curly Shag with Curtain Bangs
@hair.by.trianna
Transform a long boring cut to a curly shag with curtain bangs. A razored curly haircut adds the perfect amount of volume while still maintaining length. Ask your stylist for a chic curtain bang to pull the cut together.
Curly Updo with Curtain Bangs
@oliviacalabio
Whether it's a casual night on the town or a glam event, a curly updo with bangs is a go-to style. A pinned up curly hairstyle adds height for drama, while cascading tendrils add softness around the face. Seek out a stylist who specializes in styling and updos to achieve this ever so perfect look.
Very Long Curly Hair
@aysel_curly
Enhance very long curly hair with the magical touch of a razor cut and curtain bangs. A razor method creates softer ends therefore, the hair becomes more diffused, going hand and hand with the ideal look of a shag. Ask your stylist if your naturally curly hair is a match for a shag razor cut.
Shoulder-Length Wavy Curls for a Round Face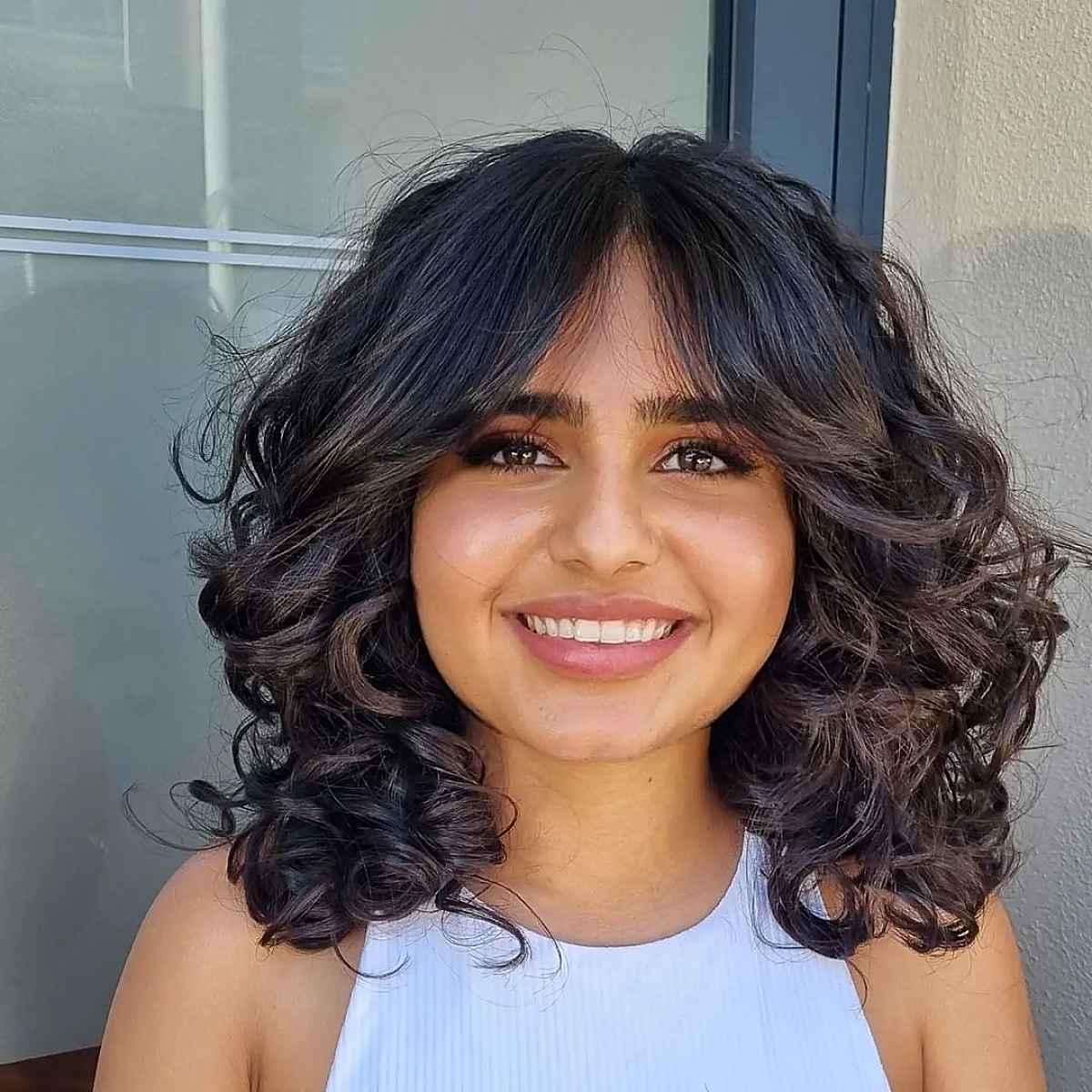 @aoki_hair
You can never go wrong with shoulder-length wavy curls for a round face. This universally flattering length when paired with a curtain bang is a lovely cut that creates volume as well as a balanced shape. A longer curtain bang opens the forehead and softens the cheekbones. Consult with your stylist for tips and tricks on how best to style this shape based on your curl pattern.
Shag on Long Curly Hair
@davidwbullen
Try a shag on long curly hair if you're looking for maximum movement throughout your hair. Shorter pieces around the face add delicate movement circling the cheekbones. Ask your stylist if they recommend a razor technique to give an all-around wispier look to your curls.
Razor Cut for Women Over 40 with Glasses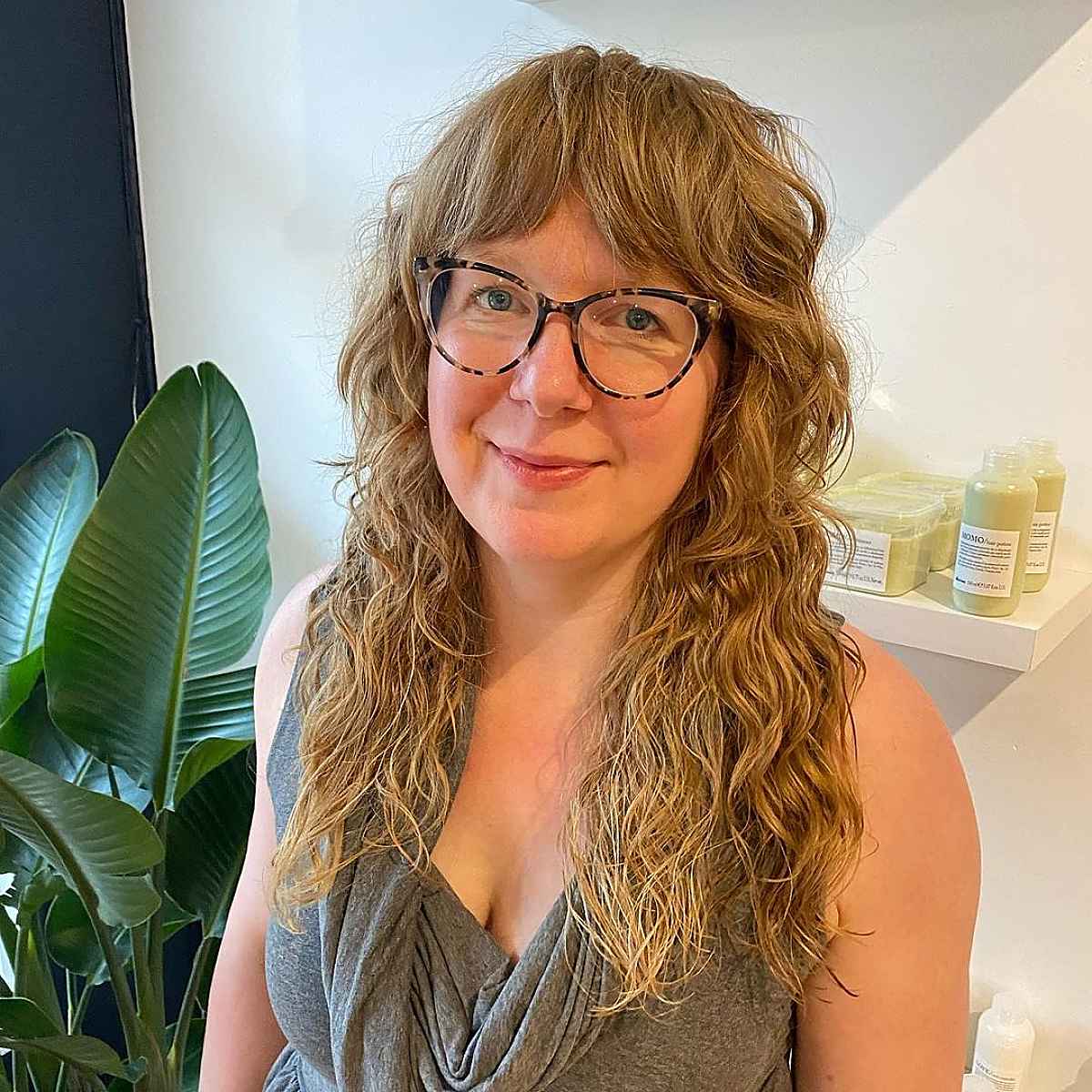 @seventh.house.studio
A razor cut for women over 40 with glasses is a stunning haircut that adds softness to the jawline, while accentuating your eyes. Short curtain bangs bring the cut together, while showing off everyone's favorite pair of tortoiseshell glasses. Razor cuts make a big impact for somebody with subtle curls who is looking to keep a lot of length.
Curly Waves with Long Curtain Bangs
@kindredhairspace
If you're looking to create more bounce with your curls, then a razor cut is a go to haircut. The razor technique adds that perfect 70s inspired fluff. Blending in a curtain bang that gently grazes the eye adds width, which is incredibly flattering for longer face shapes. Style with Cult + King Tonic Jelly or Bumble Curl Light Defining Cream.