26 Flattering and Trendy Medium-Length Haircuts for Women Over 40
Platinum Blonde Beach Waves for Mid-Length Hair
@capellibymegs
Platinum blonde beach waves for mid-length hair are the perfect style for fine hair types. The color and the style combined creates the illusion of fuller density hair. Ask your stylist for baby lights with a honey blonde tone, heat styled with a large barrel iron to get this look.
Low-Maintenance Shag for Fine Hair
@nicohairdresser
Try a low-maintenance shag for fine hair if you want all the texture, layers and softness without having to spend hours in front of the mirror. As women are maturing we tend to take on fine lines and wrinkles, a shag haircut is a great option to add softness to the face. Ask your stylist to point cut into the layers to add body without taking away from the hairs density.
Youthful-Looking Updo on Medium Hair
@lorrie_favabeauty
Try a youthful-looking updo on medium hair for next big event! Even if you keep your hair at the shoulders, you can achieve a soft youthful updo. To get this style, ask your stylist for back combing in the crown, and a twist or a braid to pulled back into a low bun. To keep it soft around the face try leaving some of the face-framing pieces out and styling with a light hold spray.
Edgy Undercut with Designs for 40-Year-Old Women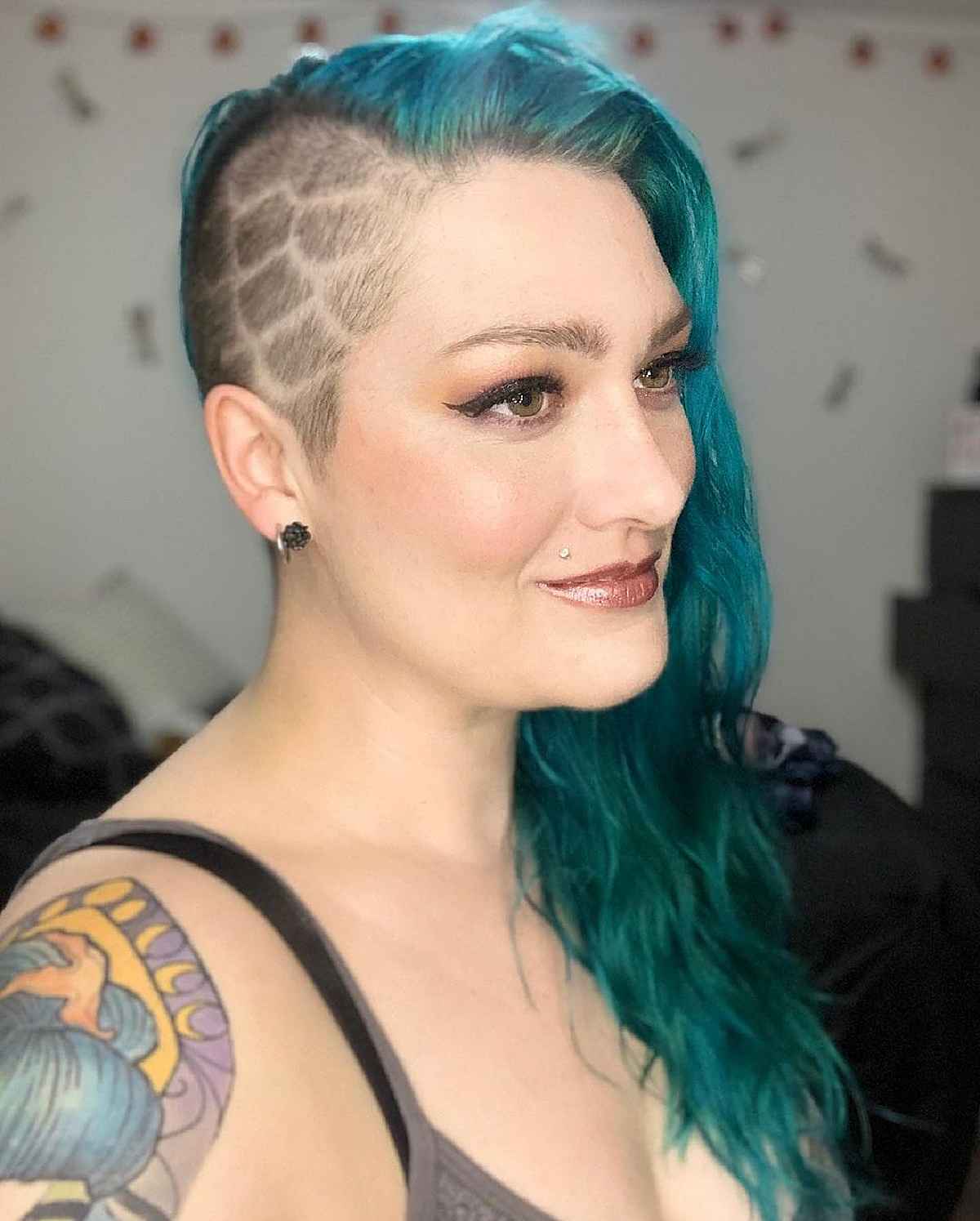 @mina_muahaha
An edgy undercut with designs for 40-year-old women can be a bit intimidating to some but can be the perfect way to add some flair back to your style. You can choose to add an undercut and design to most medium-length styles. Undercuts are a great option for those looking to remove unwanted weight from the hair, and can also be added to the nape for a more subtle look.
Collarbone-Length Haircut for Thick Hair
@ka_espacobeleza
A collarbone-length haircut for thick hair is the perfect style to help lighten up the weight of the hair without sacrificing too much length. Medium-length haircuts that sit at the collarbone help elongate the face, and create a shape that adds brightness to all of your features.
Medium-Length Pixie Bob
@giboazhair
A medium-length pixie bob is the perfect style for women in their forties. A pixie bob with length at the face that works to conceal fine lines and wrinkles, and a cropped shape at the back, is an easy maintenance style that adds both edge and sophistication.
Medium Layered Hair for Women in Their 40s
@salsalhair
Medium layered hair for women in their 40's, gives a youthful, stylish yet tidy appearance. Getting rid of unneeded length helps lift and brighten the face. Medium-length cuts with added soft layers are easy to style, whether you want to doll it up or dress it down.
Shoulder-Length Perm for Women Over 40
@auburn_hairbyashley
A shoulder-length perm for women over 40 is a great style choice to change things up and make it easier to style. Perfect for all hair types, perms add amazing body to the hair as well as create a flawless wash-and-wear look. Definitely a style to consider when searching for your next shoulder-length hairstyles.
Medium-Length Very Long Bob for Women Passed 40
@parturikampaamo_ihanin
A medium-length very long bob for women passed 40 keeps things soft, styled, and feminine. The length can be worn up off the face or styled down, to make for a very versatile look.
Wash-and-Wear Cut for Wavy, Thick Hair
@strandshairdressing
A wash-and-wear cut for wavy, thick hair is really defined by texture. Adding texture and de-bulking thick wavy hair makes for easier styling, especially if you are on the go. Ask your stylist for a blunt length with long layers, with point cutting throughout.
Shoulder-Length Shag with Curtain Bangs
@cushla.hairdresser
A shoulder-length shag with curtain bangs is all the rage these days. This hairdo adds volume, texture and youthfulness to your look. Adding bangs and blended layering around the face also helps to conceal any fine lines and wrinkles.
Medium Brown Curly Hair
@kellyskurlsdfw
Try medium brown curly hair if you want to keep things subtle and timeless. Medium cuts on curly hair are perfect to help keep your unruly locks shaped up and easy to style. Add some layers to perfect the shape to what you desire.
Edgy Choppy Bob with Layers
@prettypeople_bykatie
An edgy choppy bob with layers should be your next look if you are wanting to update to a more modern hairstyle. Perfect for all hair types, an edgy choppy bob adds volume, texture, and style.
Chic Sleek Bob for Shoulder-Length Hair
@loirosdedivas
Try a chic sleek bob for shoulder-length hair. Perfect for any type of hair, a chic sleek bob remains timeless. Ask your stylist for point cutting on the ends rather than blunt cutting to help give the hair soft movement. This will help to keep this style easy to maintain.
Professional Long Inverted Bob for Women 40+
@domdomhair
A professional long inverted bob for women 40+ relies on clean lines and soft texture. Keeping the lines clean, and the shape tapered in the nape helps keep this style looking sleek and sophisticated, perfect for day and night. Don't forget to ask your stylist for soft texturing in the crown to add body.
Chic Collarbone-Length Asymmetrical Cut
@bailey_aesthetics
A chic collarbone-length asymmetrical cut has it all! Length, body, and flair make for a youthful, low-maintenance look!
Shoulder-Length Wavy Bob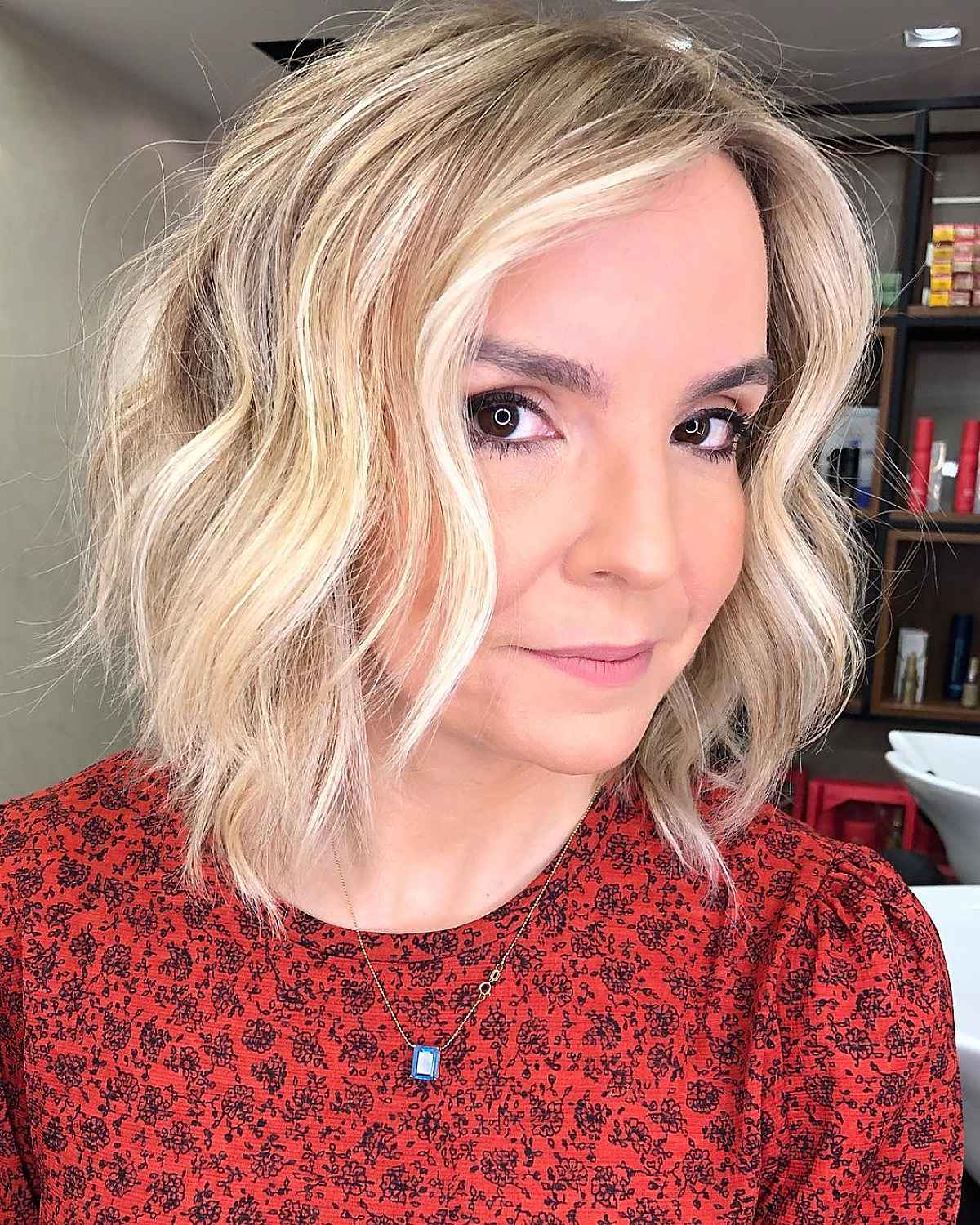 @ka_espacobeleza
Try a shoulder-length wavy bob as your next look. Most medium haircuts come with easy maintenance and styling, perfect for women on the go! Whether your hair is naturally wavy, or you are adding waves to straighter hair, the wavy bobs soft textured ends and cropped length make for a very versatile look.
Voluminous Medium-Length Bob for Thinning Hair
@thebeautydistrictnaples
Look 10 years younger with a voluminous medium-length bob for thinning hair. Cutting the length at the chin helps the hair density appear full, and allows for layers to be added to get major height on top.
Medium to Long Blunt Cut with Bangs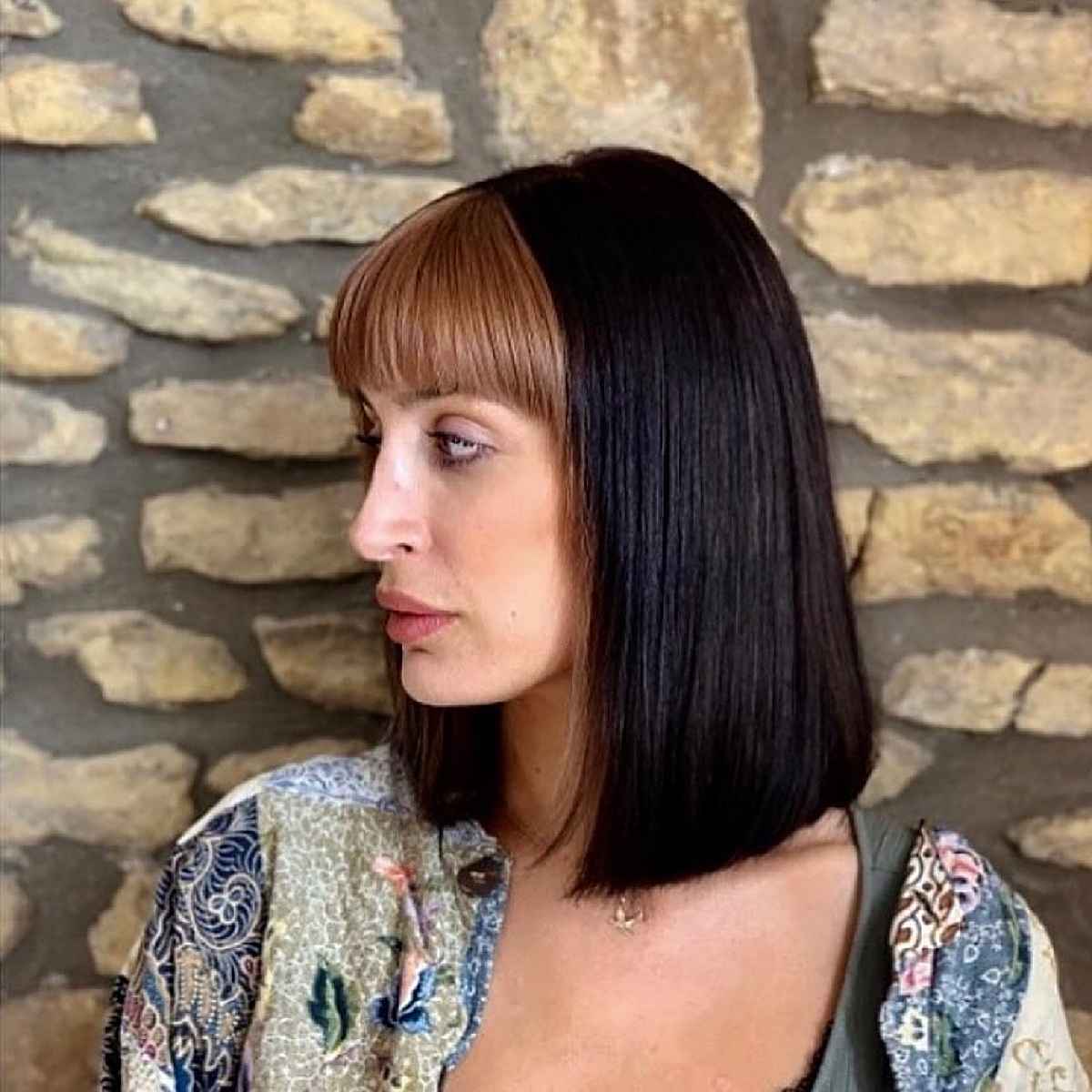 @fraserjonhair
A medium to long blunt cut with bangs is perfect for women over forty. A blunt edge helps define the perimeter of the hair and adds a sleek fullness. The addition of bangs helps conceal wrinkles on the forehead to give a soft, youthful look.
Feathered Shag with Wispy Bangs for Thin Hair
@dinh_hairsalon
Try a feathered shag with wispy bangs for thin hair to add body in the crown as well as texture and movement throughout the ends. Adding a bang or "fringe" to medium styles is a great way to make a big change without sacrificing length.
Medium to Short Long Bob for Straight Hair
@tmzeringue
A medium-to-short long bob for straight hair is perfect for flat, shapeless hair. Cropping the back and adding in and angle gives a lot of shape, as well as aids in lifting the hair at the crown to create volume. With medium-length hairstyles, angling to a medium length in the front is a great way to help keep the face elongated and your hair style tidy.
Mid-Length Shaggy Bob Hairstyle for Wavy Hair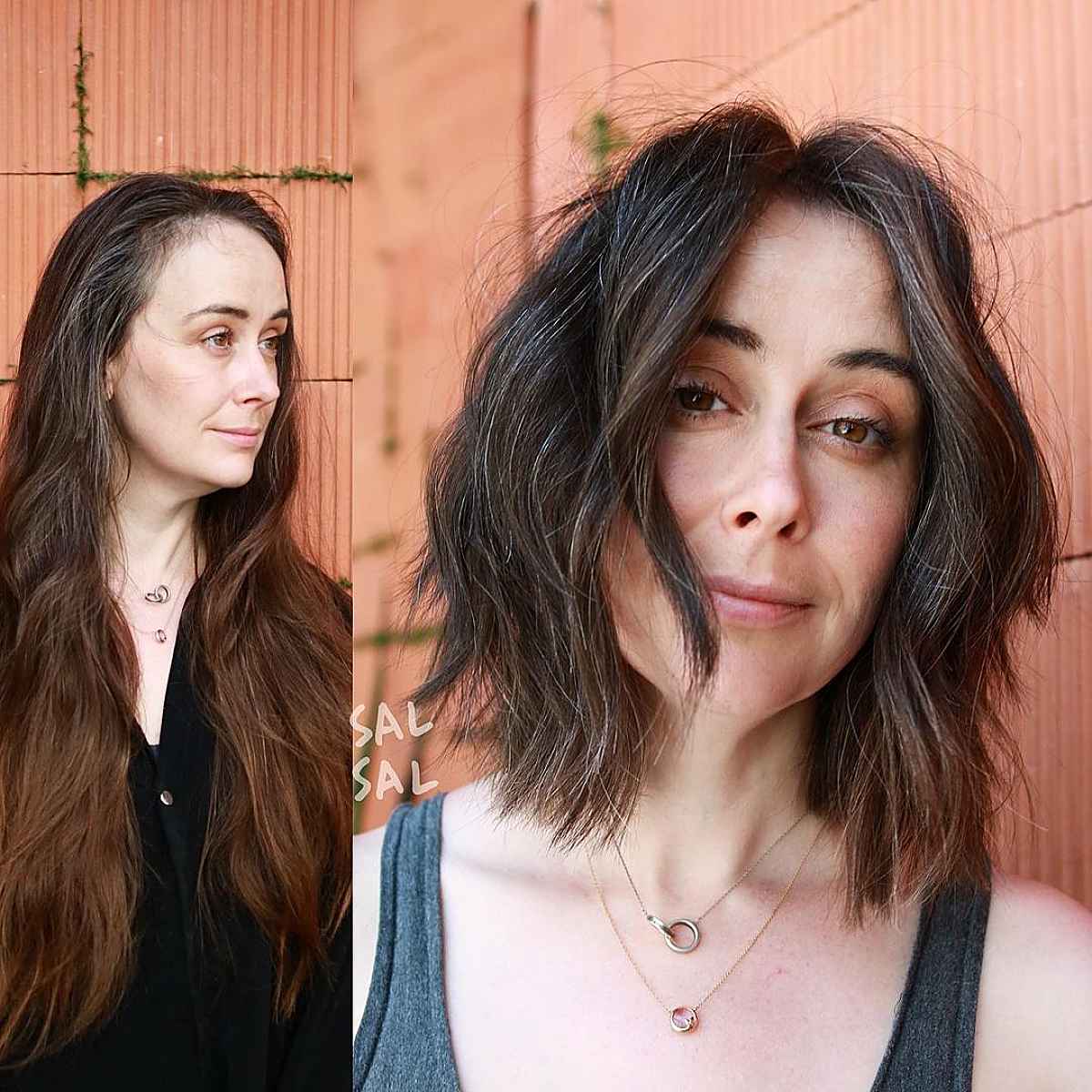 @salsalhair
A mid-length shaggy bob hairstyle for wavy hair is perfect if you are looking to remove length and save time styling. Keeping the ends softened is key to keeping wavy hair from getting unruly. Medium hairstyles are a great way to add body and shape to those tired ends.
Soft Rounded Bob on Medium-Length Hair
@studio_marteena
A soft rounded bob on medium-length hair is the perfect style if you're looking to add body and volume. Shoulder-length haircuts with a rounded shape are easy to style with just a blow dryer and round brush. The added volume around the base helps slim and elongate the face. Ask your stylist to point cut the ends and use a razor to feather around the face.
Natural-Looking Beach Waves for a 40-Year-Old Woman
@tinabaybay
Natural-looking beach waves for a 40-year-old woman is a timeless style. Beach waves help define your natural hair texture and are a quick and easy way to feel done up, even if you are on the go. To get this style use your large barrel curling iron to loosely curl the hair. Simply shake the curls out and finish with a sea salt spray or light hold hairspray.
The Best Bob for Women Over 40
@symmetrysalonandspa
Check out the best bob for women over 40. Traditional styles can be dull, so spice things up! This bob is cute and stylish but doesn't require frequent visits to the salon. For this beautiful balayage look, make sure your stylist is experienced in freehand hair coloring.
Retro Shaggy Mullet for Ladies Over 40
@edscissorhandshair
This retro shaggy mullet for ladies over 40 is insane! Try this cut if you're looking to stand out in a crowd of thousand and bring back a decades-old style.